When it comes to augmented reality mobile games, there are few which are as acclaimed as Pokémon GO. Developed by Niantic and published in 2016 in collaboration with Nintendo and the Pokémon Company, Pokémon GO is entirely a location-based game. Players have to move around in the real world in order to locate, capture, battle, train and interact with virtual creatures.
However, it's not easy for every player to travel around. For those who don't want to compromise for a sub-standard gaming experience, spoofing software is a good choice. In this comprehensive guide we're going to assess the performance and effectiveness of several such applications as far as changing location in Pokémon GO on iOS devices is concerned.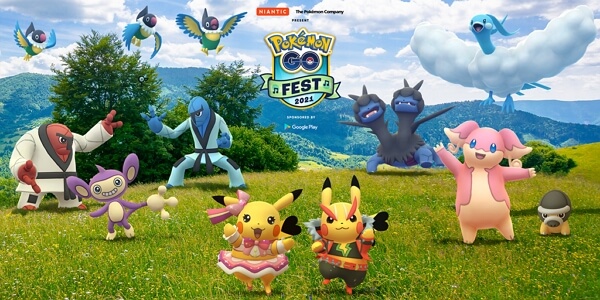 Part 1.

What Is the Best Pokémon GO Spoofer for iOS?

The pace of technological advancement is constantly accelerating, and applications are no exception. Whilst there are some iOS Pokémon GO spoofers which may be better-known, it doesn't necessarily mean that they're what you should opt for out there. Enabling you to securely and efficiently change GPS location to wherever you want it to be, TailorGo is probably the best Pokémon GO spoofer for iOS (including the newly-released iOS 15).

Spoofing your location on Pokémon GO may initially come across as complicated and difficult, but with an application as sophisticated and reliable as TailorGo it couldn't be easier. Installation and operation are incredibly flexible with its user-friendly interface, and in a matter of moments you'll be able to change your location without any inconvenience or hassle.

For example, you can set specific coordinates taking you from one destination to another. If there is a particular Pokémon you are interested in, then you can write down the coordinates of the destination where it is most likely to appear, and get there within seconds.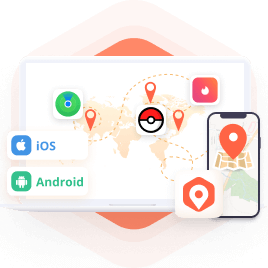 TailorGo-The Best Pokémon GO Spoofer for iOS
Spoof your Pokémon GO location by connecting your iOS device to the desktop application.
Schedule GPS movement between several planned locations at a pre-determined speed.
Only simple steps are required to do Pokémon GO spoofing.
Not only iOS devices, this tool also supports Android devices.
Always run smoothly with no lag or crash.
1

Download, install and launch TailorGo on your computer. Then connect your device to the computer and click "Get Started" to begin.

2

From the three options: Teleport Mode, Two-Spot Mode or Multi-Spot Mode, choose the 1st one if you want to change GPS location, and the 2nd or 3rd one if you want to simulate GPS mivement. Then select the destination you want to change to or plan a route.

3

Get your location changed or finish simulating GPS movement. Then Pokémon GO will use the updated location.
Part 2.

Some Other Methods to Perform Pokémon GO Spoofing for iOS

There are, of course, some other tools for spoofing your location on Pokémon GO. And here we'll introduce two of them:
1. iTools
When it comes to Pokémon GO spoofing for iOS, iTools is probably one of the first applications which will come to mind. This tool is equipped with a range of versatile features, and most importantly doesn't require jailbreak to access your iPhone. Once you've completed the installation process, you can use iTools' specialised Virtual Location feature in order to spoof location in Pokémon GO on your iOS device.
This Virtual Location feature is an incredibly reliable feature, and it is activated by simply launching the map interface, dropping the pin at any location, and then get your loaction changed to that place. Or you can enter the specific name or coordinates to find exactly the place you want to "go". As for the simulation function, you can pause or stop the simulation whenever you want. This application functions perfectly on every leading iOS device model which operates on iOS 12 or previous versions.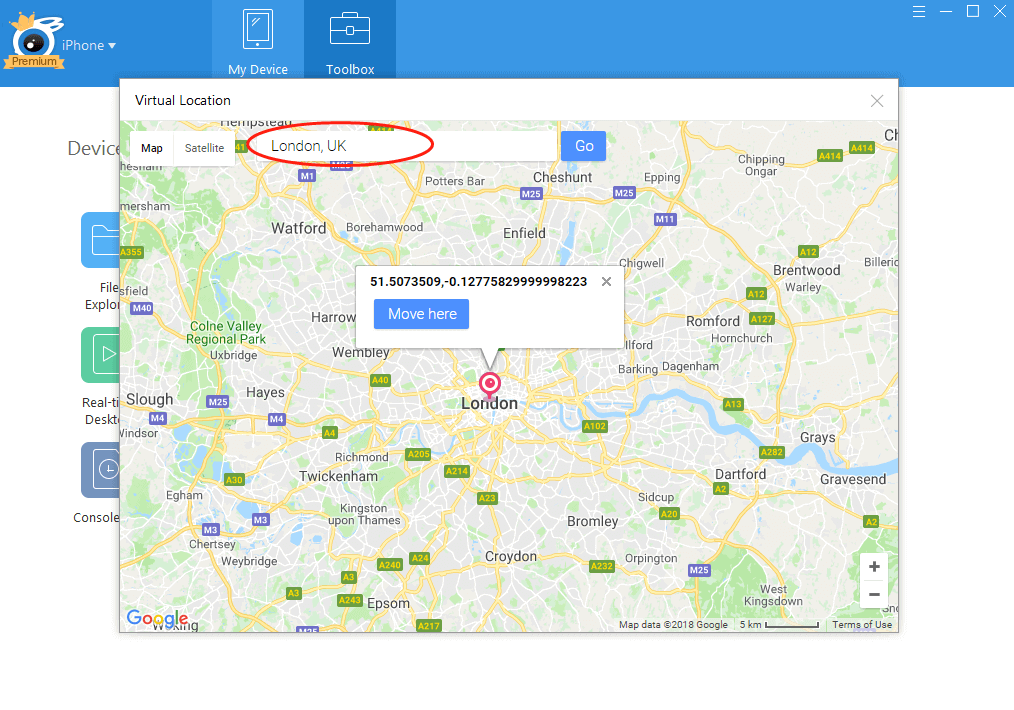 Pros
You don't have to jailbreak your phone.
For premium users, your spoofing options are unlimited.
Simple and versatile enough to use.
Cons
Without paying, you're only allowed to change location for 3 times. But premium plans can get expensive.
There is no iOS app, so you'll have to use the desktop application.
2. PokeGO++
Another viable alternative for Pokémon GO location spoofing is an application known as PokeGO++. For anyone who happens to have a jailbroken device, you can take advantage of the advanced features incorporated into this application for the purpose of changing your location.
With a user-friendly interface, this application is easy to install, operate and navigate. Some of the many exciting features it offers include joystick operation for seamless movement, playing Pokémon GO without any physical movement, in-game teleportation as well as adjusting the pace of your avatar.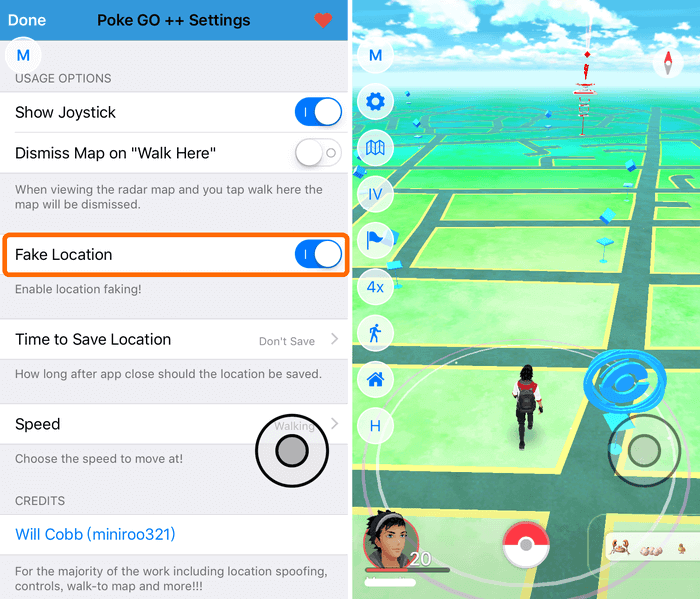 3. iPokeGO
Finally, iPokeGO is an application which has been specifically developed and published to facilitate spoofing on Pokémon GO. With a comprehensive range of features, some of which are free whilst others require payment, you can truly enhance your gameplay experience.
For example, you can adjust the radar position on your device so that you can effectively spoof your location in Pokémon GO on iOS devices. This particular application is relatively easy to use, and it will allow you to manually update your location whenever and wherever you may want.
Besides, iPokeGO also offers several other features, such as displaying a list of Pokémon, and showing or hiding Pokémon. What's more, you have the option to either follow an existing route, operate multiple servers, run in the background, or select different themes.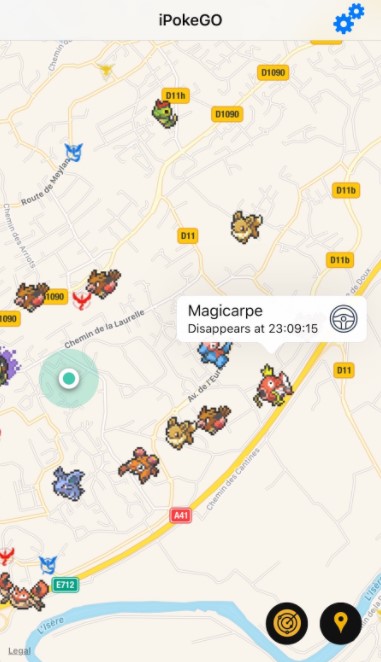 Pros
User-friendly and easy-to-navigate interface.
A range of useful and versatile features.
It doesn't need a jailbroken device to work.
Cons
This application works only for Pokémon GO (but not other location-based apps).
The majority of the most desirable features are not free. And the paid subscriptions can be expensive.
Conclusion
There's no doubt that Pokémon GO is an innovative and exciting mobile game, one which has redefined industry boundaries when it comes to augmented reality and interactive technologies. It is important to keep in mind, however, that a location-based game such as this can become frustrating for some players who neither have the facilities, time nor the resources to physically move around. Evidently, this deprives them from the complete gameplay experience, and this is why spoofing applications such as the ones described above have emerged.
Location spoofer TailorGo, which emerged as a powerful Pokémon GO spoofer, provides all the incredible features and compensates for nearly all the limitations associated with other applications of the same type. Therefore, it is definitely worth a try for any Pokémon GO enthusiast.