Mandalorian voice is the voice from the Boba Fett series that is quite famous on the OTT platform. The users can use the Mandalorian voice changer to get an accurate helmet filter voice. It is available for the PC, and one can also try changing the voice through its app. Mandalorian voice changer online are also available to provide the same voice effect. You can use it with a cosplay set or for entertainment purposes. Temuera Morrison does the original Mando's voice for the series for its latest release. Keep reading the details to get an insight into various voice changers.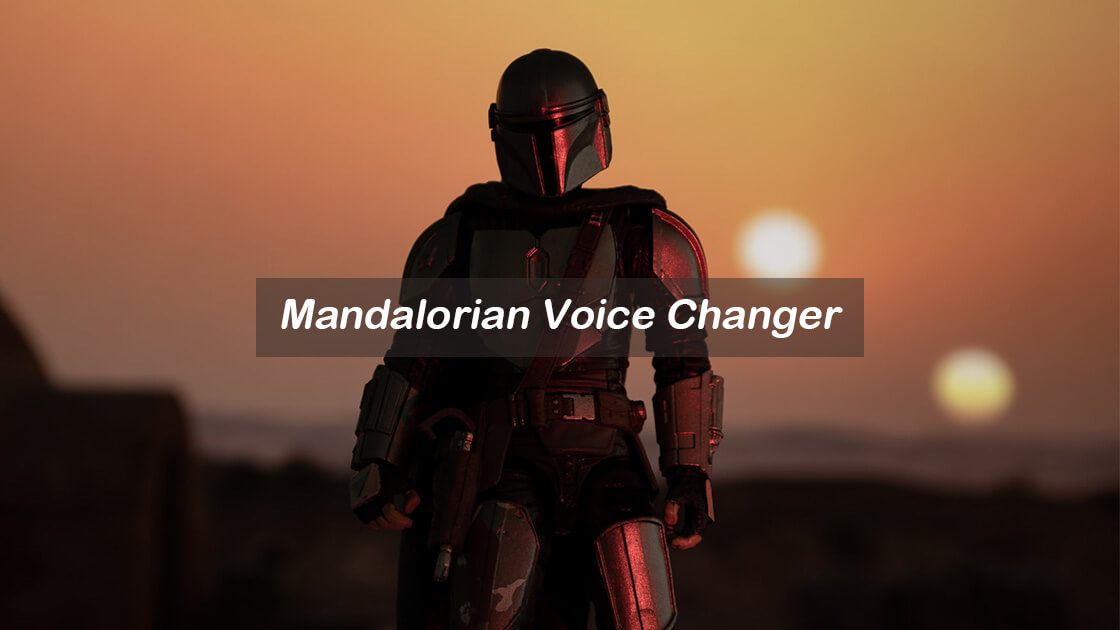 Part 1.

Best Mandalorian Voice Changer For PC

MagicVox is making the voice changing easier with this UnicTool for the PC. You can use different voice filters to change the voice, especially if you want to try Mando's voice. You can now do voice modulation and changes in real-time. Let us see a few of its features.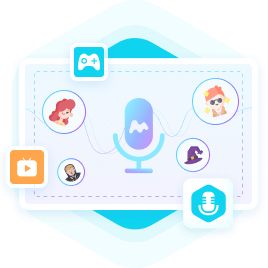 A Real-Time Voice Changer
You can choose to change voice using more than 600+ voice effects, including mandalorian voice effect or other charactors like batman, Dalek , Master Chief.
The voice changer can also be used during live chats, games, and direct chatting,
More than 200+ voice filters are there to change into the type of voice you want.
Try more different voices to have fun, from Minions to Goblin's voice.
The voice changing is done according to the environment and the background sounds. You can download your changed voice in WAV or MP3 audio files.
Pros
More than 600 voice effects make the gaming or live chat atmosphere interesting. It is best for Windows devices.
You can use the 'hotkeys' to stop, playback, replay, and cycle the various sounds that are changed in real-time.
You can download your voice memes easily by selecting from 150+ voice emoticons.
Cons
The add pop-ups may frustrate most of the users.
Its free version comes with limitations.
How to Get a Stormtrooper Voice Changer on PC
Step 1: Go to the web and download UnicTool MagicVox from UnicTool's official website. When downloaded, install it on your PC.
Step 2: Configure your microphone and headphone as the default input and output device.

Step 3: Go to the platform you want to play- Click Audio settings and select MagicVox as your default audio device.
Step 4: Now the MagicVox app on your PC separately and select any voice to sound like robot. Select the same voice from keybinds, your voice will be changed.

Step 5: You can also get a custom voice by navigating to VoiceStudio. Here, you will have to adjust the custom setting to sound like a deep Robot, like Pitch Shifter, Reverb, Tremolo, Distortion, etc., to get the voice like Mandalorian.
It is a real-time voice changer for Zoom, Discord, Google Meet, and online gaming like Minecraft, Fortnite, LOL, WhatsApp's desktop version, etc. You can set the voice changer on your PC in five minutes only. It's the best fit for Mac and Windows versions. Below are a few of its salient features: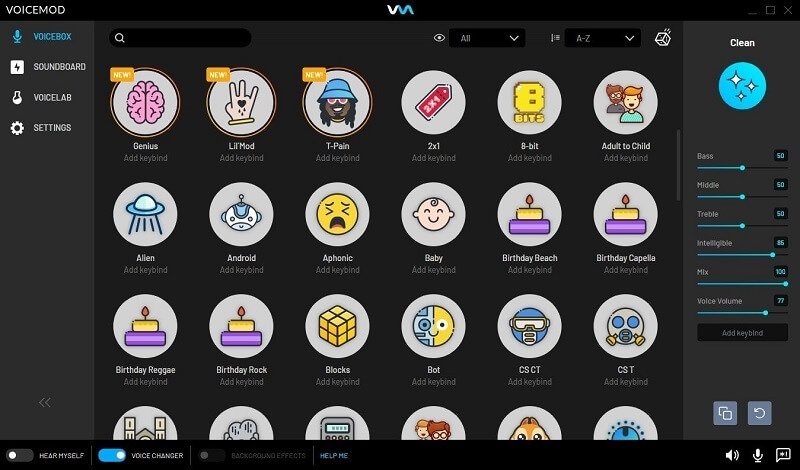 Key Features
You can also change the Voicemod voice changer on your live streams or gaming platforms with AI voice effects.
Provides optimized performance that will not affect the performance of games and apps.
Modular sets up in just five minutes will help you create your voice and add clips to the soundboard.
Works perfectly with your PS4, PS5, and Xbox.
Pros
You can use it with all the modern chatting software
Download directly from its website to set up in just 5 minutes
Upload the sound effects in WAV or MP3 files
Cons
May consume time while downloading.
Different voices are only available in the paid version, you can't experience all the interesting voices.
It is a level-up Mandalorian voice generator with a free Windows trial; you can also download it for Mac. Change your voice in real-time while live streaming, video chatting, or gaming. It can integrate with Skype, Twitch, VR Chat, Fortnite, Counter-Strike, etc. Here's a look at MorphVOX's significant features: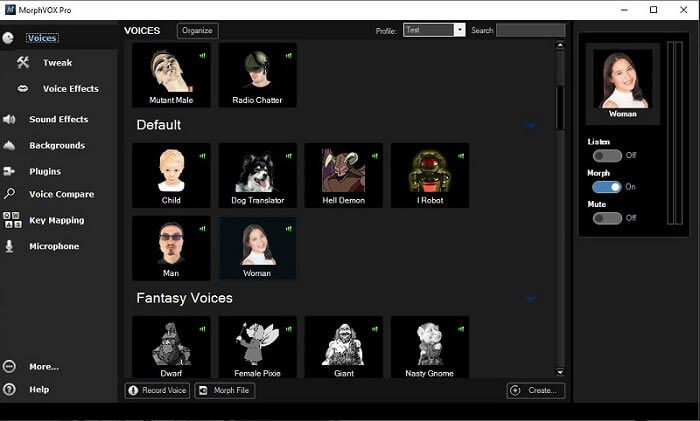 Key Features
You get free sound voices for making the best voice combinations.
Users get sound packs, too, that can be used while live streaming in the form of drum rolls and other add-ons while you are still modulating your voice.
It comes with premium voice-changing algorithms that cancel any other type of background voice.
Get a good sculpted video with smart nodes, pre and post-graphic equalizer, microphone support, voice comparison tuning, etc.
Pros
You can add vocal tract filters, sound effects, quick voices and quick effects, and much more.
The users receive optimized voice-changing effects and preset voices.
It has a clean and simple user interface that makes it easier to use while chatting or gaming.
Cons
Little tricky for new users.
Part 2.

Best Mandalorian Voice Generator Online

It is a simple and intuitive Mando voice changer online where you can choose to upload the audio from the system or use a microphone to change your voice. You can generate speech from the written text too. It is an exciting feature offered by this online voice changer. Some of its best features are as under: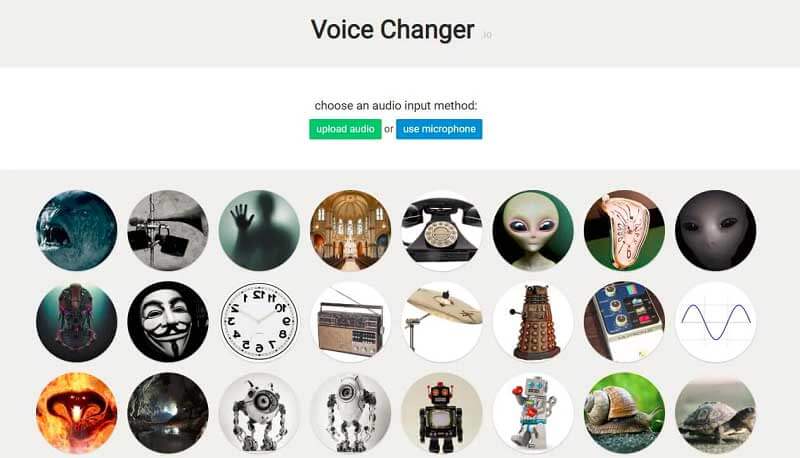 Key Features
You can change your voice into the ghost's, alien voice, telephone, evil laugh, astronaut, chipmunks, etc.
Users can also share the voice changer meme on social media, chatting, or gaming platforms.
Its best feature is that you can create your custom voice too.
Pros
You can create echoing voices that make things interesting
A simple and engaging interface to modulate your voice
No need to download any form of application
Cons
The voices can't be changed in real-time. Users need to download audio files and then upload them.
Some users can't find the microphone device.
It is a simple and the best Robot Voice Changer that changes the text into speech form. Users can set the speed and voice pitch accordingly. Some of its important features are:

Key Features
It is a fun tool that lets you upload the pre-recorded clip or record a clip in versatile pitch form.
You can download the audio straightaway without registering on the website or downloading any software.
It's a straightforward online voice changer with cool, fun robotic effects.
It is free to use on Windows and Mac
Pros
The main functionality is quite simple to use, as there is no need to download any software.
You can record your voice, process it, or write a text.
Anyone can use the features easily.
Cons
Looks quite empty
Users may not feel this online voice changer is attractive.
Part 3.

Best Mandalorian Voice Modulator App

This Mandalorian voice changer app supports voice changing for Mando and other Star Trek characters, including the bot. You can use this voice changer mic for PS4, PC, and Xbox. Some of its features are: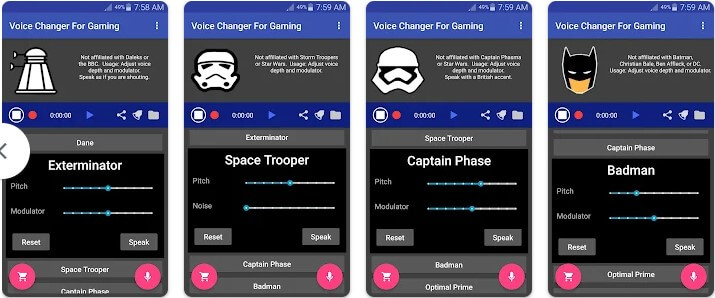 Key Features
It changes the voice in real-time installed on your Android device.
You can also use it with other devices like the external speaker or your other phone.
This voice changer has already attracted more than a million downloads.
You can see some of the in-app purchases for the paid version.
It offers voice modulation for gaming, phone call, cosplay, etc.
Pros
It offers versatile voice-changing options from Dark Father to Dane to Space Trooper.
It is a free real-time changer app available on Android devices.
A Voice customization option is also provided.
Cons
It cannot be used with apps running on the same device like Skype, Discord, or gaming apps.
Your Android device will not allow the two apps to use the same mic.
This app can be downloaded from the Google Play Store with umpteen voice effects. It works as a diary app, audio editor, notes editor, and voice recorder. It has more than a billion downloads, which shows its popularity. Some of its salient features are: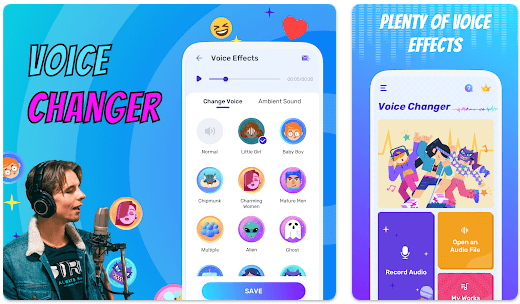 Key Features
The paid version contains the in-app purchases.
You can change into a female voice, male voice, baby voice, prank voice, alien voice, monster voice, and many more.
It offers voice changes with different voice effects and dubbed audio effects.
It is free to download a voice changer for your Android device.
This is a prank-proof and funny voice changer to have fun with your friends.
Pros
You can surprise your friends, save the high-quality voices, and use it while WhatsApp chat helps to import the audio files quickly and has customized voice effects too.
The data is encrypted and secured.
Background sounds and other sound effects are rated quite cool.
Cons
The only paid version has versatile sound effects.
Conclusion
These are a few unique Mandalorian voice changer apps, types of software, and online platforms for voice changing. All these voice changers are cool and entertaining in their sense. You can use them at your convenience. However, UnicTool MagicVox stands out amongst other top-rated software for PC available for Windows and Mac versions. This UnicTool has over 200 voice-changing effects that let you change your voice in real-time while chatting, live streaming, or gaming. The voice-changing effect matches well with the background and environment used. Great for trying the Boba Fett character Mando's voice.