How often do you play games with your friends? Do you love cracking jokes while playing games with friends? It will be cool and fun to fool your friends while playing Fortnite! You can do this by masking your voice. Yes, you heard it right. Without any technical issues, you can easily change your voice by using a voice changer for gaming.
When talking with your friends on game, using a game voice changer will convert your voice into some really funny voice. Many popular gamers and streamers use voice changers to prank their teammates while playing PUBG and Fortnite. Let's have a look at different types of voice changers for gaming.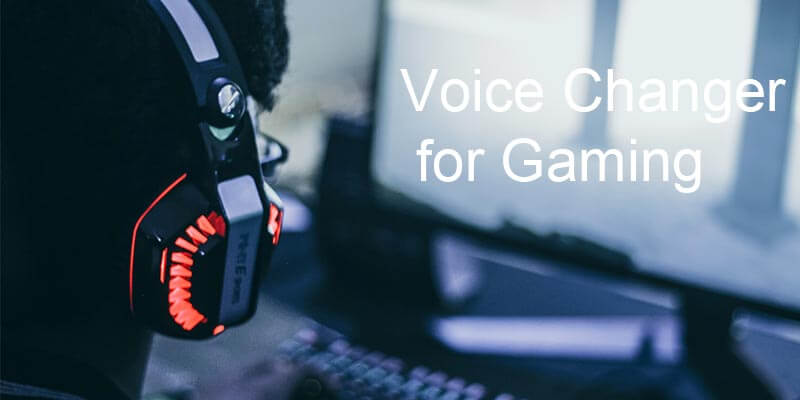 5 Best Voice Changer for Gaming on PC
1. UnicTool MagicVox
UnicTool MagicVox is a great gaming voice changer. It helps you customize your voice into a female/male voice, add funny effects, and convert it into an Anime voice or Deep voice. It is considered a good soundboard for Windows, both of that give an unexceptional online experience. You can even customize your soundboard as well.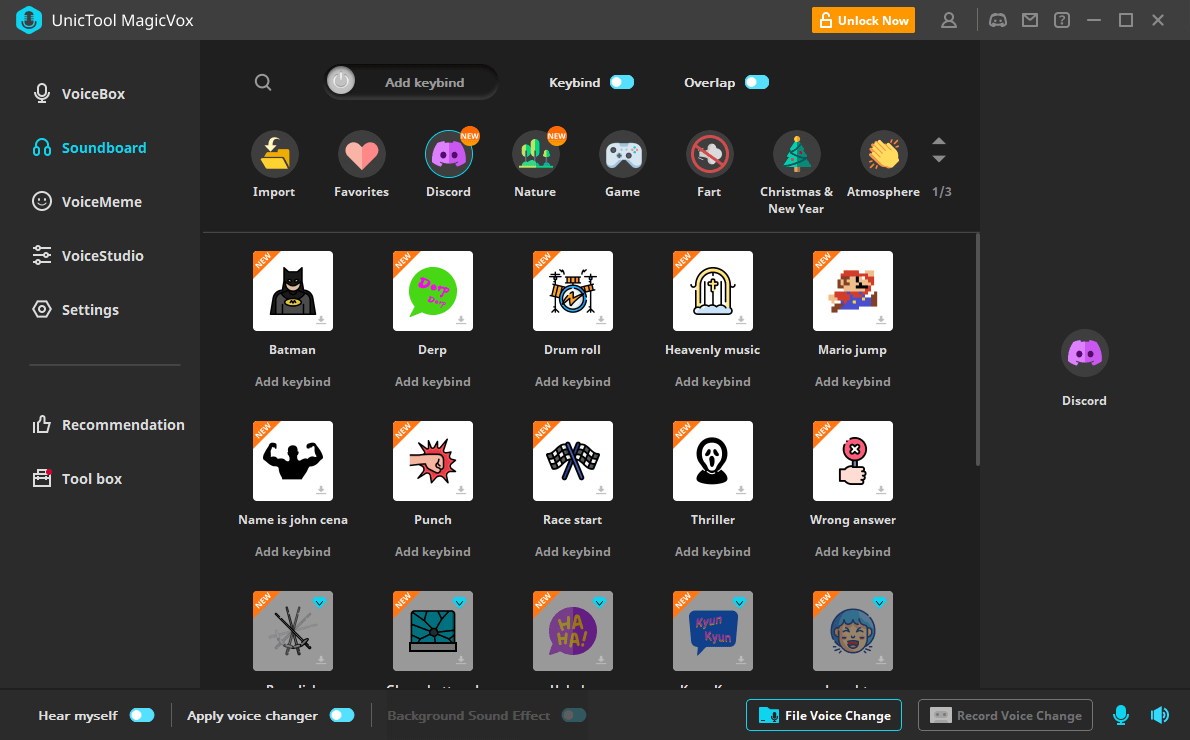 Some Key Features:
MagicVox Gaming Voice Changer allows you to change your voice with just one click during the game. All you have to do is select a voice, which will be converted immediately.
Over 100 language filters are available on MagicVox. Anyone can be chosen while playing your games, such as PUBG, Second Life, Fortnite, CS: GO, or Overwatch.
300+ sound effects can be added to your games, chats, or live streaming
A very easy to setup program which can be used on Windows
UnicTool MagicVox releases new sound effects almost every month.
It lets you import your MP3 files or WAV audios with it.
This is a real-time game voice changer. If you are looking for something that will add a whole new change to your voice during gaming, this provides all those features that should be present in a voice changer pc gaming.
How to Use Voice Changer for Gaming PC
1

Open the UnicTool MagicVox application.

Install and run the UnicTool MagicVox application. Please read the setup instructions if this is your first time using MagicVox.

2

Select Input / Output Device:

You must first select the output and input device to use this voice changer.

As the input device, choose your real microphone.

As the output device, choose your headphones.

3

Examine the Voice-Change Effect:

Then, for each voice filter, click it and talk into your microphone to hear how your voice sounds on it.

4

Set the Input Device on Game

Lauch the game you want to play with voice changer, navigate to Settings- Audio Settings- Input Device- Set " Voice Changer Virtual Audio Device" as the default Input Device. Take Fortnite as example.
2. Voicemod
Suppose you are looking for a gaming voice changer that converts your voice into a robot, demon, man, woman, or anything else. Voicemod is here to help you with that. You can pick from various voice effects that can be used for both fun and functional purposes. If you want to add a baritone to your voice, you can easily do that by using this software.
It is a free software for all content writers, YouTubers, and gamers. The setup is so easy it can be done within 5 minutes.
It works with all of your favorite games like Gamecaster, TikTok Live Studio, Omegle, Skype, and many more. This game voice changer makes your online experiences a wonderful one. Even though the software works for Discord, you can use it on other applications as well.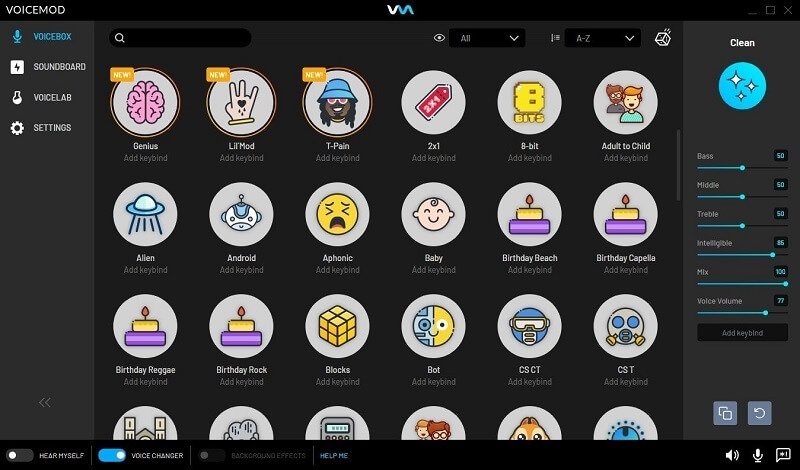 Some Key Features:
When you install Voicemod, Microphone gets automatically added as an Input Device option to Discord
All recent games and applications are compatible with Voicemod
Free to try for Windows users
Demos of live voice effects
If anyone is looking for a voice changer for Discord, then Voicemod is an excellent option. If you're a gamer who wants to remain incognito on a game streaming site, it's fantastic Discord. Still, it's also a must-have for gamers because it's compatible with a range of popular games like Fortnite and League of Legends.
3. MorphVOX Voice Changer
MorphVOX outperforms all other programs on this list because it can produce high-quality audio without taxing the CPU. The tool even mimics your speech to generate the best sound effects.
MorphVOX has excellent standard capabilities. MorphVOX now supports MP3 reading, restoring files in the same folder, improved list management, plug-in support, and multiple user support.
It's also a lot of fun to use. While communicating with your friends online, you can add background music. This game voice changer will better your online gaming experience. You may also enhance the whole experience by using a variety of excellent sound effects and changing the audio pitch completely.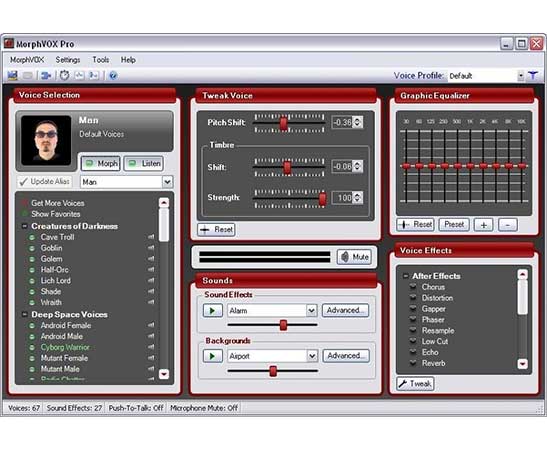 Some Key Features:
High-quality audio was used to create the audio effects. Quality is still their first priority.
It is made to optimize with online gaming platforms strictly
Uses quick keys to send sound effects during gaming easily.
Cancels all the ultra-quiet background
Gamers are lucky to have MorphVOX as their voice changer for gaming. It adds effects that make the gaming time much more fun and exciting. Hence, adding an extra effect to your gaming experience. One of the powerful voice changers available in the market right now with better features.
4. Clownfish Voice Changer
Clownfish Voice Changer is a game voice changer that works beautifully with Discord and with other chat apps like Skype and Steam. Clownfish is a system-wide sound modification system that can operate in the background and change any sound through the microphone or any other connection.
It's really easy and quick to set up. It is compatible with all versions of Windows. This software could have more sound options. One of the reasons why it has less effects is because of its simple UI. It is installed on system levels that use the microphone or any other device to detect voice.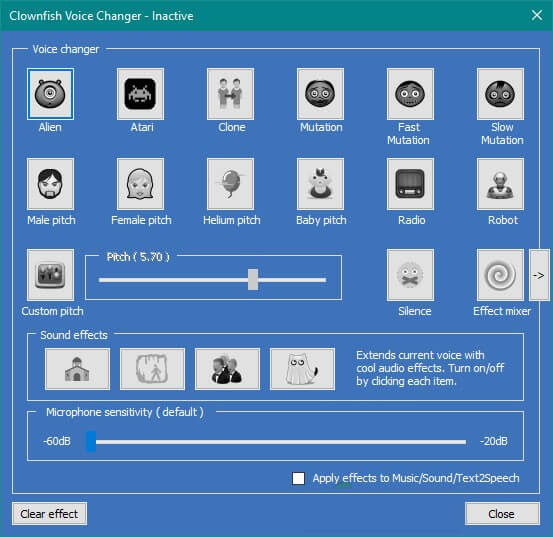 Some Key Features:
Acts as a voice assistant when it converts text into any form of speech.
It ultimately manages and controls the background voices, whether it's music or any sound
The effect is selected from a wide range of voice effects
It acts as a sound play when playing various sounds
Clownfish opt for wild austerity over a sophisticated voice change program. Furthermore, the fact that it is completely free to use should tempt new users to give it a try.
The Voxal Voice Changer detects your voice and applies voice effects to it. Using this voice-changing program, you may modify the sound quality or impersonate another character. You can use it for various things, including gaming, voice-overs, and podcasts.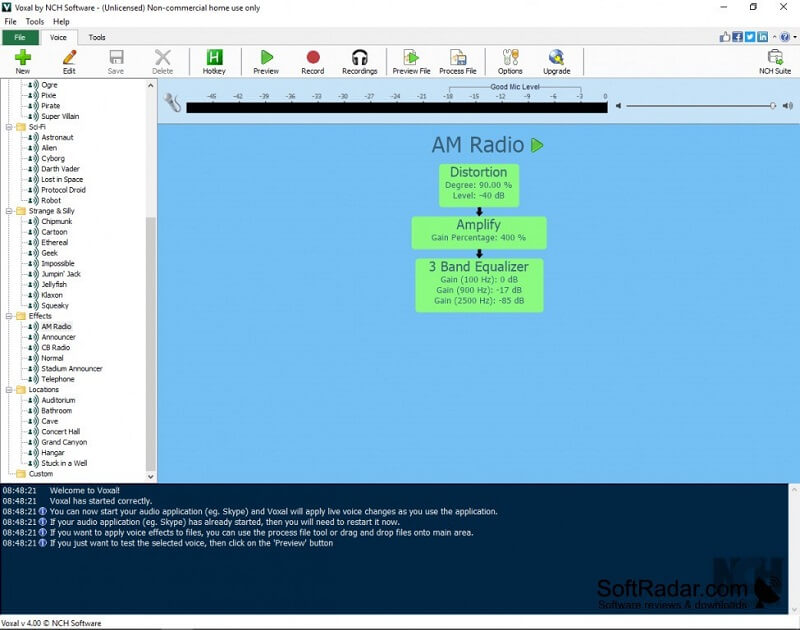 Some Key Features:
It entirely changes the pitch of the audio
The Reverb effect can help you make your voice sound like it's coming from a judge's chamber or a smokey pub.
To modify the notes, use the Automatic Pitch Correction effect.
The Vocal Enhancer effect can change the frequency of your esses.
Incorporates an echo effect
If you want to make your voice look like it is coming from a courtroom, then Voxal is the best option for a voice changer for gaming. It helps in making the environment lighter, which is a good point.
Conclusion
Gaming should always be a fun experience. Making it fun can include pranking your teammates or friends with different voices. To do UnicTool MagicVox is one of the best options available right now. MagicVox gives new features almost every month. Turn your boring chats, calls, and live streaming into fun now. Turn your voice into a robot, female/male, or anything that may sound creepy to your friends. Have fun while fooling them.
These voice changers for gaming have increased the fun level in games like PUBG and Fortnite. They are making it an enjoyable experience for everyone.