In 2017, the arrival of the iPhone X marked a major milestone for Apple. Everyone talked about the state-of-the-art features and other unreal capabilities that long existed theoretically. Face ID found its way into the iPhone industry, and since then, it has been greeted with great excitement.
Although Face ID is a fine technology, it is not short of issues. Recently, many people have been complaining about Face ID errors. Sometimes when you try to set up Face ID, you get notified that Face ID is not available or prompted to try it later. If you are facing this problem, follow this guide for the best way to fix the Face ID not available error.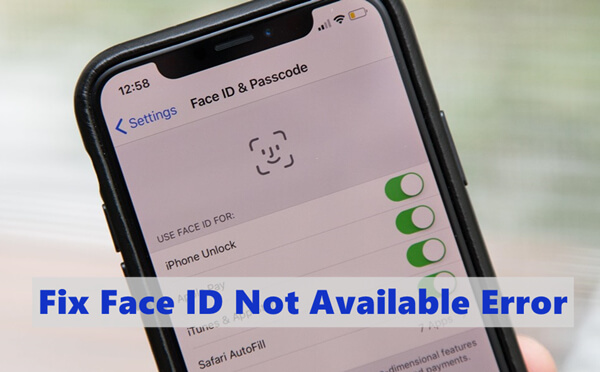 Part 1.

Face ID Is Not Available?

Face ID is a security mechanism on iPhone that goes beyond the iPhone lock screen. Apple allows you to set your Face ID and use it to authenticate diverse actions on your iPhone. Although it is a real technological gem, there exist some flaws. Face ID not available on iPhone x/xs/xr/11/12/13 error is commonly reported by iPhone users.

When you try to use Face ID to authenticate respective processes, you might get an error message like "Face ID is not available. Try setting up Face ID later." This is the Face ID not available error. With this error, you cannot use Face ID to authenticate respective accounts and actions unless fixed.  Before jumping into how to fix this Face ID not available error, let's first highlight some of the possible causes.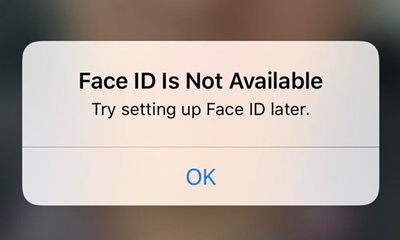 1

Failed Software Update - If the OS fails to install completely, some software glitches can trigger Face ID not available error.

2

Malware Attack - If the iPhone is corrupted, the files holding the Face ID information can be corrupted as well trigger improper functioning of the Face ID files.

3

Damaged or Dirty Sensor and TrueDepth Camera - If you have taken your iPhone for repair or dropped it, perhaps there could be something amiss with the camera and sensor.
Part 2.

How to Fix Face ID Not Available Error?
1. Restart iPhone
If a minor software glitch causes the Face ID unavailable error, restarting your iPhone can cure the ailment. To restart your iPhone:
For iPhone 8 and later models, press and quickly release the volume up button, then the volume down button. Next hold the Power button until you see the Apple logo on the screen.

For iPhone 7/7 plus, press and hold both the Power and volume down buttons until the Apple logo appears.

For iPhone 6 and earlier models, hold both the Power and Home button until the Apple logo appears.
2. Remove iPhone Screen Protector
Your iPhone's screen protector can sometimes spoil the party by marking the camera and sensor's territory. Try removing it to see whether the error disappears. Again, try wiping the camera and sensors on the front using a microfiber cloth. Dust and fingerprints, however miniature, could be blocking the sensor and camera from detecting your face effectively.
You can also check whether the sensors are damaged. Just reduce the brightness to zero and then illuminate the screen. If the screen automatically brings back its brightness, the camera and sensor are fine. Otherwise, there is a problem with your sensor and camera.  
3. Update Your iOS
Failed iOS updates or outdated iOS files could be triggering the Face ID not available issue. This is why it is always important to update your iPhone to the latest version. You can check whether there is any update and get your iOS updated as follows:
Step 1. Go to Settings > General > Software Update.
Step 2. If you find any update available, download and install it. If you see a notification that your device is up to date, then this method won't help you.
4. Contact the Nearest Apple Store
If the problem persists, consider taking your iPhone to the nearest Apple Store for repair. Perhaps there is a hardware problem with the TrueDepth Camera, and it must be fixed. Just call or visit the nearest Apple Store to book an appointment.
If you cannot make it to that Apple Store location, consider using the mail-in program option. Check if you are still within the return Window because Apple will simply swap your iPhone with a new one. If a non-Apple part recently replaced your iPhone, consider replacing it with the original one before taking your iPhone to the nearest Apple Store.  
5. Reset iOS Settings
Sometimes, it can be difficult to trace the setting that triggers this Face ID not available error. If all the other methods fail, you can reset all your iOS settings to their original state as follows:
Step 1. Go to Settings > General > Transfer or Reset iPhone.

Step 2. Tap on Reset and choose Reset All Settings.

Step 3. Confirm this action and all the settings on your device will be reset. Once the process is complete, iPhone will automatically restart.
Bonus:

How to Unlock iPhone Without Passcode or Face ID?

If in some daily use cases, neither your Face ID nor passcode grants you access to your iPhone, or you have forgotten the correct screen passcode, you need to unlock your iPhone as soon as possible. Restoring your iPhone is one way but it means losing all your data and settings. Luckily, there is a quick and effective way to unlock iPhone without passcode or Face ID - LockEraser.

This program is equipped with all the necessary features to transform how you unlock your iPhone safely and efficiently. The best thing about this professional tool is that it unlocks your iOS devices under all circumstances. It also has a free trial version for new users and an unmatchable premium version.
Unlock iPhone without passcode or Face ID with 100% success rate.
Get the job done quickly with 3 simple steps.
Compatible with all the latest versions of iOS and iPadOS devices.
Capable of unlocking Apple ID/screen time passcode and bypassing MDM effectively.
Extremely secure and trusted by users worldwide.
1

Download, install and launch LockEraser on your computer. Select "Unlock Screen Passcode" mode.

2

Choose the firmware version provided based on your device model and click "Download". Then wait a few minutes for LockEraser to download and verify the firmware package.

3

When the extraction is completed, click the "Unlock" button. When the unlocking work is done, you will see the notification on the screen.
Conclusion
After going through this guide, you can quickly realize that Face ID not the available error is not something to give you headaches. Here, we have highlighted everything you need to know about Face ID not available error, including the methods to fix it with ease. If for some reason, one day you are struggling to unlock your iPhone without passcode or Face ID, LockEraser is your best choice, which will put to end any iPhone lock issues.