Face ID, the cutting-edge facial recognition technology that has revolutionized the way we interact with our devices, has undoubtedly become an integral part of our daily lives. However, like any other technology, Face ID can sometimes run into problems that interrupt its smooth operation.
Picture this: you're racing against time, and suddenly, a "Face ID Not Available" message pops up, suggesting you try again later and disrupting your plans. The hassle is undeniable. But don't worry, because this article is here to assist you! In the upcoming sections, we'll explore why this "Face ID Not Available" issue might happen, and we'll give you free and effective solutions to resolve the "Face ID Not Available" error.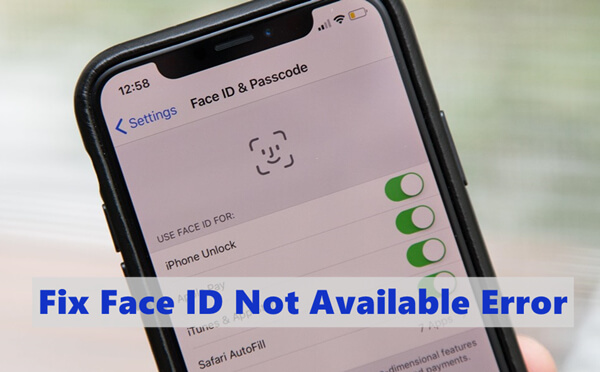 Part 1.

Why is Face ID Not Available

Face ID is a security mechanism on iPhone that goes beyond the iPhone lock screen. Apple allows you to set your Face ID and use it to authenticate diverse actions on your iPhone. While it's undoubtedly a remarkable technological advancement, there are certain drawbacks, such as instances where Face ID not woking after updating to iOS 17.

When attempting to utilize Face ID for various authentication processes, you might encounter an error message similar to "Face ID is not available. Try setting up Face ID later." This error signifies the Face ID not available issue. With this error, you cannot use Face ID to authenticate respective accounts and actions unless fixed. But before jumping into how to fix this Face ID not available error, let's first highlight some of the possible causes.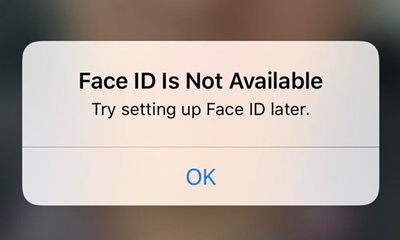 1

Software Glitches and Updates: Sometimes, software glitches or bugs can interfere with the functionality of Face ID. Furthermore, after updating your device's operating system to the latest iOS 17 version, compatibility issues might emerge, potentially causing Face ID to malfunction.

2

Hardware Interference or Damage: If the hardware components responsible for Face ID recognition, such as the TrueDepth camera system, are obstructed, dirty, or damaged, it can result in Face ID not working as expected.

3

Biometric Data Changes: Major changes to your facial features, such as drastic haircuts, significant weight loss or gain, or the use of accessories that cover parts of your face, can cause Face ID to struggle in recognizing your altered appearance. Retraining Face ID with your updated look may be necessary.
Note
The reasons mentioned above are not the sole contributors to the "Face ID not available" problem. Various other factors, such as sensor calibration errors, incorrect settings, or even certain app conflicts, can also trigger this issue. It's important to consider these possibilities when troubleshooting and seeking solutions.
Part 2.

How to Fix Face ID Not Available Error for Free?
1. Restart iPhone
If a minor software glitch causes the Face ID unavailable error, restarting your iPhone can cure the ailment. To restart your iPhone:
For iPhone 8 and later models, press and quickly release the volume up button, then the volume down button. Next hold the Power button until you see the Apple logo on the screen.

For iPhone 7/7 plus, press and hold both the Power and volume down buttons until the Apple logo appears.

For iPhone 6 and earlier models, hold both the Power and Home button until the Apple logo appears.
2. Tackling Screen Protector and Sensor Woes
Your iPhone's screen protector can sometimes interfere with the camera and sensor's operation, causing unexpected errors. To address this, start by removing the screen protector to see if the "Face ID Not Working" issue resolves.
Additionally, gently wipe the front camera and sensors using a microfiber cloth. Even tiny specks of dust or fingerprints might obstruct these components from accurately detecting your face.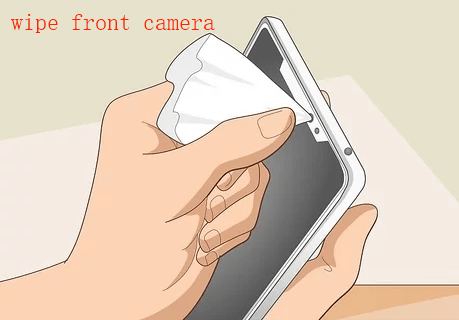 You can also assess the condition of the sensors. Try reducing the screen brightness to zero and then shine a light onto the screen. If the brightness automatically adjusts itself, your camera and sensor are likely functioning properly. If not, it could indicate an issue with your sensor and camera that requires further attention.
3. Update to iOS 17
Failed iOS updates or outdated iOS files could be triggering the Face ID not available issue. This is why it is always important to update your iPhone to the latest version. You can check whether there is any update and get your iOS updated as follows:
Step 1. Go to Settings > General > Software Update.
Step 2. If you find any update available, download and install it. If you see a notification that your device is up to date, then this method won't help you.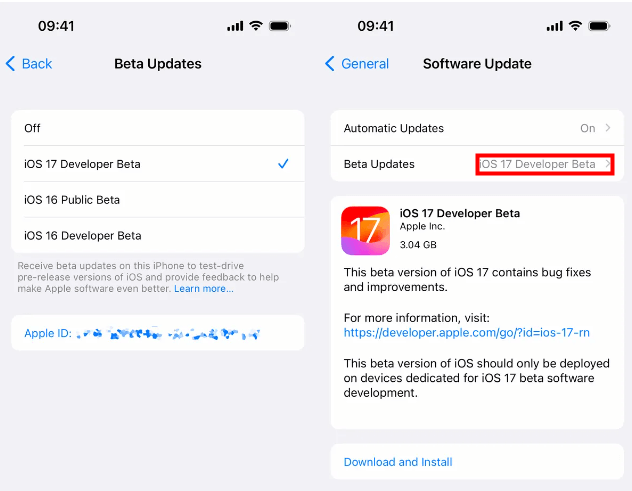 People Also Ask:
Step by Step to Download iOS 17 Developer and Public Beta for Free
4. Contact the Nearest Apple Store
If the problem persists, consider taking your iPhone to the nearest Apple Store for repair. Perhaps there is a hardware problem with the TrueDepth Camera, and it must be fixed. Just call or visit the nearest Apple Store to book an appointment.
If you cannot make it to that Apple Store location, consider using the mail-in program option. Check if you are still within the return Window because Apple will simply swap your iPhone with a new one. If a non-Apple part recently replaced your iPhone, consider replacing it with the original one before taking your iPhone to the nearest Apple Store.
For Apple Support Online to fix Face ID issues, visit support.apple.com, select your device and problem, choose chat, follow troubleshooting steps given by a representative, and keep records for reference. It's a reliable solution for addressing Face ID problems.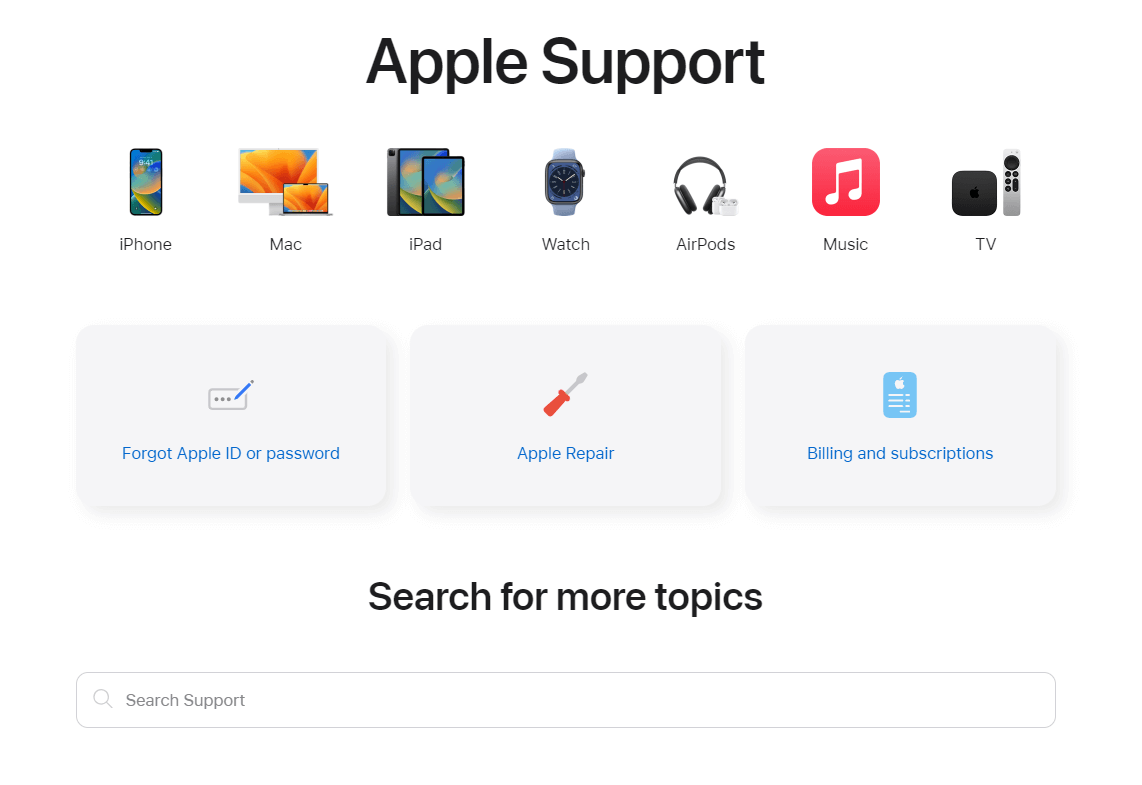 5. Reset All Settings
Sometimes, it can be difficult to trace the setting that triggers this Face ID not available error. If all the other methods fail, you can reset all your iOS settings to their original state as follows:
Step 1. Go to Settings > General > Transfer or Reset iPhone.

Step 2. Tap on Reset and choose Reset All Settings.

Step 3. Confirm this action and all the settings on your device will be reset. Once the process is complete, iPhone will automatically restart.
Bonus:

How to Unlock iPhone Without Passcode or Face ID?

When we encounter "Face ID not available" and forget our lock screen password, how can we quickly and safely unlock the phone? No need to pay Apple Store's expensive repair fees or worry about viruses from jailbreaking software. LockEraser comes to the rescue!

LockEraser is a user-friendly and effective tool designed to address not only the Face ID problem but also to unlock Apple ID, screen time passcodes, and even bypass MDM locks. Using LockEraser, iPhone's "Face ID Not Available" issue can be resolved with the simple, direct, and easy steps.
Unlock iPhone without passcode or Face ID with 100% success rate.
Get the job done quickly with 3 simple steps.
Support all iOS versions and devices including iOS 17 and iPhone 15 models.
Capable of unlocking Apple ID/screen time passcode and bypassing MDM effectively.
Extremely secure and trusted by users worldwide.
1

Download, install and launch LockEraser on your computer. Select "Unlock Screen Passcode" mode.

2

Choose the firmware version provided based on your device model and click "Download". Then wait a few minutes for LockEraser to download and verify the firmware package.

3

When the extraction is completed, click the "Unlock" button. When the unlocking work is done, you will see the notification on the screen.
Conclusion
After going through this guide, you can quickly realize that "Face ID Not Available" error is not something to give you headaches. Here, we have highlighted everything you need to know about "Face ID Not Available" error, including the methods to fix it with ease. If for some reason, one day you are struggling to unlock your iPhone without passcode or Face ID, LockEraser is your best choice, which will put to end any iPhone lock issues.