Artificial intelligence has paved the way for a new generation of "Donald Trump ai voice generator," enabling content creators to add a unique and engaging touch to their projects by incorporating the distinctive voice of this well-known personality.
In this blog post, we will explore the top Donald Trump voice generator & Donald Trump voice changer that specialize in generating Donald Trump AI voice for Trump Text to Speech and voice chat. Various use cases that can leverage this innovative voice generation technology for captivating and memorable content will be mentioned too.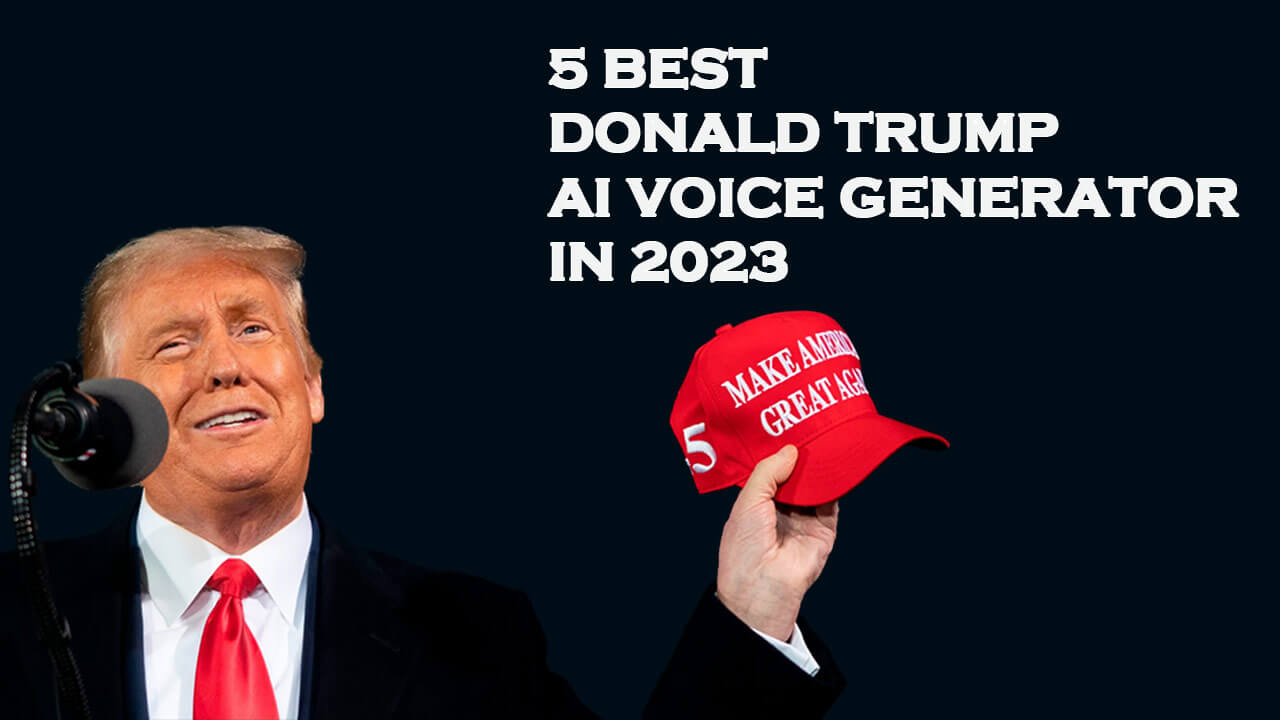 Part 1:

Why is Donald Trump's Voice So Special?

Donald Trump, a well-known figure in both business and politics, possesses a distinctive voice that carries elements of a native New York accent. His manner of speaking is often characterized by a unique combination of assertiveness and repetition, particularly when it comes to certain nouns.

Critics and supporters alike have noted that Trump's vocal style, with its native New York accent, can evoke a sense of humility. Throughout his time as president and beyond, his speaking patterns have been a subject of analysis and discussion, especially due to their contrast with more traditional or refined forms of communication.

Though no longer in office, Donald Trump's speaking style continues to be a topic of interest, drawing comparisons to both his past role as a world leader and to characteristics associated with the upper-class British accent.
Part 2:

[Most Comprehensive] Comparison of Donald Trump Voice Generator & Voice Changer
Product Name
Category
Platform
Voices
Price
Review Rate
MagicVox
Real-time
Window+Mac
400+
Free/$8.95
4.8
Voice. ai
Real-time
Windows
100+
Free Beta Version
4.1
VoxMaker
Text to Speech
Windows
3200+
$14.95/mon
4.7
Fakeyou
Text to Speech
Online
75+
Free
4.3
Trumped.com
Text to Speech
Online
Only 1
$25
4.1
Clash.me
Text to Speech
Online
60+
Only 140 characters free.
3.5
Part 3: How to Use Donald Trump AI Voic Changer [3 Steps]
MagicVox voice changer specializes in creating celebrity voices in real-time while gaming, chatting online, including the iconic voice of Donald Trump, Joe Biden and Drake, etc.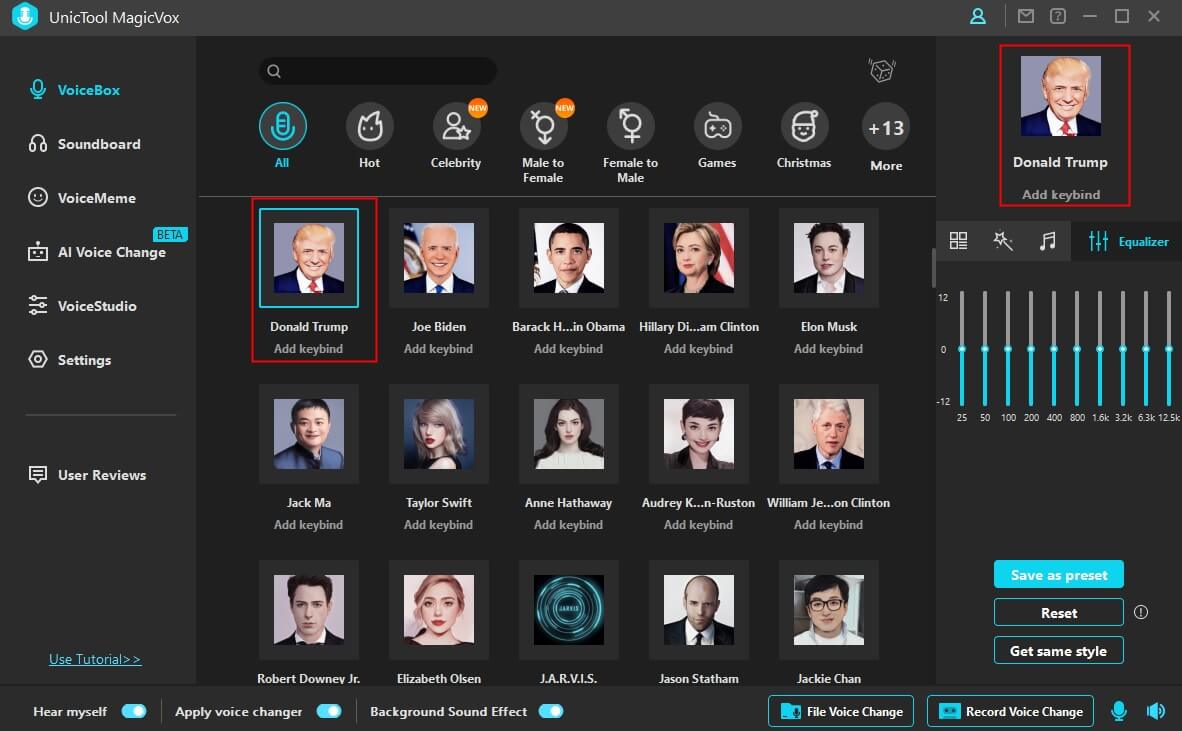 How to Use MagicVox Celebrity Voice Changer
Step 1 Download MagicVox: go to the web and download UnicTool MagicVox.
Step 2 Choose device: Configure your microphone and headphones as the default input and output device.

Step 3 Choose voice:Select your favored voice preference, such as "Donald Trump", to enhance your gaming experience.
Watch The Video Below To Know More About MagicVox Trump AI Voice Changer
Listen to the Joe Biden AI Voice Created by MagicVox
Fortunately, there's no superior alternative to the MagicVox Donald Trump AI Voice Changer. Its impressive range of attractive voice filters and seamless soundboard choices elevate this voice changer to an almost flawless level.
MagicVox operates as a voice modulator, allowing you to modify your voice instantly, while also offering exceptional voice clips.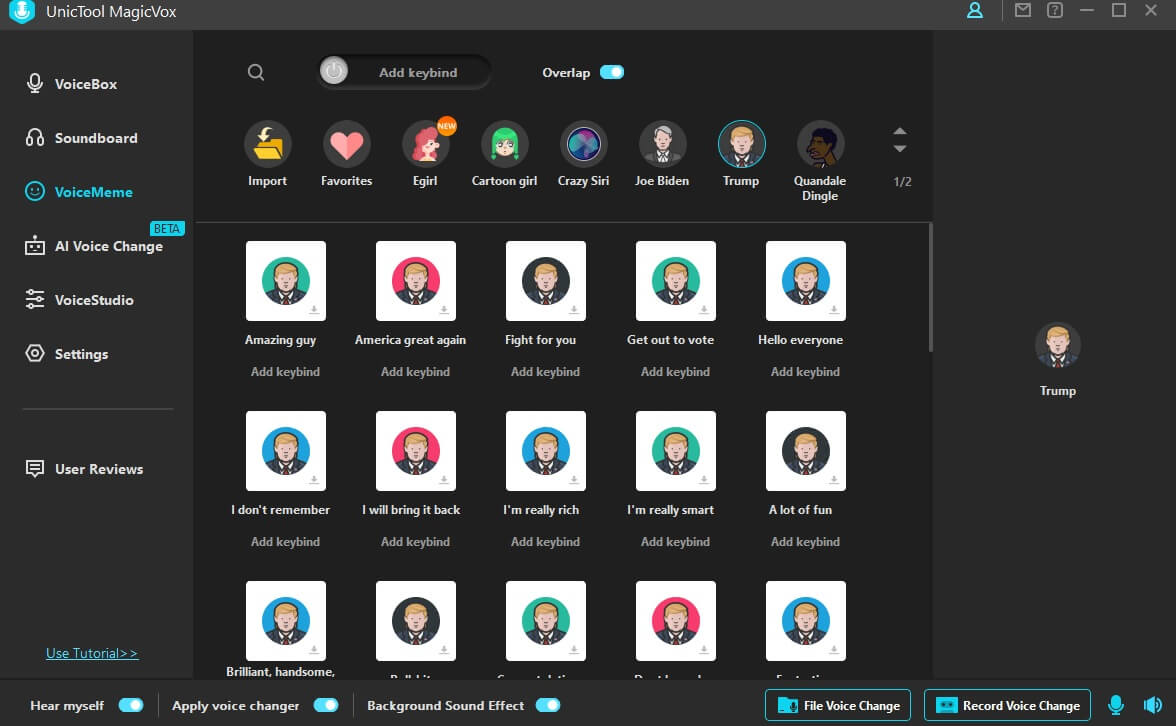 Pros
MagicVox offers an expansive library of 600+ AI voice effects and 250+ voice filters, including the Donald Trump AI voice.
Real-time voice alteration on popular platforms like chat, streaming, and gaming.
Users can professionally customize their microphone voice with the Voice Studio feature.
Personalization options include adjusting pitch, speed, and accent for a personalized Trump-like voice.
Keybindings enable easy control over voice filters and sound effects, minimizing disruptions.
Support audio file voice change and recording voice change.
Cons
Lack of text to speech function
Voice.ai is an advanced AI voice generator that supports a wide range of voices, including celebrity voices like Donald Trump's.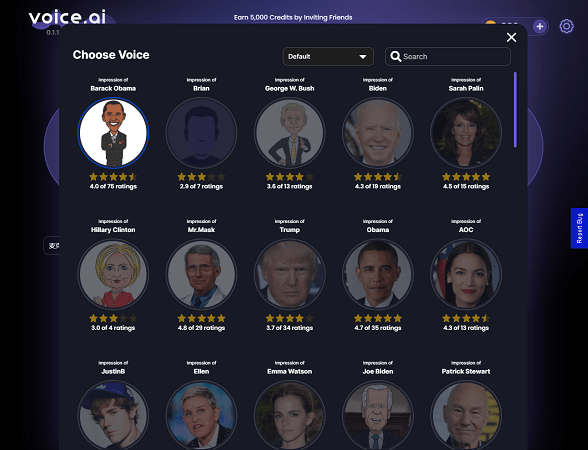 Key Features:
Large library of voices and accents
Advanced voice customization features
High-quality audio output
Support for multiple languages
Pros
Diverse library of character voices
Advanced voice customization features
High-quality audio generation
Cons
Steeper learning curve for beginners
Part 4:

Top 4 Donald Trump AI Voice Generators in 2023

In this section, we'll introduce four leading AI voice generators that excel in generating Trump AI voice. Each of these platforms offers a unique set of features, pros, and cons to cater to different needs and preferences for you to make a better choice.

VoxMaker is a versatile President AI voice generator platform that allows users to create realistic renditions of famous voices, such as Donald Trump's.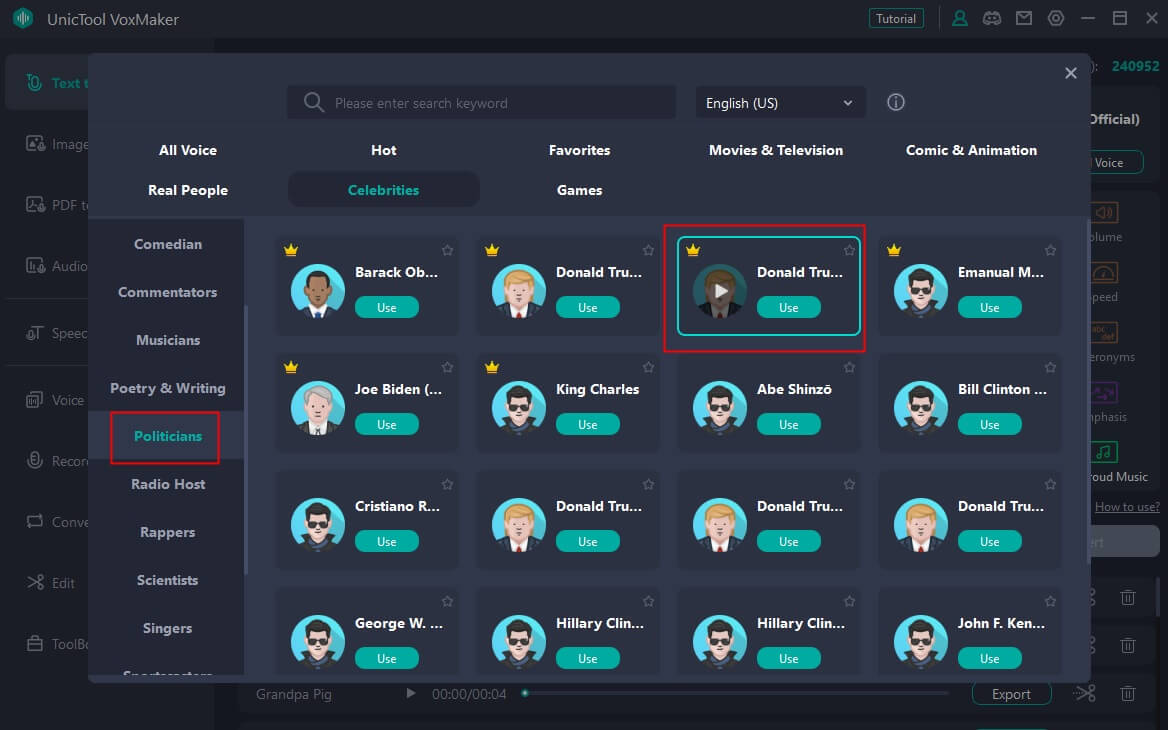 Text to Speech AI Voice Generator
Try VoxMaker with 3200+ voices free.
Key Features:
Access a diverse range of 46+ AI accents globally, including Spanish, Japanese, French, and more.
Generate 3200+ text-to-speech voices resembling Rappers, YouTubers, Cartoons, celebrities, and more.
Edit audio clips extensively by clipping, deleting, cutting, and trimming.
Modify audio with personalized settings such as Pause, Pitch Emphasis Volume, and Speed.
All-in-one Voice Toolkit: Users can enjoy functionalities such as speech to text, image to speech, AI voice cloning, audio to speech, and as a voice recorder.
Authentic Trump Voice: The AI voice generator accurately captures the distinct voice style of Donald Trump, including his intonations, speech patterns, and mannerisms.
In addition to Donald Trump's AI voice, there are also AI voices available for many other U.S. presidents, such as Joe Biden and Barack Obama.
Pros
Comprehensive voice library for various character types.
Powerful customization options for creating unique voices.
Seamless integration with editing tools.
Easy to use.
100% safe.
How to Generate Donald Trump AI voice?
Step 1: Download and install VoxMaker
Step 2: Click the right button "Change Voice"

Step 3: To find the specific voice type you desire, simply enter your preferred voice, such as "Donald Trump" in the search box located above.
Step 4: Type in or paste the text you want to generate in the provided text box and click on the "Convert" button to create the audio file.
Step 5: Download the file in your preferred format and use it as required.
Trumped.com is a dedicated platform for generating Donald Trump's voice using AI technology, making it a go-to resource for Trump voice enthusiasts.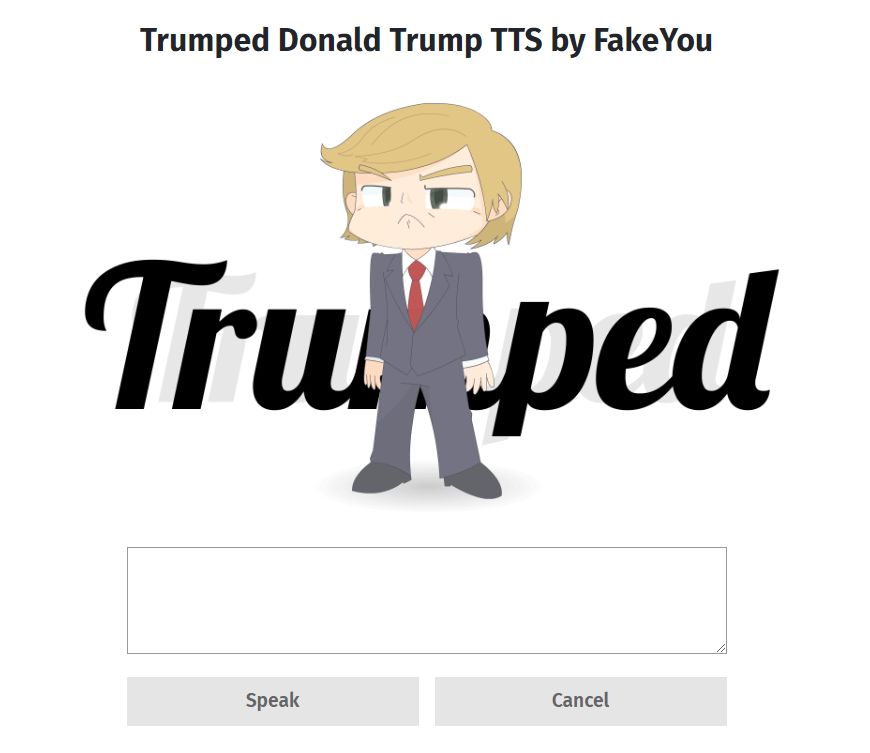 Key Features:
Specialized platform for Donald Trump's voice generation
Easy-to-use interface for quick voice generation
Regularly updated voice library
Pros
Focused platform exclusively for Donald Trump's voice
Simple and intuitive interface
Constantly updated with new voice samples
Cons
Limited to only one celebrity voice
FakeYou is an AI-powered voice generator that provides a diverse selection of celebrity voices, including Donald Trump's.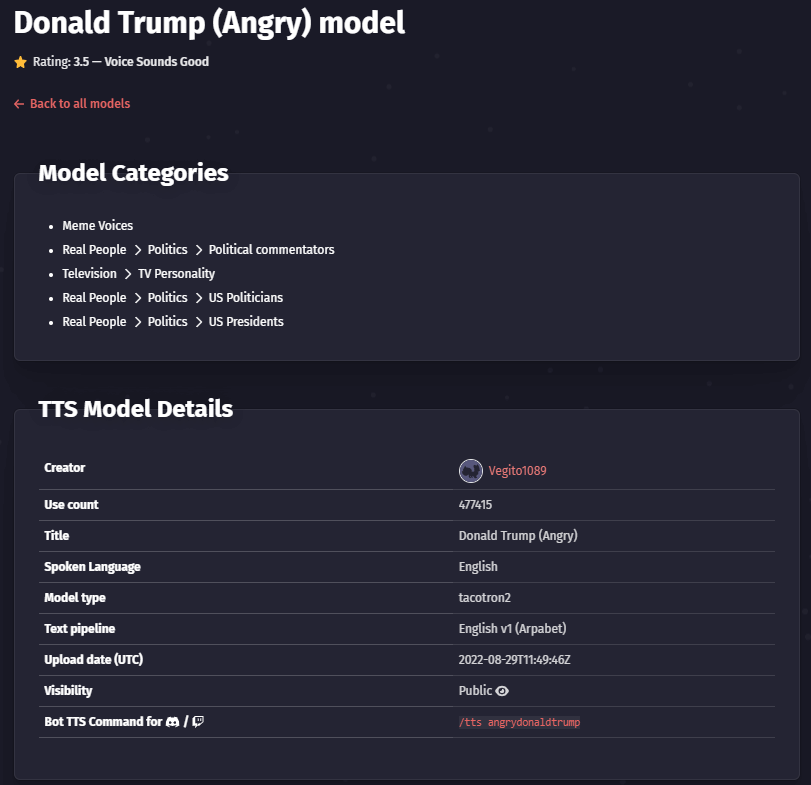 Key Features:
Wide range of celebrity voices to choose from
User-friendly voice generation process
High-quality audio output
Pros
Impressive selection of celebrity voices
Easy-to-use interface for quick voice generation
High-quality audio output
Cons
Limited advanced customization options
4. Clash.me
Clash.me stands out as an engaging web-based Donald Trump text to speech utility. Users can input up to 140 characters and transform it into lively speech, utilizing an extensive array of voices, including those of numerous celebrities, like the former President, Donald Trump.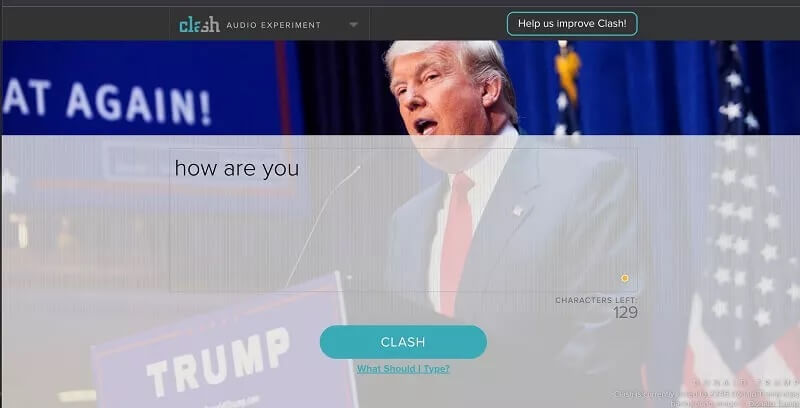 Key Features:
Extensive collection of celebrity voices meticulously categorized word by word.
AI algorithm swiftly selects the optimal voice snippet for each word.
Pros
Rapid results delivery.
Offers an entertaining blend of random celebrity voices.
Cons
Restricted to 140 characters.
Excludes pure Donald Trump text-to-speech.
Minimal customization choices available.
Each of these Donald Trump AI voice generator platforms offers unique features, pros, and cons, allowing users to select the most suitable option for their specific needs and creative projects.
Part 5:

Where People Can Use Donald Trump AI Voice?

A pro-Ron DeSantis super PAC has released a TV ad that features an AI-generated version of Donald Trump's voice. The ad, created by Never Back Down, accuses Trump of disrespecting Iowa Governor Kim Reynolds and suggests a pattern of such behavior.

Although the audio isn't directly from Trump, a source familiar with the ad confirmed that the voice is AI-generated. The content appears to be based on a recent post from Trump's social media platform, Truth Social.

This creative use of AI-generated voices points to the expanding potential of AI technology. The Trump AI voice, designed to mimic his distinctive speaking style, finds application beyond political advertisements. People can utilize such AI-generated voices in various contexts: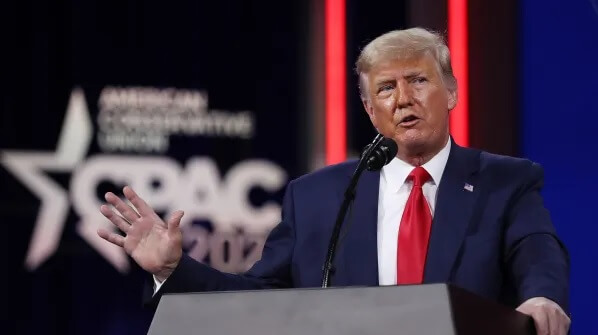 Entertainment: Incorporate the voice into comedy sketches, satirical content, and impersonations for engaging entertainment.
Prank call: Imagine changing your voice in real time in the game or online chat to become the former President of the United States - Trump. This adds a hilarious twist to gaming interactions, allowing you to surprise your friends with unexpected conversations that mimic Trump's distinct speaking style.
Content Creation: Enhance narrations, podcasts, and presentations to captivate audiences and add a unique touch.
Political Commentary: Create thought-provoking content and critiques that leverage the AI voice to emphasize certain points.
Voiceovers: Integrate the voice into advertisements, voiceovers, and promotional materials to make a lasting impact.
Personalized Messages: Craft distinct voicemail greetings, ringtone messages, and fun audio snippets for personal use.
Digital Interaction: Employ the AI voice in virtual assistants, chatbots, and other interactive AI technologies.
Social Media: Create engaging content for social media platforms, utilizing the unique AI-generated voice to stand out.
Storytelling: Enhance audiobooks, documentaries, and narrative projects with a voice that resonates.
As AI technology advances, its applications in various fields continue to expand, offering innovative ways to engage, entertain, and communicate.
FAQs
1. How to get the Donald Trump voice changer?
To get a Donald Trump voice changer, you can choose from one of the platforms mentioned in this blog post, such as MagicVox, VoxMaker, Voice.ai, Trumped.com, or FakeYou. Sign up for an account, if necessary, and follow the platform's instructions to generate and use the Donald Trump voice for your projects.
2. What is the best AI voice generator for Trump?
The best AI voice generator for Trump depends on your specific needs and preferences. MagicVox, VoxMaker, Voice.ai, Trumped.com, and FakeYou all offer unique features and capabilities, with varying levels of customization and ease of use. Explore these platforms and choose the one that best fits your requirements.
However, among the text-to-speech software currently on the market, only voxmaker provides the voice cloning function, and you can try it for free

UnicTool VoxMaker
Any Voice You Desire is Right Here.
3. How to AI generate president voices?
To AI generate president voices, you can use an AI voice generator platform that offers celebrity voices, including those of presidents. Platforms like MagicVox, VoxMaker, and Voice.ai often feature a range of famous voices, including those of past and present presidents. Simply choose the president's voice you want to generate and follow the platform's instructions to create your desired audio output.
Conclusion
Incorporating Donald Trump AI voice into creative projects has become more accessible than ever, thanks to Donald Trump Text to Speech. With platforms like MagicVox, VoxMaker, Voice.ai, Trumped.com, FakeYou and clash.me, users can now generate realistic and engaging renditions of the former president's voice for various applications, such as parodies, educational content, and animations.
As AI-powered voice generation technology continues to advance, it opens up new possibilities for content creators and enhances the potential for captivating and immersive experiences. Explore these platforms and embrace the power of AI Donald Trump voice generator to transform your projects and create memorable content featuring the trump ai voice.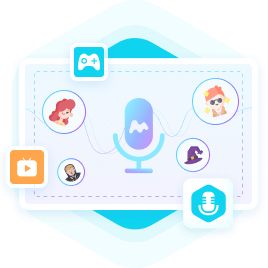 MagicVox Trump AI Voice Changer
Real-time voice changing capabilities
Wide variety of voice presets, from robots to animals
Customizable soundboard for quick access to sound effects
Compatible with many streaming, gaming, and communication platforms
User-friendly interface and simple configuration