All-in-one Solutions for 500+ Data Loss Scenarios
If you are looking for the best iPhone/Android/Mac/Windows/Hard drive/SD card/SSD card/ USB card data recovery software, UnicTool iFindit can be your bset choice for its powerful functions. Whatever puran, corrupted or lost file recovery, iFindit can help you in seconds.
Accidental Human Error

Accidental Human Error

Inadvertently erased recycle bin、broken screen、phone being lost/stolen/disabled/locked、water damage.

Format Storage Device

Format Storage Device

Formatted the incorrect drive or partition, either mistakenly or while attempting system cleanup.

Virus /Malware Attack

Virus /Malware Attack

A virus or malware can harm your storage device by damaging or erasing your data.

Interrupt Data Transfer

Interrupt Data Transfer

The data being moved may not have finished saving completely on the storage device it's being sent to.

Hard Disk Corrupted

Hard Disk Corrupted

A disk can become damaged because of power problems or other reasons, making the data on it impossible to read or access.

System Crashing

System Crashing

For example, a computer not being bootable, a blue screen of death, computer/phone system crash. Or data lost for IOS upgrade/downgrade.

Lost Partition

Lost Partition

If a partition goes missing, all the data stored on it becomes unreachable and cannot be accessed.

Software Malfunction

Software Malfunction

When software doesn't work properly, it might not be able to save or retrieve data correctly.
Best Data Recovery Software Mac/Windows
2000+ Storage Devices Recovery
2000+ Storage Devices Recovery
UnicTool iFindit is capable of retrieving your precious data from various sources including Windows, Mac (coming soon), hard drives, USBs, SD cards, SSDs, external drives, cameras, drones, dashcams, camcorders, video/music players, and more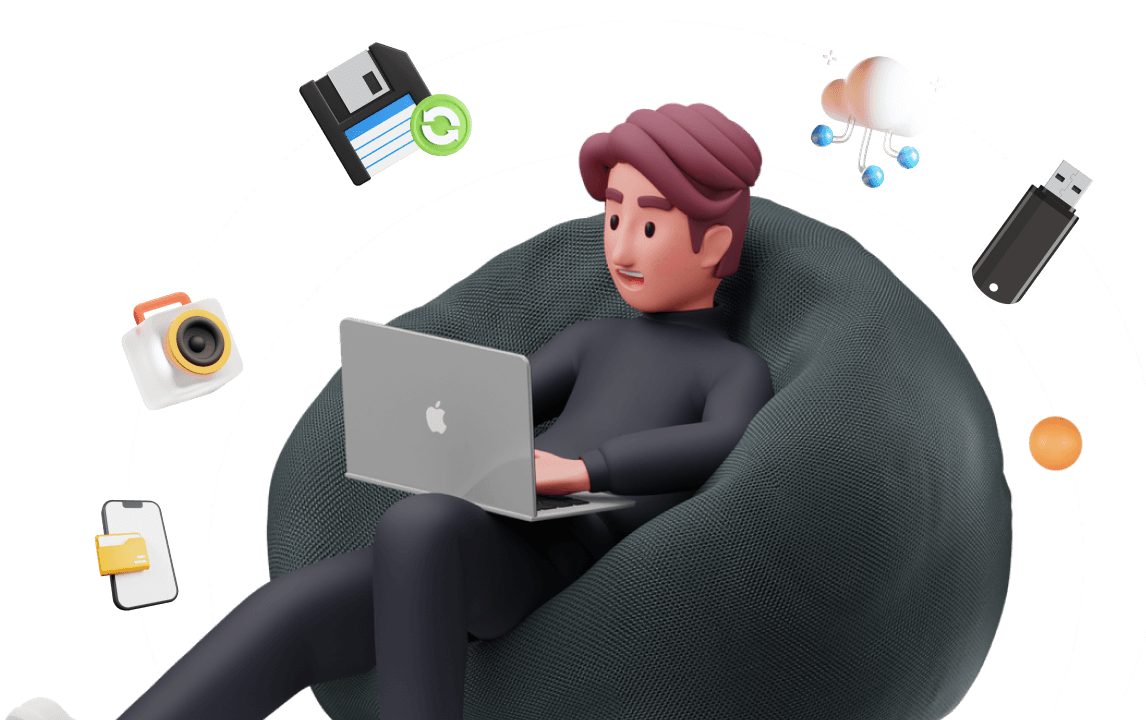 1000+ File Recovery Supported
1000+ File Recovery Supported
UnicTool iFindit can restore email; documents; photos; videos; audio; Apps (Line; Skype; Whatsapp Business; etc.) and other files in different file types. Except Common File recovery, UnicTool iFindit offers Excel/Word/RS/SSD/USB/Zip/Rar/PST/Video file recovery.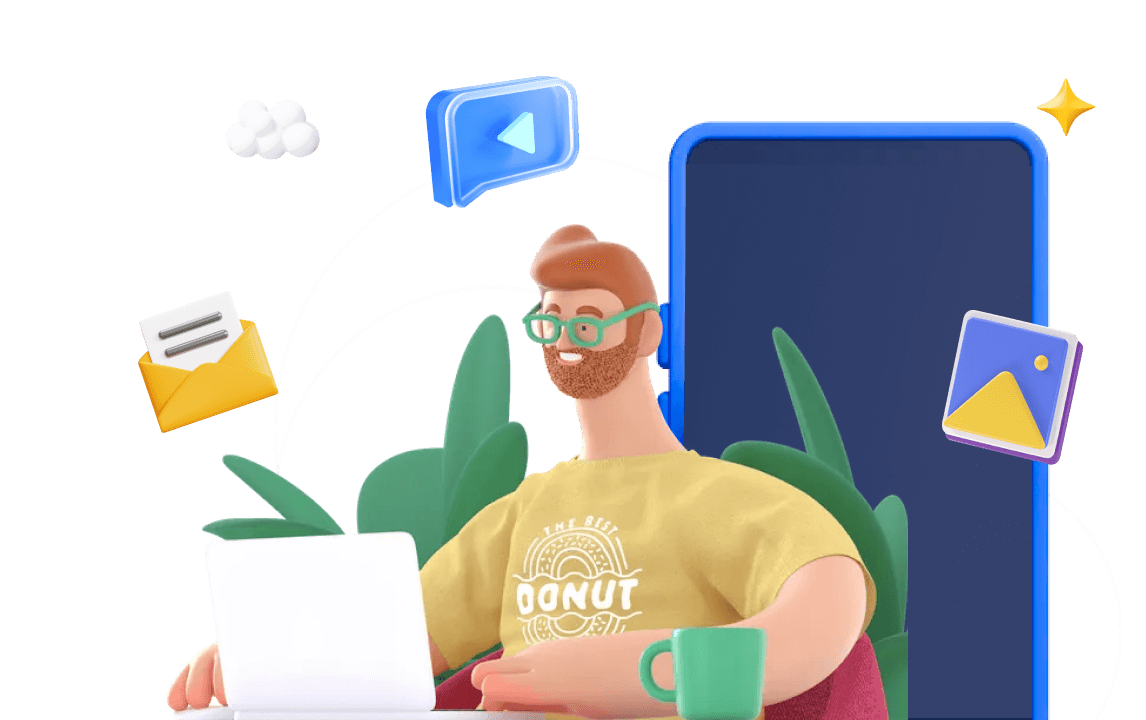 iPhone Data Recovery
iPhone with 3 Optional Recovery Modes
iPhone with 3 Optional Recovery Modes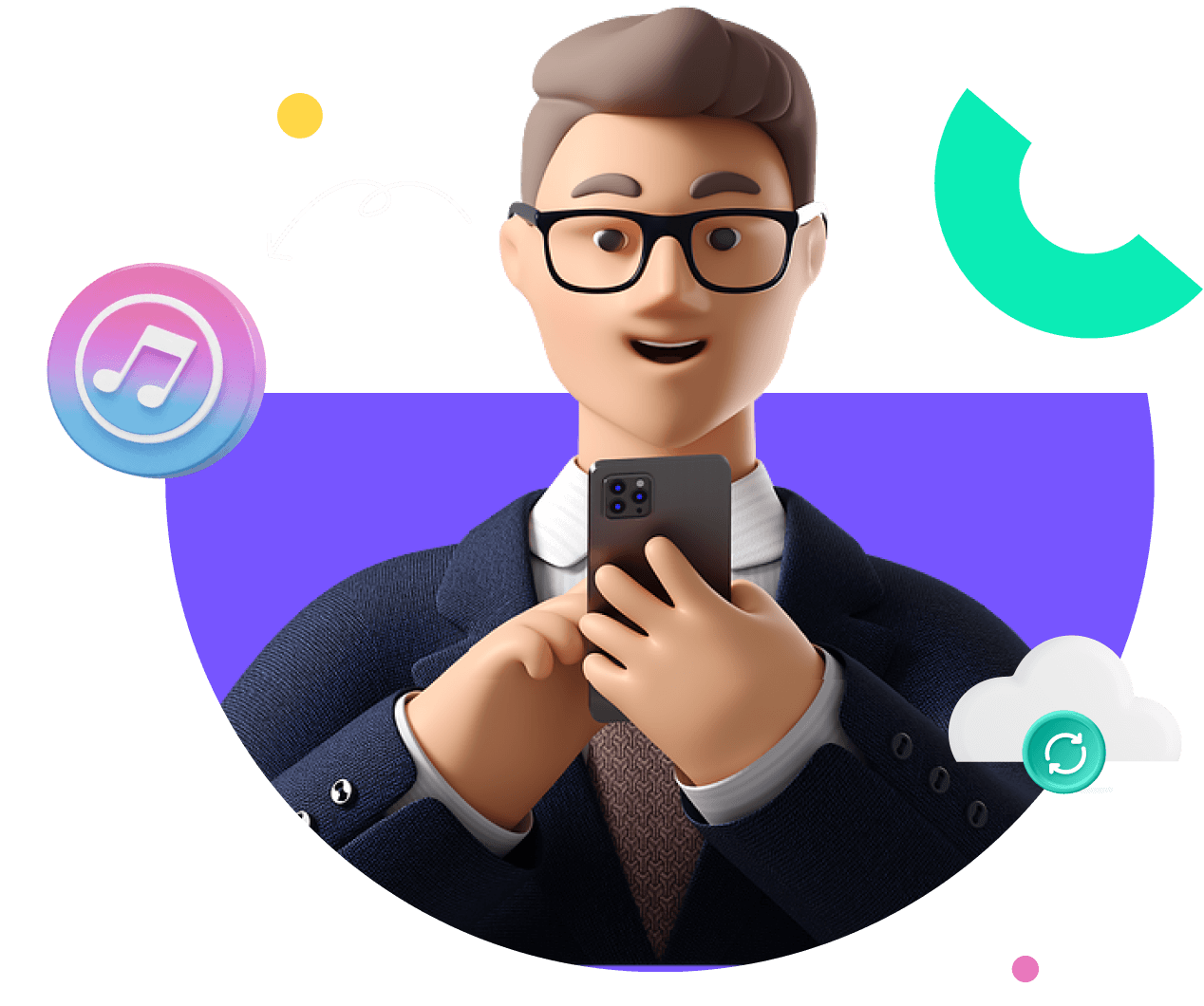 Recover from iOS Device

Recover lost or deleted data directly from iOS devices, no backup required.

Recover from iCloud/iCloud Backup

Extract your iPhone data from the iCloud kit and restore it directly, or find and recover lost data from an iCloud backup and restore it selectively.

Recover from iTunes Backup

Recover lost iPhone/iPad data from the copies you've made in iTunes.
iFindit vs. Other Methods
Features
iFindit Recover from iOS Devices
Recover Data Without Backup
Recover Permanently Deleted Data
Preview All Details of Deleted Files
Selectively Recover Data You Want
View & Extract iTunes Backup Files
View & Retrieve Data from iCloud
Recover Data Wihtout Resetting iPhone
UnicTool iFindit
iTunes
iCloud
Awesome Features Beyond Your Imagination
AI Image Enhancer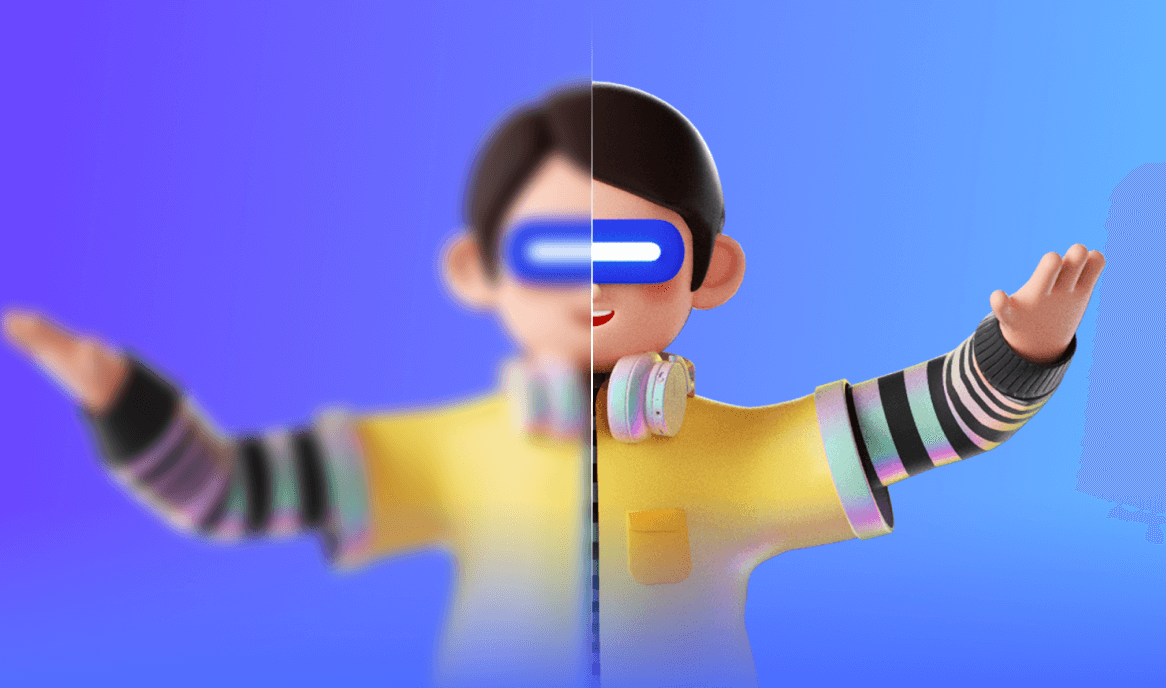 AI Image Enhancer AI Image Enhancer can increase image resolution after recovery.
Repair Corrupted Files/Videos/Photos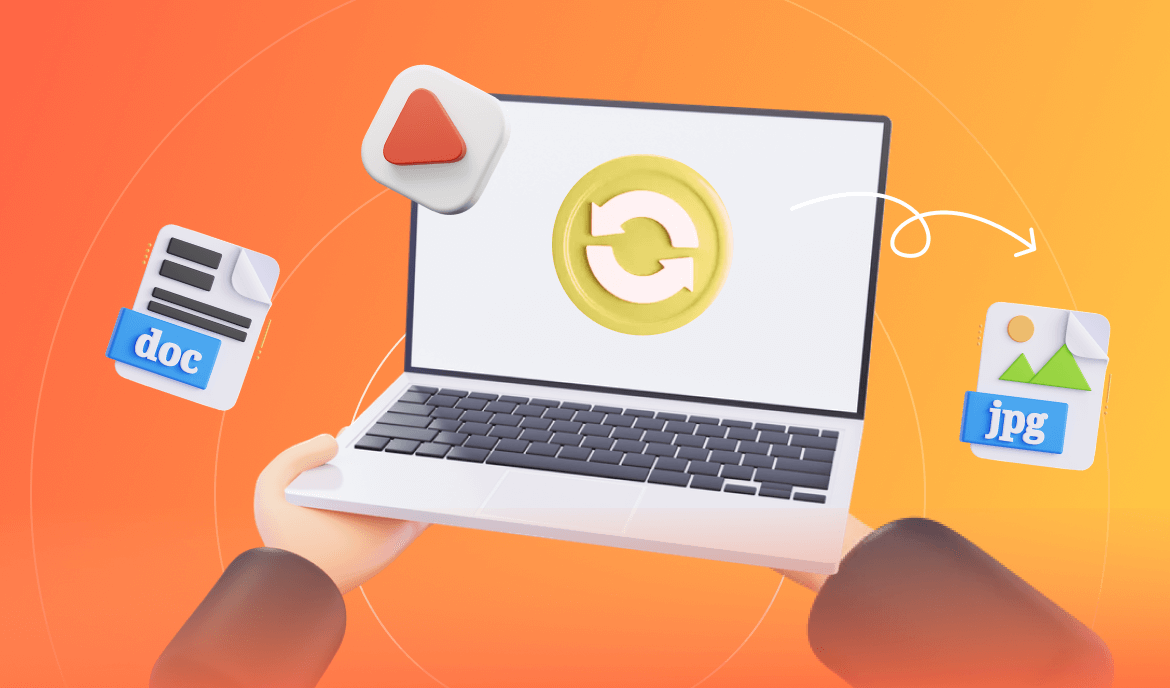 Repair Corrupted Files/Videos/Photos iFindt can Repair PDF, Word, Excel, PowerPoint, MP4 file and other files can be accomplished effortlessly in just three straightforward steps.
What Makes iFindit Data Retrieval Stand Out?
UnicTool iFindit serves as your comprehensive solution, enabling all-in-one data recovery from Windows, Mac(coming soon), and iOS devices. It is not only a data retrieval tool but also offers the capability to repair damaged files, photos, and videos.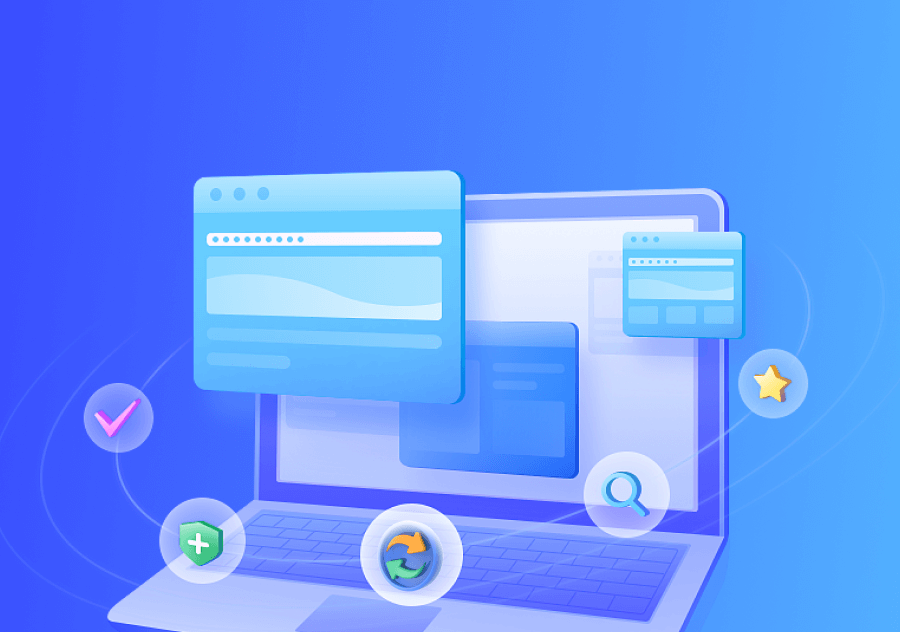 2000+ Devices
Easily restore lost data from 2000+ various internal and externa devices such as PC or hard drives.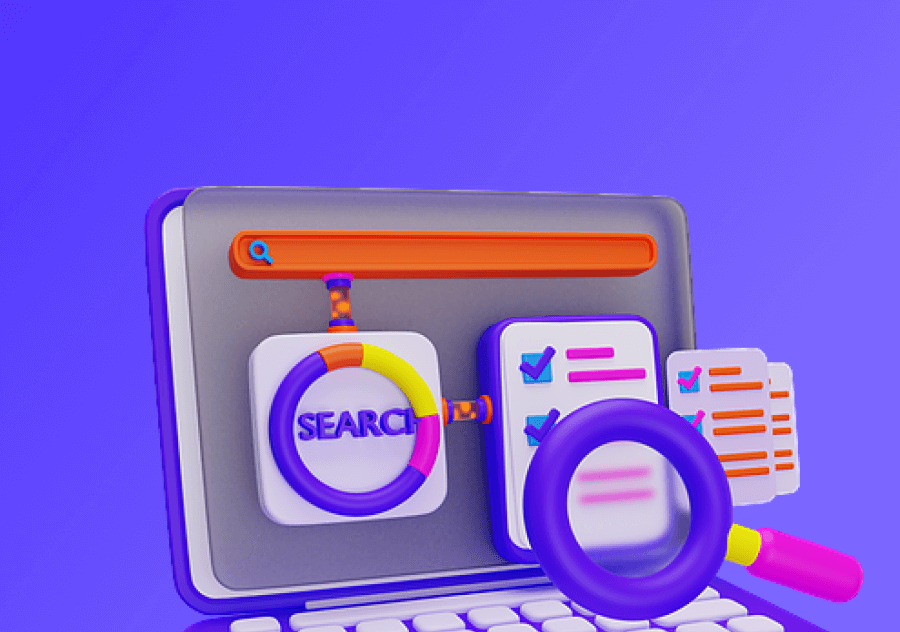 1000+ File Format
Efficiently Retrieve your files, including various formats of photos, audio; files; documents; videos and other types of data.
Data Preview
Preview your data before recovery with iFindit, Making sure find the data you want to restore.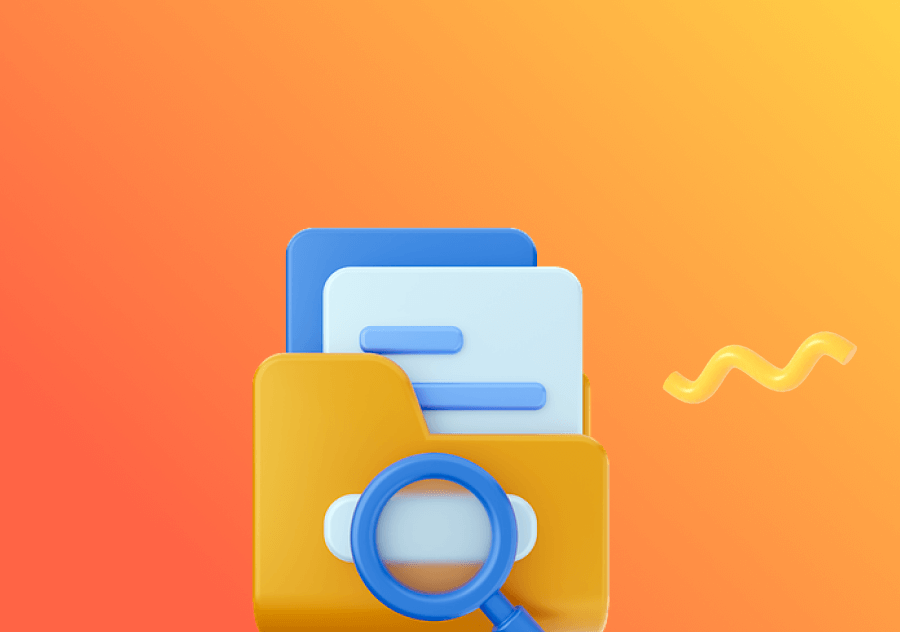 File Filters
Fastly filter your search with our comprehensive file filters, enhancing the precision of your data recovery process.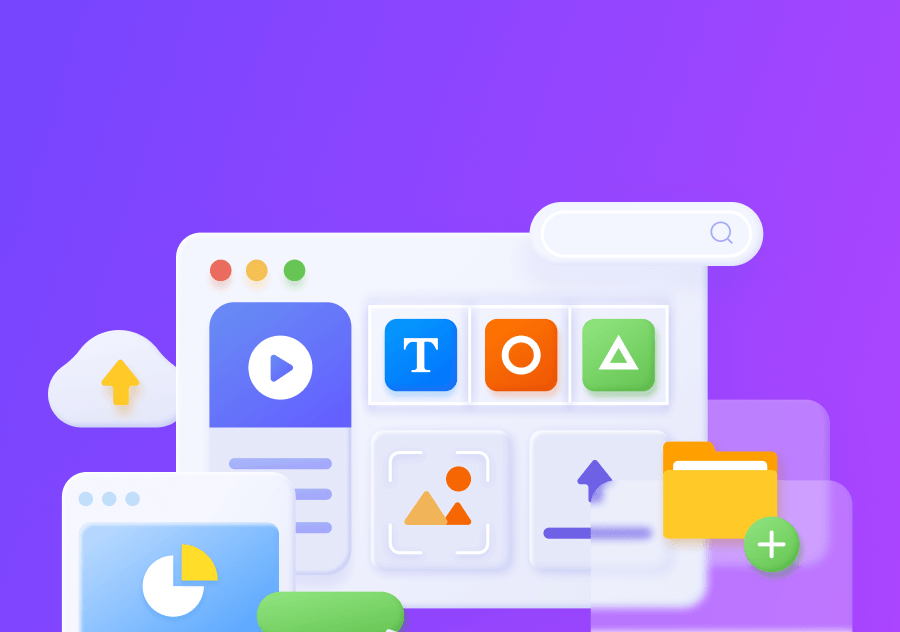 AI Restoration
iFindit Supports AI audio /photo/videos/documents/files restoration with a single click.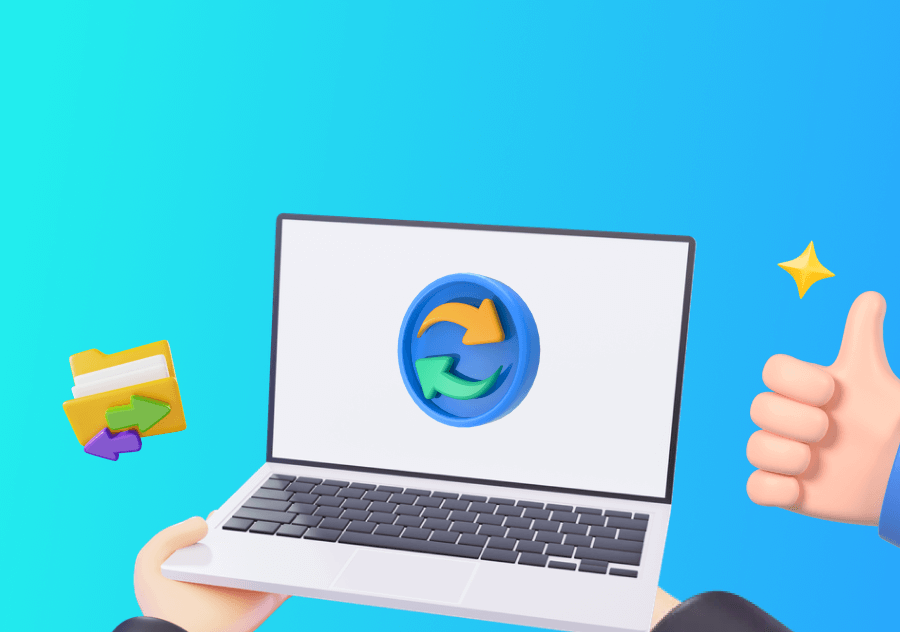 98% Restore Rate
Achieve a remarkable 98% data recovery rate using our reliable and efficient data recovery software solution.
Trusted by Millions of Users

James
"UnicTool iFindit's data preview feature gave me peace of mind. I could verify the recoverable files before proceeding, ensuring I retrieved exactly what I needed."

William
"The data preview feature of UnicTool iFindit provides a crucial advantage, enabling users to verify the integrity of recovered files prior to their restoration."

Michael
"UnicTool iFindit streamlines the recovery process with its sophisticated file filters, empowering users to precisely pinpoint and retrieve specific files with ease."

John
"UnicTool iFindit boasts an extensive compatibility range, supporting over 2000 devices, ensuring that users can confidently recover data from a wide array of sources."

David
"UnicTool iFindit's user-friendly interface made the data recovery process a breeze. It guided me step-by-step and delivered excellent results."

"Professionals highly recommend UnicTool iFindit for its remarkable combination of all-in-one recovery capabilities, advanced data preview functionality, and robust file filtering options."
Data Restore Tool Comparison

Price $65.99 for Win+Mac+iOS
(1 year)
Devices
3 Phone Devices+2PCs
Hard Drive Recovery
Phone Recovery
WhatsApp&Line Recovery
Photo/Video Repair
Easy to use Easy

Disk Dirll

Stellar

EaseUS

Recoverit
$89.00 for Win+Mac
(lifetime)
1 pc
Mac version only
Mac version only
$79.99 for Win

$99.99 for Mac

(1 year)
1 pc
Moderate
$99.95 for Win
$119.95 for Mac
(1 year)
1 pc
Easy
$79.99 for Win

$99.99 for Mac

(1 year)
1 pc
Easy
Data Restoration with 3 Steps to Get Back Everything You Need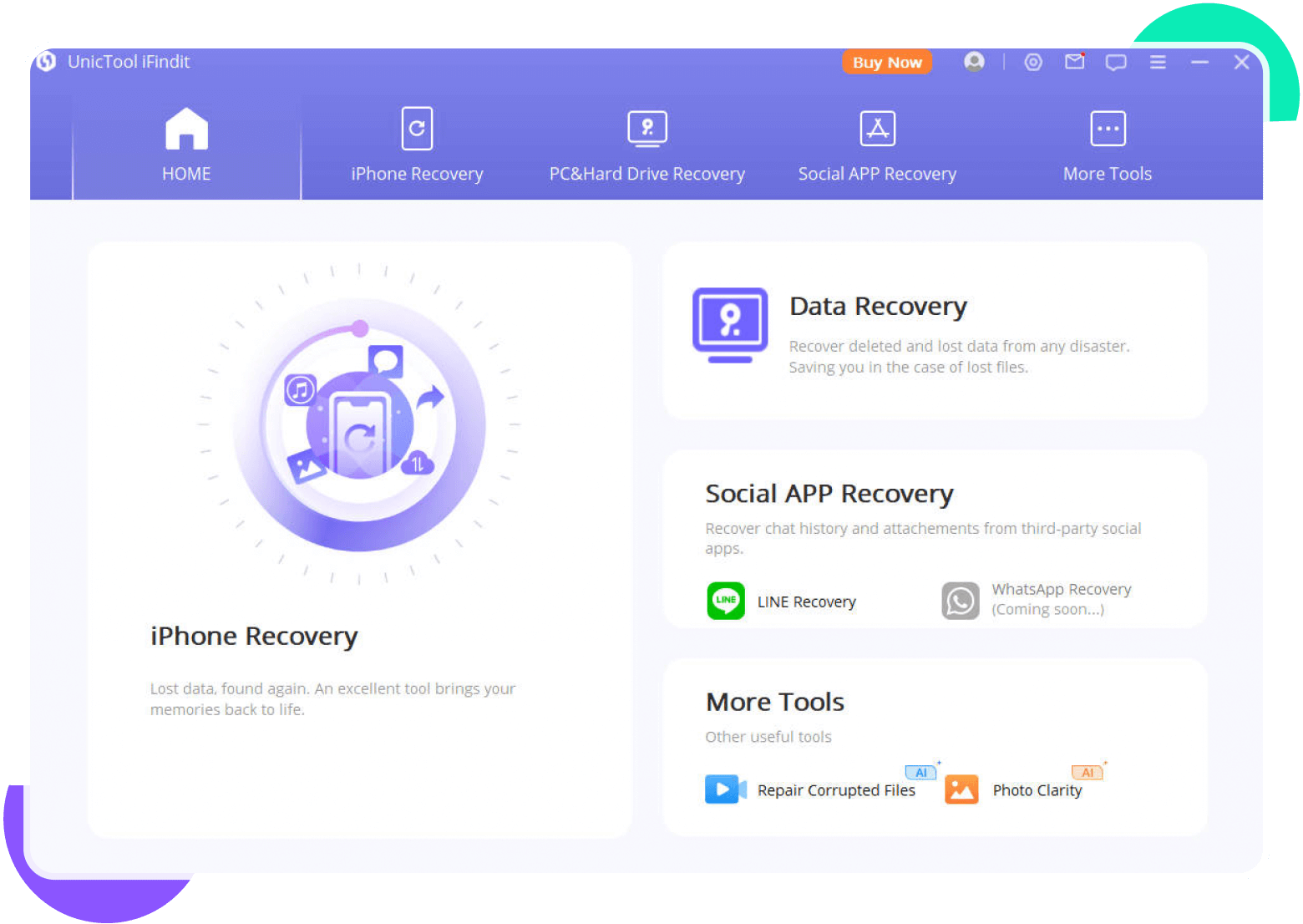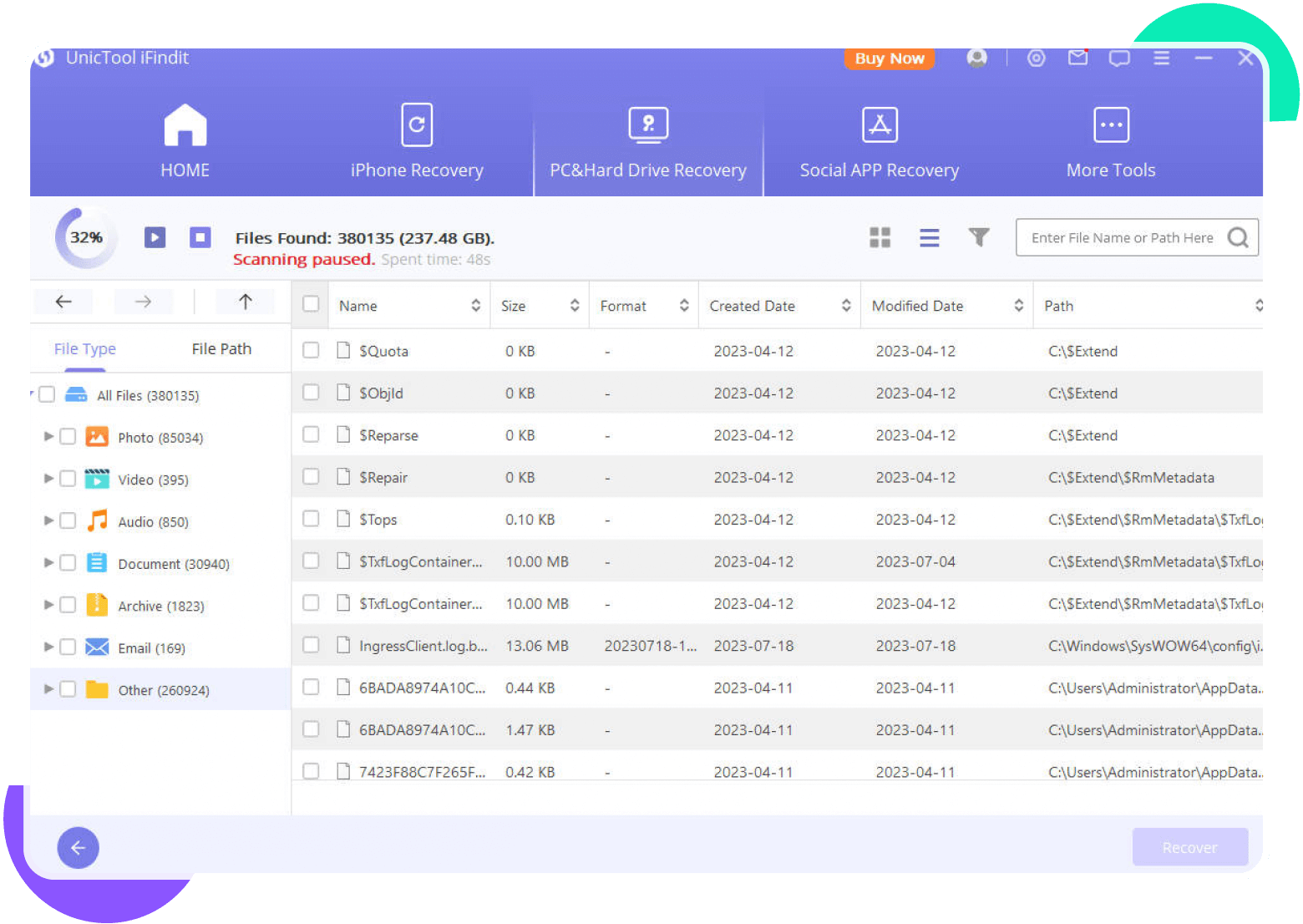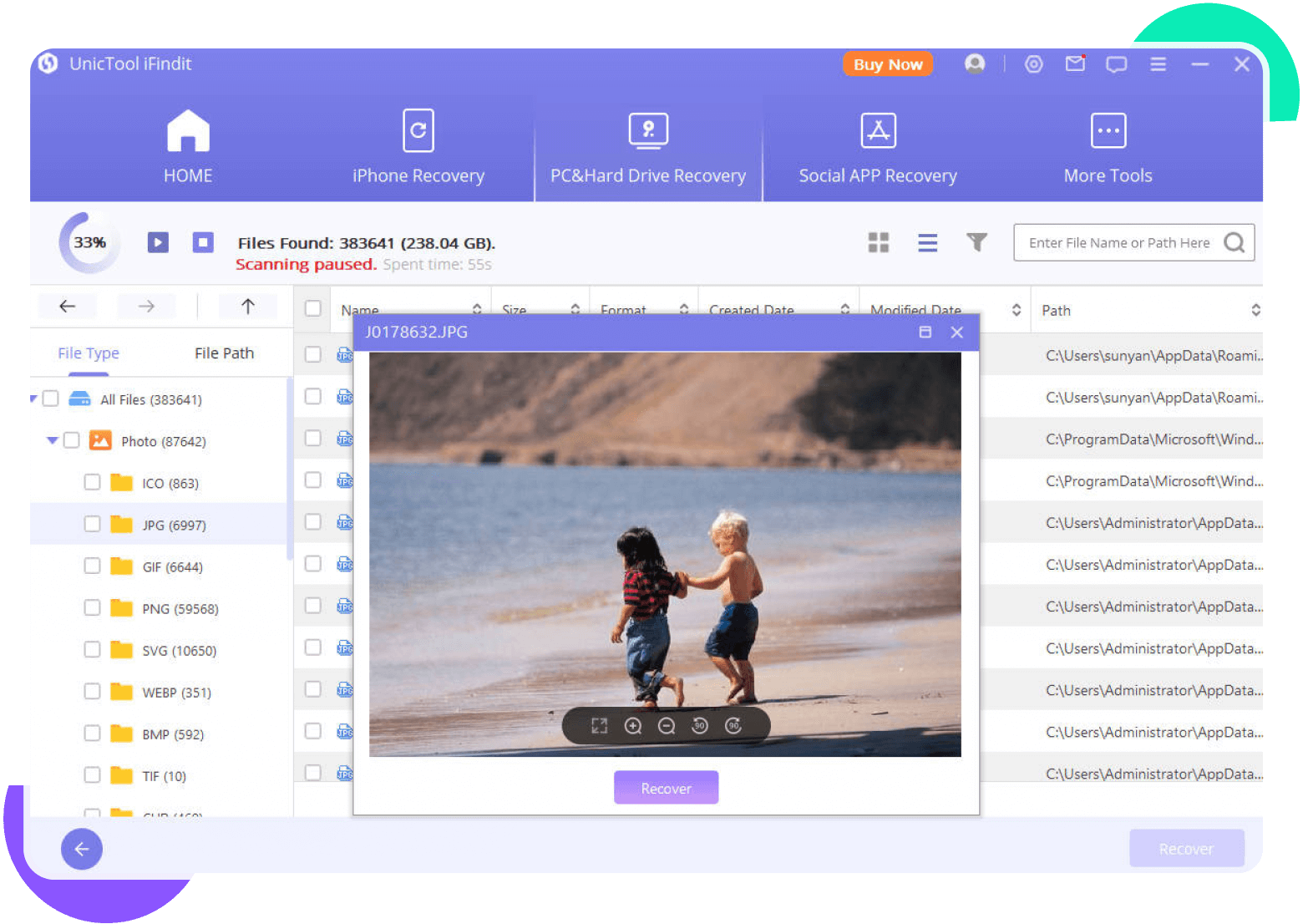 Video Tutorials to Get Data Back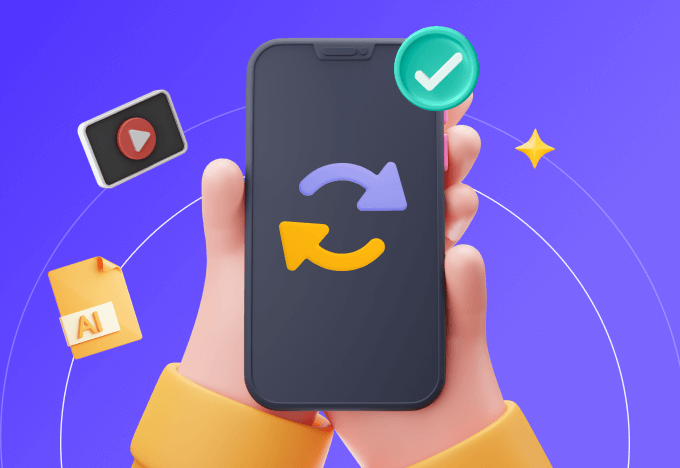 How to View Full Old Call History on iPhone?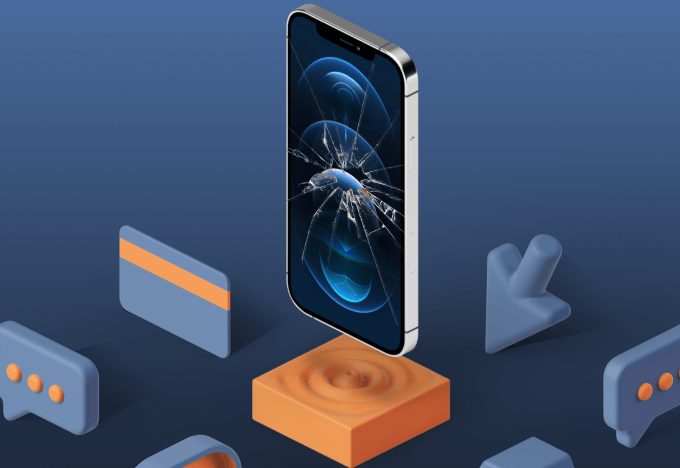 How to Recover Deleted Safari History on iPhone - Without Backup?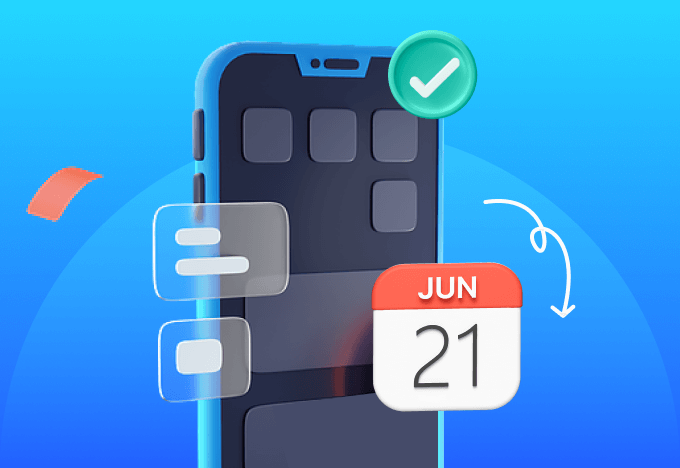 How to Recover Data after Factory Reset iPhone - Without Backup?
Click to

watch more videos
Compatibility
PC Devices
Operating System Supported
Windows 11/10/8/7
Mac (M1,M2)
CPU/Processor
Win: 1GHz (32 bit or 64 bit) or above
Mac: 1GHz Intel or above
RAM
Win: 256 MB or more of RAM (1024MB Recommended)
Mac: 512 MB or more
Hard Disk Space
200 MB and above free space
Files System Supported
FAT(FAT12,FAT16,FAT32)/exFAT/NTFS/NTFS5/ext2/ext3/HFS+/ReFS
iOS Devices
iPhone
iPhone 14 series、Phone 13 series, iPhone 12 series, iPhone 11 series, iPhone Xs series, iPhone Xr, iPhone X, iPhone 8/8 Plus, iPhone 7/7 Plus, iPhone 6 series, iPhone 5 - iPhone 4
iPad
iPad Pro, iPad Air series, iPad mini series, iPad
iPod
iPod touch 7, iPod touch 6, iPod touch 5, iPod touch 4, iPod touch 3, iPod touch 2, iPod touch 1
iOS
iOS 17 beta, iOS 16, iOS 15, iOS 14, iOS 13, iOS 12, iOS 11, iOS 10, iOS 9
FAQs
Check and see if you have the same question
For more
1.Is it secure to use UnicTool iFindit to recover data?
Yes, it's completely safe to use UnicTool iFindit to recover iOS data. UnicTool is a legally registered company with over 500 employees, and it is safe to use its products. Besides, UnicTool iFindit will not scan any other data on your PC or Mac or keep your personal data while scanning your device.
2. What can iFindit Data Recovery Software do?
1. All-in-one Data Recovery Software: You can recover deleted, lost, formatted, or corrupted files from iOS/Android devices and PCs in one tool. 2. 1000+ Data Types Recovery: Restore photos, videos, messages, contacts, office documents, emails, audio, ect. 3. Third-Party App Recovery: Retrieve messages and attachments directly from WhatsApp, LINE, Kik, WeChat, Skype and more. 4. Fix and Repair More Data Issues: Allow you to fix various iOS system issues and repair corrputed photos and videos.
3.How does the UnicTool iFindit file recovery program work?
Select > Scan &Preview> Recover. UnicTool iFindit for Windows works in three easy steps. First, pick the exact place you want to search. Then, the tool will scan that location to find all your data. It organizes and locates the target data by analyzing the file system and directory. Finally, it presents you with the scan results. You can preview the files and select the ones you want to recover.
4.Can I recover a specific kind of data?
Yes, you can use UnicTool iFindit to do that. This data recovery program can help you recover more than 1000 types of data in various formats. It has a filtering feature that lets you target specific files, such as photos, videos, Word documents, Excel files, audios, and more.
We cannot guarantee that you will definitely recover a specific file because data recovery depends on various factors. However, we can assure you that you can always verify and check for recoverable files using UnicTool iFindit. Every data recovery case is different, so there is no one-size-fits-all solution.
5.What's the difference between free trial and full version?
With the free trial version, you can scan your files and see a preview of what can be recovered at no cost. If you're happy with the results and want to recover all the files, you can purchase the full version. Once you make a successful payment, you'll receive a registration email containing your registration key and a link to download the complete program. This way, you can access all the recovery features and retrieve your files without limitations.
6.Can I recover the data deleted one year ago or even longer time ago?
UnicTool iFindit can only recover files whose allocated memory space has not been overwritten. So, if you lost data on your system a year ago and the memory space assigned to those files has not been overwritten by new data, you have a chance to recover them. The ability to recover a file is not determined by the date it was deleted but by whether its memory space is still available and has not been replaced by other data.
7.How long does a file recovery take?
The time required for file recovery depends on various factors: Size of the drive: Larger drives take longer to scan and recover files. Smaller drives (less than 500GB) may take around 30 minutes, while larger drives (up to 1TB) can take hours or even days.
Nature of the file: If a file is corrupted or damaged, it might take more time to recover it.
If you are conducting a scan and it is still progressing, it's important not to stop it just because it seems to be taking a long time, especially for larger drives. Let the process complete as it might be recovering important data. Patience is essential during the recovery process.
8.Can I install UnicTool iFindit on an iPhone or iPad?
No, you can't. UnicTool iFindit is a computer-based software and can be only installed on a PC or Mac. It's suggested to do iPhone data recovery software full version free download to recover iPhone data, to avoid the current data on your iPhone being overwritten by the recovered data.