A calendar is an essential part of iPhone users. Many people plan their lives on the calendar application, including scheduling a meeting, adding a reminder, and project deadlines. As such, it can be frustrating if your iPhone calendar disappears. If your iPhone calendar disappeared, do not panic: This guide will explain how you can get your missing calendar events on your mobile device. Read on to learn more.
4 Ways to Fix iPhone Calendar Events Disappeared
If your iPhone calendar events have disappeared, you can use several methods to get them back. Let's look at four solutions to recover those missing calendar events on your device.
1. Use iFindit to Recover the Disappeared iPhone Calendar Events
Using iFindit is the most effective way to recover those disappeared calendar events. This third-party iOS recovery tool is user-friendly and can help you get your missing calendar in just a few clicks.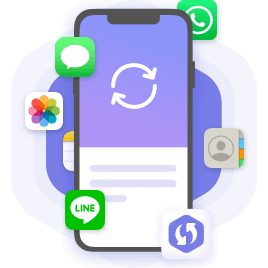 Fix iPhone Calendar Events Disappeared
Recover various files from your iOS device, including WhatsApp messages, videos, Safari history, calendar, photos, and contacts.
The program allows you to recover data from your iOS device without backup.
Recover lost iPhone and iPad data from the copies they have made on iTunes.
Users can scan and preview data before downloading it.
If your iPhone calendar events disappeared , here is how to use iFindit to recover them.
Step 1. Install the application on your PC, go to the left panel and select Recover from iOS Device mode.
Step 2. Use a lightning connector to connect your phone to the computer.

Step 3. Once the iFindit detects your device, hit the Nest button.

Step 4. Choose Calendar from the data types you'll see on your screen and click Scan to allow the software to scan your iPhone.

Step 5. After the software has finished scanning your device, it will show the data you can recover on the interface.
Step 6. You can preview the calendar events and any other data you had previously selected for recovery. Select the item you want to recover and click Recover to complete the task.

Step 7. Choose your preferred location to store the recovered calendar.
2. Sync All the Disappeared Calendar Events in Settings
When you notice that your iPhone calendar disappeared , sync all the events to fix the problem. You can then get back the missing events. Here is how to do this.
Step 1. Go to Settings, then select the Calendars option.

Step 2. Next, tap on Sync, then select All Events. Doing this will sync all calendar events from iCloud.

Step 3. Now, wait several minutes and head to Calendar, where you'll find all your missing events.
3. Go to iCloud Setting and Enable Calendar Sync
Apple automatically backs up calendar events. If you had turned off this function, enable iCloud calendar syncing. Let's look at how to do this.
Step 1. Head to Settings>(Your ID), then iCloud.

Step 2. Select Calendars and enable it.

Step 3. If it's active, disable it and reactivate it after a few seconds, and you'll find your disappeared calendar events.
4. Check Network Connection
If your iPhone calendar disappeared , you should double-check your network connection and ensure it's working properly; this is required when using an iCloud calendar, as the iCloud service needs a stable internet connection. To check this, follow the steps below:
If You're Using Cellular:
Step 1. Go to settings and select the Cellular option.
Step 2. Turn off your cellular data, and then turn it on.
If You're Using Wi-Fi:
Step 1. Open Settings and select WLAN.
Step 2. Toggle the switch off.
Step 3. Re-enable it after a few minutes by toggling the switch on.
Doing this will resolve any issues with your network connection. You can now check your iPhone calendar disappeared events.
FAQs for Disappeared iPhone Calendar
1. Why did my calendar events disappear from my iPhone?
Your calendar events can disappear because of various reasons. These include:
Unexpected Deletion: You could accidentally delete your calendar events.
Upgrade: After upgrading your iOS to the latest version, you may have turned off iCloud sync, meaning that your calendar events won't be synced to your iPhone from iCloud.
System Crash: Your calendar events and other iPhone data can vanish if your device experiences a system crash.
Sharing Calendar Events: If you use the Allow Editing option when sharing a calendar on your device with someone else, they may erase appointments.
Network Issues: If you sync your calendar events with iCloud, the network could be the reason your iPhone calendar events disappeared .
System Error: Your iPhone's system can go wrong and change some of your iPhone's settings. In turn, this can make your iPhone calendar disappear.
2. How do I unhide the calendar on my iPhone?
If your calendar is hidden, you will not see it or the events. You can unhide the calendar on your iPhone by following the steps below:
Step 1. Open the calendar app.
Step 2. Go to the bottom and select Calendar.
Step 3. Select the calendars you'd like to unhide.
Step 4. Finally, go to the right-hand side corner and tap on Done.
3. How do I return my calendar events on my iPhone?
To get all your calendar events back, follow these steps.
Step 1. Head to Cloud.com and enter your Apple ID and password to log into your account.
Step 2. Click Account Settings and select the Restore Calendars option from the undermost Advanced.
Step 3. Next, click on the Restore button next to the date that you lost the calendars went missing.
Conclusion
Calendars help iPhone users remember important events. These four methods can help you when your iPhone calendar events disappeared . However, the professional approach is using UnicTool iFindit. This software can help you recover your lost calendar events with ease. It's also fast and has a high recovery rate. The best part is: It offers a free trial version that allows you to use some features free of charge.