It can be a nightmare that you take one of the best videos of an event you witnessed and want to share the video with friends or on YouTube, but only to find that you have lost the video permanently somehow. This can be due to upgrading to iOS 15, factory reset, accidental deletion, and more. The problem can be much worse when you don't have a backup for the video either on iCloud or iTunes.
But you don't have to worry, as this article will discuss whether the permanently-deleted iPhone videos can be recovered and the workable solutions in such a case.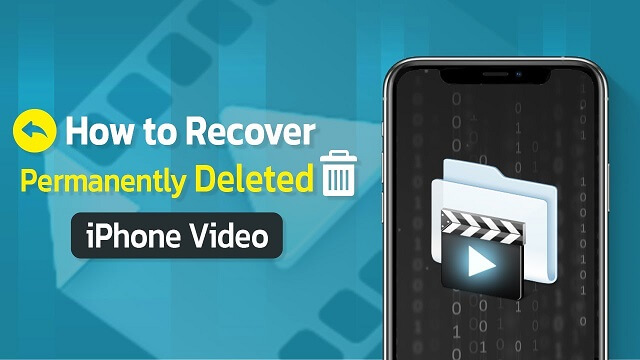 Question:

Is it Possible to Recover Permanently Deleted Videos from iPhone

Yes, accidentally-deleted video can be easily recovered back to iPhone even if you don't have backups. You can't see the video doesn't mean that it has been completely erased. When you delete a file from your iPhone, the system will only remove the file marker to create room for new data. As long as you don't add any new data to the device, there is a chance that you could recover the missing video from your iPhone. To do this, you would need to immediately stop using the iPhone to prevent overwriting the missing data, and then you would need powerful data recovery mentioned in part 1 to help you get the videos back.

Except for the above-mentioned option, there are other solutions to retrieve the deleted videos/photos. There are chances that the permanently deleted videos and photos have been backed up to iCloud or iTunes before, so you can recover them by restoring the backup file. You can check the detailed steps about it in part 2. If unfortunately there is no backup available, you can try to find the deleted videos in iCloud Drive. You can learn about those steps in part 3.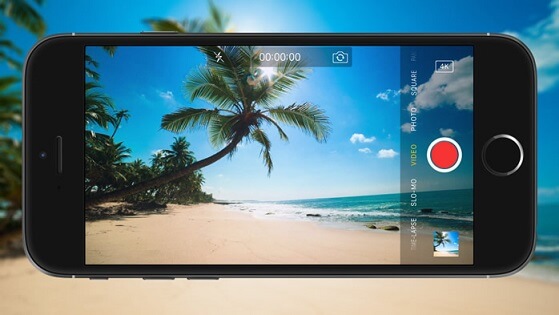 Part 1.

Recover Permanently Deleted Videos/Photos Directly from iPhone without Backup

To recover the permanently deleted videos or photos from iPhone directly, you will need the help of a professional data recovery tool, and the best choice is UnicTool iFindit (iOS 15 supported). Regardless of the reasons for the data loss, this tool will be able to dig deep into your device and get the videos back. The whole process takes no more than a few minutes. It provides the FREE scan function before the recovery so that you can use it to scan your device first to see whether the deleted videos can be found.

Before we show you how to use UnicTool iFindit to get the deleted videos/photos back, here are some of the features that make the program so useful.
Directly scan your device's internal memory and find lost videos to recover.
You can selectively recover the videos/photos you truly need.
Aside from just videos, you can use it to recover 22+ other types of data including contacts, text messages, Voice Memos, WhatsApp messages, and even call history among others.
It is very easy to use and suitable for everyone.
It can recover deleted videos from iPhone 13/12, etc., or from iPad and iPod that are running on iOS 15/14/13.
You can also use it to extract a specific data type (or a specific photo, video, messages, etc.) from iTunes/iCloud backups.
How to Recover Permanently Deleted Videos on iPhone without Backup by Using iFindit
The following is a step-by-step tutorial to help you recover the lost videos on iPhone using UnicTool iFindit.
1

Download and install the iFindit program on your computer. Launch it and then select "Recover from iOS Device" and click "Start" to begin the process

2

You will then be requested to connect the iPhone to the computer. Do this using a USB cable, and once the program detects the iPhone, click on "Next" to begin the scanning process.

3

Select the file type you want to recover. In your case, select videos and then click "Scan".

4

Once the scan is complete, you will be able to see all of the videos on the device including the missing one. Select the video you want to recover and then click "Recover" to save them.
That's it, you can check all the permanently deleted videos and photos on your computer now.
Part 2.

Retrieve Permanently Deleted Videos/Photos from iCloud/iTunes Backup

If luckily there is a backup available, you can also choose to recover from the backup file. But please note that you have to make sure that you've made a backup before the deletion occurred. Now, we'll show you how to recover deleted videos/photos from backup.
1. How to Recover Permanently Deleted Videos/Photos from iCloud Backup
If iCloud backup has been enabled on your iPhone (before the deletion occurred), then it would have backed up your deleted videos/photos beforehand. So, all you have to do is to restore the iCloud backup.
Note
Restoring an iCloud backup will not just restore videos/photos, but all the data that is backed up. What's more, restoring from iCloud backup will erase all the data in iPhone, so it's recommended to back up the current data on your iPhone with iTunes. Then follow the steps below to restore deleted videos from iCloud backup.
Erase all contents and settings in your iPhone.
Turn on your iPhone. It will display the Hello screen. Follow the on-screen instructions until the Apps & Data screen shows up.
Click "Restore from iCloud Backup" and sign in to iCloud using your Apple login credentials.

It will show a list of backups that you can restore. Pick the backup based on the date and time that you think contains those deleted videos/photos. Once you have picked the backup, the restore process will begin.
Follow the on-screen instructions and wait till the restore progress bar completes. The time it would take depends on the size of your backup.
Once the restore setup is completed, you can use your iPhone normally again. However, it will still keep restoring videos, photos, and other data in the background. So, you might have to wait for some time till all the data is restored. Afterward, you can access your permanently deleted videos/photos.
2. How to Recover Permanently Deleted Videos/Photos from iTunes Backup
If you have made an iPhone backup with iTunes before the videos/photos got deleted, then you can restore that backup to get them back. Follow the steps below to do it.
Note
Just like restoring from iCloud, restoring from iTunes means that it will restore all the backed-up data into your iPhone, so, other than videos and photos, contacts, documents, audios, and similar other data will also be restored.
Connect your iPhone with the computer via USB cable and open iTunes on your computer.
Select your iPhone from the left sidebar and then click the "Restore Backup" button.
Pick one of the backup files from the list that you think contains your deleted videos/photos.
In the pop-up window, click "Restore" to initiate the restore process.
Once the restore process is completed, go check and see if the permanently deleted videos/photos have been recovered. If not, I'm afraid that iFindit is the last choice for you.
Part 3.

Find Permanently Deleted Videos/Photos in iCloud Drive

As part of iCloud, iCloud Drive provides a place to store, manage, access, and share all your files and documents among different Apple devices. If iCloud Drive is enabled on your iPhone, then all videos and photos will be uploaded to iCloud automatically, when you delete videos/photos from your iPhone, they are still accessible from iCloud for the next 30 days. Therefore, you can follow the steps below to recover deleted videos/photos from the iCloud drive:
1

Go to iCloud.com from any web browser on your computer and sign in with your Apple login credentials.

2

Click "iCloud Drive" from the main interface.

3

Click "Recently Deleted" in the lower right-hand corner of the window.

4

Click "Recover All" or select each file you want to recover, then click "Recover".
This way, all the selected videos/photos will be restored to your computer.
Part 4.

The Comparison of All the Mentioned Methods
| Function | UnicTool iFindit | iCloud Backup | iTunes Restore | iCloud Drive |
| --- | --- | --- | --- | --- |
| Recover videos without backup | | | | |
| Recover specific file types | | | | |
| Preview before recovery | | | | |
Conclusion
It is frustrating to know that you no longer have access to your important videos once they get deleted, but are they gone forever? Absolutely not! As highlighted from the above discussion, you can recover permanently deleted iPhone videos if that storage space is not overwritten till now or you have made a backup in iCloud or iTunes in the past. So, you can pick any of the methods discussed above that suits your situation and recover back the videos. However, if you want a quick, instant, and reliable recovery, then simply go for UnicTool iFindit right away.