Whether you are using theApple Photo app, Private Photo Vault app, or any other gallery vault apps,you may occasionally encounter the missing photo issue.
People usually rely excessively on iPhones due to their created standard of being the most secure mobile phone. However, despite being cautious, there might be times when users encounter photo-missing issues. If you also face such an issue, photo vault recovery is what you need.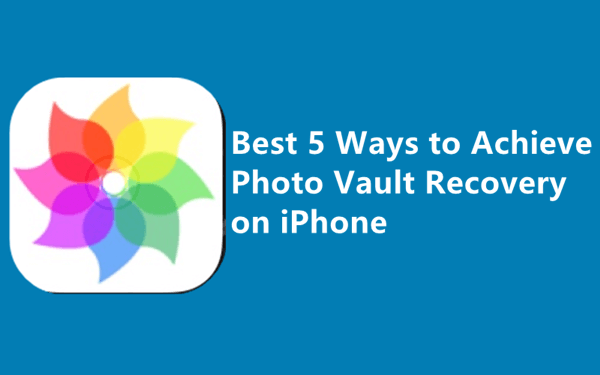 Part 1.

Basic Methods for Photo Vault Recovery

If you accidentally delete yourphotos from the photo vault or you just find your photos disappeared from yourgallery vault apps, here are some basic and easy practices you could check onyour iPhone at first.
1. Achieve Photo Vault Recovery From Recently Deleted Folder
Ever speculated where thephotos go after you pressed the trash icon on your phone? Well, your photos aretypically transmitted to a recently deleted folder. The recently deleted folderwill store all the photos you deleted during the last 30 days.
Steps to retrieve from Recently Deleted folder:
Open your Photo app. Tap on Albums.
Scroll down to the Utilities section. Tap on Recently Deleted. You might have found what you were looking for.

Choose the photos you need and tap on Recover to get back your pictures.

Your recovered pictures are now saved in your Photo app.
2. Achieve Photo Vault Recovery by Unhiding Your Photos
Another potential reasonfor photos missing is that you may put them into a Hidden album. There is apossibility that your picture was not removed; it just disappeared from yoursight. A little, sigh of relief, right!
Steps to unhide your hidden album
Open your Photo app. Tap on Albums.
Press the Hidden icon under Utilities.

Select the photo you were looking for and tap on the Share button.
There will be an Unhide option on the screen of your iPhone. Tap on it, and your photos will be in your Photo Library
The above two methods are the easiest and most convenient ways to recover your lost photos. Although, these two methods are explained about the preinstalled Photo app on iPhone. Even if you are using other gallery vault apps, you could also check with these two methods.
Part 2.

Advanced Ways of Photo Vault Recovery

In case the above twotechniques were inoperative in tackling your issue. You do not need to losetrust yet. A couple of more advanced choices may solve your problem.
1. Achieve Photo Vault Recovery From iCloud
Factory resetting youriPhone might help you get those photos back.However, there is a little obstacle.You may lose your important data during the process of restoring backup from iCloud. Make sureto back up your data beforehand.
Steps to recover deleted photos fromiCloud:
Tap on the Setting icon and tap on General. And tap on the Reset option, then press on the Erase All Content and Settings.
Follow the on-screen instructions and you will reach the Apps&Data. Tap on Restore from iCloud Backup here.

Enter the password and begin the recovery process by choosing the backup you'd like to get back.
Wait for the process bar to complete.
2. Achieve Photo Vault Recovery From iTunes Backup
If the above methodsdo not work for you, do not worry. There is another way that is effective yetfree. It might resolve your issue.
Steps to recover deleted photos fromiTunes Backup:
1. Firstly, connect your iPhone to the computer via a USB cable.
2. Secondly, click on the iPhone symbol in the iTunes.
3.Thirdly, click on Summary and search for backup.
4. Lastly, press on the Restore Backup, look for the most relevant backup record you want and click on Restore to get back your documents.
However, whether you choose to restore your backup from iCloud or from iTunes, you need to restore data of the whole iPhone but not only the deleted photos. What's more important is that you will probably lose your exsiting content in your iPhone during the process. But don't worry, we have the last and best solution for you!
3. Achieve Photo Vault Recovery With iFindit
No matter which photo vault app you used, iFindit can recover your files easily. Now you don't have to recover large backup files. With iFindit, you can recover the data selectively, allowing you to control the backup data and making your phone space-efficient. iFindit also lets you be time-efficient during the whole recovery process with high speed to scan your device.
You can achieve photo vault app recovery without backup.
You can preview your photos before recovering. And scanning and previewing service is provided for free.
You can select the photos that you would like to recover.
You can retrieve your photos with just1-click.
You can save your time thanks to a quick scan speed.
Steps to recover deleted photos with iFindit:
1

Download and launch iFindit on your computer, choose "Recover from iOS Device" mode. Connect your device to the computer with your lightning cable.

2

Click "Next" after iFindit successfully detects your device.

3

Select the "Photo", then click on the "Scan" button. iFindit will start to scan your device. The data, which can be recovered, will be displayed on the screen once the scan finishes.

4

Select the files you want to recover. Click the "Recover" button at the bottom right corner. Choose a location to store your files and wait for the restoring process to be finished.
FAQs About Photo Vault Recovery
Can I recover photos of other photo vault apps other than Apple Photo with iFindit?
Yes. No matter which photovault app you are using, either Apple Photo or Private Photo Vault app or anyother gallery vault app, you can retrieve the deleted photos through iFindit.
Why can't I find my accidentally deleted photos in Recently Deleted folder?
Another possibility is that maybe you have cleared the RecentlyDeleted folder.
Can permanently delete photos be retrieved?
Yes. As long as your datahas not been overwritten, iFindit could recover the photos.
Conclusion
We have shown five ways tomake photo vault recovery on iPhone possible. And among these solutions, wecould believe that iFindit makes the issue a lot easier and solve theissue in a more effective way. iFindit is an excellent tool that meets allneeds in different situations and greatly increases thesuccess rate.Just download and have a try right now.