In the era of instant communication, we use text messages to keep in touch with friends and family, plan things, and communicate important information even when we aren't online.
However, if you're like most iPhone users, you probably store a lot of important text conversations on your device. What happens if you delete one by mistake and later realise you accidentally deleted a critical SMS?
Well, don't panic - you can easily retrieve deleted text messages iphone from your iPhone using different ways, even if you don't have a backup or a computer. In this post, we'll teach you how to retrieve deleted text messages iphone without backup 【iOS 17 Support】. Keep reading for step-by-step instructions.

Unictool iFindit Supports 1000 file format & 500 scene recovery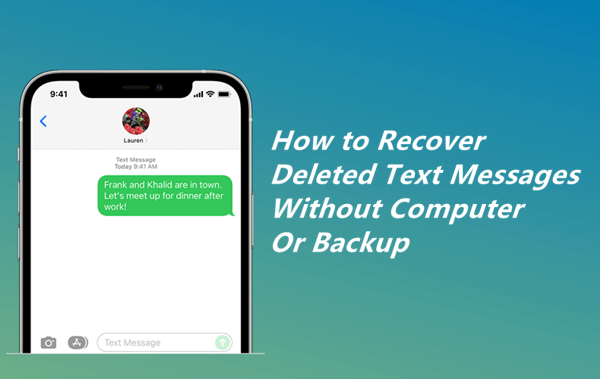 Note
Effortlessly recover lost treasures with iFindit! Unlock the power of Retrieve Deleted Text Messages for iPhone without backup. Safely restore those cherished conversations, memories, and important information in a few clicks. Don't let precious messages slip away. Get back what's lost and keep your connections alive with iFindit!"
Part 1.

How to Recover Deleted Text Messages Without Computer

Let's look at the first scenario, where you mistakenly erased an important message on your iPhone and wish to restore it without having to use a computer. You can do it in a couple of different ways.
1. Retrieve Deleted Text Messages From iCloud Backup
An iCloud backup is an exact copy of all the data on your device. It's saved in iCloud so you can retrieve it back if you get a new phone or lose your data. The backup includes contacts, messages, settings, app data, calendars, notes, voice memos, and health data, among other things.
So, if you already have a backup of your iPhone, you can simply restore deleted or lost messages without computer by restoring the iCloud backup on your iPhone. However, any new data on your iPhone that was not included in the most recent iCloud backup would be erased.
Therefore, don't forget to make a separate copy of all the new data since the last backup. How to find deleted messages on iphone without icloud? Follow these steps:
If the backup you want to restore is listed there, go ahead to factory reset your iPhone. To do so, navigate to your iPhone's main settings and select General, then Reset, and then Erase All Content and Settings.

Set up your iPhone as a new device by following the on-screen instructions. Select "Restore from iCloud backup" on the "Apps & Data" screen, and then sign in to your iCloud account with your Apple ID.

You'll see a list of backups that are available. Choose the one that contains your deleted messages, and it will automatically restore your iPhone with all your previous data.
2. Retrieve Deleted Messages On iPhone From Other Apple Devices
When you enable the "Messages" option in iCloud on your iPhone, all of the messages are automatically synced across all your devices that use the same Apple ID. So, if you have an iPhone and an iPad or Mac with the same iCloud account, you can retrieve your deleted text messages without computer by accessing messages on any one of them.
However, this method does not always work because the syncing process normally happens almost instantly whenever you take any action, but there is nothing wrong with giving it a try.
Follow these steps to see if you've enabled "Messages"in iCloud:
On your iPhone, go to the Settings app and tap on your "Apple ID".
After that tap on "iCloud" and make sure the "Messages" switch is turned on.
If this option is turned on and you've recently erased text messages, it's possible that the deletion process did not fully sync on one of your devices.
So, you may turn off"Messages" in iCloud and search for deleted texts on other devices sharing the same Apple ID.
Part 2.

How to Recover Deleted Text Messages Without Backup

Now let's move on to the second part of this article, where you don't have a backup of your iPhone to restore deleted text messages and notes.

Before getting into the methods, it's important to know can you recover deleted messages on iPhone if not backed up? The answer is Yes. The reason is that the data is not permanently removed from your iPhone when deleted; instead, it is hidden until another piece of data takes its place in the phone's internal storage.
1. Retrieve Deleted Text Messages With iPhone Data Recovery Tool
The easiest and most effective way to restore deleted messages on an iPhone is to use a professional iOS data recovery tool iFindit. It can help you retrieve deleted messages [iOS 17 Support] directly from your iOS devices without iTunes or iCloud backup.
It is designed to recover all types of data, including messages, contacts, and more from all different scenarios such as accidentally deleted data, lost or damaged phone, iOS update or factory reset, etc. It is absolutely risk-free to use and does not necessitate any technical knowledge.
It comes with several incredible features, including:
Diverse files support: Supports various types of file formats, including common files like photos, videos, notes; iMessage and social app data like WhatsApp and SnapChat.
Easy and Effortless Recovery: Retrieve Deleted Text Messages for iPhone without backup with just a few simple steps.
Stay in Control: Selectively recover specific messages or choose to restore all deleted texts, giving you full control over what you want to retrieve.
Keep Your Messages Secure: Once recovered, securely store and back up your messages to prevent any future loss and ensure their long-term preservation.
Powerful compatibility: Supports various iOS devices and iOS versions(including iOS 17/16 or even lower version).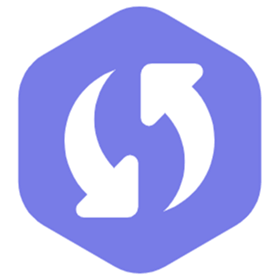 1

Install iFindit on your laptop or PC and connect your iPhone to it using a USB cable. Open the software and go to the main screen and select "iPhone Recovery" option, choosing any mode you need.

2

A list of data types that can be recovered will appear. Choose "Messages" and then click on "Scan".

3

A list of matched deleted text messages will appear, ordered by date. After that, you can choose any of them to see a preview of its content. Once you've completed scanning and selecting the messages you want, click "Recover" and then select the location where you want your messages saved.
2. Contact Your Service Provider to Recover Deleted Text Messages
Another effective approach you can adopt is to contact your service provider. Because every text message you send or receive passes through their systems, so they normally store them with other important data before deleting.
However, don't get your expectations up too high because most network providers won't offer you convenient access to your text messages in most cases. If you want to take a chance, use these steps to recover lost text messages from your service provider:
Visit your mobile network provider's website and navigate to the customer support section.
Send them an email with a solid reason for your request. Don't forget to provide them with all of the relevant information, such as your phone number, phone model, and SIM card serial number, among other things.
Wait a few days and check your email for a response. Once your request is approved, you will receive an email with all of the text messages.
3. Use "Recently Deleted" fuction on iPhone
Apple introduced iOS 16 on September 12, 2022. It comes with many new things on the iPhone. One important thing is the "Recently Deleted" feature in the Message app. This is useful if you delete text messages by mistake and don't have any backups. Here's how you can use it:
Step 1: Open the Message app on your iPhone and press "Edit" at the top.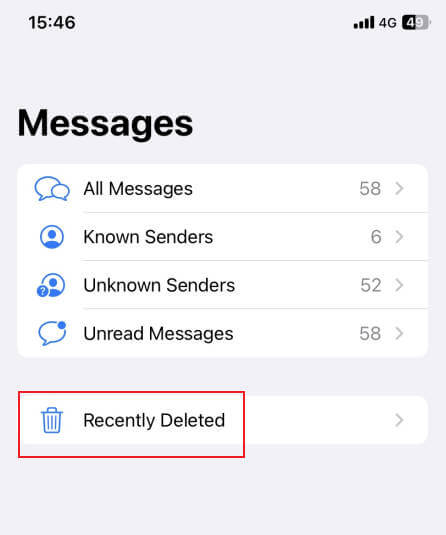 Step 2: Click on "Show Recently Deleted," and you'll see all the text messages you deleted in the last 30 days.
Step 3: Choose the conversation you want to get back and tap "Recover."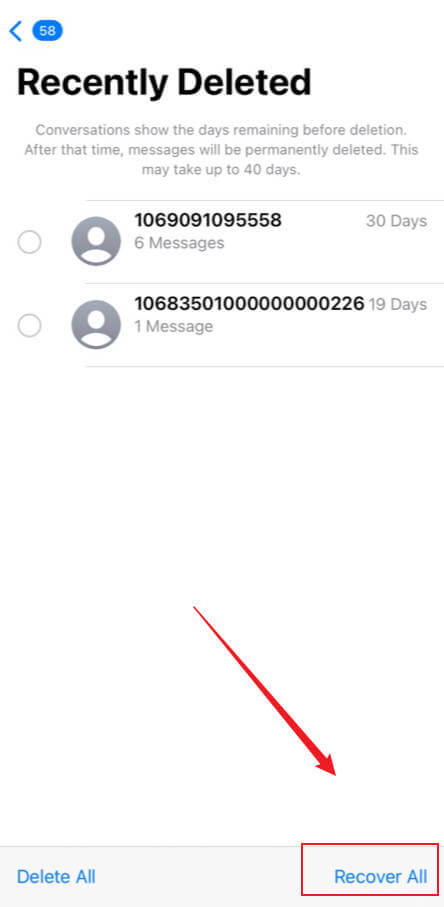 Tips
Please remember that "Recently Deleted" fuction can store 40 days data that you deleted before.
To prevent losing text messages on your iPhone in the future, follow these steps:
1
Regularly Back Up Your iPhone to a Computer: Make it a habit to back up your iPhone to a computer. This way, your messages and data are safe even if something goes wrong.
2
Enable iCloud on Your iPhone: iCloud is a helpful feature for keeping your data, including messages, secure. Turn it on in your iPhone settings.
3
Think Twice Before Deleting Messages: Before you delete any messages, take a moment to consider if you really need to. Once they're gone, they may be hard to recover.
4
Use Reliable Message Management Apps: Consider using trustworthy apps for managing your messages. These apps can help you organize and keep track of your texts.
5
Avoid Jailbreaking Your iPhone: Jailbreaking your iPhone may expose it to security risks and make it more vulnerable to data loss. Stick to the official iOS system.
6
Avoid Downloading Apps from Web Browsers: Download apps only from the official App Store to minimize the risk of installing malicious software that can harm your device or data.
4.Check Other Devices
There's a possibility that the messages you lost on your iPhone are still accessible on other devices, such as an iPad or Mac, if your iPhone is connected to them. Here's how to use connected devices to attempt retrieving deleted text messages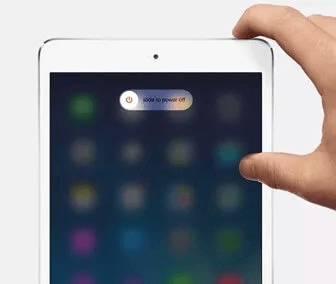 iPad
Step 1: Open the Messages app on your iPad. Tap on the Back arrow.
Step 2: Check if any of the deleted messages appear on your iPad.
Step 3: If they do, select the ones you want to recover and choose "Copy" or "Forward" to send them back to your iPhone.
Mac
Step 1: Open the Messages app on your Mac. Click on "View" and select "Show Deleted Messages."
Step 2: If any deleted messages appear, select them. Restore these messages to your iPhone using methods like AirDrop or email.
Note: Ensure that your iPhone and other devices are signed in with the same Apple ID for this method to work effectively.
Part 3. FAQ about Retrieve Deleted Text Messages Iphone Without Backup
Can you get back deleted texts on iPhone without backup?
Yes, it is possible to retrieve deleted messages on your iPhone even without a backup. If your iPhone is using iOS 16, you can access the "Recently Deleted" messages in the Message app, which functions similar to a recycle bin. However, if you can't locate this option on your iPhone, you may want to explore third-party recovery tools as an alternative.
Does iCloud backup permanently deleted messages?
Whether you can recover deleted text messages from iCloud depends on your actions. In simple terms, if you accidentally deleted text messages after creating a backup with iCloud, then the answer is YES. iCloud has saved your deleted text messages, and you can retrieve them from your backup.
Are deleted iPhone messages stored anywhere?
In the Messages app, you have the ability to recover deleted messages on your iPhone. When you use Messages in iCloud, any message you delete and subsequently recover on your iPhone will also be deleted and recovered on your other Apple devices where Messages in iCloud is enabled. This synchronization ensures consistency across all your Apple devices.
Conclusion
As we all know, the Message app on your iPhone does not have a trash bin to keep deleted texts. So, it's not simple to recover your messages after they've been deleted from your phone, especially if you don't have a backup.
But you don't need to worry about it anymore because the methods listed above will definitely work for you. However, among all of these ways, iFindit is the only one that can help you to retrieve deleted text messages without backup [iOS 17 support] and carries a high success rate. So, download the iFindit today and let it retrieve your essential message for you.