Many iPhone users do not back up their data, but most of them are concerned about losing the photos and contacts stored on their devices. Lost iPhone data without backup can happen for various reasons, including accidental deletion, factory reset, damage, and virus attack. We'll look at how to recover lost iPhone data without backup on iCloud or iTunes.
Is It Possible To Do iPhone Data Recovery Without Backup?
Absolutely. You can use a third-party data recovery tool to scan your iPhone and retrieve the lost data without backup. Otherwise, it's not possible to recover the lost iPhone data without using these tools.
If you cannot find the lost data, it could be hidden, deleted, or lost after a virus attack or performing a factory reset. The good news is: The lost iPhone data remains on your device even after deletion or factory reset. When you delete files on your iPhone, the device won't erase them instantly. Instead, it will move them from the "Allocated" folder to the "Unallocated" folder. These files will only disappear from your mobile device when new files are created and occupy the "Unallocated" space.
That is why a third-party recovery software can access the database of your iOS device to retrieve deleted or lost iPhone data without backup. This guide will explain how torecover lost iPhone data without backup using an efficient tool. Let's dive in!
How to Recover Lost iPhone Data Without Backup Effectively?
UnicTool iFindit is a software that allows iPhone users to recover lost data on their mobile devices without backup. The tool can help you retrieve lost contacts, videos, photos, messages, social app data, and more. Let's look at the main features of iFindit: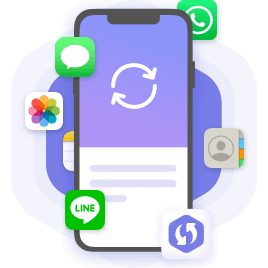 Easily Recover All Lost Data on iOS Devices
The software is compatible with all iOS devices, including iPhone 14 Pro running on iOS 16
User-friendly and has a high rate of recovery
The tool supports the recovery of deleted or lost data directly from your iPhone without requiring backup
It allows you to preview data before recovery, and it has a speedy scan speed
Free to download, scan, and preview data after the scanning process
Here are the steps of iPhone data recovery without backup using iFindit.
1. Download UnicTool iFindit. Launch the software after installing it on your computer.
2. Choose the Recover from iOS Device mode.
3. Next, connect your iPhone to the computer with a lightning connector.

4. Click on the Next button after iFindit detects your mobile device.

5. iFindit will display different data types; select the one you'd like to recover and hit the Scan button. The tool will scan the phone according to the data you selected.

6. iFindit will find your lost iPhone data and display it on the screen. Double click on an item to preview it and determine if you want to recover it.
7. Select the files and hit the Recover button.

8. You'll see a pop-up window that asks you to select a location on your PC where you want to store the retrieved files.
FAQs for iPhone Data Recovery Without Backup
1. Can I recover photos from my iPhone without backup?
Yes. Two out of ten people with an iPhone use it to take photos. And they will be glad to know that they can use a third-party iOS data recovery tool to recover permanently deleted pictures from their iPhone without backup. However, this is only possible before the data has been overwritten.
2. Can iPhone data or files be recovered after factory resetting?
Yes. You will lose all the settings and data on your iPhone when you do a factory reset. This is often necessary when you want to fix a problem. Luckily, you can recover your iPhone data and files after performing a factory reset if you have turned on iCloud Backup. You can also use a third-party iOS data recovery tool to retrieve the lost data or files after a factory reset.
3. Can you recover data from a broken iPhone without backup?
Yes. More than 64% of people would be upset when they lose the data on their mobile device when they have backed it up rather than the mobile device itself. Many people ignore the importance of backup solutions because they consider iOS devices reliable. But unexpected data loss can occur when you have not backed up your iPhone. Fortunately, there are several methods to recover data from a damaged iPhone. If your broken iPhone is damaged and cannot function, do not fret. You can easily retrieve your data without backup.
If you had already synced your iPhone with iCloud, you'll find all your data on the iCloud and download it to a local disk. You can also use third-party software to export your iPhone data from the broken phone to your PC for urgent use.
Conclusion
Losing iPhone data without backup is a common problem that happens to numerous people daily. Many iPhone users often ignore backing up their devices regularly. And when an accident occurs, they get frustrated since they cannot restore their iPhones. Fortunately, you can recover your iPhone data even without backup.
If you are looking for a professional way to recover lost iPhone data without backup , then UnicTool iFindit is the ideal option. It is the go-to iOS data recovery tool for many users who have lost their iPhone data and want to recover it. The tool has a high recovery rate when it comes to recovering lost or deleted iPhone data in various scenarios. The best part is: You can recover data selectively, meaning you can choose specific files you would like the software to retrieve.