Apple is a fascinating brand to hold in hand and move around as long as its functions match the hype. iPhone is a well-known mobile phone of Apply due to its highly functional and secure operating system. Its constant update policy helps users match the pace of advancing technology.
Apple unveiled iOS 16 at the Worldwide Developer's Conference 2022. The latest version, iOS 16 Beta 5, brings many exciting features, including battery percentage, customizable lock screen, iCloud shared photo library, and beyond for Apple compatible devices. If you are eager to install iOS 16 beta 5 on your iPhone, you are at the right place. This article aims to unfold different authentic methods for iOS 16 beta 5 download.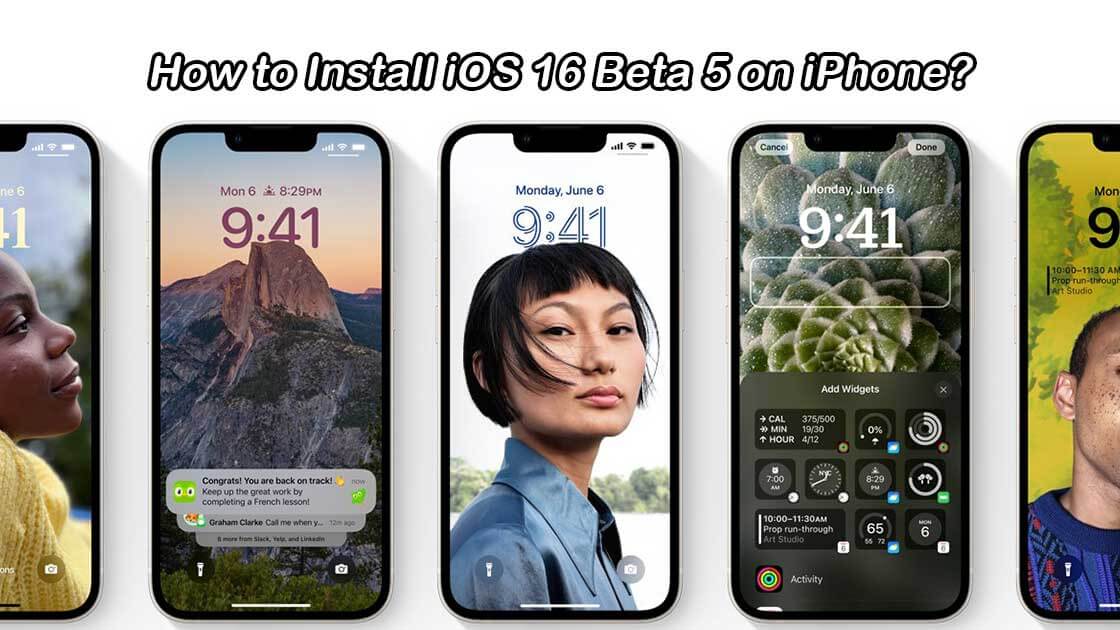 Part 1.

How to Download iOS 16 Beta 5 for iPhone

Downloading the iOS 16 beta profile is not as difficult as it sounds. To help you simplify the process, we have listed some authentic methods. Let's explore!

Note

Heads Up: Back up your data to iCloud or Computer before trying to upgrade to iOS 16.

Before upgrading the iPhone to iOS 16 Beta 5, you should back up your data for the safe side. For Apple users, iCloud and iTunes are two ways to back up your data. iCloud backs up all the data on your phone and syncs it with other devices. On the contrary, iTunes backs up all the data on your computer and syncs it with other devices.
1. Official- Join Apple Developer Program ($99)
Apple Developer Program is a membership-based tool used to distribute apps to customers. It offers everything iPhone users need to build applications with advanced capabilities and make them available worldwide.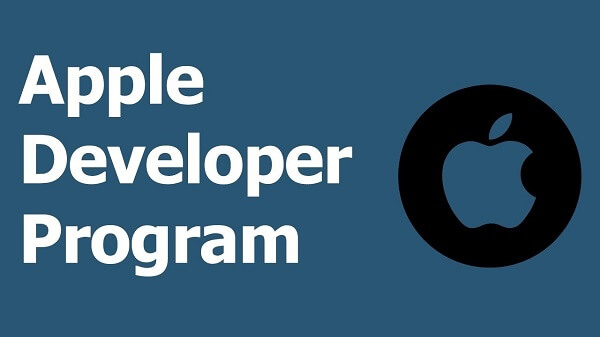 The Apple Developer Program is a useful resource for experts who want to upload their applications to the APP Store. It provides access to various SDKs, developer tools, and documentation to create new applications.
Here is a step-by-step guide to join this program and install iOS 16 beta 5 on your mobile:
Step 1: Open "Safari" on your mobile and open Apple Developer Program through the official website.
Step 2: Tap on the "Download New Betas" tab.


Step 3: Now you need to add an Apple developer account email and password to log in to your account.
Step 4: Navigate to the iOS 16 Beta section and tap "Install Profile."
Step 5: Tap "Allow" and then "Close."
Step 6: Now you need to open the settings and tap on "Profile Downloaded."
Step 7: Tap "Install," and a box will pop up on the screen. Enter your "Passcode."
Step 8: After completing the downloading, tap "Restart" to apply the necessary changes.





2. Unofficial- Download iOS 16 Beta 5 Profile on Third-party Website
If you're looking to iOS 16 Beta 5 download on your iPhone unofficially, this can be done as such from an unofficial source.
People used to make use of Beta Software a while ago to download iOS 16. However, the company recently announced that they were shutting down since they weren't keen on entering a battle of legalities with Apple.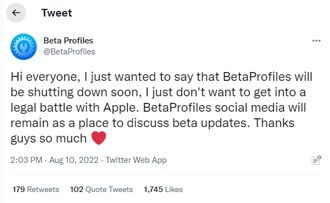 However, there are still websites available to help the user download the iOS beta Profile such as Applefirmwares.
Step Tutorial to Download and install ios16 beta Profile from Apple Firmware
Step 1: Open Safari and navigate to the site Applefirmwares.com.
Step 2: Click "Download" and tap "Allow" to continue downloading.


Step 3: Open "Settings." Then tap on "Profile Downloaded." Here you need to tap the "Install" option to complete the process.
Step 4: Then a window will pop up asking to restart the device. Tap "Restart."
Step 5: Once the phone has restarted, navigate to settings. Then tap "General" and "Software update."
Step 6: Now iOS 16 developer beta is available to the device. Tap "Download and Install" to enjoy new features.





Part 2.

How to Install iOS 16 Beta 5 on my iPhone

Installing iOS 16 is a relatively simple process. All you need to do is download the beta profile and install it on your device. After installing the iOS 16 beta 5 profile iPhone, iPad or Mac, here are the steps you need to follow to install iOS 16 beta 5.
Step 1: Open iPhone "Settings and tap "General."
Step 2: Choose "Update software."


Step 3: Tap "Download and Install."
Step 4: Now the phone will ask for a passcode. Enter the mobile password and follow on-screen instructions to initiate the process.
Step 5: Once the download is complete, hit "Install," and your phone is updated with iOS 16 Beta 5.





If you face difficulty downloading the update, it is most likely due to several people trying to download it and the server being busy. It can be strenuous for apple servers to wait for some time and try again. It will be fixed.
FAQs About iOS 16 Beta 5
1. Is it Safe to Download iOS 16 Beta from Third-party Websites Like BetaProfiles.com and IPSW.dev?
BetaProfile.con and IPWS.dev have been closed for profiles. Now it is just a website to discuss new updates. However, downloading iOS 16 Beta profiles from any third-party websites might be harmful. The link can contain viruses and harm your device. Moreover, suspicious websites are a significant threat to your data.
2. Can I Downgrade the iOS 16 Beta to the Current version of iOS 15?
Follow these simple steps to recover and downgrade your iPhone to iOS 15 without losing data:
Step 1: Open settings on your iPhone and tap "General."
Step 2: Scroll down to the "VPN and Device Management" option and tap on it.


Step 3: You must tap "iOS 16 Beta Software Profile" from the "Configuration Profile" section.
Step 4: Tap the "Remove Profile" option to get the previous version back.


You'll have to wait until the public release in the fall to get off the iOS 16 beta, if you want to downgrade your phone at once, you need to use Itunes to finish that.
The Bottom Line
Apple cares for its customers and considers their complaints and feedback. Therefore, you can expect occasional updates to keep up the pace of technology and improve the experience.
Apple has recently released the latest version of iOS 16, which is now available to download from Apple Developer. It is incredibly easy to download. However, if you are confused, consult the guide mentioned above to make the process convenient through authentic means. After downloading the profile on your device, the software will update automatically and allow you to install iOS 16 Beta 5 on your device.