iOS 16 is the latest release of the iOS mobile operating system developed by Apple to update and enhance the performance of the iPhone line of products. After months of beta testing, Apple released iOS 16 on 12 September 2022.
With multiple updates, iOS 16 brings in many performance issues. The iOS 16 laggy issues include UI lag, lockups, iOS 16 laggy keyboard and volume, slow charging, and random reboots.
However, these performance issues can be fixed. Some might be fixed on your own, while others require professional assistance. To make the DIY process easy, this guide aims to discuss iOS 16 lagging and freezing and its solutions.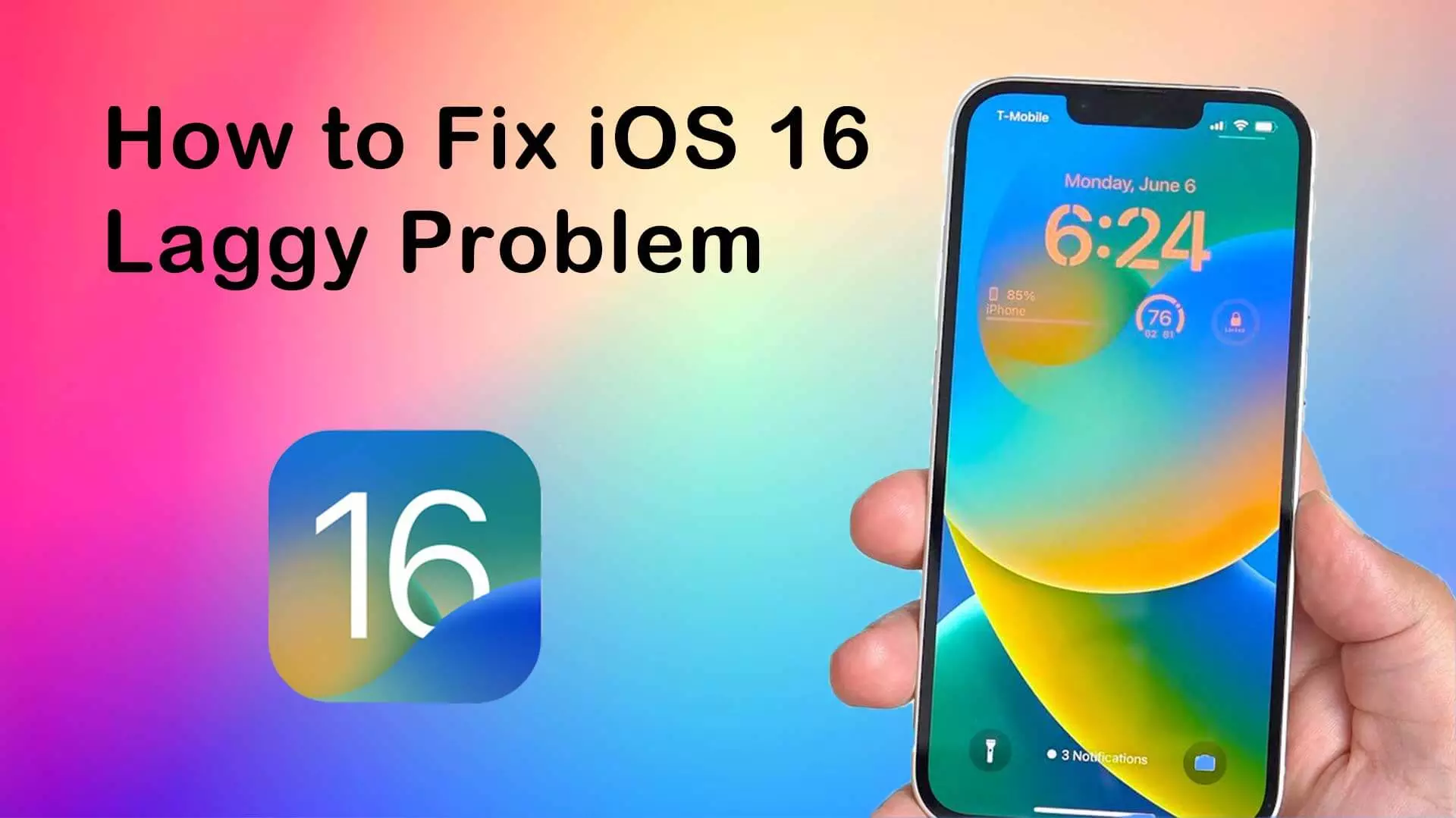 Secure Download

Secure Download
Part 1.

Why is My iPhone Lagging After iOS 16 Update

iPhone users with recent updates often face multiple performance issues. There is no fixed reason for distortion, but different reasons jumble up to hinder performance drastically. Here are some common reasons for iPhone Lagging.

If your phone model is compatible, stay at a stable iOS version: There are different iOS versions. If your phone is performing well, avoid updating. Maybe the updated version will not be compatible and destroy the experience.
Battery Health: If you have been using an iPhone for a while and suddenly it gives a bad performance, it may be because a faulty battery.

Poor Internet Connection: Weak network connection can be responsible for iOS laggy.

Problematic Apps are not compatible with iOS 16: Some applications are not compatible with iOS 16. These applications temper mobile functioning.

Outdated build or iOS 16 Version (Including Beta version): Outdated phones ideally do not support iOS 16. Hence, you should not download iOS on the previous phone. If you want to try iOS 16, get a hand on the new iPhone.

Overheated or cold for the extreme environment: Sometimes extreme environmental conditions are responsible for poor performance and iOS 16 laggy. If you face such an issue, try to keep it in your pocket or at optimal temperature.

Keep opening your Motion, GPS, and High Display Brightness: If your mobile settings are not optimized with 1OS 16, it can show lags.

Too many apps allow running background: Many apps running simultaneously can disrupt functioning on one or entire phone.
Part 2.

How to Fix iOS 16 Laggy after Updating
1. Force Restart your Device
Sometimes people overlook the importance of this simple step. The restart can address the iPhone laggy issue. It helps retain memory, runs smoothly, prevents crashes, and improves battery life. Restarting the mobile helps run the device optimally.
To restart the iPhone, here is what you need to do:
Step 1: Press the power button and hold it for a while along with the volume button.
Step 2: Release the buttons as soon as the power of the slider appears on the screen. Drag the slider to restart the phone.
Step 3: Now you need to wait for 30 seconds and again press the buttons. Release the buttons as soon as the company logo appears.
2. Optimize your Storage
Cleaning the storage is an effective way of fixing iPhone laggy problems. For instance, you need to free up some device storage space by deleting unnecessary screenshots, repeated pictures, and unused applications. After that, you will notice an improvement in speed and performance.
3. Use a Stable iOS Version
If you cannot solve the problem or cannot wait for the next update, it is better to switch to a stable and compatible version. You can try downgrading to the previous version of iOS.
4. Check your Internet Connection
If you are facing iOS 16 laggy issues, it is possible that your network is not stable or running too slow. Get a stable network or perform an internet speed test to figure out if it is a real issue or not.
In case of network problems, resetting the network setting can give it a fresh start with a faster internet connection. Follow these simple steps to reset your network setting: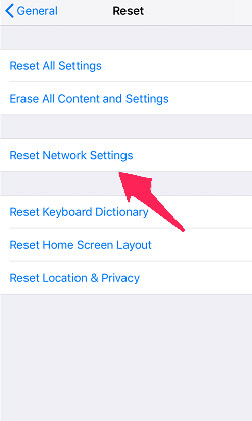 Step 1: Open the iPhone setting and navigate to general. Tap on Transfer or Reset Phone and then Reset.
Step 2: Tap Reset Network Settings and enter the password.
Step 3: Again, tap Reset Network Settings to confirm.
5. Choose "While Using the App" for the Apps Using GPS
Many applications need access to locations, such as ride-sharing, because they cannot track the ride without real-time GPS. However, these location services do not need to run 24/7. If iOS 16 is laggy, perform a location permissions audit. Check which app is using location service and which application can be switched off entirely. You can also shift some apps to "While Using the App."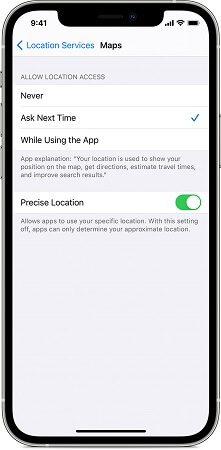 6. Disable Background App Refresh You Don't use Frequently
iOS Background App Refresh feature refreshes apps in the background in order to elucidate the latest data when you open them. It makes your phone also work in the background. So, if you find iOS laggy, shut off the feature. Here is how to do it: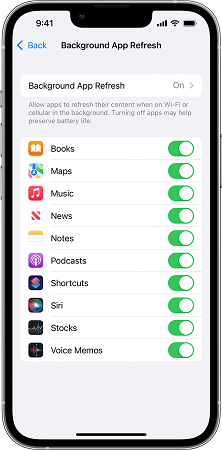 Step 1: Navigate to "Settings" of iPhone and touch "General."
Step 2: Then tap "Background app refresh."
Step 3: You also get option to leave it ON for some applications.
7. Factory Reset Your Device
After practicing all the above methods, if your iOS 16 is still laggy, you can consider restoring it to factory settings. Consider it an extreme solution to erase everything on your phone. Before following this step, you are advised to create a backup. Otherwise, you will end up with an empty phone.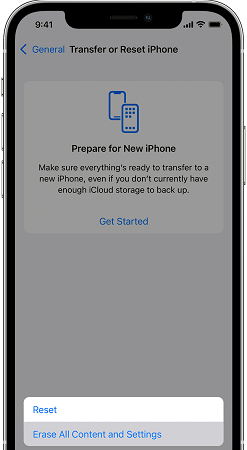 Follow these simple steps to reset the factory of your mobile
Step 1: Open Settings of iPhone.
Step 2: Swipe down and tap "General."
Step 3: Tap Reset and then "Erase all Content and Settings."
8. iOS 16 One-stop Solution- UnicTool Umendit
iOS laggy is a common issue faced by many iPhone users. Fixing iOS with traditional methods is sometimes time-consuming and even unauthentic. Umendit tool makes the whole process easy by quickly and legitimately fixing iOS 16 lagging and freezing.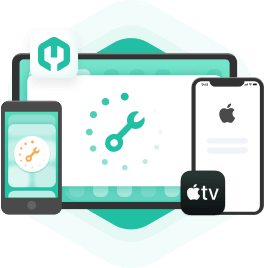 Fix Apple iOS 16 Issues
Umendit is a powerful tool that can solve multiple system issues in a matter of minutes. It can help with iPhone stuck on the Apple logo and spinning wheel, boot loop, black screen of death, and iOS 16 laggy.
It bypasses all kinds of errors like code errors and stuck issues that can occur while updating an iPhone to iOS 16.
Free function assists the user in quickly entering or exiting Recovery Mode without indulging in extensive and complicated steps.
Umendit is useful in downgrading iOS and iPad to the former version without jailbreak.
A step-by-step guide to use UnicTool Umendit
1

Navigate to the official website of Umendit and complete Downloading and Installation.

If your iPhone is undetectable then Umendit will display instructions on how to put your phone in Recovery mode. Follow the instructions and then move on to the next step.

2

Enter DFU mode, and click "Download" to get the latest version of firmware for your phone.

3

Click "Start" to fix your phone, then wait for the process to complete. Then, restart your iPhone and go to Setting. The latest version of iOS will be installed.
The Bottom Line
iPhones are the favorite brand of the majority of phone lovers. It features an innovative operating system that distinguishes it from all mobile phone brands. iPhone also keeps updating to improve performance and user experience. However, a recent update has brought in many upgrades, but users claim that iOS 16 laggy, which is true to some extent.
These issues can be resolved with a bit of struggle. The emergence of UnicTool Umendit has made it easy to resolve any iPhone performance issue in minutes. It is efficient and very useful for Apple users.

Secure Download

Secure Download