Apple has officially released the final version of iOS 16 in September 2022. This latest iPhone update is now available to download. However, for some users, the iOS 16 update is not showing on Apple devices.
There can be multiple reasons behind this issue, such as your iOS 15.6 is not up to date, wring beta profile download, and not finding the iOS 15.7. If you are one of those facing this issue, you may want to fix the device immediately. To help you solve the problem immediately, here we look at how you can fix the iOS 16 update not showing up on your devices.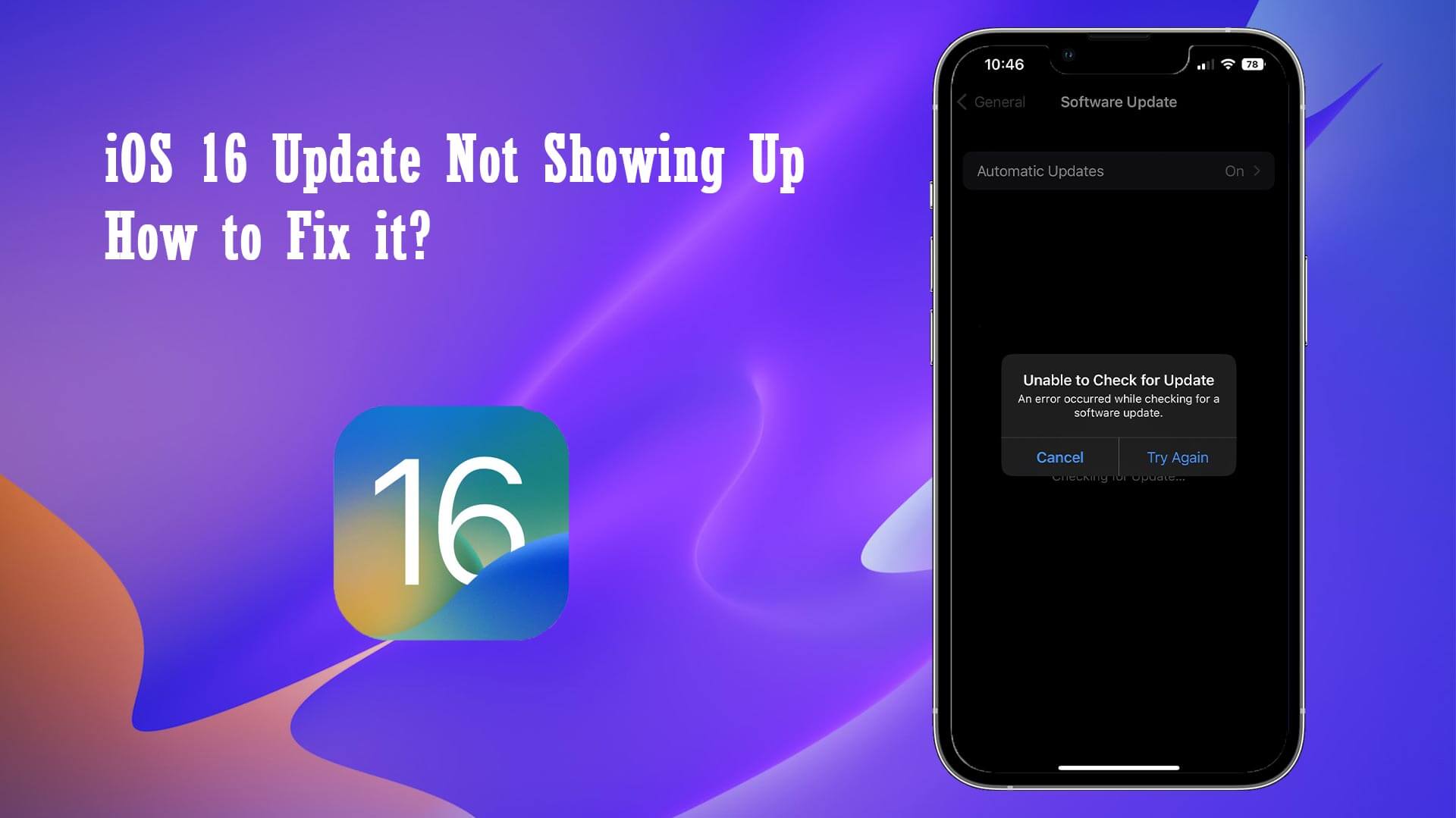 Part 1.

Why iOS 16 Update Not Showing Up on in Device

Apple invites the user to have a look at the latest iOS features. Many users must have received an invite, but iOS 16 is not working for some people. Here are some common that can refrain people from the latest update:
1. Check the Compatibility
If you have not seen the latest update, the first thing you need to do is to check compatibility. According to the official, any iPhone older than iPhone 8 will not receive an update. Here is the list of iOS 16 supported devices:
2. Apple Service Crowded
If your phone is compatible but still facing the issue of the iOS 16 update not showing up, you are suggested to check the Apple system status for its services. Sometimes, Apple service is down, which does not let iPhone connect with the Apple server, thus resulting in the Apple server not being available.
3. Poor Network
If iOS 16 is not even after removing the old beta profile, there can be something wrong with network settings. Hence, make sure that your network connection is running perfectly. If not, check on different networks or even reset it.
Part 2.

How to Fix iOS 16 Update Not Showing Up

It is always heart-wrenching to get poor performance on a favorite device. But do not worry! Now you can solve the issue by yourself.
1. Check for Update Manually
Generally, users get the notification of a new update in the settings application itself, but if not, you can also go to the update section and check it manually. Here is how you can do that: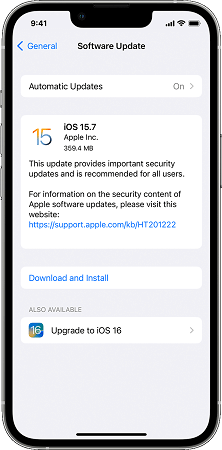 Step 1: Open the Setting on your device.
Step 2: Navigate to the General.
Step 3: Now tap on Software Update. Here you will see the new version of iOS 15.7 is available, and iOS 16 is also available.
Step 4: Choose iOS 16 and click on Download and install. The update will be downloaded shortly.
2. Check the Statue of Apple Servers
An Apple server can be a real game changer in your device's performance. When apple service is down, and there is some service issue within it, your iPhone will not connect, and this may result in the iOS 16 update not showing up in the section of the software update.
To check whether Apple's system is working or not, go to https://www.apple.com/support/systemstatus//. If all services are marked green, then the status is fine. Conversely, if the Apple server goes down and is temporarily unavailable, you will have to wait for a while.
3. Check the Network Condition on your Device
Sometimes, network settings are corrupted, resulting in iOS 16 not working, but you can easily solve the problem by following these methods:
1: Turn ON or OFF the Airplane mode to reconnect your internet.
2: Turn ON or OFF your WIFI and try to use cellular data to check for the update.
If these steps do not work for you, simply reset the network setting. If the root of the problem is the network, your problem will be solved. Here is what you need to know:
Step 1: Open Settings on your device.
Step 2: Navigate into General and tap "Reset."
Step 3: Then, tap Reset Network Settings.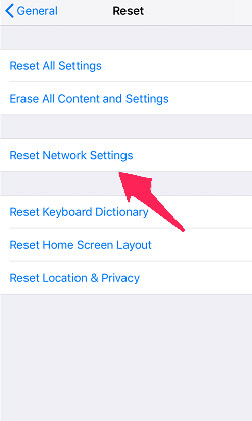 Once done, you can restart your phone again and check for the latest iOS 16 update.
4. Remove iOS 16 Beta Profile
Some users like to install and keep beta profiles, which offer access to beta updates. However, if you have an iOS 15 beta profile installed on your device, you will not get the iOS 16 update. Hence, delete beta profiles by following these steps.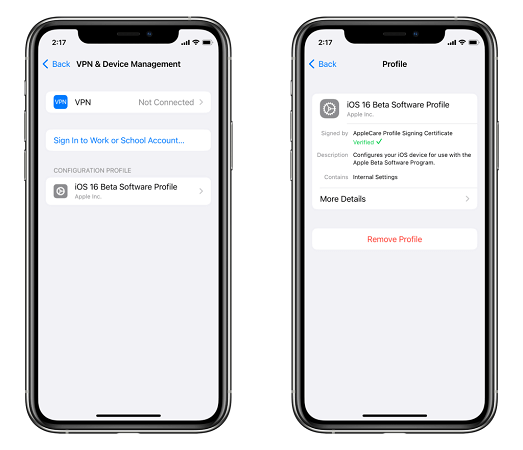 Step 1: Open settings and go to general.
Step 2: No tap on VPN and Device Management.
Step 3: Here beta profile will be visible; make sure to remove the profile.
Once you have successfully deleted the profile, check for iOS 16 update gain if it is showing or not.
5. Use One-stop Tool to Fix iOS 16 Update Not Showing Up
If the iOS 16 update is still not showing even after applying the above-mentioned methods, try the UnicTool Umendit. It is a one-stop tool introduced to solve your Apple device problems. Umendit is easy to use and can potentially make your task straightforward.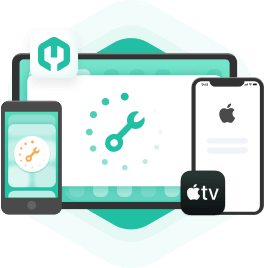 Fix Apple iOS 16 Issues
It solves all Apple devices related problems, such as lagging, hanging, boot loop, and update-related issues.
It is easy to use application making the process easy with simple and short steps.
It helps downgrade the Apple device with jailbreaking.
Step-by-Step Guide to using Umendit
1

Navigate to the official website of Umendit and complete Downloading and Installation.

If your iPhone is undetectable then Umendit will display instructions on how to put your phone in Recovery mode. Follow the instructions and then move on to the next step.

2

Enter DFU mode, and click "Download" to get the latest version of firmware for your phone.

3

Click "Start" to fix your phone, then wait for the process to complete. Then, restart your iPhone and go to Setting. The latest version of iOS will be installed.
6. Use iTunes to Get the Latest iOS 16 Public Version
If none of your attempts to update the iOS 16, now it is time for iTunes to take responsibility and get your job done. It allows you to update your iOS-based devices from your computer. Here is what you need to do: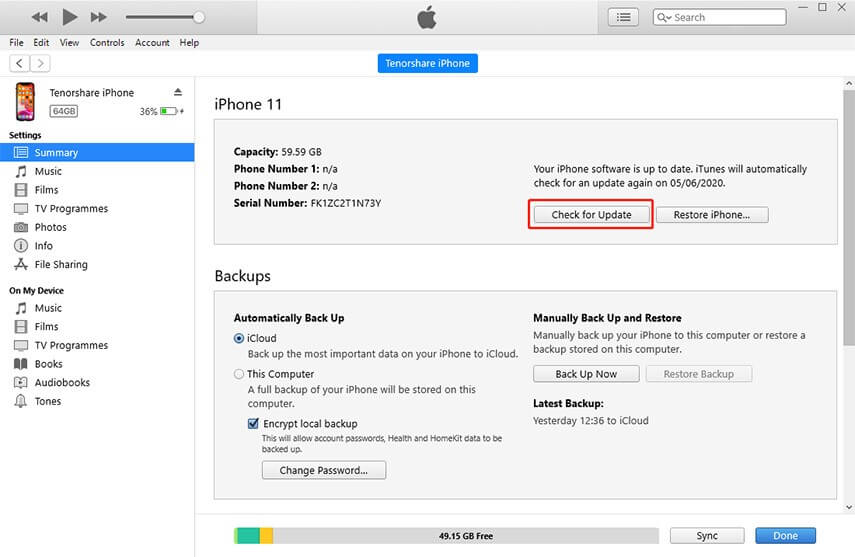 Step 1: Download the app from official website and complete installation of iTunes on your computer.
Step 2: Connect the device, such as iPhone or iPad, to a PC with a lighting cable.
Step 3: Check if the new iOS 16 is available on your device, click "Download" and "Install."
The Bottom Line
Everybody wants to use the latest technology equipped with new features. However, many iPhone users are unable to get the latest iOS version. Due to specific reasons like malfunctioning or Apple server and the network, it results in iOS 16 update not showing.
If you face this issue, the best solution is to get Umendit. It is a practical application that helps you fix every Apple performance-related issue. With the help of this tool, you can easily align the functions and enjoy the latest update.