It may sound weird, but nothing can throw you into a fits of laughter than fart voices. The sound is enough to change any serious situation into a funny one. Since obviously, fart sounds don't come up all the time. So how about you use a fart soundboard for that?
A soundboard is just the perfect tool to let you amplify and change fart sounds to your liking. Whether you want to create an intense or light, a fart soundboard can help you do that. However, you may be wondering where to get it from? The article covers all there is to know about fart soundboards!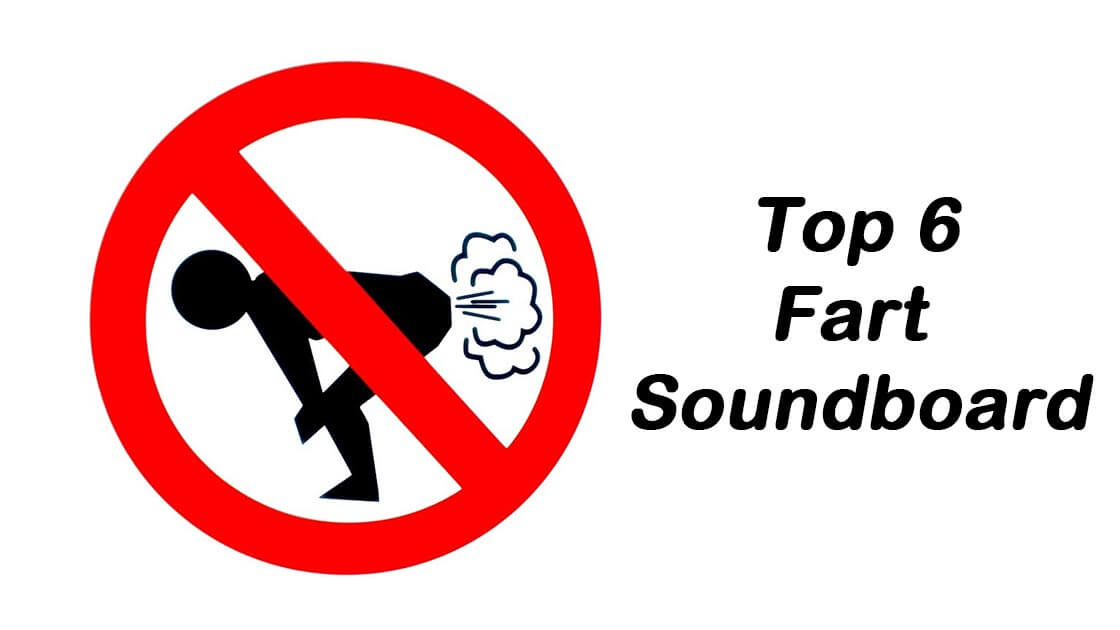 Part 1.

What is a Fart Soundboard, and How It Sound Like?

Did you know that there are around 176 different types of fart voices? It is astonishing to see how this is even possible but more fun for us because guess what? With a fart soundboard, you can mimic each of these different types! You can use it during a group presentation or while talking to your friends to express something! You can even use a fart soundboard to make fart voices while playing video games.

A soundboard consists of all the sounds and sound effects in one place. It consists of tools and buttons that can help you use a sound effect and change it according to your preferences. The sound of each fart depends on several factors, but each one has one thing in common. It is that they for sure can generate the best volume of laughter!
Part 2.

Best Fart Soundboards to Generate Laughter PC and Mobile

Whether you want to generate fart voices at home, or while sitting anywhere, fart soundboards make anything possible. The following are the best fart soundboards for PC and mobile phones.

What better way to meet strangers than by breaking the ice and using such soundboards to make fart voices? MagicVox Soundboard is at number one because of its unique features. However, another reason why we have this app at number one is because of its easy integration feature! MagicVox is one of the few apps that allows you to use hotkeys and generate fart voices while using other apps. Hence, it will be the perfect tool to use during conversations and video games!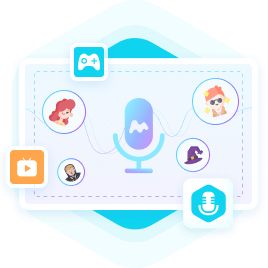 A Real-Time Voice Changer
MagicVox allows you to get access to over two hundred voice filters.
The app features brilliant performance and is easy to set up.
Allows you to create customized sound effects.
You can customize your soundboard according to your preferences.
Hotkeys to let you use the fart sound effects anytime.
Pros
Easy integration.
Innovative interface.
Quick performance.
Cons
Doesn't let you gain access to the features and tools offline.
Review:
If you want to use a fart soundboard where there are endless opportunities for your creativity, then MagicVox is perfect. It lets you fully control the soundboard and is very easy to use.
How to use MagicVox soundboard Step by Step Tutorial
You can get the hang of MagicVox fart soundboard in just four easy steps:

Step 1: Install MagicVox on your desktop.
Step 2: Go to 'Settings' and change the default settings to the microphone as the input device and headphones as the output device.

Step 3: Search for the fart soundboard and get access to unlimited sound effects. You can customize your soundboard by adding songs and audio files. Whatever you upload must be .MP3 or .WAV format.

Step 4: Set the virtual audio device as your input in all the other streaming apps you want to use the fart sounds on.
Voicemod is one of the best and mostly used fart soundboards out there. The app features everything you need from a soundboard. With the use of this soundboard, you will never find anything outdated. Most importantly, the app lets you add different sound effects to your files for an extra touch!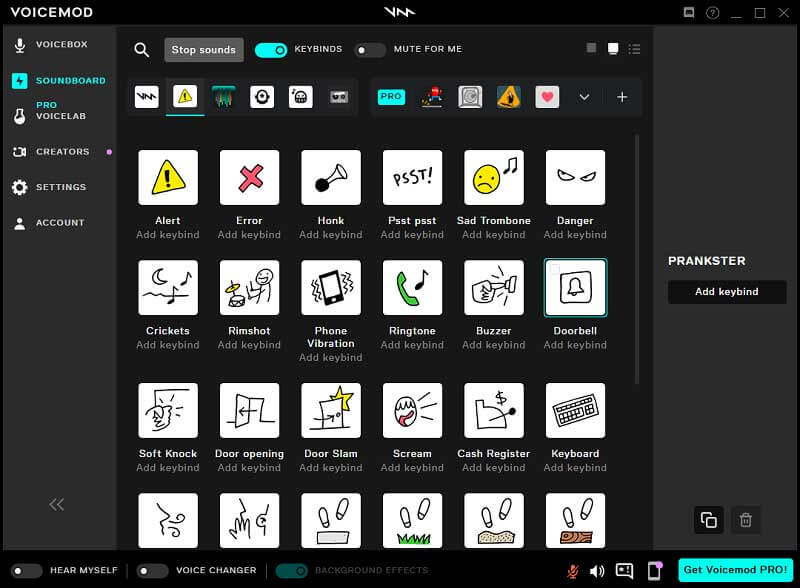 Key Features
Here is why choosing Voicemod for fart sounds soundboard won't be a bad idea at all.
Voicemod lets you add any effect or influence to your fart sounds. Whether a musical touch or comical, it has it all.
Even though it is available for Windows, it can easily be used with apps on your phone.
Includes a PGC platform.
It allows you to create your unique fart sound.
Pros
Perfect for unleashing your creativity.
It is light on the system.
Cons
Available for Windows only.
Sometimes it takes too long to load a sound file.
Review:
As a desktop user, this fart soundboard will be nothing less than perfect. Voicemod allows you to choose from different variants of tools and effects. It makes your ice-breaking sessions and conversations funny to the highest levels!
There are fart soundboards that feature a great variety. However, that variety is in terms of sound effects such as echo, mute, intense, and much more. One thing that separates Myinstants from other fart soundboards is the unique variety!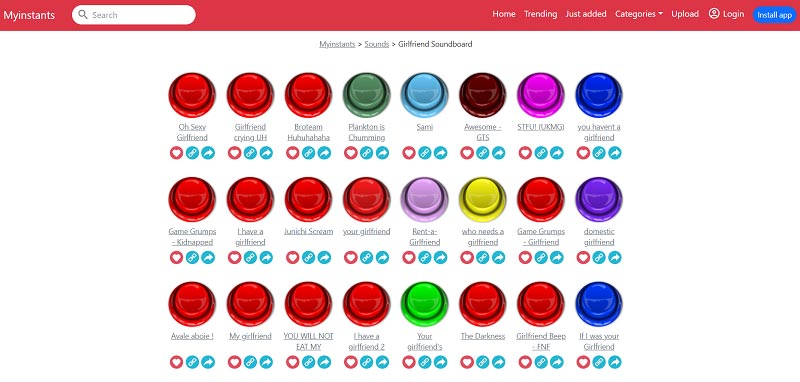 Key Features
The following are the features of Myinstants that have made it one of the best fart sounds soundboards available!
It allows you to mark your favorite sound effects.
You can upload your audio files to the soundboard.
A great variety of sound effects is available.
Pros
Attractive and easy-to-use interface.
Great ratings.
Cons
It doesn't let you change the parameters of the sound filters.
Review:
For an app that is available for free to use, choosing Myinstants does not seem like a bad idea. The app has some flaws, but they can be sidelined because the features are great on their own.
Imagine any kind of fart voice you can, and the fart soundboard of Soundboard City will surely have it. The best thing about this software is that it is compatible with almost all devices! However, it is best to suit iOS and Mac devices.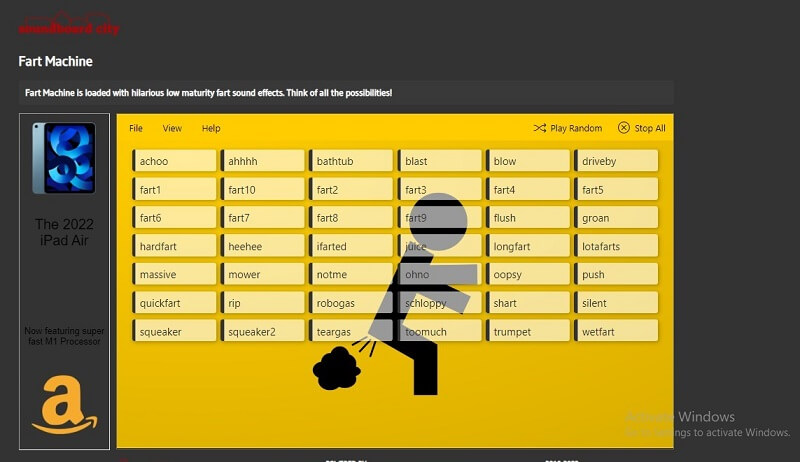 Key Features
The following features make Soundboard City a convenient solution to generate laughter anytime:
A great variety of fart voices.
It includes a shuffle option to surprise yourself with any voice and triple the fun.
It works perfectly well on all the new Apple devices.
Pros
Works on M1 processors.
Free of cost.
Very convenient and easy to use.
Review:
The Soundboard City is a great choice if you want to only get access to high-quality fart voices. You will not be able to change or add your sound effects. The customize options are also limited.
The next fart soundboard on our list is for all iOS device holders. With over 4.6 star ratings and one million downloads, the farts sound prank app is brilliant in everything. From its design, layout, features, and high-quality fart sounds, Fart Sounds Prank App is a good option.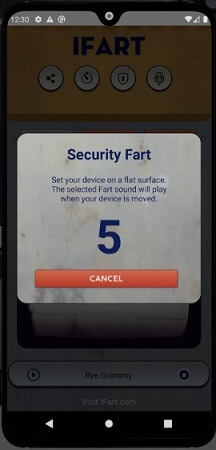 Key Features
Here is why almost everyone seems to love the app:
Includes thirty-five types of fart sounds.
The security fart tools unleash a fart sound whenever someone else gets a hold of your phone.
It allows you to record your fart sounds.
It will enable you to create your favorite fart sounds for easy navigation.
It lets you set a time for a certain fart sound to go off at a specific time.
Pros
Costs almost nothing to get access to more sound farts.
Includes a timer.
The sneak fart option helps with pulling off unique pranks.
Cons
The user has to restart the device multiple times for the app to start working.
Review:
For a simple and convenient way to include fart voices during conversations and pranks, the Fart Sounds App is fantastic. It features all the essential tools and promises you a great time.
Nothing makes a prank funnier than a fart. The tap and fart soundboard machine is another fantastic app for iOS devices. The app features all the essential functions of a fart soundboard.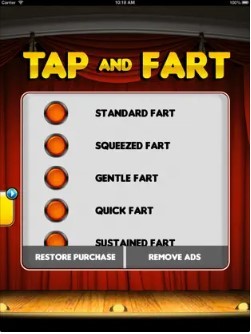 Key Features
Here is why almost everyone seems to love the app:
High-quality fart sounds.
The names of the farts make the app funnier and exciting to use.
It features around ten fart types to choose from.
It has a 4+ age rating.
Pros
Available in over twenty languages.
Compatible with IOS 6 versions and greater than that.
Cons
Doesn't feature advanced tools and functions.
Only available for iOS devices.
Review:
If you only want to use a fart soundboard to produce the basic fart noises, then this app is excellent.
Conclusion
A fart voice is just what can turn anything gloomy into bright and sunny. A soundboard like these is perfect for playing pranks on your friends or family.
A good fart soundboard will ensure you have a great time when using it. The above fart soundboards are some of the best right now! Each one of these apps features something unique. However, MagicVox for sure takes the lead! The best thing about UnicTool MagicVox is the creativity column it allows its users. You get to choose from a wide variety of options and have the time of your life customizing sounds!