Spending time with friends and family is one of life's greatest pleasures. Those moments become ten times more memorable when there are fits of laughter involved. Mimicry is that one activity that can turn any gloomy day upside down. How about you take your mimicry skills up a notch by using a Donald Trump soundboard?
Politician or not, Donald Trump has made us laugh on countless occasions. His memes surface all over social media every now and then. So now retake those memes by using a Donald Trump soundboard!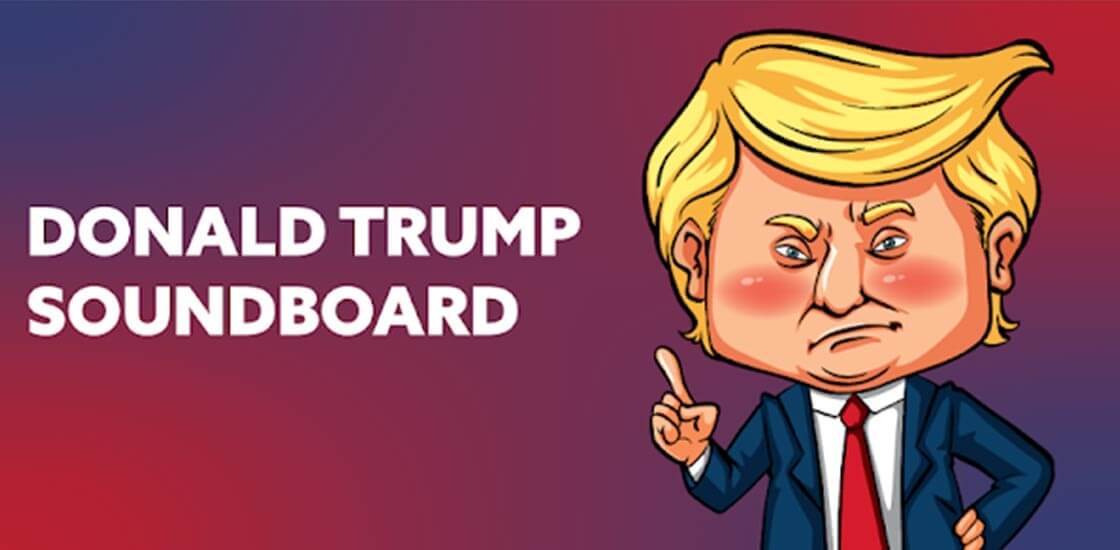 Part 1.

Best Donald Trump Soundboard for PC & Mobile- Which One do I Need?

It can get a little tricking trying to choose the perfect soundboard that meets the needs of your device. We have narrowed it down to the best top six Donald Trump soundboards with their pros and cons. So read further and choose the one that attracts you the most!

A soundboard enables you to add your custom made voice filters and sound effects in one place. In this day and age, you cannot talk about custom voice filters without mentioning MagicVox. If you are looking for a Donald Trump soundboard to use on a PC, then there is no better option than MagicVox. The software has proved every time with its innovative features that there is no one like it. MagicVox can make any moment fun by letting you mimic Donald Trump's voice sounding as realistic as ever.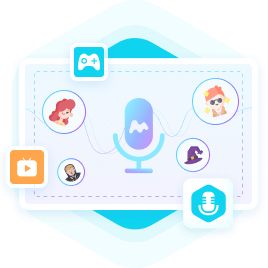 A Real-Time Voice Changer
You get to explore your creativity by using MagicVox through its VoiceBox.
It lets you create and add as many voice filters and sound effects as you want to your soundboard.
MagicVox's soundboard is one of the easiest to use.
The soundboard lets you change and tune your voice however way you'd like.
You can activate Donald Trump's voice within seconds by using hotkeys.
Pros
Compatible with most apps.
Innovative and unique tools.
Gives you freedom over your use of the app.
Cons
It offers fewer days in its free trial.
Almost all the features are up for grabs on its Premium version.
Voicemod soundboard is one of the most well-known soundboard outs there. With its unique tools, the software has made its name as the most excellent performing soundboards for PC. The greatest thing that soundboards offer is freedom of use, and Voicemod excels in that as well. It is the most preferred soundboard used by streamers and content creators.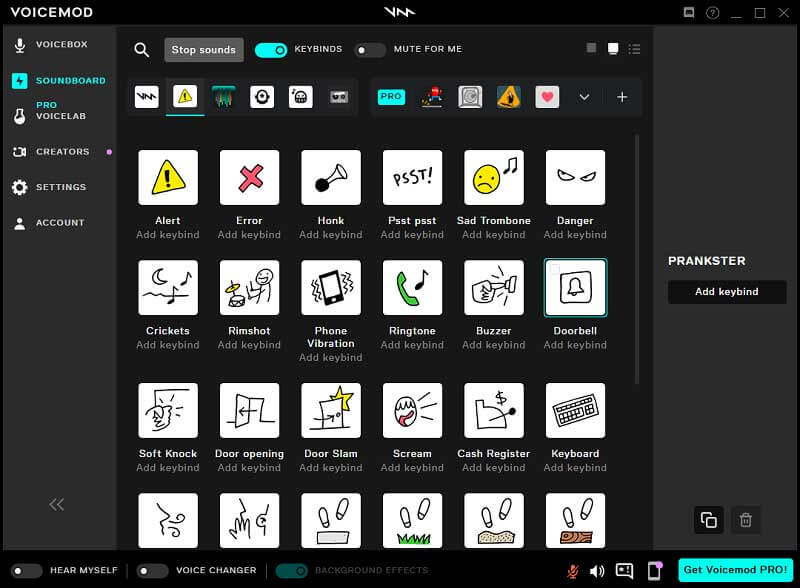 Key Features
The following features give a glimpse of all the fun things Voicemod's Donald Trump soundboard offers.
It lets you use Donald Trump's iconic voice directly on streaming platforms like Zoom and Discord.
The app lets you download Trump's famous phrases to send to your friends and family for fun.
You can personalize your soundboard by uploading your MP3 or WAV format audio files.
The app features keybinds to give you easy access to the soundboard when using other apps.
It requires only four steps to set it up.
Pros
Synchronized with major social media apps.
A fun interface makes it easy to use.
Perfect for beginners.
Cons
It is only available for PC and not for Android or iOS devices.
Just as its name depicts, Myinstants lets you gain access to a whole array of voice filters instantly. Whether that is while playing games, video chatting, mimicking, or creating memes. Myinstants has made it to our list with its easy-to-use interface and brilliant voice quality.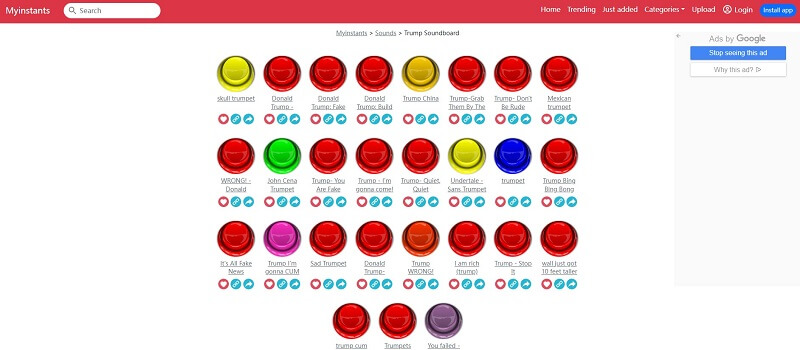 Key Features
Here are some of the key features of the software:
Myinstants updates and displays a whole list of trending voice filters and sound effects weekly.
It features over forty thousand sound buttons.
The interface is very easy to understand.
It has a variety of Donald Trump voice effects according to different situations.
It features voice filters in various languages.
Pros
It is free to use.
Available for Mac, Windows, Android, and iOS users.
It has a rating of 4.6 on the Google Play Store.
Cons
Sometimes causes issues loading.
The developers take a long time to get the bugs fixed.
We cannot talk about the best Donald Trump soundboard to choose and not include Jayuzumi in our list. Jayuzumi features one of the best Donald Trump soundboards in the league. The best thing about this software is that it lets you customize your soundboards separately. A feature like this enables you to have fun to the greatest limits!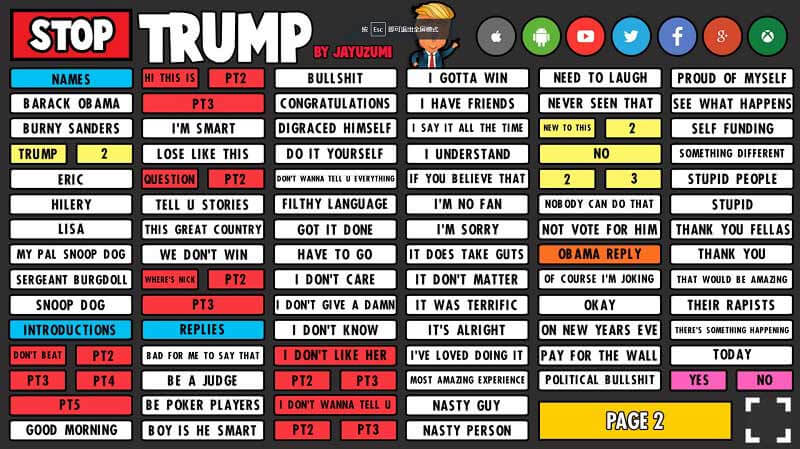 Key Features
Take a look at its key features to understand why Jayuzumi has left a significant mark among its competitors:
The software features a separate category to help you prank call your friends.
It features voice filters of all the latest memes.
The sound quality of the filters is up to the mark.
From Presidents, movies, or TV shows, the app features every known voice filter.
It takes its users' privacy very seriously.
Pros
Safe and secure to use.
Variety of voice filters.
Always stays up to date.
Cons
Could use a few tools for users to use the app easily.
Donald Trump is known for his bold actions and for speaking anything fearlessly. Some phrases of his then became famous worldwide, and people couldn't help but laugh a great deal at them. There are hardly any apps out there that let you mimic his voice and phrases flawlessly. However, that won't be a problem anymore!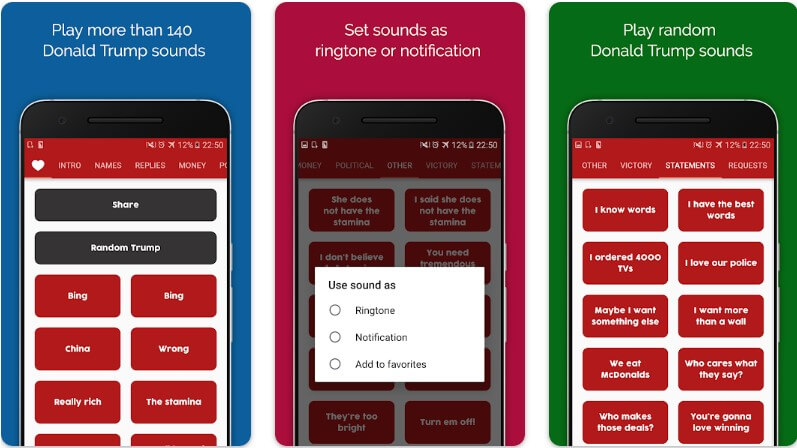 The majority of people prefer to use mobile apps more than desktop software. There are many apps out there that don't deliver the features they promise to their users. In the end, users are left with disappointment and waste. To save you from that, you can blindly download the Donald Trump soundboard on Android! The app lets you avail countless features all in a single tap!
Key Features
The below features have made this app the number one choice of Android users:
The app features more than three hundred famous phrases used by Donald Trump.
It allows you to set ringtones and notification bells in Trump's voice.
It allows you to play random phrases anytime you want with a single click.
The app lets you add your favorite phrases to a list for easy access.
Pros
Always on the run to update new features.
Easy to use.
Cons
Not for kids.
Features only limited phrases.
It doesn't let you have freedom over the app.
As much as iOS devices mostly take the lead when it comes to the world of technology. Most of the time, they fail to gain access to apps that can turn any serious situation into a funny one. However, not this time! The Donald Trump soundboard app for iOS is here and is ready to save you from serious situations.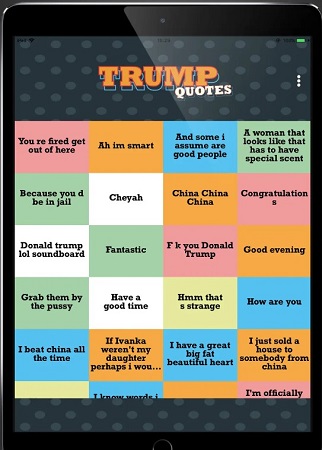 Key Features
Here are the features of the famous soundboard app among iOS users:
It has fifty of Donald Trump's most famous dialogues.
It is easy to use.
You can avail any phrase in Donald Trump's voice with a click of a button.
Pros
Brilliant sound quality.
Features the funniest phrases.
Has a rating of 5 in the Apple App Store.
Cons
It doesn't let you alter your voice in Donald Trump's.
Has limitations in its use.
Part 2.

How to create a Donald Trump Soundboard on PC

One of the most incredible benefits of using a soundboard is having to set it up according to your preferences. Most people think that creating a soundboard is challenging, however, we are here to tell you the opposite!

When it comes to mobile applications, things are not as complex as with desktops. When setting a soundboard on desktop, there are only a few complexities to understand, and the rest is a piece of cake.
Step by Step Tutorial to use Donald Trump Soundboard on PC
Simply follow the below-mentioned steps exactly how they are demonstrated. After this, you will find yourself with a well-organized and working soundboard on your PC!
Here is how you can easily use the Donald Trump soundboard in MagicVox in just four easy steps:

Step 1: Install the Donald Trump soundboard of your choice on your PC.
Step 2: On the 'Settings' menu, change the default settings to the microphone as the input device and headphones as the output device.

Step 3: Next, search for your soundboard on the software. Add your audio files in the format MP3 or WAV.

Step 4: Finally, go to the 'Settings' menu of the platforms you want the soundboard to collaborate with. Over there, change the virtual audio device as the default input device, and that's it!
Conclusion
Donald Trump as a politician, has many haters and supporters. However, no one can underestimate savage and cool comebacks that have made us laugh on more occasions than one. Let your creativity flow by using any of the above soundboards. Each Donald Trump soundboard we've talked about is good in its own way!
However, UnicTool MagicVox tops our list with its innovative features and attractive interface. It makes not only the end results of voice filters worth it but the whole process of that fun too! Prank your friends, mimic Trump, or create a meme. The possibilities with MagicVox are pretty endless!