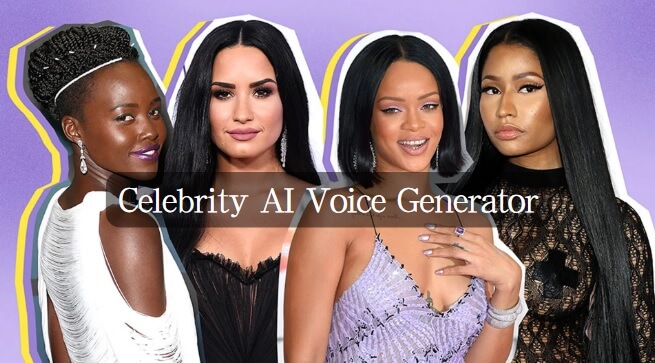 Part 1: What is a Celebrity AI Voice Generator?
Crafting a convincing and lifelike celebrity speech online can pose a challenge, but with the aid of suitable tools, it becomes achievable to create a speech that emulates the delivery of your beloved star. One highly effective approach is to leverage the power of celebrity text-to-speech technology.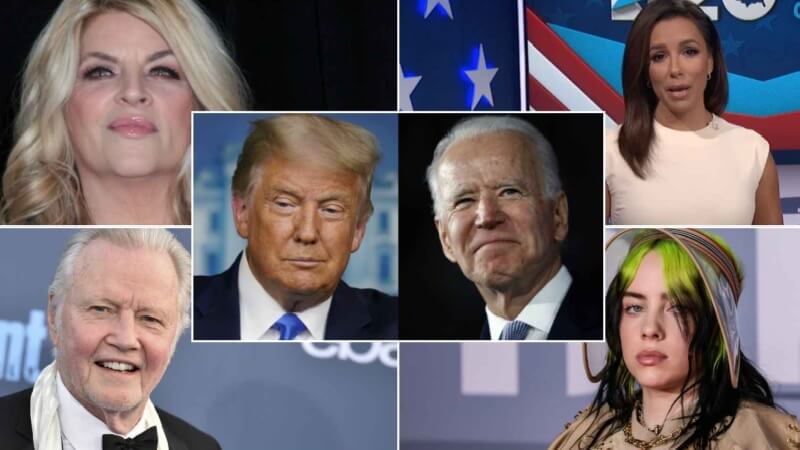 This innovative technology combines AI algorithms and voice acting techniques to replicate the unique voice and speaking style of a specific celebrity. By utilizing the appropriate tool empowered by this remarkable technology, you can generate a speech that mirrors the delivery of your favorite star, be it a motivational address, a political statement like Joe Biden , or simply a lighthearted message. The possibilities are endless and the results can be remarkably realistic and engaging.
Part 2: Comparison of 6 Celebrity Voice Generator/Voice Changer
Product Name
Category
Platform
Voices
Price
Review Rate
VoxMaker
Text to Speech/Voice Cloning
Win
3200+
Free Trial
4.8
MagicVox
Real-time Voice Changer
Win+Mac
400+
$8.95/mon
4.8
Murf.ai
Text to Speech
App
3000+
$19/mon
4.4
Topmediai
Text to Speech
website
300+
$12.99/mon
4.4
VoxBox
Text to Speech
Win+Mac+Mobile
3200+
$15.95/mon
4.8
Uberduck
Text to Speech
Wesite
4000+
$25/Clone Plan
4.4
Part 3: Best 5 Celebrity Text to Speech & AI Voice Generator that You Should Try!
VoxMaker is an AI celebrity text to speech generator that enables users to recreate the voices of celebrities such as Michael Jackson and Donald Trump, among others.
It offers a range of language options for users to select from. With VoxMaker, users can simply input their desired text, click on the generate button, and obtain a speech in the chosen celebrity's voice. The generated speech can be easily downloaded to the user's computer for convenient use.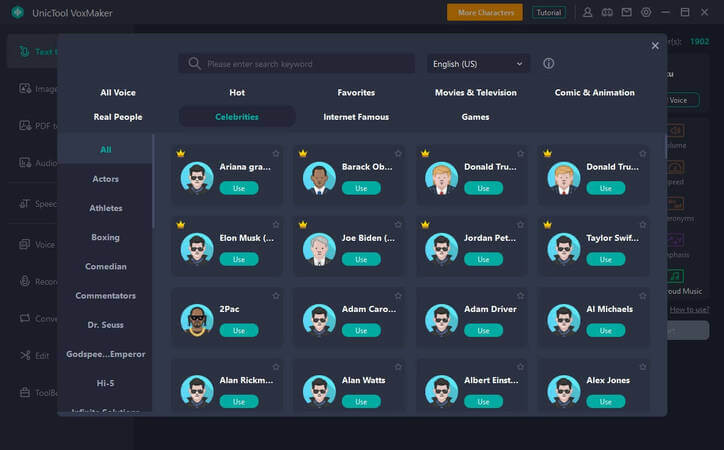 Key features:

It offers an extensive selection of over 3200 +voices, including rappers, YouTubers, characters, and famous personalities like Trump or the President.

Customization Options
: Users can personalize their audio files by applying different skins and sound effects, allowing for greater creativity and customization.

Diverse Accents: The platform supports more than 100 accents, allowing users to choose from a wide range of options, including British, Hindi and Irish accents.

Flexible Output Formats: VoxMaker allows users to save cloned voices in multiple formats such as WAV and OGG, ensuring compatibility with various platforms and devices.

Wide range of functionalities: It serves as a versatile toolkit, including text-to-speech (TTS), speech-to-text conversion, image to speech, PDF to speech, audio to speech, video conversion, recording, and audio editing.

AI Voice Cloning: You can clone any voice with just 1 click.

30-Day Money Back Guarantee: If you're not satisfied with your purchase, you can request a refund within 30 days of your initial purchase.

Free Trial Available: A free trial version is available to try several popular voices.
10% Coupon Code:SPECIAL111
If you don't know how to use UnicTool Coupon Code, you can read this artcile as your reference.
How to generate celebrity AI voice with VoxMaker?
Step 1: Download and install VoxMaker
Step 2:Click the "change voice" button and search for the voice you want in the search box, such as "Donald Trump"

Step 3:Type in or paste the text you want to generate in the provided text box and click on the "Convert" button to create the audio file.
Uberduck is a web-based celebrity voice generator that specializes in text-to-speech conversion. It provides users with a diverse selection of characters to choose from. The platform employs high-quality speech synthesis technology, ensuring realistic and engaging voice output..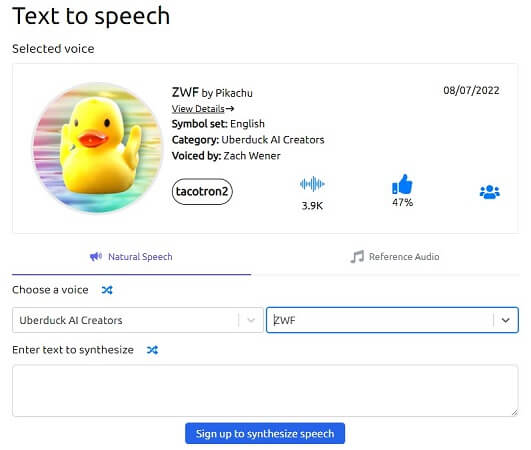 Features:
Customizable Voice Output : Users have the ability to adjust parameters such as speed, tone, and pitch.
Wide Range of Characters : Uberduck offers a diverse selection of characters including celebrity like Michael Jackson and cartoon charactor like Vegeta. But the number of voices are not as many as VoxMaker
Greater Flexibility : By granting users control over voice properties, Uberduck allows for greater flexibility in creating unique and personalized voice outputs that suit specific needs.
High-Quality Speech Synthesis : The platform utilizes advanced speech synthesis technology.
Versatile Applications : Uberduck can be utilized for various purposes, including entertainment, presentations, or creative projects.
Murf.ai is a robust online text-to-speech conversion tool known for its efficiency and convenience. It offers users a user-friendly interface and a comprehensive set of features to simplify the process of converting text to speech.
One of its notable strengths is its versatility, as it supports text-to-speech conversion in 20 different languages, catering to users from various regions and backgrounds. With its user-centric design and multi-language support, Murf.ai proves to be a valuable tool for individuals worldwide seeking reliable and accessible text-to-speech conversion capabilities.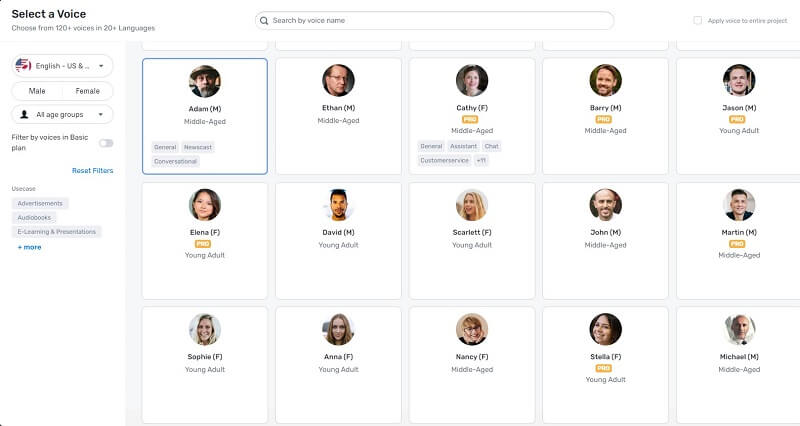 Features:
20 Languages and 2000+ Voices Available: Murf.ai supports text-to-speech conversion in 20 different languages and 2000+ Voices.
Customizable Pitch and Speed: Users have the flexibility to adjust the pitch and speed of the generated speech.
Simple and User-Friendly Interface: The platform features a user-friendly interface that is intuitive and easy to navigate.
Free Version Limitations: The free version of Murf.ai does not permit any downloads. PDF File Limitation: Murf.ai does not support the conversion of PDF files.
Pricing: The basic subscription plan is priced at $19 per month at least.
With cutting-edge speech synthesis technology, TopMediai ensures the production of top-notch, lifelike voices that exhibit exceptional quality. It supports multiple languages, making it a versatile choice for a wide range of applications, including voice-overs, presentations, and multimedia projects. TopMediai emerges as a powerful tool for those seeking high-quality, natural-sounding speech synthesis with a variety of customizable options.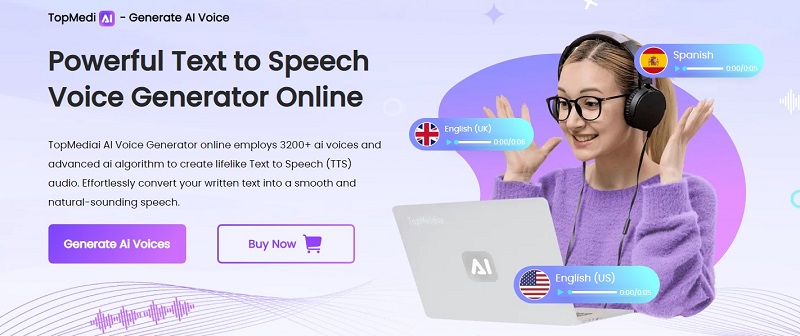 Features:
Advanced Speech Synthesis Technology: TopMediai utilizes advanced technology to ensure high-quality and realistic speech synthesis.
Support for 70+ Languages: The platform offers support for over 70 languages.
Wide Range of Voices: With 3100+ voices available, users have an extensive selection to choose from.
Customizable Voice Settings: Users have control over various voice settings, including speed, volume, and pitch.
Multiple Output File Types: TopMediai supports a variety of output file types.
VoxBox is an advanced text-to-speech generator powered by AI that allows users to recreate the voices of various celebrities, including popular figures like Michael Jackson and Donald Trump. With VoxBox, users have access to a diverse range of language options to choose from.
By simply inputting their desired text, users can effortlessly generate a speech in the voice of their chosen celebrity. The resulting speech can be conveniently downloaded to the user's computer for immediate use.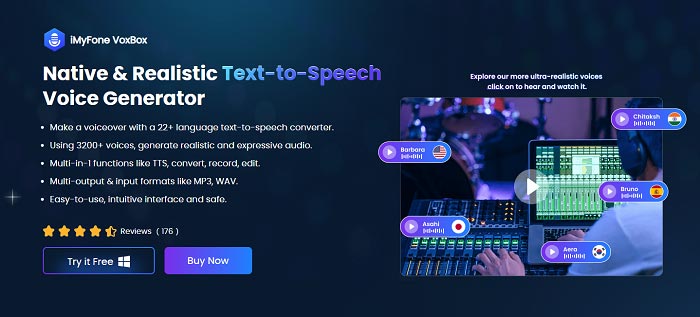 Features:
Diverse Accents: Users can choose from a wide range of options, including British, Hindi, and Irish accents.
Edit Vocies: Users have control over voice properties, allowing them to adjust parameters like speed, pause, pitch, emphasis, and volume.
Free Trial: A free trial version is available.
Part 4: Also Recommended: Real-Time Celebrity Voice Changer
MagicVox celebrity voice generator is a user-friendly and compact voice-changing tool that enables real-time voice transformation. It offers a wide variety of voice effects, including the option to imitate the voices of numerous celebrities, such as Taylor Swift.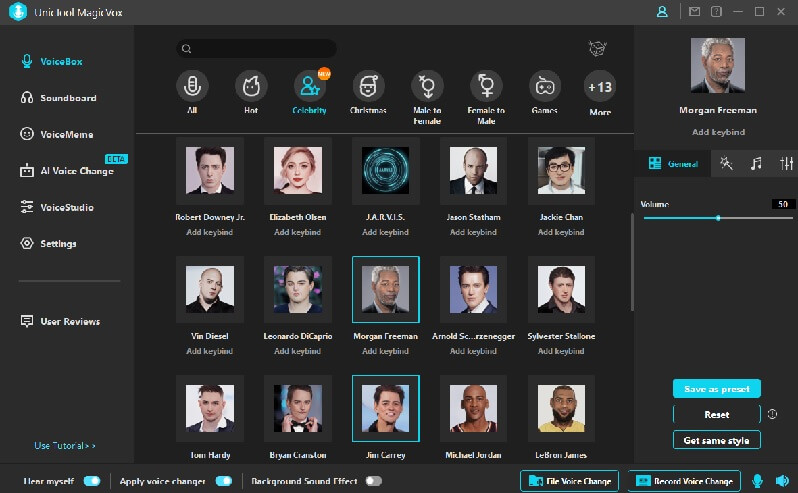 MagicVox is one of the best celebrity voice generator tools with over 150+ celebrity AI voices that alter voice according to desired preferences. It is especially used for gaming, chatting, voice acting, and much more. Hence, the addition of VoiceStudio allows individuals to sound more professional and like any celebrity.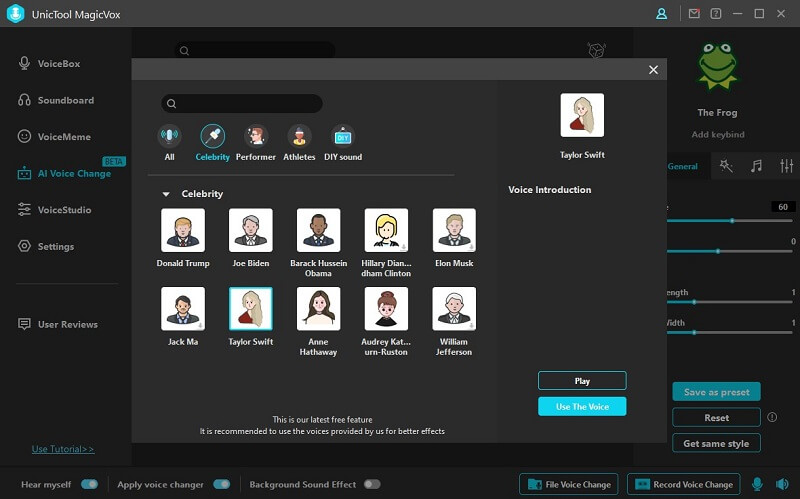 Key features:

Real-time Voice Modification: With just one click, change your voice in popular gaming platforms like Discord, VRChat, Zoom, Google Meet, Roblox, OBS, DAWs, YouTube, TikTok and more.

With over 600 voice effects, 400+ soundboard options, and 200+ voice memes, include many celebrities, like Lisa, Morgan Freeman, etc.

Voice Customization: You can create personalized voice presets by adjusting various parameters to achieve unique and customized voice effects.

Compatibility: It effortlessly integrates with popular communication and streaming platforms, allowing you to use the voice changer during voice calls, live streams, and other interactive activities.

Hotkeys and Shortcuts: MagicVox enables easy control of voice effects using customizable hotkeys and shortcuts, making it simple to switch between different voices on the fly.

It also supports file voice change and record voice change.
Watch The Video Below To Know More About MagicVox Celebrity Voice Generator
Note
Operate System: Windows & Mac
Software Size: 14.7 MB
Using Experience: 4.8Stars
Part 5: What Can I Use Celebrity AI Voice Generator for?
The Celebrity AI Voice Generator serves multiple functions including gaming, streaming, online classes, audio recording, voice acting, and content creation. It provides various voice effects and celebrity voice imitation, adding uniqueness and entertainment. The voice studio feature permits personalized adjustments, broadening its creative applications.
Gaming and Live Streaming: Enhance your gaming experiences and live streams by incorporating celebrity-like voices into characters and commentary.
Online Communication: Use the generator for chatting, whether in casual conversations or formal online classes, adding an engaging twist to your interactions.
Audio Recording: Record audio with modified voices for podcasts, narration, or any audio content to captivate your audience.
Voice Acting: Explore voice acting opportunities by experimenting with different voices and characters for animations, videos, and more.
Content Creation: Generate unique content for videos, podcasts, and multimedia projects, giving them a distinct and memorable quality.
FAQs about Celebrity AI Voice Generator
1.What is a Celebrity AI Voice Generator?
The Celebrity AI Voice Generator is a technology that utilizes artificial intelligence algorithms to mimic the voices of famous celebrities. It can recreate the distinct vocal characteristics, intonations, and speaking styles of various well-known personalities.
2.How does the Celebrity AI Voice Generator work?
The Celebrity AI Voice Generator is trained using vast amounts of audio data from the selected celebrity. Advanced machine learning techniques, such as deep neural networks, analyze and learn the unique patterns and nuances of the celebrity's voice. This trained model can then generate new audio clips in the celebrity's voice based on input text.
3.Can I use the Celebrity AI Voice Generator for any purpose?
The usage of the Celebrity AI Voice Generator depends on the terms and conditions set by the developers or providers of the technology. It's important to check the specific guidelines and permissions regarding its usage, as some applications may have legal and ethical restrictions.
4.How accurate is the Celebrity AI Voice Generator in replicating a celebrity's voice?
The accuracy of the Celebrity AI Voice Generator varies depending on the sophistication of the model and the amount and quality of training data available. While the technology has made significant advancements, perfect replication of a celebrity's voice is challenging. However, it can often produce highly convincing approximations, capturing the essence and recognizable traits of the celebrity's voice.
5.Are there any potential concerns or ethical considerations with the Celebrity AI Voice Generator?
The Celebrity AI Voice Generator raises ethical concerns related to privacy, consent, and potential misuse. Using someone's voice without their permission can infringe upon their rights. Moreover, the technology can enable the creation of deepfake audio, which may be used to spread misinformation or deceive people. Responsible use and adherence to legal and ethical guidelines are crucial to mitigate these concerns.
Conclusion
We discussed the various practical applications of celebrity text to speech voice generators in the previous article. Additionally, we shared a compilation of recommended celebrity AI voice generator tools that make it easy for users to convert text into their preferred voices. Among these options, UnicTool VoxMaker stands out as a particularly user-friendly celebrity voice text to speech with powerful features.
In addition to functioning as a text-to-speech generator, VoxMaker celebrity AI voice generator also supports voice cloning, allowing users to create and utilize celebrity voices indefinitely. To enjoy the convenience of generating celebrity voices, we invite you to download and install VoxMaker today!
VoxMaker
Providing you 3200+ popular celebrity voices and customized special voices at once.