From humble beginnings on the television series "Degrassi" to dominating the music charts worldwide, Drake has become a global icon. His unique voice and catchy lyrics have captivated fans and earned him numerous accolades. As AI technology advances, creative innovations such as the "Drake AI voice" and "Drake AI voice generator" have emerged, enabling users to bring the superstar's iconic sound to their own projects.
In this article, we'll dive into the fascinating world of AI-generated voices and explore how the Drake voice generator can revolutionize the way we interact with media and content. We will discuss the cutting-edge technology behind these tools, examine the popular use cases for the Drake AI voice, and provide an in-depth look at the top Drake voice generator platforms available.
Let's embark on this exciting journey to harness the power of the Drake AI voice and create incredible experiences with the help of the Drake voice generator.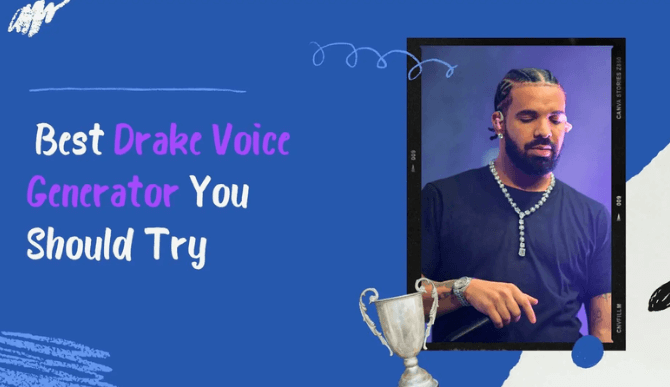 Part 1: Who is Drake?
Drake, whose full name is Aubrey Drake Graham, is a Canadian rapper, singer, songwriter, and actor. He gained significant recognition and success in the music industry with his unique blend of rap and R&B styles. Born on October 24, 1986, in Toronto, Canada, Drake first gained fame for his role as an actor in the television series "Degrassi: The Next Generation." However, he rose to international prominence as a musician with the release of his mixtapes and albums.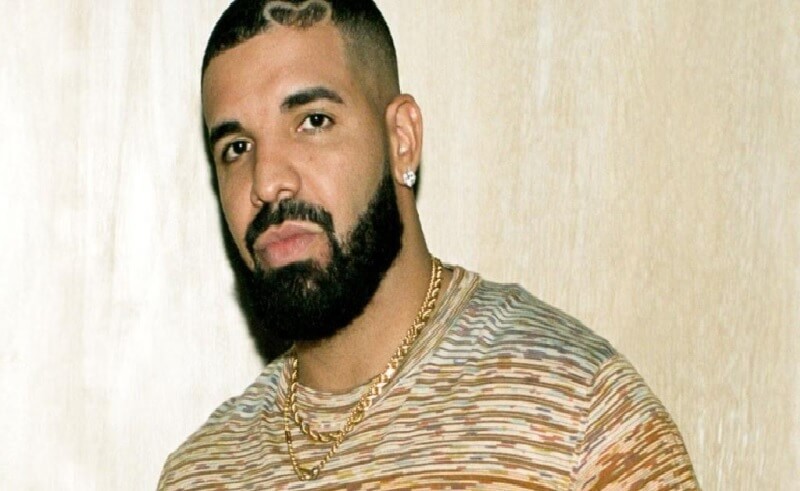 Drake has delivered numerous chart-topping hits, including "Hotline Bling," "God's Plan," and "One Dance," and has won multiple Grammy Awards. His introspective lyrics, emotional vulnerability, and versatile musical approach have made him one of the most influential and commercially successful artists of the 2010s and beyond.
Part 2:

Drake AI Voice Changer - Sound Like Drake in Real-Time

Have you ever wanted to become various characters or possess different voices or have the same singing or speaking voice as Drake in the game? Now, MagicVox makes it all possible!

Whether you're a content creator looking to add a unique charm to your videos, a gaming enthusiast eager to embody virtual characters flawlessly, or simply seeking to inject fun into everyday conversations, MagicVox is your ultimate go-to! With a diverse range of lifelike voice effects, MagicVox effortlessly transforms you into different personas, creatures, accents, and even iconic characters from your favorite movies and TV shows!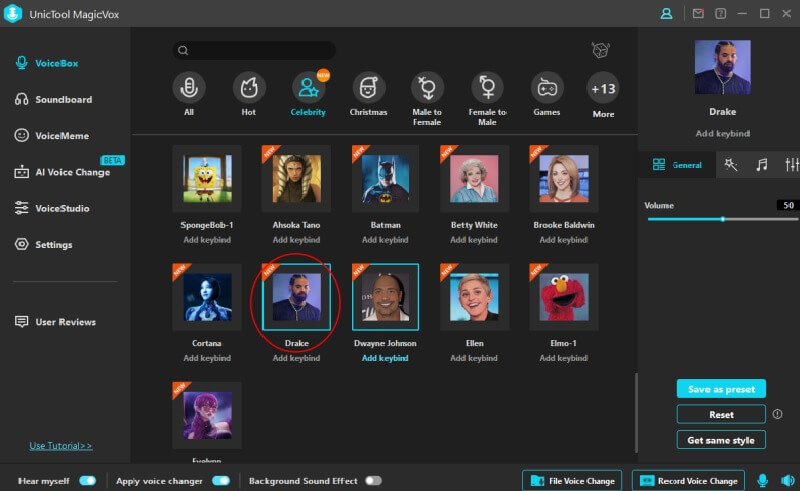 Key features:

Real-time Voice Modification: With just one click, change your voice in popular gaming platforms like Discord, VRChat, Zoom, Google Meet, Roblox, OBS, DAWs, YouTube, TikTok and more.

With over 600 voice effects, 400+ soundboard options, and 200+ voice memes, whether you want to sound like a robot, a monster, or even a cute cartoon character, this voice changer has got you covered. Rapper voices like Snoop Dogg, Eminem are supported.

Voice Customization: You can create personalized voice presets by adjusting various parameters to achieve unique and customized voice effects. Stand out from the crowd with your own signature voice!

Seamless Compatibility: It effortlessly integrates with popular communication and streaming platforms, allowing you to use the voice changer during voice calls, live streams, and other interactive activities.

Hotkeys and Shortcuts: MagicVox enables easy control of voice effects using customizable hotkeys and shortcuts, making it simple to switch between different voices on the fly.

AI-Powered Voice Technology: Powered by advanced AI voice technology, MagicVox delivers natural and human-like speech synthesis. Feel like your favorite rapper or singer as MagicVox offers a range of rapper AI voices, including Ice Spice, Juice Wrld and kanye.

Authentic Drake Voice: The Drake AI Voice Changer accurately replicates the unique vocal style and tone of the renowned rapper, Drake, allowing users to sound like him in their audio recordings.

It also supports file voice change and record voice change.
Tips
MagicVox is a real-time voice changer and soundboard software that allows you to transform your voice into a wide range of characters and effects. Although it may not offer a specific Drake voice text to speech, but you can sound like Drake while gaming.

MagicVox Real-Time AI Voice Changer
Change Your Voice in Real-Time
Watch this video to konw more about MagicVox
Part 3:

Top Drake AI Voice Generator You Should Try

As AI voice generation technology has advanced, a variety of Drake text to speech platforms have emerged, offering users the opportunity to generate Drake's voice for various purposes. In this section, we'll introduce four top voice generators in the market, highlighting their features, ease of use, and the pros and cons of each.

is an AI voice generation platform that specializes in rappers voices, including Drake, Jay Z and Eminem, etc. With its advanced deep learning algorithms, VoxMaker creates high-quality, realistic voice samples that can be used in a range of applications.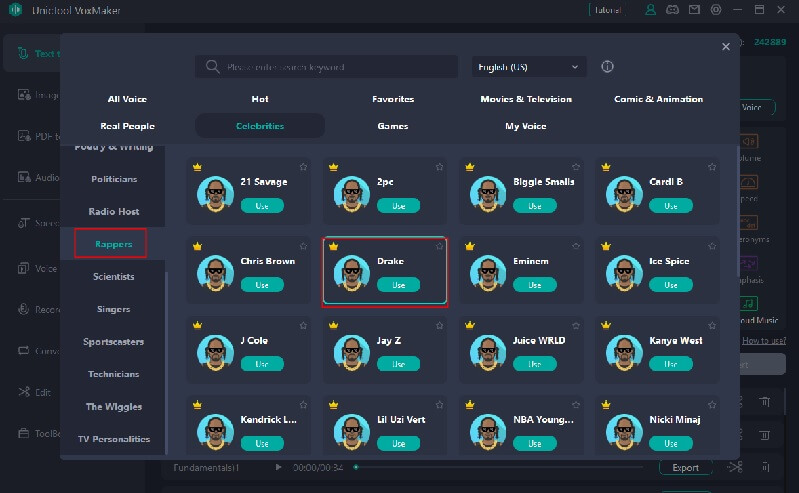 VoxMaker offers an intuitive app that allows users to generate Drake's voice by simply inputting text and selecting the desired voice settings. The platform also provides helpful tutorials and customer support to ensure a smooth user experience.
Key features:

With an expansive collection of over 3200 AI voices at your disposal, it has categorized various voice types and has voices of more than 30+ famous rappers .

Customization Options
: Users can personalize their audio files by applying different skins and sound effects, allowing for greater creativity and customization.

Multi-Language Support: VoxMaker supports voice cloning in 46+ languages, catering to a diverse user base and enabling voice cloning in various linguistic contexts.

Flexible Output Formats: VoxMaker allows users to save cloned voices in multiple formats such as WAV and OGG, ensuring compatibility with various platforms and devices.

Wide range of functionalities: It serves as a versatile toolkit, encompassing a wide range of features including text-to-speech (TTS), speech-to-text conversion, image to speech, PDF to speech, audio to speech, video conversion, recording, and audio editing.

AI Voice Cloning: You can clone any voice with just 1 click.

Effortlessly Fast & Secure: VoxMaker's intuitive interface ensures a smooth and seamless user experience.

30-Day Money Back Guarantee: If you're not satisfied with your purchase, you can request a refund within 30 days of your initial purchase, providing you with peace of mind and confidence in your investment.
Listen to the Drake voice demo made by VoxMaker.
2. Uberduck to Make AI Drake Voice
Uberduck is another popular voice generation platform that focuses on delivering high-quality AI-generated celebrity voices, including Drake's. With an extensive voice library and continuous updates, Uberduck stands out as a top choice for those seeking realistic voice generation.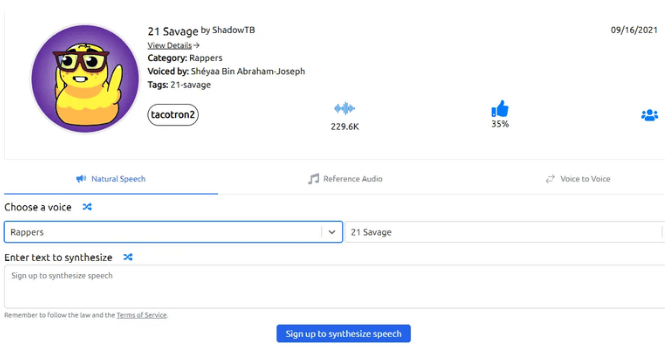 Uberduck's user-friendly interface makes it easy for users to input text, choose Drake's voice, and generate the AI voice in just a few clicks. The platform also offers a comprehensive FAQ section and responsive customer support to help users navigate any challenges.
Overview and features:
Delivers high-quality AI-generated celebrity voices, including Drake's
Extensive voice library
Continuous updates
Easy customization
Rapid voice synthesis
Seamless integration with other platforms
Pros
Realistic voice generation
Regular updates and improvements
Wide range of voices available
Cons
Processing times may vary depending on server load
Some features may require a paid subscription
3. Drake Voice.ai
Voice.ai is a versatile voice generation software that supports a wide range of voices, including the Drake voice generator. The platform's advanced AI algorithms create natural-sounding voice samples suitable for various applications.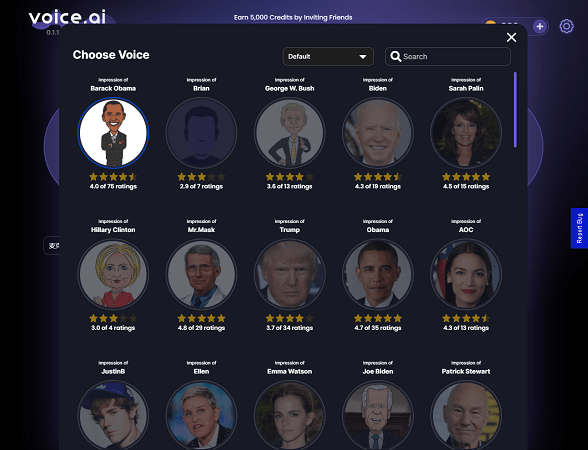 Voice.ai is a powerful Drake Text to speech software designed for ease of use on PC, allowing users to generate Drake's voice quickly and efficiently. In addition to a user-friendly interface, Voice.ai provides detailed documentation and customer support to ensure a seamless experience.
Overview and features:
Supports a wide range of voices, including the Drake voice generator
Advanced AI algorithms
Natural-sounding voice samples
Adjustable voice settings
Multiple languages and accents supported
Pros
Versatile voice generation options
Support for multiple languages and accents
Cons
Unfriendly system requirements
4. Fake You Drake AI Voice Generator
FakeYou is an AI voice generation platform that offers a selection of celebrity voices, including Drake's. Known for its realistic voice generation, Fake You uses deep learning algorithms to create authentic-sounding audio samples.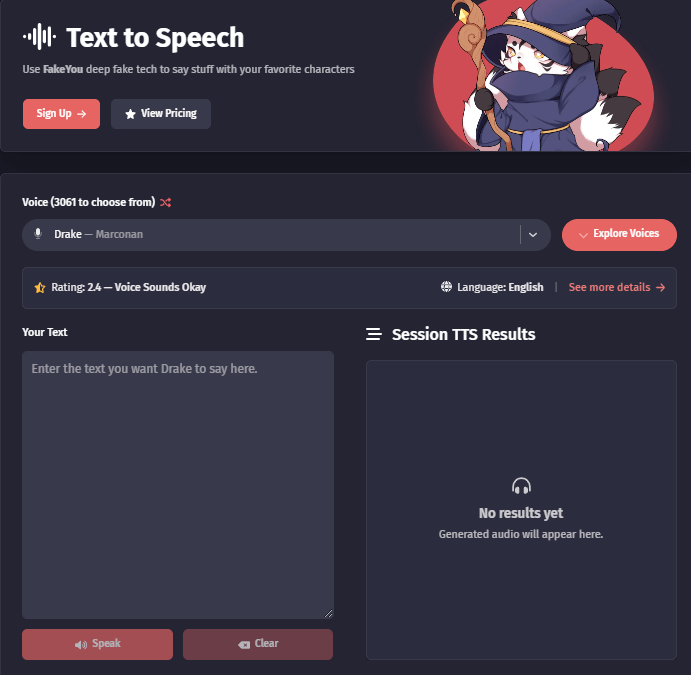 Fake You's intuitive platform enables users to generate Drake's voice with ease. Users can simply input text, select the desired voice settings, and generate the audio in just a few clicks. The platform also offers helpful resources and customer support to assist users throughout the process.
Overview and features:
Offers a selection of celebrity voices, including Drake's
Realistic voice generation using deep learning algorithms
Customization options
Fast processing times
Support for a variety of use cases
Pros
Authentic-sounding audio samples
Easy-to-use platform
Quick voice generation
Cons
Limited voice library compared to other platforms
Premium features may require a subscription
Each of these top Drake voice generator platforms offers unique features and capabilities to suit various needs and applications. By exploring these options, users can find the ideal platform to bring the iconic voice of Drake to their projects.
FRQs for Drake Voice Generator
In this section, we will address some common questions related to Drake AI voice and voice generator platforms.
1. How do you get Drake text-to-speech?
To get Drake's text-to-speech, you need to use a voice generator platform that offers his voice, such as VoxMaker, Uberduck, Voice.ai, or Fake You. Simply visit the platform's website, input the text you'd like to convert to speech, select Drake's voice from the available options, and generate the audio. Once the audio is generated, you can download or use it as per your requirements.
2. Is Uberduck AI safe to use?
Uberduck AI is generally considered safe to use. They prioritize user privacy and security, and the platform is designed to protect your data. However, it is always a good idea to read their privacy policy and terms of service to ensure that you understand how your data will be handled.
3. What is the best voice generator for rappers?
The best voice generator for rappers depends on your specific needs and preferences. Some popular options include:
VoxMaker: Offers a wide range of celebrity voices, including rappers, and provides high-quality, realistic voice samples.
Consider factors such as the quality of voice samples, ease of use, customization options, and cost when deciding on the best voice generator platform for your rap projects.
Conclusion
In this article, we explored the captivating world of AI-generated voices, focusing on the Drake AI voice and various Drake voice generator platforms. We delved into the technology behind these tools, discussed popular use cases, and provided an in-depth analysis of the top platforms available, including their pros and cons.
Additionally, we addressed frequently asked questions and introduced MagicVox Drake AI voice changer , a versatile AI voice changer software that can be used to enhance any creative project. As AI technology continues to advance, the possibilities for using AI-generated voices in media and communication become more extensive and exciting.