Every person idealizes someone like Morgan Freeman, Trump, Obama or Justin Bieber, whether in politics, showbiz, or sportsman. Many children like to look like their ideal crush or celebrity. At the same time, others may want to sound like their favorite person for satisfaction, meetings, or just to prank friends.
Anyhow, you cannot sound like a celebrity without the help of professional and authentic tools. Fortunately, you can find a free AI celebrity voice changer that can fulfill your wish. Hence, this guide aims to reveal the best AI celebrity voice generator with various celebrity AI voice to sound like your favorite person. Let's explore!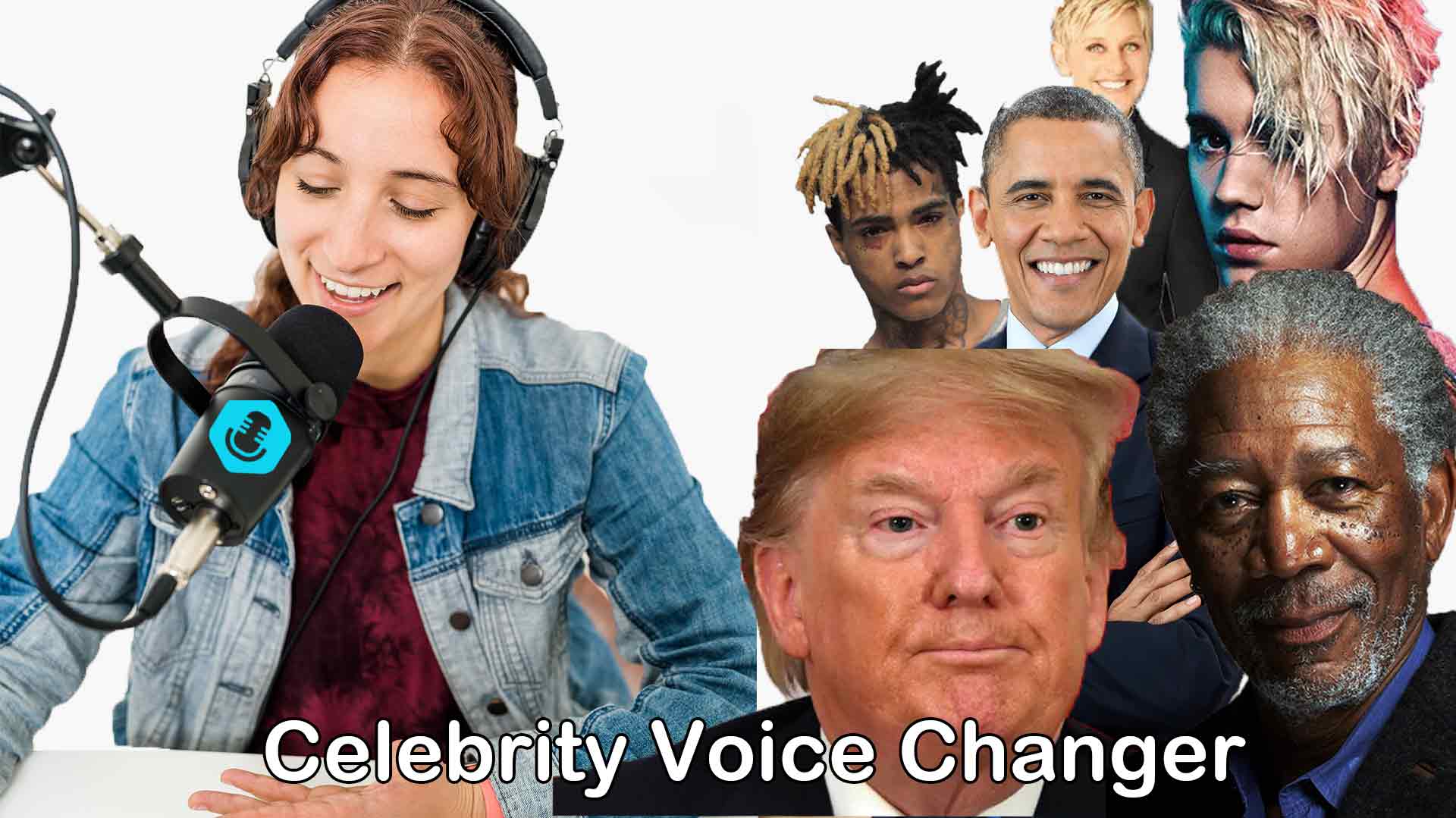 MagicVox Celebrity Voice Changer
600+ celebrity voices for online chatting and gaming.
Part 1.

Top 8 Celebrity Voice Generator and Changer Comparison
Product Name
Category
Platform
Voices
Price
Review Rate
MagicVox
Real-time
Window+Mac
200+
Free/$9.95
4.8
Voicemod
Real-time
Windows
150+
$59
4.4
Voice. ai
Real-time
Windows
100+
Points system
4.1
Celebrity Voice Changer App
Audio record
iOS+Android
50+
In-app Purchase
3.9
VoxMaker
Text to Speech
Windows
3200+
9.95
4.7
Uderduck
Text to Speech
Online
50+
Free
3.2
Fakeyou
Text to Speech
Online
75+
Free
4.2
Murf.ai
Text to Speech
Online
50+
$19
4.3

Text to Speech AI Voice Generator
Try VoxBox with 3200+ voices free.
Part 2.

TOP 4 Free Real-time AI Celebrity Voice Changer for PC/Mobile

Have a look at these best celebrity voice changers available for both mobile and personal computers.

MagicVox celebrity voice generator is a user-friendly and compact voice-changing tool that enables real-time voice transformation. It offers a wide variety of voice effects, including the option to imitate the voices of numerous celebrities, such as Taylor Swift.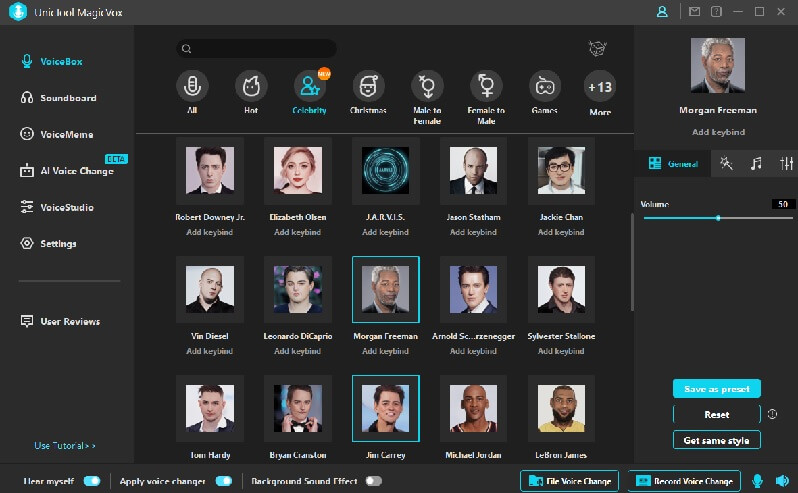 MagicVox is one of the best celebrity voice generator tools with over 150+ celebrity AI voices that alter voice according to desired preferences. It is especially used for gaming, chatting, voice acting, and much more. Hence, the addition of VoiceStudio allows individuals to sound more professional and like any celebrity.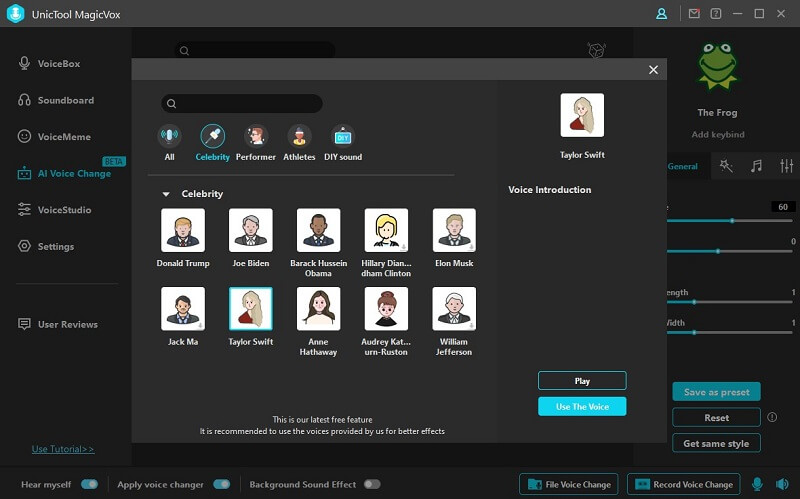 Pros
Huge library of sound effects: MagicVox offers over 400+ voice effects and 150+ voice memes to choose from.
Real-Time Voice changing: MagicVox is suitable for gaming, live streaming, chatting, attending online classes, and recording audio.
Realistic Celebrities AI Voices: It provides several voice modifications, including options for male, female, cartoon, and robot, as well as the ability to imitate the voices of celebrities such as Donald Trump, Scarlett Johansson and Morgan Freeman.
DIY Voice: The voice studio feature enables users to adjust pitch and timbre to create their custom voices.
MagicVox permits the user to add key bindings to add effect with one click.
Allows customization to generate distinct voices.
Facilitate importing your favorite sound effects.
Support recording voice change and file voice change.
Cons
Limited features in the free version.
Watch The Video Below To Know More About MagicVox Celebrity Voice Generator

Click Me
Note
Operate System: Windows & Mac
Software Size: 14.7 MB
Using Experience: 4.8Stars
User Review: MagicVox Celebrity Voice Generator is an absolute blast to use! The variety of celebrity voices is incredible, and the level of detail in each impression is mind-blowing. I can now sound like my favorite actors and singers effortlessly, adding a whole new level of fun to my recordings and social media posts. It's so easy to navigate, and the real-time effects make it even more enjoyable.
How to Use MagicVox Celebrity Voice Changer
Step 1 Download MagicVox: go to the web and download UnicTool MagicVox.
Step 2 Choose device: Configure your microphone and headphones as the default input and output device.

Step 3 Change voice: Click Audio settings and select "Voice Changer Virtual Audio Device" as your default input device.
Step 4 Platforms setting: Now the MagicVox app on your PC separately and select any voice. Select the same voice from keybinds, your voice will be changed.
If you have been a part of the voice modulation industry, it is impossible not to come across Voicemod. It is a popular real-time AI voice generator that transforms a simple voice into a celebrity voice and any famous character.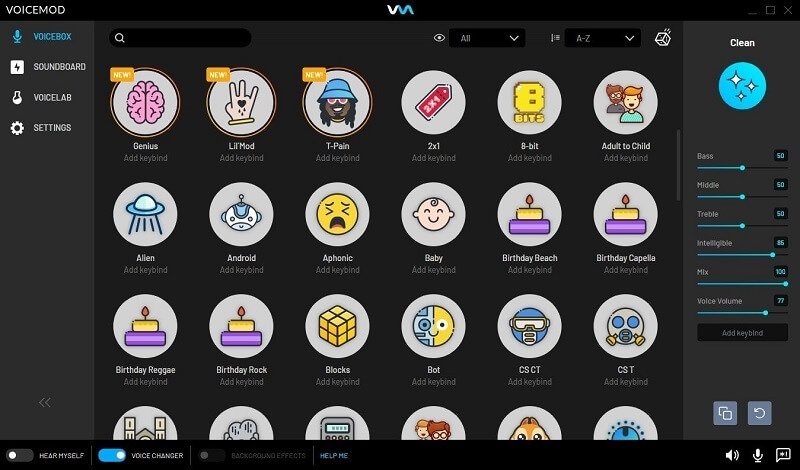 Voicemod allows you to change the voice in real time. It also permits you to make little as well as massive changes on a fun or professional level. With its simple capacities, there are no requirements to follow a perplexing process.
Pros
Can create profiles for different games.
New themes are released regularly by the developers.
Custom voice mode can be obtained in pro mode.
A couple of amusing sounds can be stacked together.
Cons
It easily crashes, not opening due to poor network service.
Price:
$24 is required for Voicemod Pro, and this expense is for a lifetime permit.
Comment
Voicemod has several capabilities and is friendly to its users. It facilitates tampering with the voice in real-time and makes it sound like a celebrity.
Voice AI is not just a voice changer tool but also an exceptional voice clone tool. You need to upload clear audio to clone any person's voice. If you are fed up with unfunctional and expensive voice changers. Fortunately, you have found a solution. This voice changer is made public for free for everyone.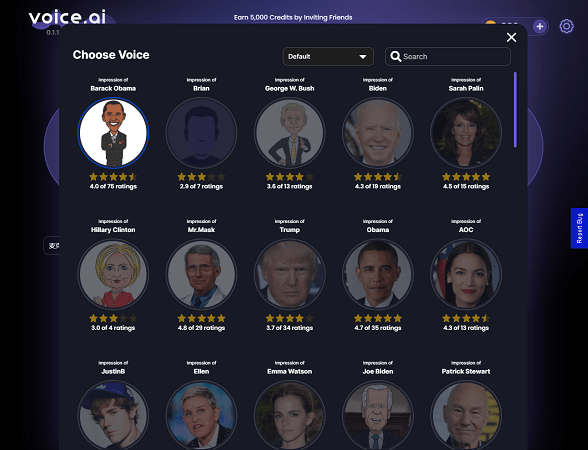 Pros
Generate personal conversations.
Reach multiple users at once.
It helps in realistic voice cloning.
Easy to use.
It is entirely free.
Cons
Slow Installation
Low quality of voice
Price:
It is completely free
Comment
It can easily clone anyone's voice and is designed free for the public.
4. Celebrity Voice Changer App
As people like to have fun by changing their voice while chatting, streaming, and creating videos, dozens of programs or software are available to carry out this task without hassle. Celebrity voice changer is one of the popular tools that work efficiently in this regard due to its deep learning technology, available on Android and iOS.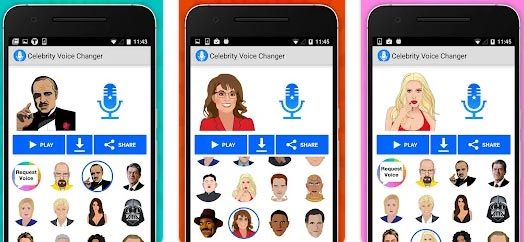 Pros
Wide range of celebrity's voice filters.
Frequent updates to add new features.
Immediate voice modulation.
You can also request for new celebrity.
Cons
Voice is not so realistic and can be easily differentiated.
Price:
In-app Purchase.
Comment
Funny app to try different celebrity voices.
Part 3.

Best 4 Celebrity AI Voice Generator Text to Speech Online

Voice changers use the computed input frequency and transform it into the desired output frequency. Text-to-speech feature in a celebrity voice changer is an advanced feature backed with AL technology. It is simply an advanced version of a voice generator that reads digital text aloud.

It takes words from the document or written page through a scanner and converts them into audio. The purpose of using a celebrity text-to-speech voice generator is to inform, persuade or entertain.

VoxMaker is an advanced AI text-to-speech generator that allows users to recreate the voices of celebrities like Michael Jackson and Donald Trump, among others.

It offers a range of language options for users to select from. With VoxMaker, users can simply input their desired text, click on the generate button, and obtain a speech in the chosen celebrity's voice. The generated speech can be easily downloaded to the user's computer for convenient use.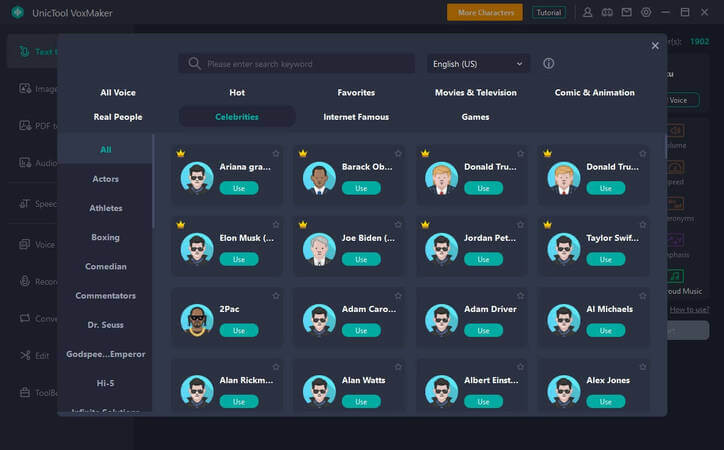 Key features:

It offers an extensive selection of over 3200 voices, including rappers, YouTubers, characters, and famous personalities like Trump or Joe Biden.

The platform supports more than 100 accents, allowing users to choose from a wide range of options, including British, Hindi and Irish accents.

In addition to voice generation, VoxMaker provides various functions such as speech-to-text conversion, voice cloning, voice recording, video conversion, and audio editing capabilities.

Users have control over voice properties, allowing them to adjust parameters like speed, pause, pitch, emphasis, and volume to personalize the generated voice.

It offers a user-friendly interface, ensuring a smooth and intuitive experience for users.

The platform also includes audio editing features, allowing users to trim, cut, clip, and delete soundtracks as required.
Simple Steps to Generate Celebrity AI Voice
Step 1: Download and install VoxMaker
Step 2: Click the right button "Change Voice"

Step 3: Search for the voice type you want in the search box above.
Step 4: Type in or paste the text you want to generate in the provided text box and click on the "Convert" button to create the audio file.

Step 5: Download the file in your preferred format and use it as required.

Uberduck.ai is a website offering multiple celebrity voices for all kinds of avatars. It is a very advanced artificial intelligence application. If you want to get a written speech narrated through character, this celebrity voice changer will help to do it accurately in a matter of seconds.

Pros

Offers excellent pitch and amplitude capability.
Provides free text-to-speech API for developers to use in their projects.
Faster data analysis and user-friendly.
Takes privacy extremely seriously and protects the content of individuals.

Cons

You need to make an effort to sign up through your email address, Discord, or Google account.

Price:

Uberduck.ai is completely free. All you have to do is sign up. However, it requires access to information through public Discord, and if you are fine with it, you can easily register by clicking the authorize button.

Comment

To sum up, it is a great tool that is straightforward to use with accurate recommendations.

FakeYou celebrity AI voice generator is a well-organized as well as an easy-to-use voice changer. Utilizing FakeYou allows you to give your words a unique or a celebrity's voice. You can choose from over 2000 options of voice cloning which let you mimic anyone from Obama to Trump or any Hollywood actor.

Whether you are planning to pull a prank on a friend or just want to keep fake text-to-speech applications, FakeYou will help you in every aspect. It is equipped with a free AI program that utilizes machine learning to generate realistic voices.

Pros

Organized and easy to use.
The range of products is constantly being enhanced.
It makes the best sonic voice changer.
Copy and paste any text you like.
Works efficiently and user-friendly.

Cons

Cannot translate face-to-face sounds.
Sometimes fails to give desired results.

Price:

FakeYou is available for every user willing to alter their voice without breaking the bank. It can be used online for free.

Comment

Fake You is an easy, free Al voice program that uses machine learning.

Murf specializes in voice synthesis technology and can create realistic voiceovers for many tasks, such as e-learning, gaming, live streaming, corporate presentations, etc.

Utilizing Murf to generate realistic and fun voiceovers is enjoyable due to its accuracy, precision, and capabilities. It is based on AI technology to convert text-to-speech to create perfect voices. Before making a final decision, you can use the free version to test it.

Pros

Comprehensive voice-over studio.
High-quality outputs.
Realistic voice filters as a modulation option.
Customization is available.
Multiple voices in the same audio file are supported.

Price:

Murf has different packages available, which start from $19 per month.

Comment

Murf is an easy-to-use and effortless platform for all users. It can be used for fun as well as professional purposes.

Part 4. FAQs about Celebrity Voice Changer/ Voice Generator

1. What is a celebrity voice changer or voice generator?

A celebrity voice changer or voice generator is a software tool that enables users to modify their voice to sound like a specific celebrity or character using voice synthesis or conversion techniques. The tool allows users to imitate the intonation, pitch, and tone of a celebrity's voice, creating a unique audio experience.

2. Can I use celebrity voice changers legally?

The legality of using celebrity voice changers varies depending on the intended use. If the use is for personal or non-commercial purposes, it is typically legal. However, if the use involves creating content for commercial purposes or impersonating a celebrity for malicious reasons, it may be illegal and lead to legal repercussions.

3. What are popular celebrity voice effects for text-to-speech?

celebrity voice effects for text-to-speech will add a unique flair to various applications, from videos to presentations. Popular celebrity voices include:

4. How do I choose the right celebrity voice changer?

When choosing a celebrity voice changer, it's essential to consider the features and functionality of the tool, such as the number of voices available, the ability to customize voices, and real-time voice transformation. It should be noted that only MagicVox Celebrity Voice Changer can realize the real-time voice changing function among celebrity voice changers currently on the market. Researching reviews and ratings can also help you make an informed decision.

Conclusion

Conclusively, voice modulation has become quite common. MagicVox AI celebrity voice generator allows the change in voice with huge voice effects through several filters within time. The excellent soundboard creates an interesting atmosphere for users by offering the feature of sound without any interruption.

Now, you can not only design memes but also customize your dream voice. Hence, celebrity AI voice changer has added to the current advancements.

A Real-Time Celebrity AI Voice Changer

MagicVox offers over 400+ voice effects a library of 400+ voice effects and 150+ voice memes to choose from.
Human-Like Celebrities AI Voices: The AI voices include those of celebrities and game characters, and users can create their custom AI voice using the voice studio feature.
Add your element of creativity to make perfect celebrity voices. Play with pitch, frequency, and other voice parameters to develop the best one.
MagicVox offers a free trial with lots of valuable features.