Are you a Call of Duty player and looking for the best COD voicer changer? There are lots of voice changers available in the market that are being used as in-game voice changers, but many of them are full of glitches and problems. This made it difficult for the players to choose a reliable voice changer. But, don't worry. We are here to help you in this matter.
Here we are going to present to you some best Call of Duty voice changers and soundboards that you can use on your PC. We will also discuss how you can install them and have fun while playing different games.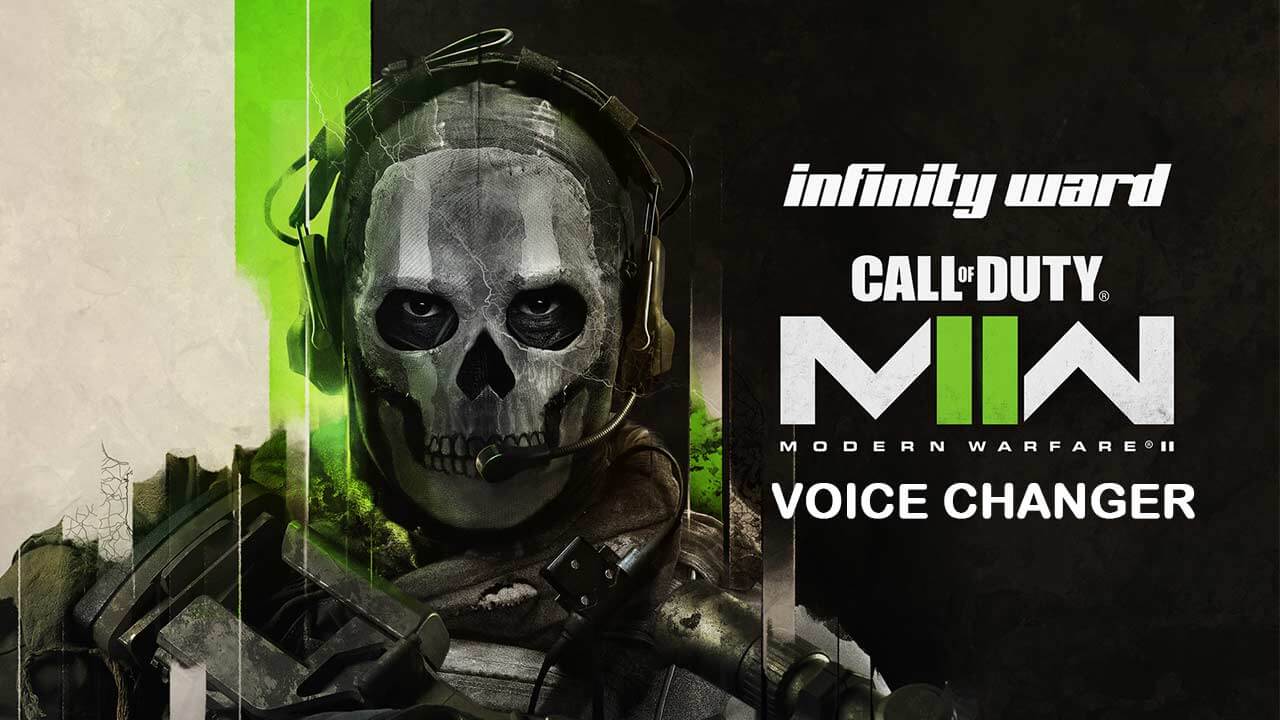 Part 1.

Best Call of Duty Voice Changer and Soundboard for PC

Here are the 3 best Call of Duty voice changers and soundboards that you can consider using on your computer.

MagicVox is the best call-of-duty voice changer and soundboard for PC. It has a lot of features that we don't see in other voice changer apps. MagicVox has a simple user interface, but it's not as simple as most other apps out there. The interface is easy to use, but it has some advanced features like recording your own voice to use in the app and adding sounds from your computer's library.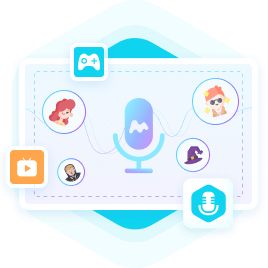 A Real-Time Voice Changer
MagicVox is the best voice changer for Call of Duty and other games due to its versatile custom soundboard creation features.
It has a wide range of voice changes, including male to female, female to male, and more.
MagicVox lets you change your voice, record and edit your own sounds, and even use it as a background music player for games.
It can also be used as a soundboard for creating new sounds from existing ones in the game.
This voice changer also has some great options for creating custom phrases and soundboards for your favorite games. You can make phrases or soundboards for any game you want, and MagicVox will give you options for every game in its database so you can create something perfect for whatever game you want to record.
Step 1. Download and Install MagicVox

First of all, you will have to download and install the MagicVox from the official website. You can also follow the link.

Step 2. Choose Mic and Headphone

Once the MagicVox is installed successfully, it will be automatically launched, and you will see a pop-up window. Here you will have to select the Microphone and Headphones that MagicVox will use for voice input and output.

Step 3. Configure Call of Duty's Settings

After that, launch the Call of Duty game and go to the settings. Here you will have to look for System Audio Settings. Now search for Configure Microphone and set Voice Changer Virtual Audio Device as Default Microphone.

Step 4. Select the Voice Filters& Soundboard in the MagicVox

Now come back to the voice changer and search for the sound that you want to use to convert your voice. You can use hotkeys feature and create custom shortcut keys to play those voices in the game.

Step 5. Enjoy the Game

Now come back to the game and start your voice conversation; your voice will be converted into a new voice.
Voicemod is another best voice changer and soundboard you can get for a PC. It will allow you to create your own voice and soundboard that can be used in a lot of different ways. You can create all kinds of voices, sounds, and effects with this software program. You can even use it to make funny noises or record your own voice while playing another character in a video game like Call of Duty: Black Ops 4.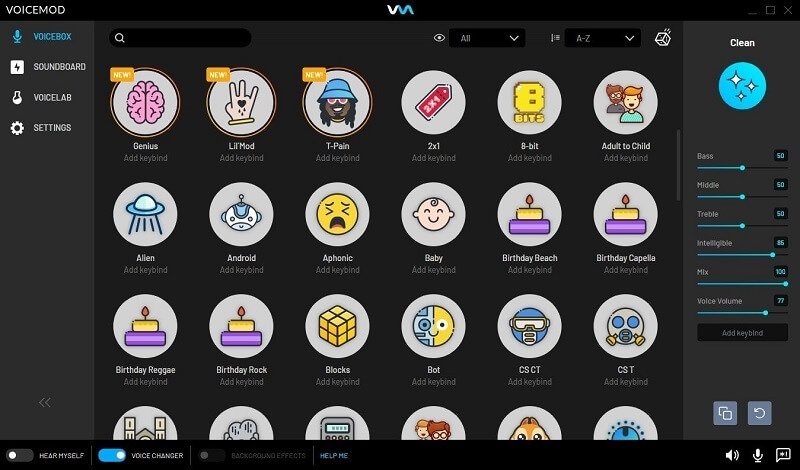 The software also allows you to add sound effects like weapons firing or other noises such as explosions or even screaming when you get attacked by enemies throughout the game. The best part about using Voicemod is that it does not require any special hardware installed on your computer before installing it on your system.
Key Features
Voicemod is the ultimate Call of Duty Voice Changer and Soundboard for PC.
It allows you to change your voice, sound effects, and music in any game you are playing. You can even use Voicemod to record yourself.
Vicemod is easy to use, and you don't need any special skills to use it.
It comes with over 100 different voices, including famous celebrities like Oprah Winfrey and Donald Trump.
Built-in recording feature to create custom recordings of your own voice
You can easily upload your recordings to YouTube and share them with friends
The app can also be used to play back recorded audio files and play them in different formats.
MorphVox is an application that allows you to change your voice to any character in Call of Duty or any other game. You can change your voice into a female, male, and even alien version of the characters. The app also lets you record your voice and then play it back for others to hear.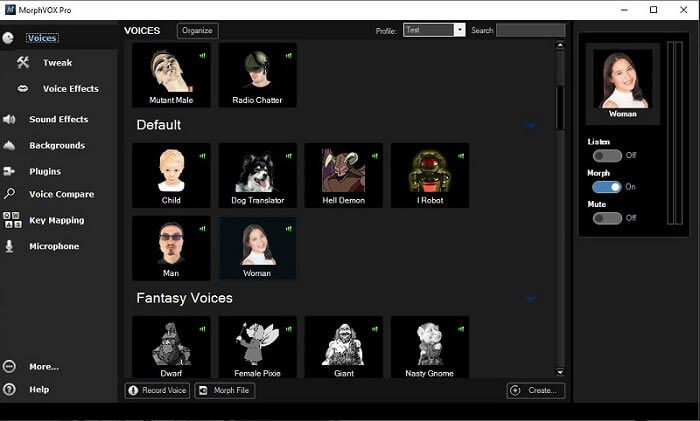 It also allows you to change the pitch, speed, and other characteristics of your voice. This app is designed to help you sound like a different person. You can also record yourself saying a phrase or singing a song. When you're done with recording, it will be converted into an MP3 file that you can listen to on any device.
This app comes preloaded with over a hundred voices that change based on gender, age, ethnicity, and dialects, so there's sure to be one that fits your voice perfectly.
Key Features
It makes it easy to change the voice of your friends and enemies in the game, as well as provides a wide range of sound effects, from grenade explosions to automatic weapons fire.
Change your voice by using MorphVox's voice changer to make yourself sound like a different character in your favorite video game.
You can change your voice to make it sound like any character from the game, so you can become the hero you always wanted to be!
Use MorphVox to create custom soundboards that can be used with other apps or games.
MorphVox lets you record short audio clips and turns them into full-blown customized soundboards that will have everyone thinking you are a pro.
Part 2.

Call of Duty Mobile Voice Changer for Mobile- Tutorial

If you are looking for a Call of Duty mobile voice changer, here are some steps that can help you.
Step #1: Use the built-in voice changer of your phone:

There are lots of new mobile coming on the market that have built-in voice changers. You can use them to change your voice while playing Call of Duty Mobile. For example, Xiaomi, Oppo, Vivo, and Samsung are introducing their new gaming mobiles in the market that have a feature called Game Turbo. You can use the Game Turbo feature, and you will find a voice changer there.

Step #2: Enable Game Turbo on your Mobile:

For this, you will have to go to Security App > Game Turbo Setting and enable it here. But make sure that the In-Game shortcut is enabled. Most of the time, it is enabled by default, but if it's not, you will have to enable it.

Step #3: Open the Game:

Now launch the game from the Turbo Game shortcut and expand the screen by tapping on the arrow or rotating your mobile phone. Here you will automatically find the voice changer option, so tap on it and enable it.

Step #4: Enjoy the Game:

Now you can enjoy the game with the changed voice according to your needs.
Note
For the phone who didn't have a built-in voice changer, you can download a third-party voice changer app or download Android Simulator on your pc to change your voice during the game (if you don't have an Android simulator, it will be better to download the app).
The Bottom Line
So, these are some best Call of Duty voice changers and soundboards that you can use on your PC and Mobile Phone. All of the above-mentioned software are good for converting your voice into anything while playing a game. But, the best Call of Duty voice changer is UnicTool MagicVox because it has lots of features that you will not find in any other voicer changer.
We hope you will find this guide helpful and follow the steps mentioned above to install the MagicVox. If you are facing any problem during the installation or using process, you can consult us by writing in the comment section below.
We will reply to you within a few hours and try to solve the issue together.