As a DC comics fan, you may have wanted to sound like Batman at one point in your life. Well, today, you get to fulfill those dreams by getting a Batman voice changer! The Batman voice is unique and can't be made by your voice alone. Hence, thanks to technology, there are now many apps available for that. These apps can help you get the voice of Batman altered into your own!
To save you time, we have gathered a review on the best Batman voice changers you can use.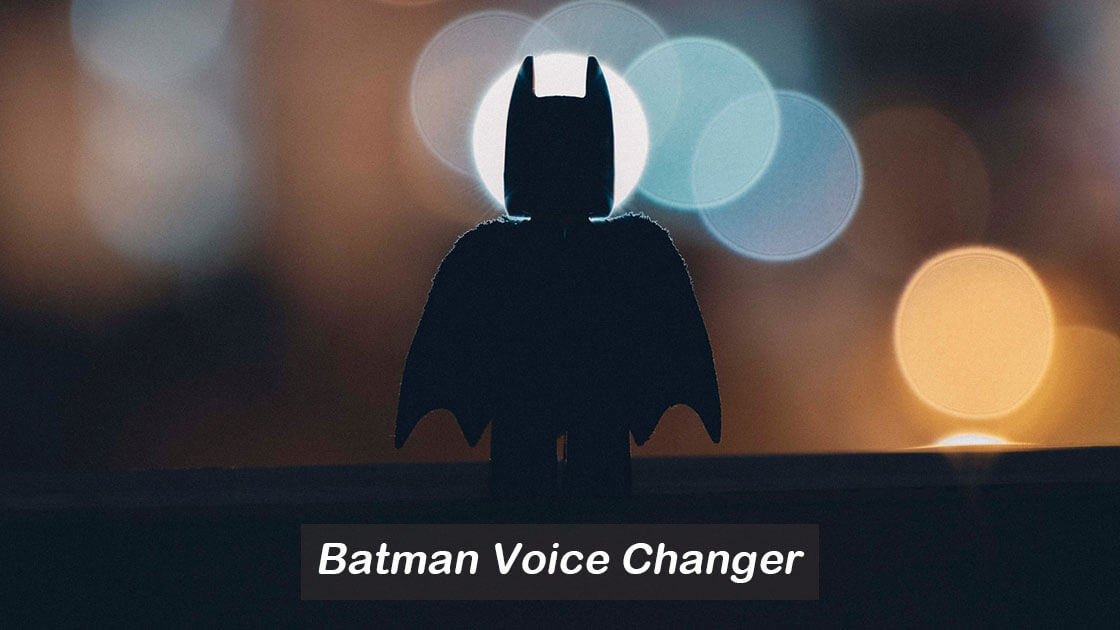 Part 1.

Should I Buy a Batman Helmet Voice Changer?

Imagine you are playing and have a whole scenario picked out, wouldn't that become more fun with using a Batman's voice? The character of Batman isn't new to any of us. It has been a favorite of many for ages. So how did people mimic Batman's voice for fun before these voice changers? By using a Batman Helmet voice changer.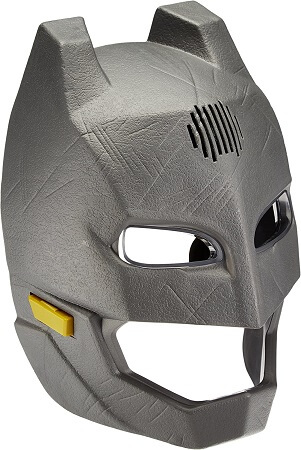 These helmets are still available however it will be much better if you get a Batman voice changer. The Batman Helmet voice changer features fifteen phrases and sounds that you can activate through a button. You only have to put on the helmet and press the buttons for Batman's voice.
Pricing:
The sound quality of the helmet is no doubt top-notch. However, it is very overpriced. In most places, it is available for $29.
Comment:
To get a Batman Helmet voice changer is not worth it. Firstly, it is only restricted to a few phrases. In voice changer apps, you can speak in Batman's voice all the time. Secondly, for its price value and limitations, it is much better to get a Batman voice generator than this.
Part 2.

Best Batman Voice Changer for PC and Mobile

Most voice changers out there work best for specific devices only. In this article, you will find a voice changer according to every device needs.

Starting our list with the best, UnicTool MagicVox. It is at number one because of countless reasons. MagicVox has proved that when it comes to voice changers, no one beats it. Since its launch, the app has always surpassed expectations. There is hardly anything that you won't find here. Here is all you need to know about the app: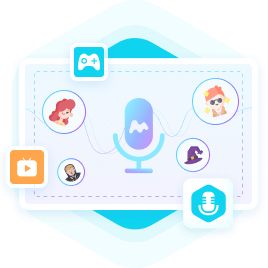 A Real-Time Voice Changer
The app lets you change your voice in many different filters in real-time, including batman voice, Valorant voice and Darth Vader.
It is compatible with many apps. Whether it is during live streaming or video chats, the app lets you use its voice filters anytime.
It has hotkeys that can activate any voice filter within minutes.
You can import any audio files in MP3 or WAV format.
With the Voice Studio, you can alter your voice by adjusting the parameters.
The software lets you customize unique voices.
Pros
The most tremendous variety of filters and sound effects.
It lets you create your own customizable voice.
Easily compatible with other apps.
Cons
Little tricky to understand.
It is a new product, not very famous.
Easy Four Steps Tutorial to Get a Mechanical Voice
A major con related to MagicVox is that the app is very difficult to use for some people. However, worry not, as we have your back! Simply follow these below-mentioned steps and get your very own Mechanical Voice like Batman!
Step 1: Install MagicVox on your device.
Step 2: Click on 'Settings' and put the microphone as the input device and headphones as the output device as default settings.

Step 3: Search for a mechanical voice like Batman. Either record your voice on the software or upload an audio file. You can also use VoiceStudio to create your own Batman voice filter.
Step 4: In all the apps you want to use the voice filter, set the Voice Changer Virtual Audio Device as an input device. That's it! Now enjoy your voice as Batman's and make your moments fun and more memorable.
A voice changer app that lets you customize your voice? Yes, please! Clownfish has left many users satisfied with its top-notch performance. Don't be taken away by its name. Clownfish is one of the best voice changers out there. Using this as your Batman voice changer won't be a bad idea.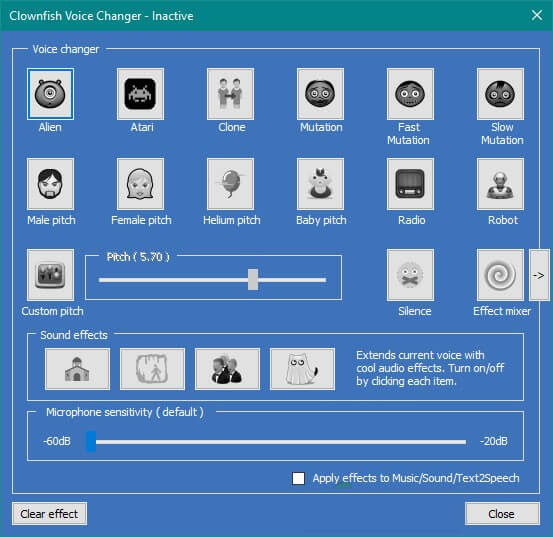 Key Features
Here is why Clownfish will make a great Batman voice changer:
It can make your voice deep to any level you'd like, just like Batman!
It can add a feminine or masculine touch to your voice.
The app lets you have complete control over the parameters of your voice.
It features a wide array of sound effects to add to your voice.
It protects its users' privacy and data.
The app is compatible with many other devices.
It is free to use and requires no subscription.
Clownfish synchronizes easily with other apps.
Pros
The interface is very attractive
It is easy to understand
It is compatible with many devices
Cons
Sometimes it shows problems with the microphone as an input device.
It only has 14 voice effects.
Voicemod has made its way to being one of the best apps for altering voice. To help you create customized voices and deliver them at the best quality. Voicemod has always been one step ahead of its competitors.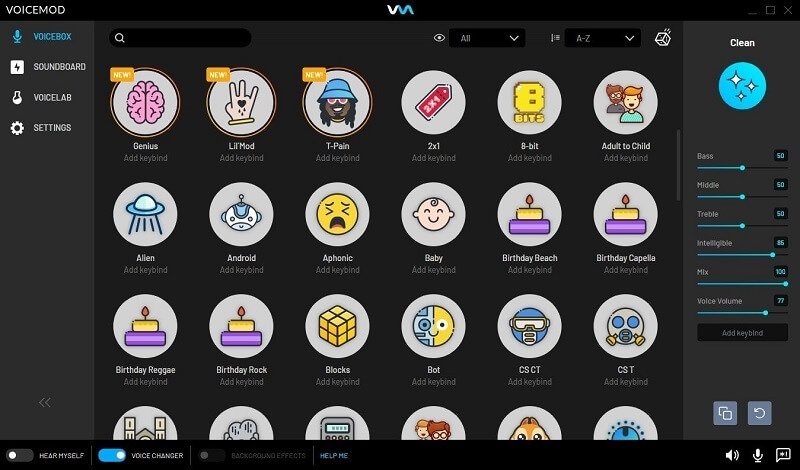 Key Features
The following are the features of Voicemod that have made it so popular these days:
The app lets you make your customizable voice and sound effects.
It is compatible with all the major gaming and social media platforms.
It enables you to use any voice filter of your choice while using other apps.
Voicemod enables you to have your very own soundboard where you can add custom sounds.
The software enables you to change the parameters of your voice according to your liking.
Pros
It is the number one choice of many content creators.
Its attractive interface makes it more fun to use.
It is compatible with Windows and Mac devices.
Cons
Sometimes it gets a little tricky to get the hang of.
Voicechanger.io should be your number one choice if you want to use a Batman voice changer just as it is. There is no use in paying fees to apps that let you change the parameters of your voice. For using it for short periods, it is better to choose an online option, and for that, Voicechanger.io is the best.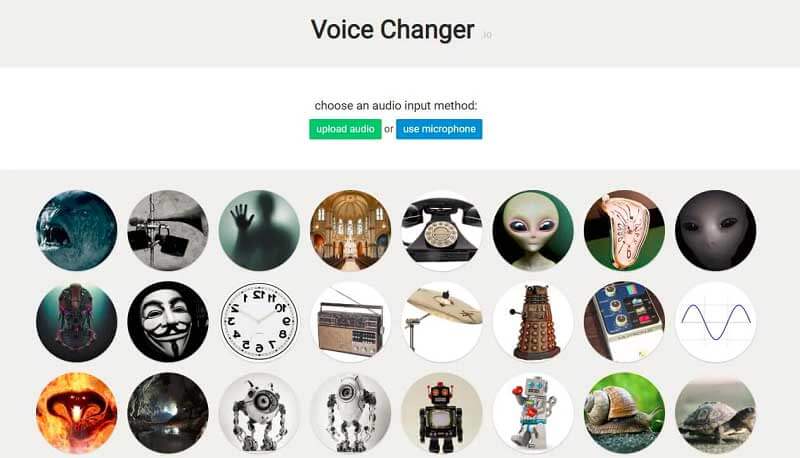 Key Features
Here are the key features of Voicechanger.io:
It features two buttons for usage, which makes it very easy to use.
It has a variety of voice filters to choose from.
It is free of charge and lets you have fun for as how many hours as you'd like!
Pros
Free of charge.
Easy to understand.
Cons
Does not feature advanced tools.
Apps have made lives more accessible in more ways than one. The Celebrity voice changer is the best Batman voice changer app you can choose. For starters, the app has had one million downloads so far. One million downloads are enough to tell how well the app is liked by everyone!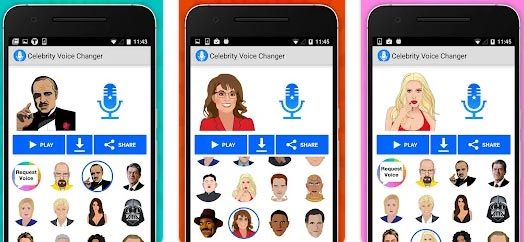 Key Features
The following are the reasons you should install the Celebrity voice changer on your phone right now:
The app introduces new voice filters every week.
The voice filters and sound effects are available in top-notch quality.
It lets you import audio files or create your own in order to use Batman's voice filter.
No matter which celebrity's voice you want to mimic. The app makes anything possible for its users!
Pros
Great visuals make the app fun to use.
Comprehensive list of celebrity voices.
Compatible with iOS and Android devices.
Cons
The app starts glitching after a few days.
There aren't many voice changer apps out there that work well on iOS devices. However, Voice Changer Plus is here to change the narrative! With a rating of over 4.6 stars, the app is a must to download on all iOS devices.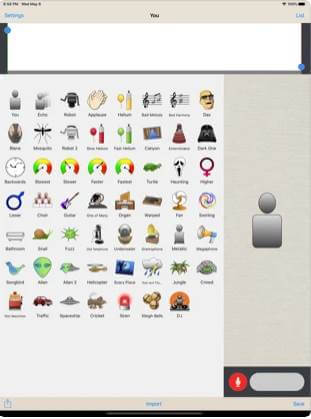 Key Features
The following are some of the key features of the app:
The app features over fifty-five voice filters and sound effects.
It lets you add as many sound effects as you want to your audio.
The app enables you to download your audio files for later use.
It features Full VoiceControl support.
The app will eliminate all ads if you opt for its premium version.
Pros
Easy to use.
It lets you save audio files.
Always on the run to fix bugs.
Cons
The ads in the free version cause a disturbance.
The Bottom Line
To mimic the voice of Gotham City's very own Batman and use a Batman voice changer has never been easier. The above software and apps that we have talked about in this article are some of the best in the league. Each one of these has something unique to offer.
However, out of all these, UnicTool MagicVox deserves a special mention. The tools and variety that this app has to offer are unbeatable in front of the others. If you are looking to pass a great leisure time, then MagicVox is not to be missed out on. Out of all the other apps that we have mentioned in this article. Only MagicVox can help you mimic the voice of Batman to sound as realistic as possible.