If you are a die-heart fan of voice changers and want to add a little bit of spice to it, go for a anime voice changer or Anime voice generator. People who are obsessed with Japanese anime characters like Deku, Naruto, and Goku, etc, must be aware of anime voice filtering applications. Still, having the best anime girl voice changer is quite hectic.
Indeed, voice changers, such as anime girl voice changer, can be valuable tools for various online content creators. Many individuals have found success as Vtubers, influencers, or Streamers by incorporating unique and entertaining voices into their content. A distinct and captivating voice can help creators stand out in a competitive online landscape, attract a dedicated audience, and potentially generate income through ad revenue, sponsorships, donations, or merchandise sales.
To put your hands down on the best anime girl voice generator for PCs, Android, and iOS, stick with this article till the end.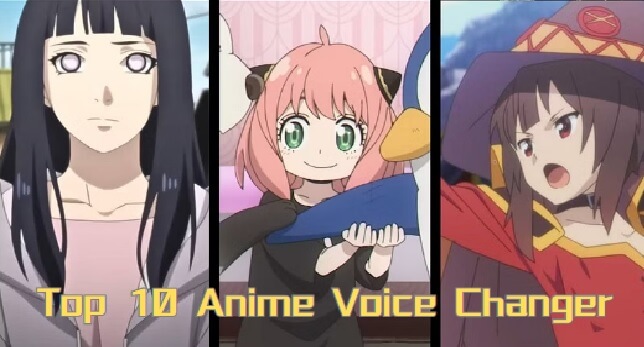 This is a comprehensive review of all anime voice changers mentioned in this article to help you make a better decision.
Product Name
Category
Platform
Voices
Price
Review Rate
MagicVox
Real-time/in-recording mode
Window+Mac
600+
Free/$8.95
4.8
Voicemod
Real-time
Win
150+
$59
4.4
Clownfish
Real-time
Win
14
Free
4.1
Morphvox
Real-Time
Win
120+
$39.99
3.9
Voxal
Real-Time
Windows, Mac OS
100+
$14.95
4.7
Voice Changer - Voice Effects & Voice Changer
Real-Time
Android and iOS
50+
Free
3.2
Voice Changer - Audio Effects 4+ One Pixel Studio
Real-Time
iOS
75+
$9.95
3.1
Voice Changer Plus
Real-Time
Android and iOS
50+
$19
4.3
Voice Changer.io
Audio record
Online
50+
Free
4.3
Best 3 Anime Girl Voice Changer for PC
Here we list the best anime girl voice changer tool to transfer your voice into a anime one.
Source:
https://www.unictool.com
MagicVox stands as an exceptional voice modulator, seamlessly altering your voice into a realm of anime enchantment on both Mac and Windows systems. With an extensive arsenal of over 400 anime girl voices at your disposal, the transformation unfolds in real time.
Experience unparalleled output quality and stability as you venture into this vocal metamorphosis. Amplifying the experience, MagicVox boasts an expansive library of 600+ soundboards, spanning diverse anime soundscapes and voice memes. Whether for gaming, conversations, or live streaming, these tools enrich your presence across platforms.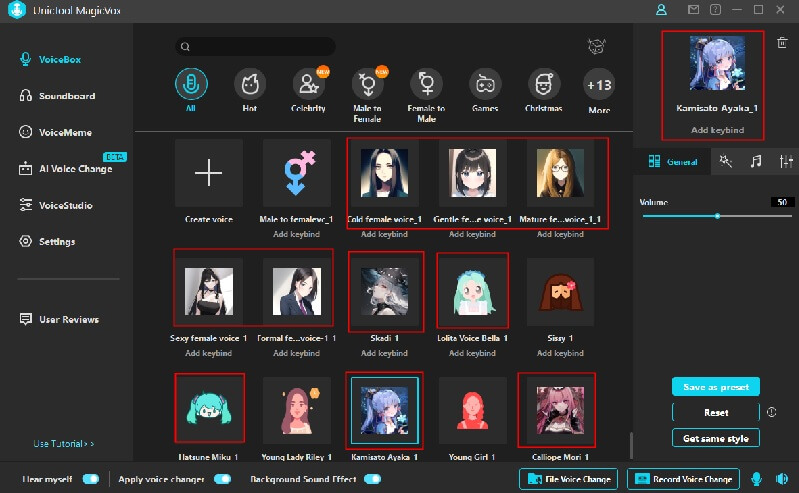 Key features:

Real-Time Transformation: Instantly change your voice into various anime characters, such as Hatsune Miku in real time.

Customizable Keybinds:
Easily switch between different voices with just a single click using customizable keybindings.

Wide Range of Anime Girl Voices: Choose from a diverse collection of anime girl voices, including gentle, cold, and loli voices.

600+ Sound Effects: Enhance your experience with an extensive library of sound effects imitating anime character memes, environments, animals, and more.

Compatibility: Use the voice changer on popular platforms like Discord, Skype, Zoom, gaming platforms, and streaming channels.

Voice Studio Function: Customize and fine-tune your voice with the Voice Studio function for a truly personalized experience.

Voice Changing for Records and Audio Files: Apply voice modulation not only for real-time interactions but also for recorded voice and audio files.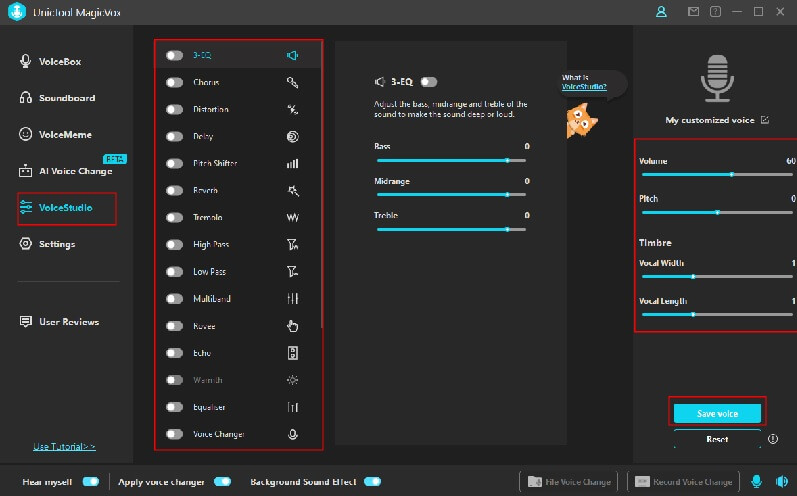 Pros
Customize your voice using professional Voice Studio.
Access a plethora of unique anime girl sound effects.
Enjoy extensive voice filters and effects, surpassing other soundboards.
Effortlessly control your voice and effects with keybinds.
Compatible with both Windows and Mac systems.
Cons
Not available for mobile phones.
Pricing: Month: $8.95 Quarter: $12.95 Year: $19.95 Lifetime: $39.95
Rating: 4.8/5
Reason and Comment For Ranking: New voice filters are released every month, you can use VoiceStudio to customize an anime voice to fit your voice perfectly.
Step by Step Guide to Use An Anime Voice Changer
Step 1: Download and install UnicTool MagicVox on your device.
Step 2: Launch it and choose input and output devices keenly.

Step 3: Browse the list of voice changing effects.
Step 4: Choose the anime girl voice filter you like.

Step 5: Select the platform where you want to change the voice by assigning the input device as Voice Changer Virtual Audio Device (WDM). You are ready to enjoy the female anime voice.
Voicemod is one of the most liked voice morphing software by gamers and content creators. It is designed for voice-changing purposes and includes the feature of background noise cancellation. The interface is highly user-friendly and designed according to modern trends, making it more appealing.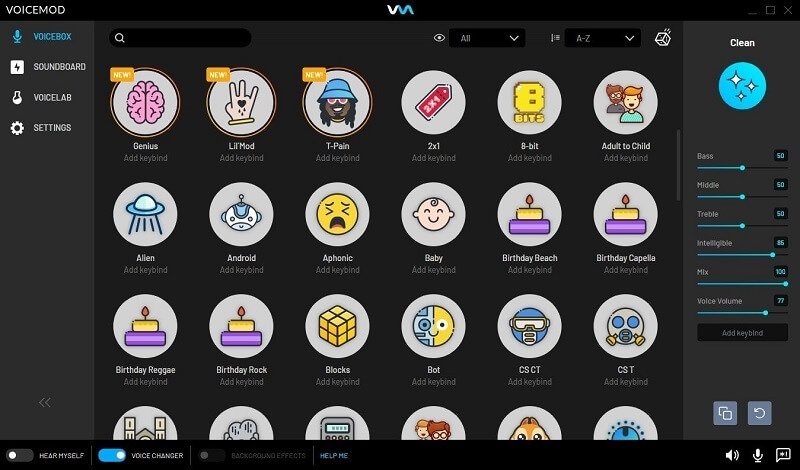 Pros
Cartoon Man and Cartoon Woman Voice Filters
The price of the subscription is affordable
High-quality voice changing for recorded audios
Cons
Easily crack due to their poor server.
Supporting system: Windows only
Voice effects: More than 42 different voice effects for editing or shifting.
Custom voice change: Yes, VoiceLab can custom any anime voice filter.
File voice change: Not supported at that moment.
Pricing: The free version has seven voice presets, and the lifetime access for the software is $20. Users can also download and purchase the features for one-time use in $10 or $4.
Rating
Pricing: Voicemod has been rated as an excellent software by 78% of users in the software company category. People mostly like the software because it is effortless to set up and provides various features for its users.
User Experience
Pricing: Quarter: $11.97 Year: $23.88 Lifetime: $59
Comment for Rank: We rank this software as excellent due to its pricing, interface, and performance. Above all, it is worth it because of its super-fast customer service.
Clownfish anime voice changer is a strong competitor of Voicemod. However, it lacks some features compared to Voicemod, but the beginners can still use it as an alternative. Being installed on the system, it can work for every application that utilizes sound input.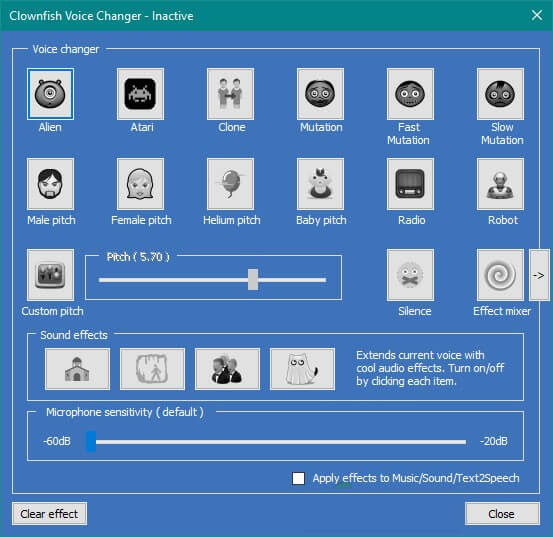 Pros
Easy installation and user-friendly interface
Allows multiple plugins
Supports both macOS and Windows
Girl Text-to-Speech
Cons
Only offers 10+ voice effects
No customizable soundboards
Supporting system: Windows and Chrome/ Chromebook
Voice effects: It allows the users to enjoy twelve different sound effects and filters like Robot, Alien, Male, and Female, etc. This software also helps change the voice on social media applications like Skype, Viber, Discord, etc.
Custom voice effects: Although Clownfish allows changing the voice on different online and offline platforms, it does not allow storing or creating a new soundboard with new effects.
File voice change: This software provides a feature of which converting text into audio and translations. It also supports various media formats and the VST plugin.
Pricing: Clownfish voice changer is a free tool that provides high-quality service for all its dear users.
Rating: The average rating for this software is 4.5 out of 5, and people love it because of its highly efficient layout and free voice settings.
Reason and Comment for Ranking: Due to its service and sound effects, this is the go-to option if somebody wants to use the voice changer for gaming and fun purposes.
Get Anime Voice with Top 4 Anime Voice Changer for PC & Mobile
UnicTool MagicVox is one of the best anime voice changer that allows you to add some hilarious music filters to your voice. including Donald Duck, Mickey Mouse. The variety of 600+ filters available in-app will enable you to turn your real-time voice into an anime one during gaming.
Its voice filters are embedded with amusing background sound to make your pitch more dramatic.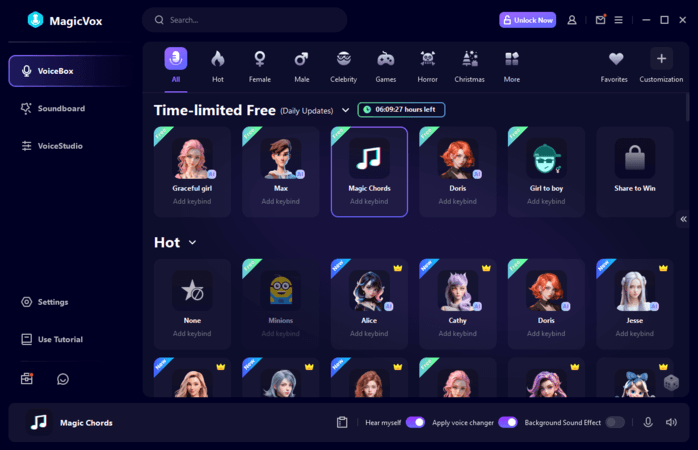 Pros
Real-Time Voice Change
Access 400+ anime voice filters and effects to create unique character voices.
It allows you to personalize and adjust your voice to your liking for a unique experience.
You can apply voice modulation not only during live conversations but also to recorded voices and audio files.
This voice changer is compatible with popular platforms such as Discord, Skype, Zoom, various gaming platforms, and streaming channels.
Cons
Not available for mobile phones.
In addition to real-time anime voice transformation, MagicVox offers an expansive selection of features:
100+ Anime Soundboards: Dive into a world of 100+ anime soundboards, immersing yourself in a variety of character expressions and atmospheres.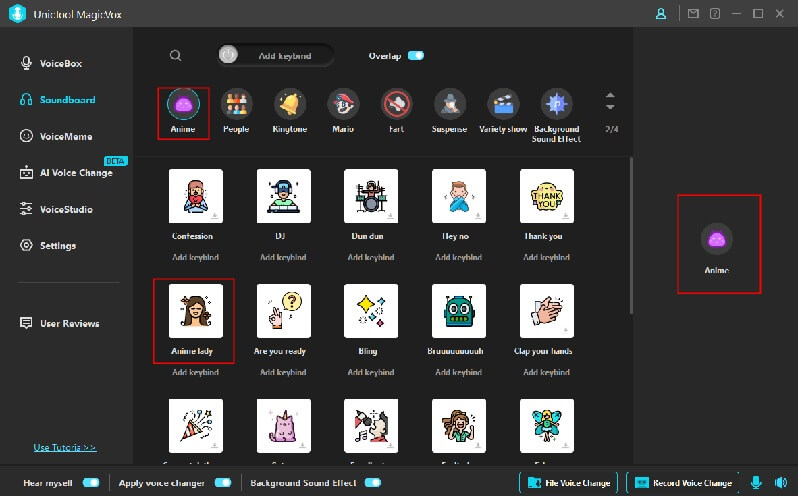 50+ Anime Voice Memes: Explore 13+ anime voice memes, adding a touch of humor and familiarity to your interactions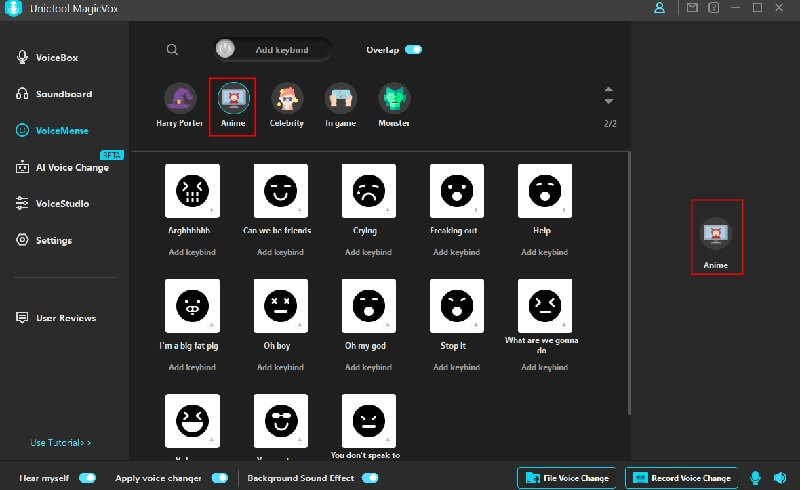 Morphvox has garnered widespread admiration with its extensive range of eccentric sound effects and preloaded sounds, astonishing users.
The features have gained immense popularity and are truly noteworthy. Exploring them is a delightful experience, promising enjoyment throughout your usage of this software.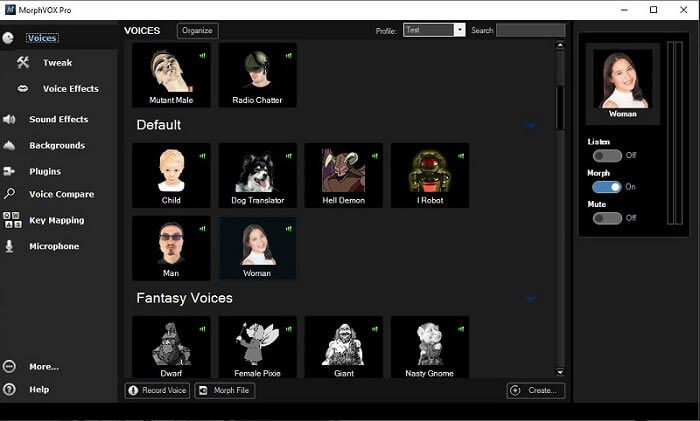 Pricing: Access the pro version subscription for $39.99.
Pros
Cutting-Edge Audio Effects: Boasts contemporary, top-notch audio effects for an immersive experience.
Effortless Sound Dispatch: Conveniently assign sound effects to your preferred quick keys for seamless execution.
Ultra-Quiet Background Option: Offers an Ultra-Quiet version for background cancellation needs.
Ideal for Online Game Streaming: A perfect match for online game streaming endeavors, enhancing your streaming setup.
Cons
Its pro subscription is very expensive.
Voxal Voice Changer stands as the preferred choice for those seeking anime voice effects alteration.
Renowned for its distinctive and captivating attributes, this software has attracted significant attention. It doesn't overwhelm with complex settings; instead, it boasts an intuitive interface.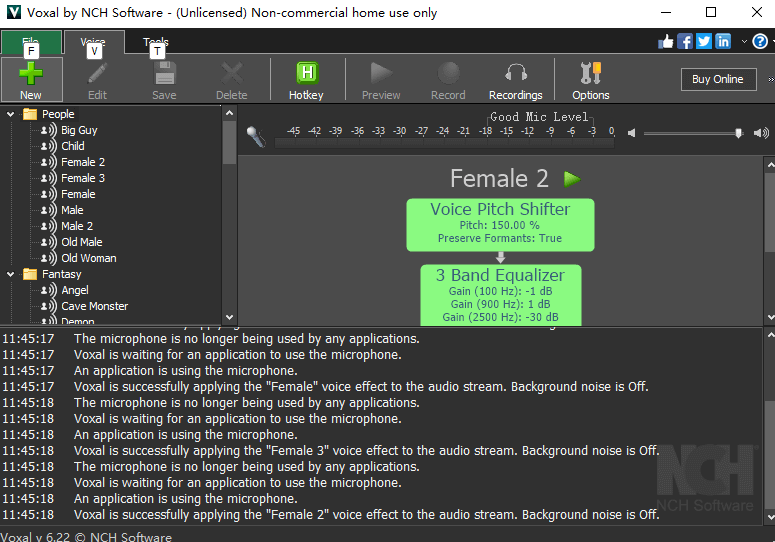 Pricing: $14.95 for home use and $19.95 for commercial use.
Pros
Optimized CPU Usage: Boasts efficient resource consumption, minimizing CPU usage.
Custom Voice Effects: Empowers users to effortlessly craft and oversee personalized voice effects.
Real-Time Effects: Enjoy the application and experience of diverse effects in real-time.
Universal Application Settings: Offers convenient universal settings applicable across all software.
Cons
Be mindful of frequent ad pop-ups during usage.
Part 3.

Best Anime Voice Generator Apps for Android and iOS

Google play store is flooded with numerous voice changing applications that claim to be the best, even if they are not. This voice changer for Android is embedded with several voice-changing effects, providing you with an opportunity to get anime voice, not into a female anime version only, but can transform your voice into lower-pitch male audio or funny baby or robotic voices.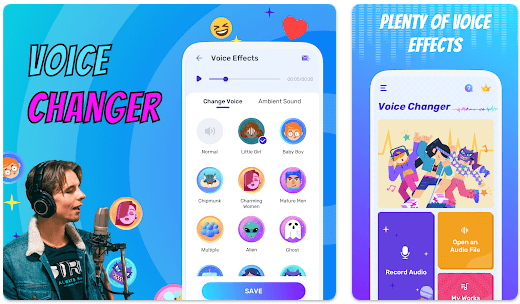 Pros
Free of cost
Variety of voice effects
Easy to use
Cons
Limited functions
You need to pay for an ad-free version
Reason and Comment for Ranking
The app contains several voice-changing effects and editing features available for free. It receives quite a good appreciation for being good in terms of performance and efficiency.
This anime girl voice changer is specially designed to assist iOS users as they don't have many choices regarding voice changing applications. With more than 25+ voice-changing effects, you can convert your voice into your favourite avatar or female anime characters as well.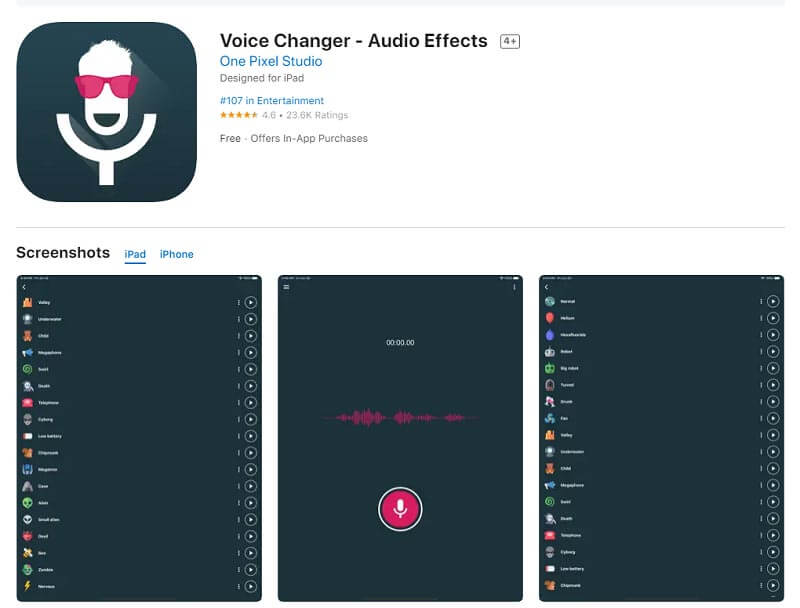 Pros
Recordings sharable via different apps
Simple, user-friendly interface
Cool and attractive animations
Cons
Lacks some advanced features
Limited voice-changing effects
Reason and Comment for Ranking
This anime voice changer is quite suitable for beginners who just aim to modify their voices at a certain level. Moreover, the availability of cool anime effects and an intuitive interface is the primary reason for its ranking.
For those seeking an exceptional anime voice changer app, consider exploring Voice Changer Plus. This app stands as a remarkable Kawaii voice modulator, enabling the creation of audio enriched with delightful sound effects.
In addition to its assortment of diverse sound effects and voice filters, Voice Changer Plus boasts an uncomplicated user interface, ensuring a seamless experience.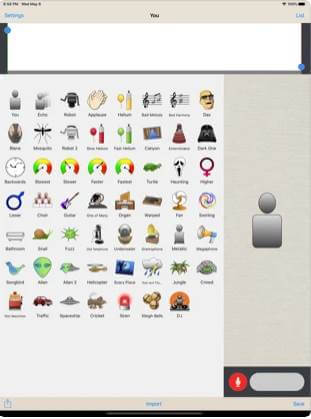 Pros
Effortless Voice Recording
Full Voice Over Support
Trim Control Functionality
Free Record Export
Unique Voice Filters Included
Comprehensive Audio Editing Abilities
Cons
Lack of Modulating Audio Option
Online Anime Voice Changer App
Discover the enchanting realm of Voicechanger.io, an enthralling online anime voice changer. Unleash your voice's transformation into anime characters with captivating ease.
Effortlessly alter your voice within recorded audio files or record anew, seamlessly applying desired voice filters. Dive into a plethora of voice filters, ensuring your visit to this anime voice changer is both rewarding and memorable.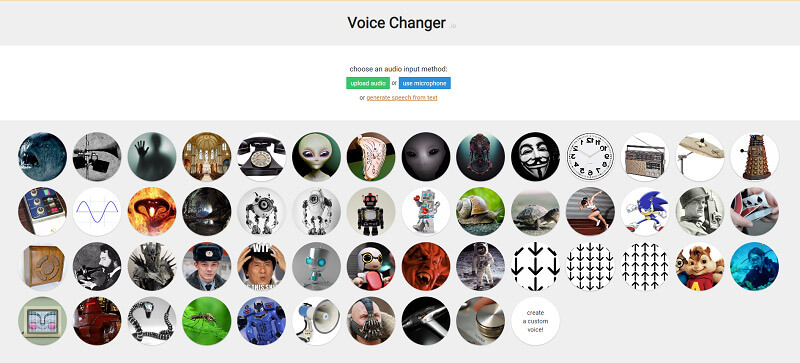 Pros
Free Usage: Access the platform without any cost.
Dynamic Sound Player: Experience a versatile sound player for enhanced user engagement.
Superb Sound Quality: Enjoy exceptional sound quality that enhances your audio experience.
Safe and Secure: Rest assured in the safety of your usage.
Cons
Limited Social Media Sharing: The platform lacks the capability to share files on various social media platforms.
FAQS about Anime Voice Changer
What is an Anime Voice Changer?
An Anime Voice Changer is a software or tool that allows users to modify their voices to sound like characters from anime or manga. It applies voice modulation effects to replicate the unique voices and expressions commonly found in anime series.
How does an Anime Voice Changer work?
Anime Voice Changers use advanced audio processing algorithms to modify the pitch, tone, and other vocal characteristics of a user's voice. By applying various effects and filters, the software can transform the voice to resemble popular anime characters.
Can I use an Anime Voice Changer in real-time during voice chats or calls?
Yes, many Anime Voice Changers offer real-time voice modulation capabilities. You can use them during voice chats, online gaming sessions, or VoIP calls to instantly change your voice and sound like your favorite anime characters.
Are there presets available for specific anime characters?
Yes, some Anime Voice Changers come with pre-configured presets that mimic the voices of well-known anime characters. These presets make it easier to achieve the desired voice transformation without manually adjusting individual settings.
Can I use an Anime Voice Changer to record and save my modified voice?
Absolutely! Anime Voice Changers often provide options to record and save your voice in the modified form. This allows you to create voice clips, voiceovers, or even dubbing for your own anime-inspired content.
Wrapping up
Out of all these anime voice generator applications, MagicVox anime voice changer is the most praised one with unique and compelling filters and editing features.
Convert your real-time anime girl voice into an anime one with a anime girl voice changer and make your live streaming more interesting using Unictool MagicVox below for free!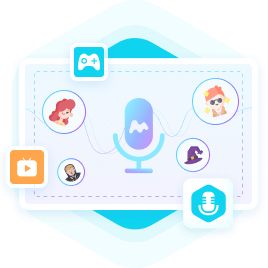 Anime Voice Changer
Voice Effects: you can use anime voice during live streaming, it comes with over 600+ sound effects, 150+ voice memes, and 120+ voice filters .
Custom Anime Voice: VoiceStudio allows you to customize your voice. With various options to enhance voices for professional use.
Record and File Voice Change: professional audio editing applications lets you import MP3 files or WAV audios in your device.
AI Voice Cloning: allows you to imitate the voices of many celebrities in various games or live broadcasts
Thank you for your feedback!