Playing around your voice can be really fun and exciting. If you are looking for the best voice changer for discord , you've come to the right place! In this post, we'll go over 7 of the best Discord online voice changers for 2022. We have picked ideal tools and applications for Windows, Mac and Android, as well as voice changers that work on both desktop and voice changer for discord mobile platforms. So, perhaps if you want to liven up your Discord server or just want to remain anonymous when chatting with internet pals, these voice changers will surely help you play the trick!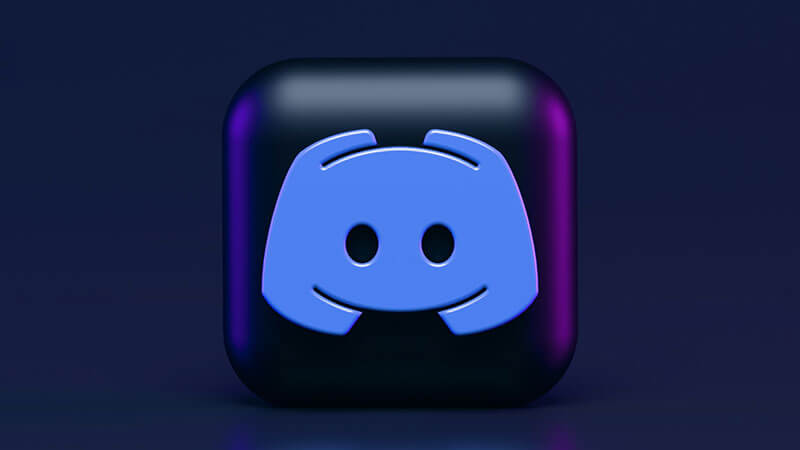 Part 1.

Why Use Discord and Voice Changers?

If you are a beginner, you must be naturally curious why people use discord and voice changers. Let's begin with the basics to get an idea how discord and voice changers work and why people use them.

Discord is a free software that allows users to communicate via voice and text. For users who want to communicate in groups, the application brings a lot of flexibility and control.

Discord chats occur on servers by the servers given by Discord company. The majority of servers are connected with gaming in some form or the other, however you are not restricted to only gaming servers and chats.

Notably, Discord has multiple voice changers that allow you to switch between different voices. As a result, you may flip between numerous unique voices to frighten or deceive your friends.

Jumping to the other part, let's unveil why people use voice changers? One of the major reasons why gamers and streamers use Discord online voice changer software is to add particular audio effects or even play pre-recorded sounds in their gaming videos. While there are many others who prefer to use a voice changer because they wish to remain anonymous online, they acquire a sense of anonymity by using one. Many people also use it to conceal their gender identity.
Part 2.

Best Voice Changer for Discord
| Name | OS | Voice Filters | Custom Voice | Pricing |
| --- | --- | --- | --- | --- |
| UnicTool MagicVox | Windows | 100+ | Yes | Free (Offer Paid Version) |
| Voicemod | Windows | 80+ | Yes | Free (Offer Paid Version) |
| Clownfish | Windows& Chrome | 14+ | Yes | Free |
| AV Voice Changer | Windows | 30+ | Yes | 29.95$/39.95$/99.95$ |
| MorphVOX | Windows& Mac | 23+ | No | 39.99$ |
| Voxal Voice Changer | Windows& Mac | 5+ | Yes | 14.99$/24.99$ |
| Voicechanger.io | Online | 50+ | Yes | Free |
| Voice-changer.org | Online | 11 | No | Free |
| Voice Changer with Effect | Android | 40+ | No | Free (In-app purchases) |
| Voice Changer- Voice Effects | Android | 10+ | No | Free (In-app purchases) |
1. UnicTool MagicVox
UnicTool's MagicVox is one of the most user-friendly voice changers for Discord. This is the one for you if you just want to have some silly fun with your buddies. Users can choose from a variety of voices, such as a robot, a minion, or a dragon.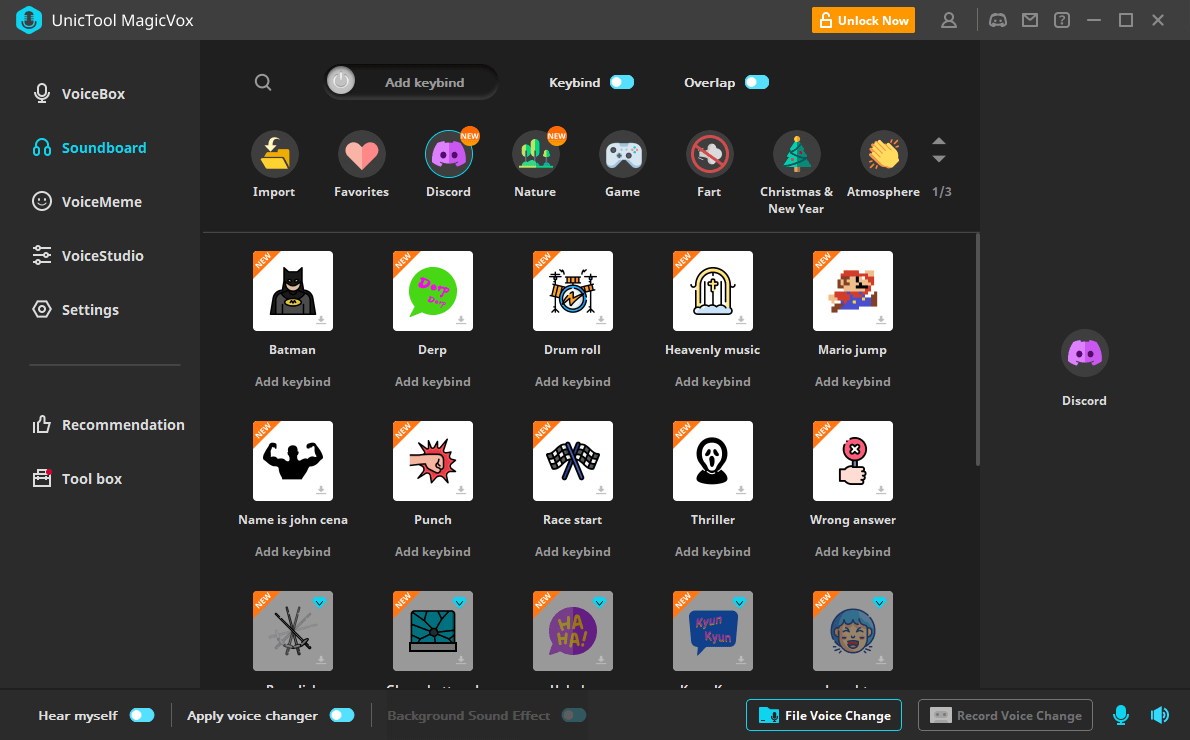 If you have a favorite sound effect, you may connect it to a hotkey and switch between several voices instantaneously. The free edition of the programme allows users to check out several sound effects. A paid version of the tool is also available, which unlocks all of the voices and sound effects. The software also works with mp4 files, so you can record your voice over any video you like and then edit it with this tool.
Pros
Extremely easy-to-use interface
Extremely easy to use
User-friendly features
Comes with built-in voice effects
Over 200 voice effects
Layered sound effects
Cons
Most of the voice effects are only accessible in the premium edition of the app
How to Use Voice Changer on Discord
Step 1: Go to the web and download UnicTool MagicVox from UnicTool's official website. When downloaded, install it on your PC.
Step 2: Configure your microphone and headphone as the default input and output device.

Step 3: Go to Discord- Click Audio settings and select MagicVox as your default audio device.

Step 4: Now the MagicVox app on your PC separately and select any voice. Select the same voice from keybinds, your voice will be changed.
Voicemod is now an easily accessible audio software that customizes the tone of your voice when interacting with others. This voice modulator system enables for real-time modifications and a diversity of effects. It also operates as a soundboard, offering you to explore with audio effects, develop readily available vocal sets, and even modify audio from formerly recorded media.
It functions with streaming apps which are also compatible with computer casinos. Free Mode and PRO both of these versions available. Real-time and live voice altering, roughly 90 various communicative effects, and an incredibly simple interface are mostly just a few of Voicemod's basic features include both PC and mobile versions. In contrast to the mobile app, the desktop client has additional functionality, the vast of which are targeted at efficient connectivity with other applications including such Stream Deck and Streamlabs OBS. It functions with just about any software that supports voice input because that introduces a new virtual input device on your system for using.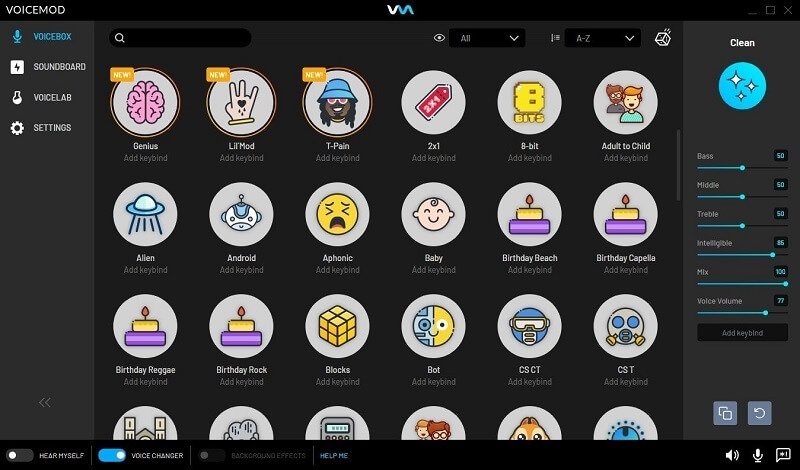 Pros
Convenient to use
Unlimited voice effects compared to other mobile versions
Highly versatile and with room for integrations
Easily accessible auto-tuner choice
Cons
Easily accessible auto-tuner choice
Cannot be uninstalled
May mess up in the audio-drivers
Check Voicemod on Discord tutorial to enhance your gaming experience now.
Clownfish is among the top fully free Discord voice changer applications available. Clownfish may be installed and used without registering or establishing any account. So you can proceed without any hassle of establishing an account.
This Discord voice changer is installed at the system level. It also implies that Clownfish is compatible with any VoIP platform or online game that employs a microphone. So, whether you want to utilize Clownfish's voice changer on Discord or Mumble, you'll never be disappointed. Alien, Atari, Fast Mutation, and other voices are available with the free voice changer.
Clownfish, however, has fewer options for changing voice than the other Discord voice changers on our list. If you're looking forward to using free voice changing software, then it fits the bill for you!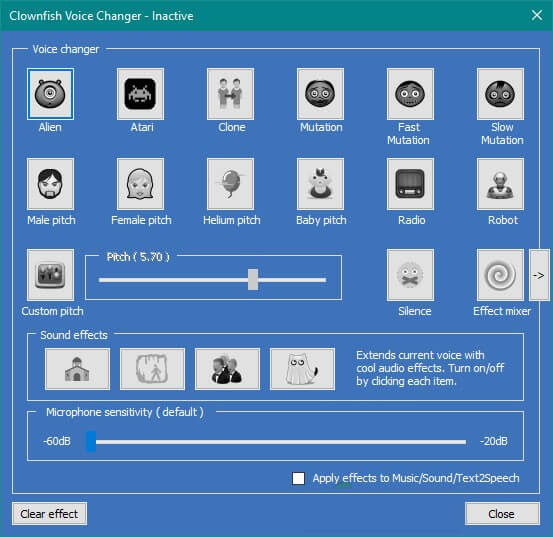 Pros
There is no need to register.
Most games and apps are compatible with this software.
Simple to install and use.
Cons
Voice changing options are very few.
Here is the tutorial for how to use Clownfish on Discord and Clownfish not working issues.
AV Voice Changer allows you to totally alter your voice and make it unrecognizable to your audience. You can make yourself sound like a woman, a young kid, or a robot. Almost anyone you like. The program offers a variety of sound options and audio effects to select from, allowing you to create a really distinctive voice each time you use the program The tool automatically integrates practically all VoIP tools, role-playing games, and chat programs, thanks to virtual audio driver technology. This program may be used to mask your voice on Twitch, Discord, Skype, and other similar services.
From extremely basic features like voice recorder and voice editors, it also offers other features like, voice and file morpher. Additionally, you could even create your customized voice and sound effects.
AV Voice can easily integrate with any platform or programme you want to use to help you hide your voice while using it. It works well with Discord, but it also works well with Twitch or Skype, and it allows you to customize your voice with a multitude of speech effect combinations.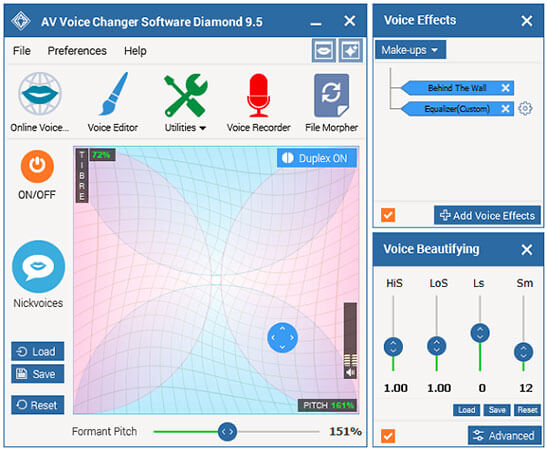 Pros
Extremely convenient to use morphing algorithm
Possesses a high quality audio
Cons
flat interface irks various users
Part 3.

Best Voice Changer for Discord Mac

MorphVox is a free audio effect software that allows you to modify your voice. You may sound like a lady, man, baby, robot, or any other supported voices by using the built-in voices and sound effects. You may alter your voice from man to lady and vice versa with this free voice changer application.

The programme analyses your voice to choose the best voice alteration effects to make you seem as natural and fluent as possible. However, there are certain disadvantages to utilizing this free software. The first disadvantage is that it is sponsored by advertisements and only has two voice options.

Another extremely serious disadvantage is that it is more difficult to configure for use with Discord than some of the other voice changer applications on our list. Only use it if you want better sound and are willing to spend hours figuring out how to set it up.

When everything is considered, MorphVox is unquestionably a fine and free voice changer for Discord available right now.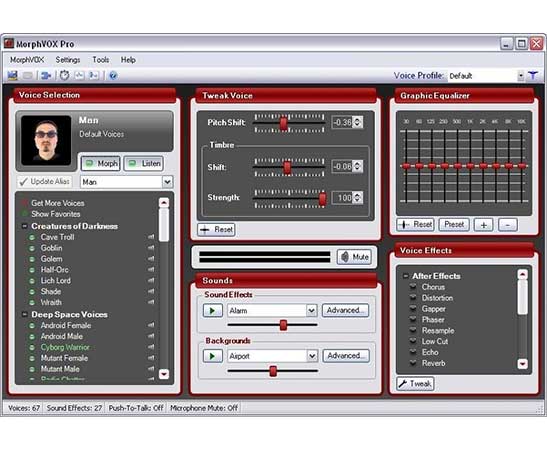 Pros
Numerous built-in voices and voice changing effects
Optimal functioning while changing voice
Renders customization effects
Cons
Set-up process is not as simple
Requires learning before using
Voxal voice changer is one of the best voice changers for discord mac, you can use it to imitate the character by altering your voice. You can add distortion, reberb, or enhencement to your voice, it is a very relyable voice changer for discord mac.
There are not very choices available for the voice changer for discord mac, Voxal Voice Changer is the one that supports both Windows and Mac os. It is a very friendly voice changer for discord mac users, you can use it on online games or chatting platforms, with only a few clicks then you can start your brand new voice experience.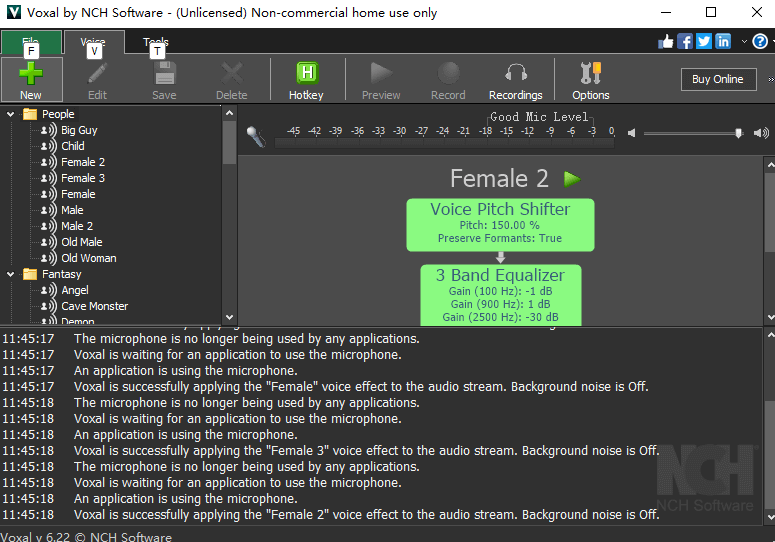 Pros
It uses the latest AI technology, it will learn users' audio to enhance the quality of voice output.
It is equipped with built-in voice filters including Child, Kid, Female , Angel, and Demon, etc.
Low burden for the CPU, you can change your voice easily during online gaming with your friends.
Cons
Requires learning before using
Part 4.

Online Voice Changer for Discord

The name says it all: Voice Changer is as basic as its name sounds. However, it does the job at hand with incredible ease. Don't be deceived by its simple appearance; it may be rather capable when it comes to using its voice altering functions.

Voice Changer is the most basic voice changer available. It provides you with three basic choices. You may either edit an audio file, use it with a microphone to conceal and change your own voice, or produce speech from text. It also comes packed with various features that include, uploading and tweaking your audio file, changing and disguising your voice using a microphone. It even has a speech generator.

On its welcome page, Voice Changer automatically welcomes you with a variety of voice effects. You can transform your voice from a little baby girl's voice to your favorite movie and cartoon characters. This may be used effectively in online gaming sessions or when conversing with pals. It serves the best for adding background music and audio effects.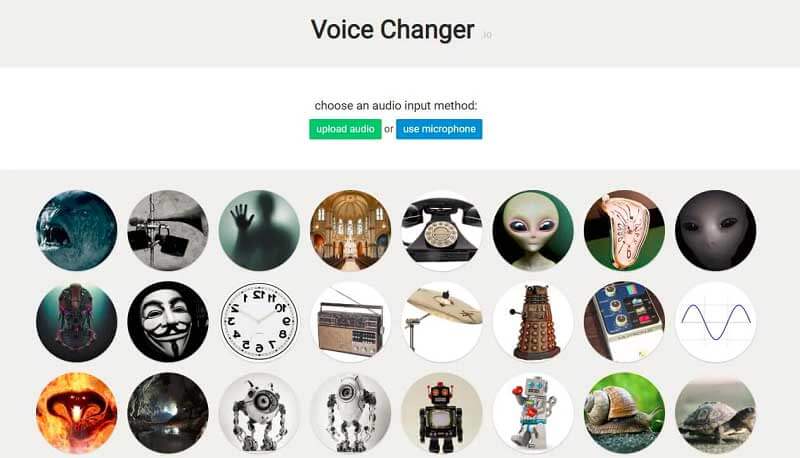 Pros
Easy to learn
Easy to use and handle
Free
Competent at various functions
Cons
Extremely difficult to work with discord
Sometimes, it's impossible to comprehend voices
Some voice features jumble your voice
There is another online voice changer tool named Voice-Changer.Org, which is a very easy-to-use online voice changer for discord for altering your voice to a specific voice filter. You can upload your voice audio file or record your voice for pitch change. Kindly select the voice filter then you can start to output your changed voice.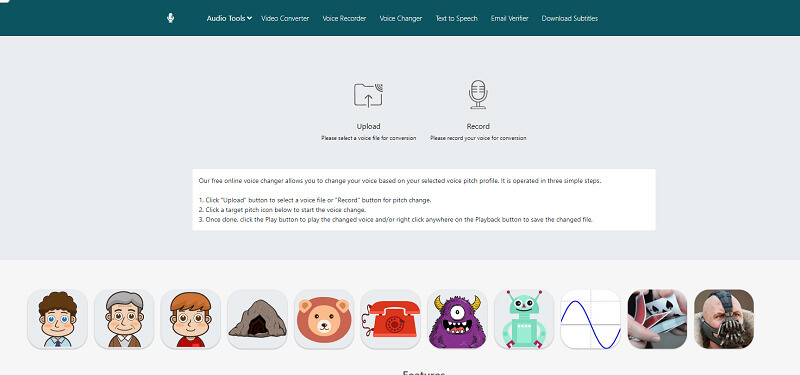 Cons
Extremely difficult to work with discord
Only a few predesigned voice filters
Part 5.

Voice Changer for Discord Mobile

Now let's discuss the best voice changer for discord mobile, voice changer with effect is a powerful voice changer app on the Android market. This app is very simple to use and there are a lot of voice filters available on this app. User can disguise their identity with more than 40 voice effects, it is fun to use though.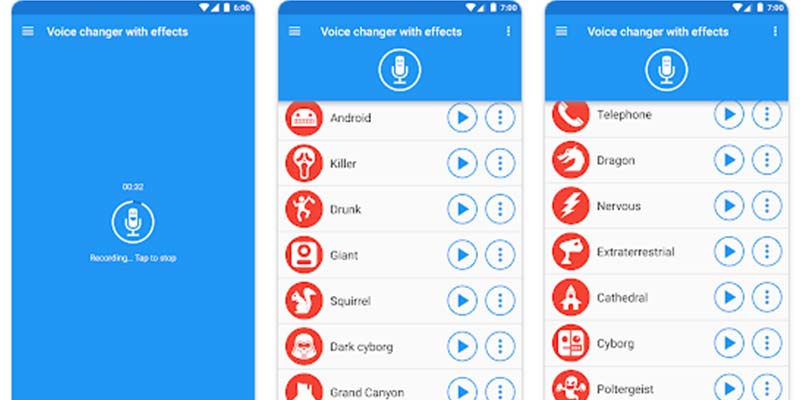 Pros
More than 40 voice effects
Get the rate of 4.4 by 1.49M reviews
Another voice changer for discord mobile is Voice Changer- Voice Effects, it also got the rate of 4.5 on Google Play, it is a very funny voice changer app for discord mobile.
You can use this voice changer app to prank your friend on discord, for example, you can changer to your voice into a female voice, babay voice or aliens, etc.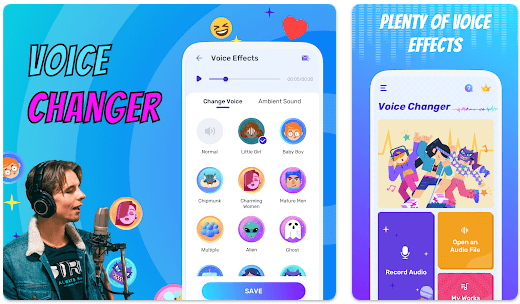 Pros
Many Voice Filters can be used in free
Can be used in various plamform like WhatsApp, Discord
Conclusion
So there you have it: the seven finest Discord online voice changers you can use right now. Of course, there are more apps on the internet with competent functions; nevertheless, we've only listed top options for you.
All in all, you can begin with any of the applications and tools, however, we would recommend using the UnicTool MagicVox. MagicVox comes packed with over 200 voice effects so you never get tired of using them. The user interface is one of the most important considerations when choosing a voice changer. For these reasons, the MagicVox Voice Changer is the ideal option. It functions perfectly as a voice changer for discord mobile.
This tool has a unique feature that allows all of its users to access a platform that is very easy to use. You may also look at a tutorial to learn how to do it quickly. Moreover, MagicVox is extremely affordable. Just pay once and enjoy a lifetime supply of unique voice effects. It doesn't require any kind of meddling with configurations and features. It is an extremely simple and easy to use application with so much to offer. If you are looking for a smooth experience with a voice changer, MagicVox is the one for you!