After Despicable Me (2017), the latest sequel, Minions: Rise of Gru, takes us back to the clumsy world of adorable minions. Sounding like a minion is an excellent way to spread happiness and humor to those around you.
Unfortunately, your voice alone cannot help you speak Minionese. That's where handy minions voice changer apps jump in. In this article, you'll discover an expert review of the best minions voice generator for every device.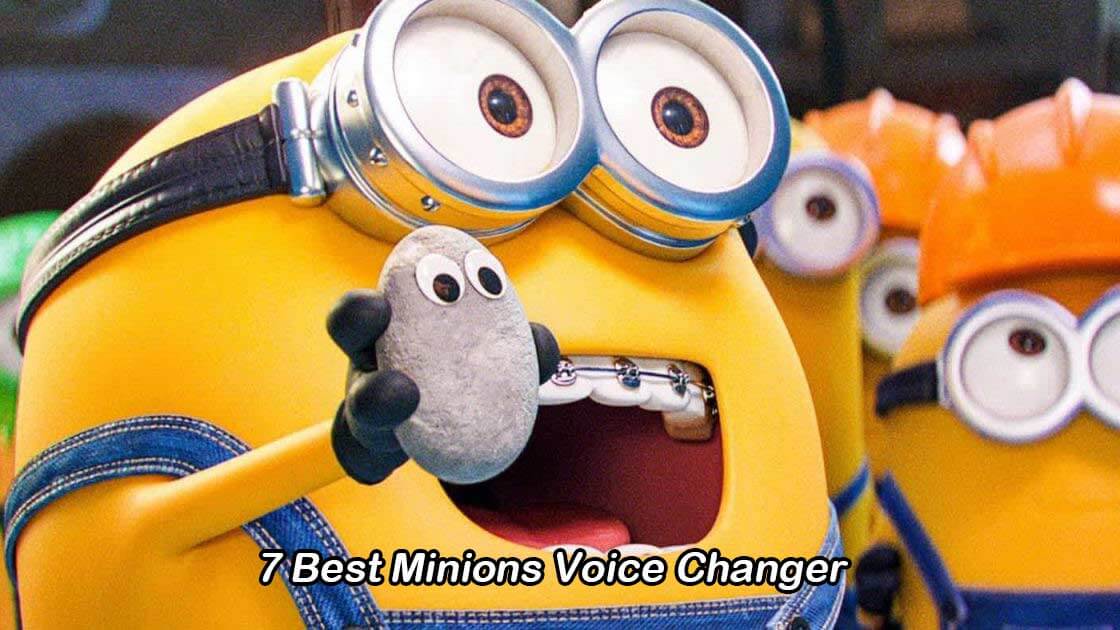 Part 1.

Best Minions Voice Changer for PC

Good news for PC users! Giving your best minion voice impression is possible without putting in any effort. All you need is the right tool to get started in no time. We have scoured the Internet to list our top 3 voice changers to generate minion voice on pc:

With a plethora of convenient features and high customer satisfaction, it's no surprise that UnicTool MagicVox makes it to the top of our list. This innovative Minion Voice Changer is equipped with state-of-the-art technology and leaves no room for flaws. You're mistaken if you thought a Minions voice does not allow for varieties. With MagicVox, users can alter the customizable settings to adjust any Minion voice.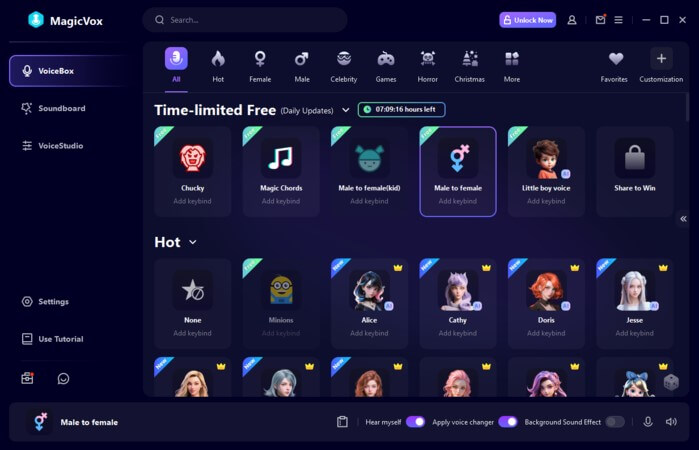 Pros
Support for various apps, like Discord, Call of Duty, Valorant and so on.
300+ pre-made voice effects for real-time voice change. Various cartoon characters: Minion, Spongebob, Kermit the Frog and so on.
Excellent customizable voice changer with various adjustment sound parameters.
Except voice effects, it also offers you 500+ sound effects and voice memes.
Works on both Windows and Mac system, including Windows 11 and MacOS while the most voice changers don't.
Cons
It is a new software on the market.
Mac version no keybinds control but Windows version has.
5-Step Easy Tutorial – How to Use UnicTool MogicVox on Skype
Step 1: Download MagicVox on your PC.
Step 2: Next, you must configure the headphone and microphone.

Step 3: Launch "Settings." Choose a microphone as the input hardware and headphones as the output hardware.
Step 4: Visit Skype. Change the default input device to Voice Changer Virtual Audio Device.

Step 5: Lastly, select the Minions voice from the voice changer app. Now, gear up to get hilarious reactions from your buddies. Otther cartoon voice filters, like Kermit the frog is available, too.
Clownfish is a go-to for many users when it comes to Minions voice changers. It offers complete Windows compatibility and can be used on various apps. Be it Hangouts, Viber, Steam, Skype, etc. Considering all this, using this software to achieve a Minion's voice is a great idea! If you wish to learn more about what this service offers, keep scrolling.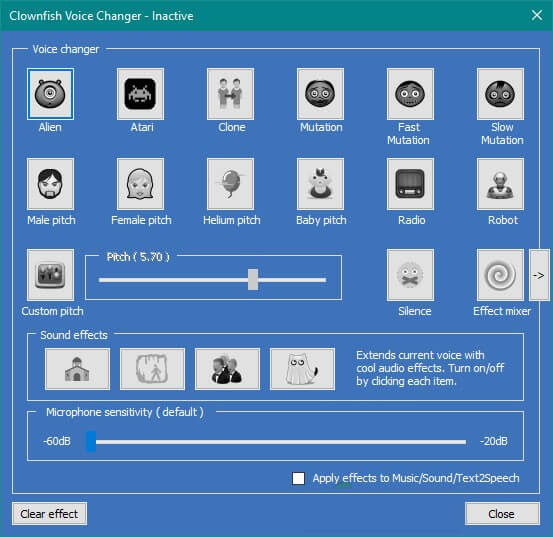 The most prominent features of Clownfish are as follows:
It has an extensive list of built-in sound effects.
It is free of cost.
It allows you to customize your voice however you want.
It includes many parameters to control the voice.
Mac users can also benefit from this software. Additionally, text to speech feature makes the experience more fun on Mac.
Pros
Supports almost all media formats.
It can change your voice to a minion's with its convenient features.
Easy to use
Pitch control allows users to add a touch of depth to the modified voice.
Cons
Sometimes, users encounter trouble with the user interface.
Whether you desire to pull a prank on your Discord friends or surprise your live streaming fans with the voice of yellow sidekicks, Voice mod is your best bet. Besides being a successful Minions voice changer, it offers much more.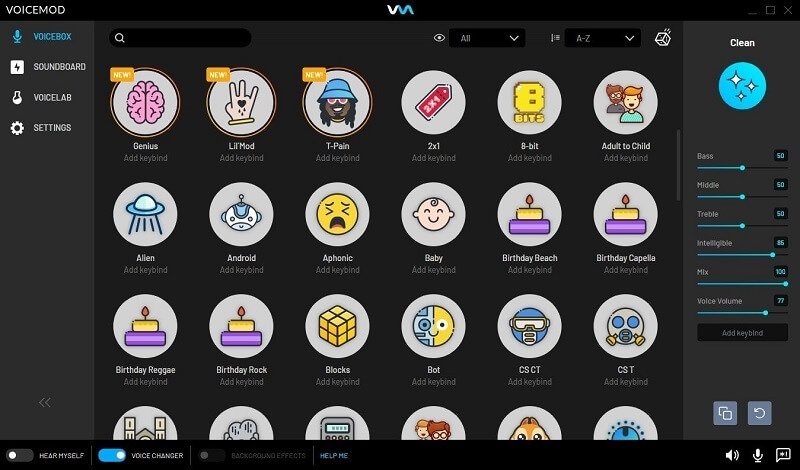 The main features of Voicemod are as follows:
This app allows you to utilize any of its many voice filters.
The Voice lab feature of the app lets you generate your own custom sound.
The realistic backdrop sound effects it has can help you create the vibe of any atmosphere.
It is compatible with most commonly used gaming and social networking sites.
Pros
It holds the capability of making a personalized soundboard.
It works well with Mac and Windows devices.
Top-notch quality sound effects.
It enables you to express creativity.
Cons
The free version offers limited sound effects.
Here's all the critical information you need on the stellar performing Minions Voice Changer for PC.
Keep in mind that all of these do not include a built-in Stormtrooper voice effect. However, you can put your creativity gears into work and create a similar effect from their custom voice options.
Part 2.

Best Minions Text to Speech Voice Changer Online

The Minion language (Minionese) is not a bunch of mumbo jumbo. It is a hybrid of numerous languages worldwide, including Italian, Indonesian, Spanish, Japanese, Malay, etc. So how to decipher the Banana language code? Well, it has not yet made its way to Google Translator. However, you may use various Minions Text to Speech Voice Changers online for free.

From translating English text to Minion speak to altering your voice to a Minion's, LingoJam provides the whole package. Using this text-to-speech Audio changer allows users to avail a variety of options. Whether you wish to sound like a cute Minion or the opposite gender, LingoJam is your best bet.

The main features of Lingojam Voice Changer are:
Play around with the custom settings to achieve the voice you desire.
While still sounding like a Minion, the varieties are endless. You can either develop a deep or high-pitched Minion voice with LingoJam.
It is compatible with almost all devices and does not require download before use.
Pros
All sound filters are available on the website.
Easy to understand.
No installation is required.
Cons
The user interface is not highly appealing.
While Minionese is a child-like language, understanding it is not a child's play. That's why Minions Speak Translator will be a life-changing text-to-speech audio changer. Not only is it powerful enough to make you sound like a Minion, but it can also help you understand the Minion Dictionary. Let's look at what makes this website so unique without further ado.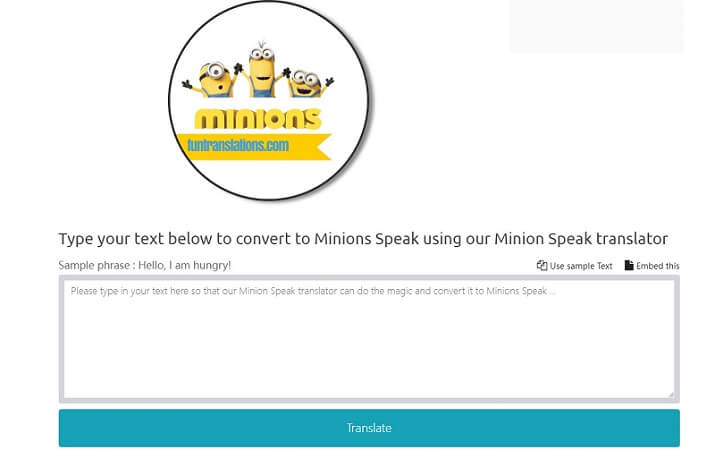 Key Features
This app provides complete support for PC, Android, and iOS devices.
Besides Minions voice filter, this app offers translating and voice-changing options for other hard-to-decipher languages and dialects.
It has multiple parameters that let users unlock different varieties of Minions language.
Pros
Ease of use.
Works efficiently on all devices.
Converts any voice to Minions immediately.
Cons
Requires a Premium subscription to access all features.
Part 3.

Best Minions Voice Changer Apps

With so many Voice changers widely available, cellular device users are also accounted for. To save time, we have presented the best Minions Voice Changer Apps for mobiles. Let's have a look at their exceptional services.

This app is undoubtedly the number 1 for addressing voice-changing needs on an Android device. Surpassing 100,000,000 downloads, this Minion voice changer is popular among the masses. Rightfully so. It contains a vast array of helpful features.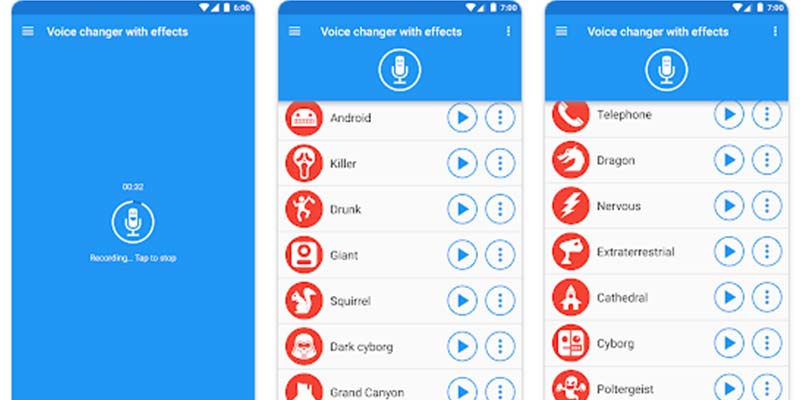 Key Features
It allows saving your most hilarious minion expression recordings.
Sharing your recordings via WhatsApp, email, or other platforms is possible to spread laughter.
It allows setting your modified voice as a notification alert sound or ringtone.
It lets you create a Minion voice from the text. Moreover, you may choose to add pre-recorded sounds.
Pros
Allows creation of pictures from sounds.
One month free trial.
It contains voice effects appropriate for all ages.
Cons
Requires newer 4.4 Android and above.
Next, we have another reliable Minions Voice Changer with features that set it apart from its other counterparts. You can count on Real Time Voice Changer Lite whenever you wish to add a touch of humor to your daily social networking. Here is a list of reasons why it's so loveable.

Key Features
Compatible with almost any headset brand.
With this app, your modified voice comes out through earphones for quality and clear sound.
It offers three varieties of audio effects.
It has a bunch of masks of famous creatures. Simple, tap the screen to try them on.
Record and store your Minion speak and share it with friends easily.
Pros
It works on older Android versions 2.3 and up.
Suitable for kids and adults.
Once installed, it is effortless to get started.
Cons
Not available for iOS devices.
Conclusion
In the darkest days, a funny voice changer is your best companion. What other way to bring laughter than changing your voice to everyone's loved character, Minions? Thanks to technology, speaking the Banana language is possible with Minion voice changer.
Even though a myriad of tools is available, nothing beats MagicVox Minion voice generator. The handy attributes of this Minions voice changer are not to be missed. Users can easily use this software to mimic realistic Minion Voice for fun and memorable moments. p>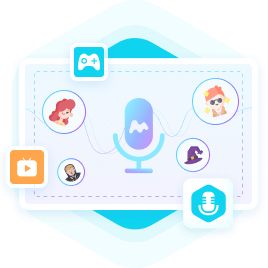 A Real-Time Voice Changer
This app features over 300 voice filters for all your needs.
It allows real-time voice changing on demand during streaming, gaming, or chatting.
It includes a free soundboard. Moreover, the available hotkeys enable or disable Minion voice effects in seconds.
MagicVox works with various services, like gaming, Discord, and live streaming.