Are you looking to generate voices like Spongebob characters, but you don't know which software or tool to use? There are multiple text-to-speech Spongebob tools available on the internet, but they are all not suitable to be used.
In order to help you, I am going to break down the top 8 SpongeBob voice generator tools for PC that you can use in 2022.
So, let's begin the guide.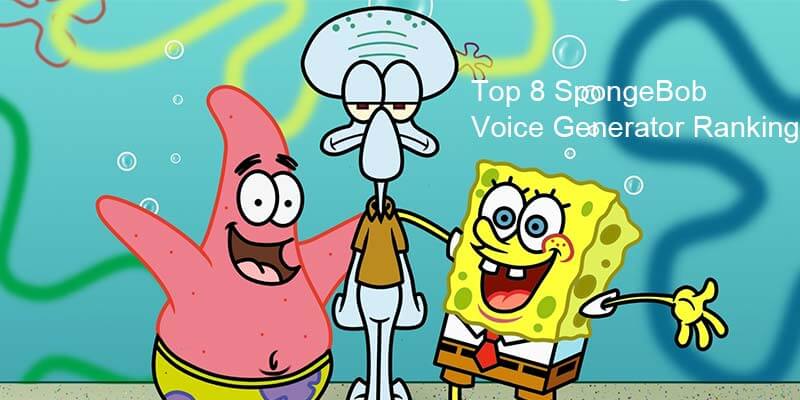 Part 1.

Top 5 SpongeBob Voice Generator Text to Speech Online

Here are the top 5 SpongeBob voice generator text to speech online platforms that you can use to get SpongeBob voice output anytime.
1. Vocodes
The 1st text to speech SpongeBob voice generator platform on my list is Vocodes. It is a great online platform that lets you create your own text-to-speech voice or a voice of SpongeBob by combining sounds from other voices. You can also use it to make silly voices and make them say anything you want.
Vocodes is a voice generator that can be used to create text-to-speech voices. It uses a wide range of voices and accents, which can be mixed and matched to create a unique sound. Vocodes offer various options for modifying the sound of the generated voice, such as pitch, speed, and volume. The site also has a built-in listen-to function so you can hear what your custom voice sounds like before you download it.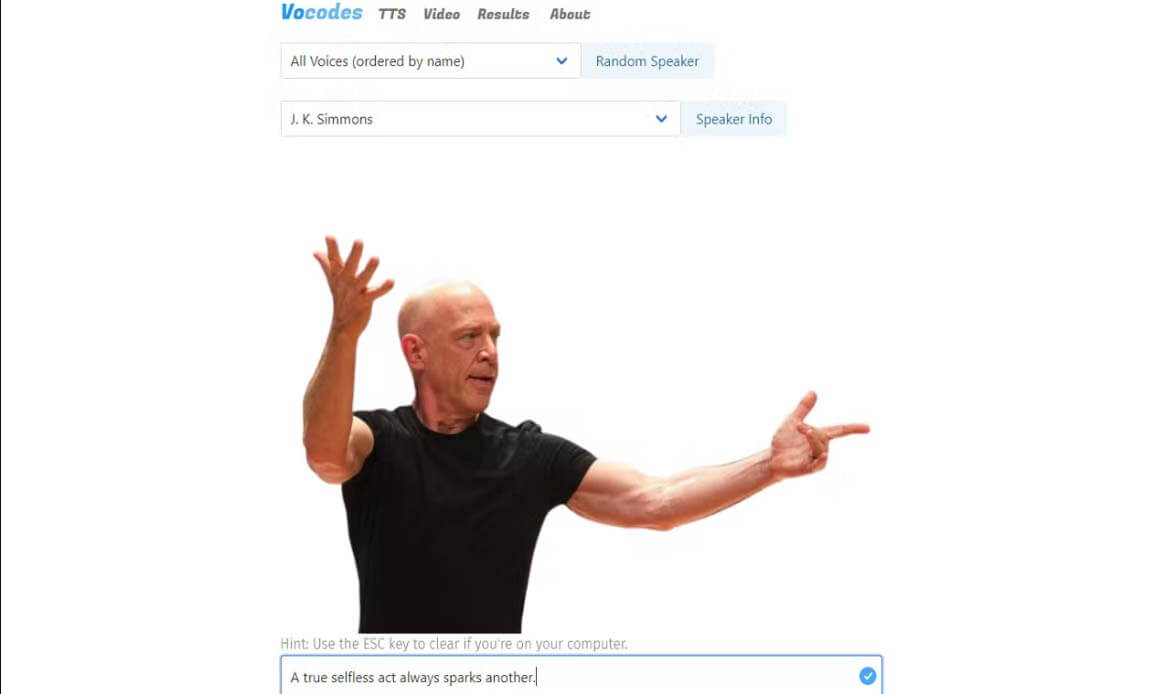 The site offers an extensive list of voices, including male and female voices with different accents and languages. Several non-human voices are available, such as robots and cartoon characters.
2. Fakeyou.com
The 2nd one on my list is Fakeyou.com. This site is quite popular nowadays for SpongeBob voice generation. Fakeyou.com is one of the best SpongeBob voice generators online. Using this website, you can get your desired voice in just a few clicks.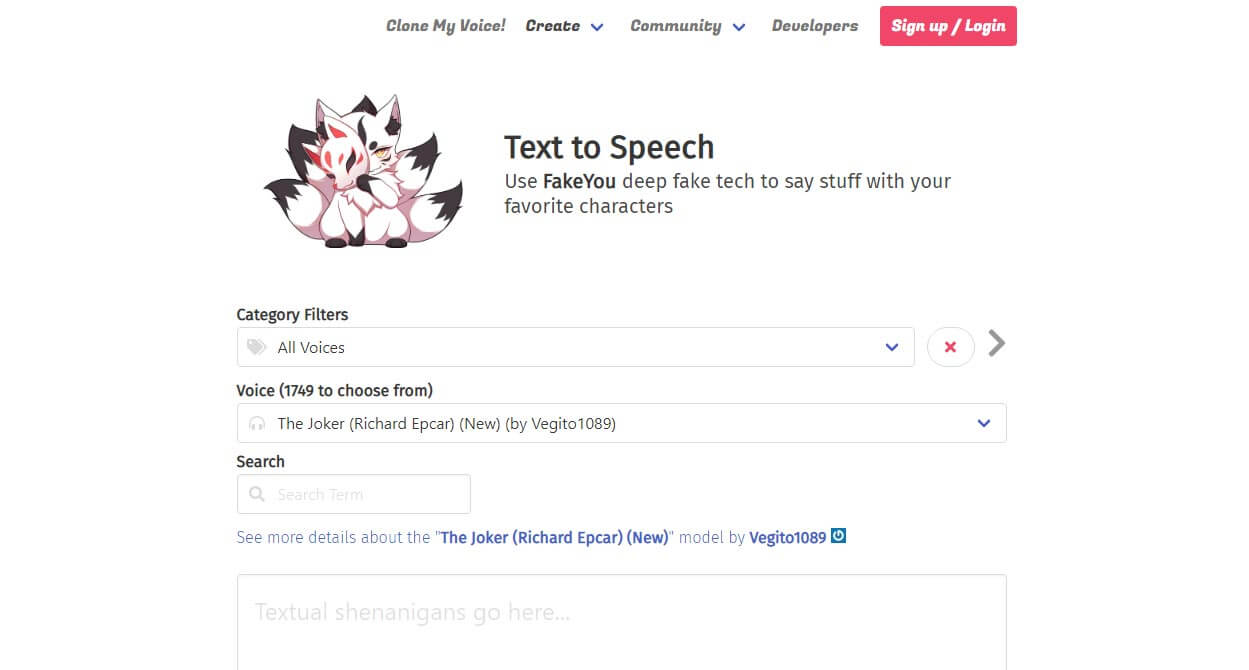 You can easily create any kind of text-to-speech in a matter of seconds with this website. They have a wide range of options to pick from, so you can get the perfect SpongeBob voice in seconds.
The site has more than just SpongeBob Squarepants voices; you can choose from dozens of other characters as well, including Elmo, Barney, etc.
3. Uderduck
The 3rd online platform or SpongeBob voice generator on this list is Uderduck . It is a SpongeBob Voice Generator that lets you hear what SpongeBob sounds like in a number of different ways.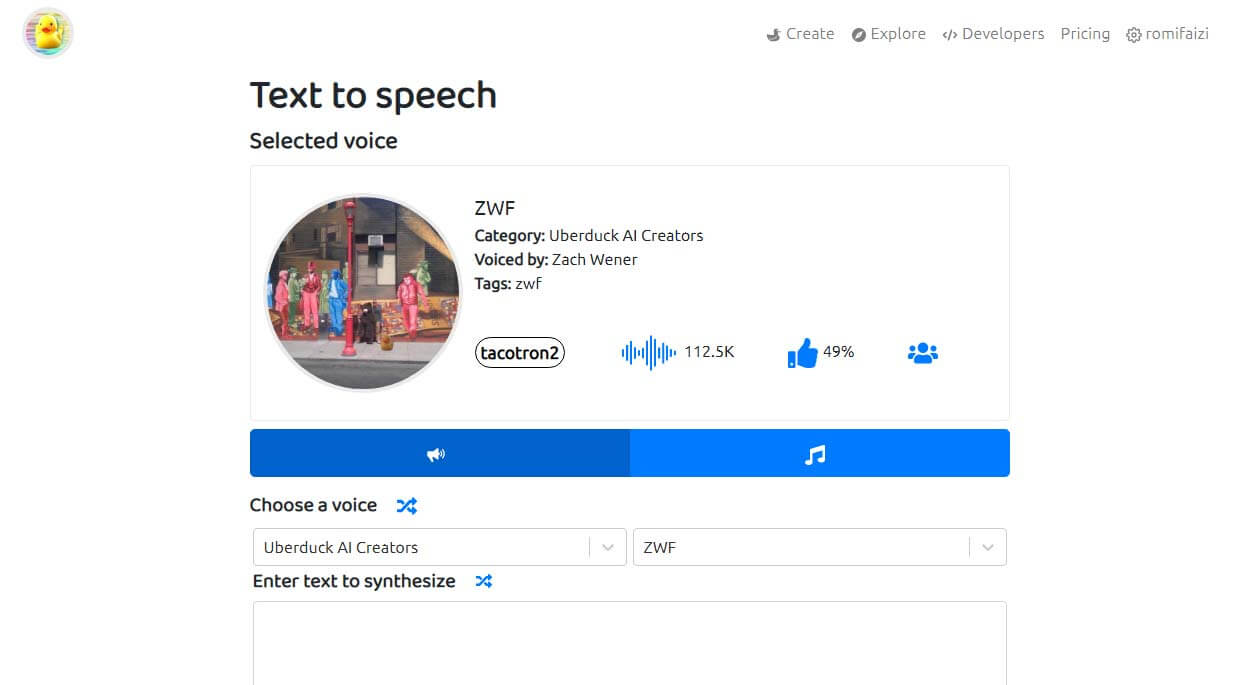 The site provides a variety of voices for the characters in the show and lets you customize them to your liking. You can make Squidward sound like an old man, Mr. Krabs sound like an evil villain, and Plankton sounds like a little kid.
Besides that, Uderducks has no limit on how many times you can use it per day; it's completely free.
4. Voicechanger.io
The 4th platform on this list is Voicechanger.io; It is a fun new way to change the pitch of your voice and sound like a SpongeBob. The website provides a few different options, including SpongeBob Squarepants, Squidward Tentacles, and Patrick Star. You can also record your own audio using this app and upload it to the site for others to listen to or download as an MP3 file.
This can be great for creating memes or sharing funny moments with friends. It allows you to change your voice online. With this program, you can create new voices and add them to your existing character or create a new one.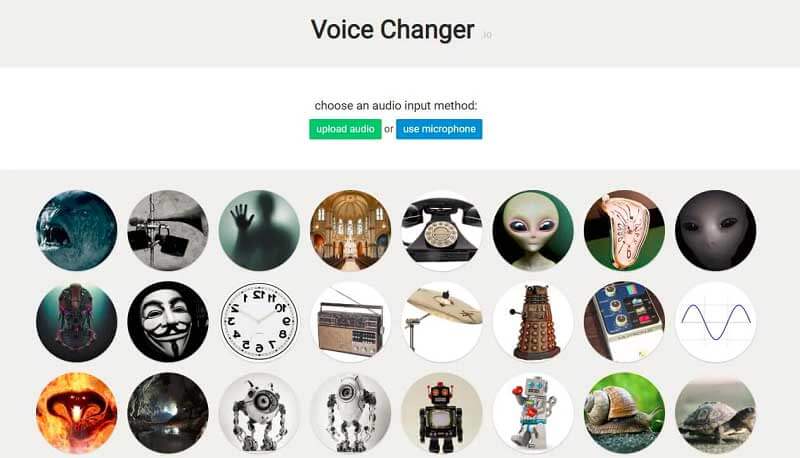 All you have to do is write the dialogues that you want to be generated in SpongeBob's voice, and this platform will convert those words into that voice in almost no time.
The website has a simple interface, but it's easy enough to figure out how to use. It takes a little while for the generator to load, but once it does, you can start creating your own SpongeBob voices right away.
5. 15.ai
Last but not least. The last one on my list is 15.ai; It is a free text to speech voice generator that allows you to create your own voices in the style of your favorite characters. You can also choose from a variety of different accents and dialects and change the pitch and volume.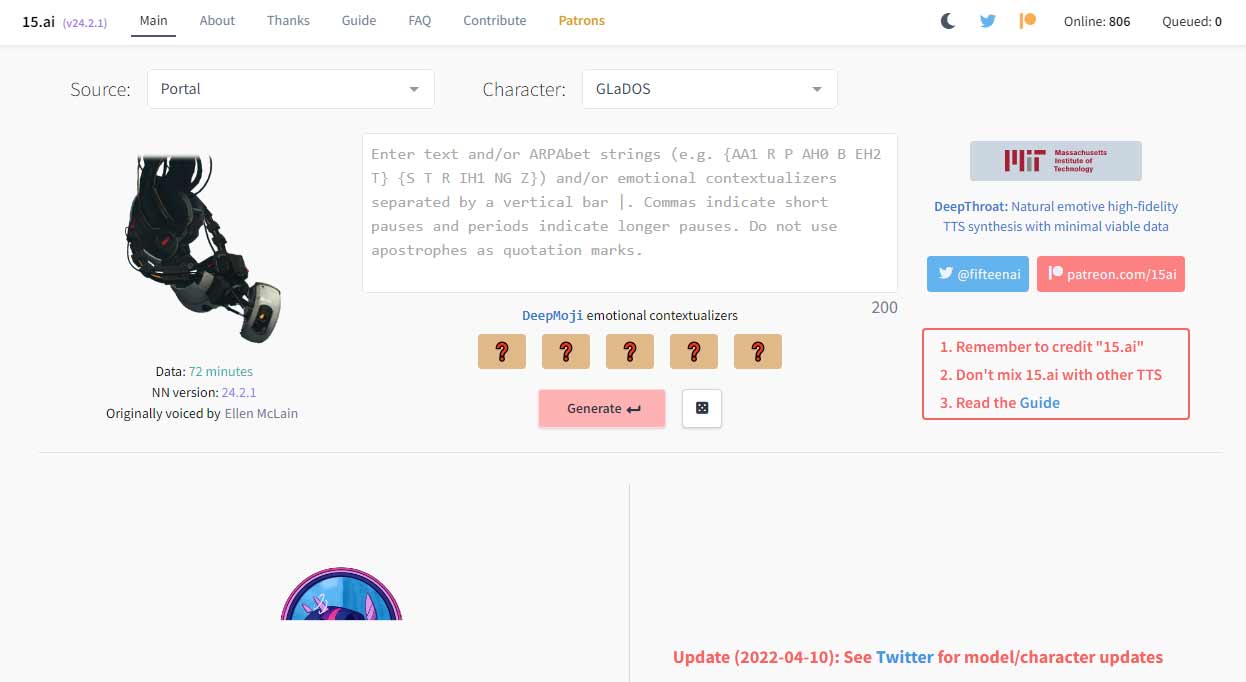 It is an AI-powered text-to-speech generator that you can use to create audio files for your content. It works in a number of different languages and is easy to use, with a simple interface that allows you to drag and drop your text into the text box and choose from a number of different voices.
Since it is a free speech-to-text website that allows you to generate audio from text and then convert that text into a cartoon's voice.
You can also use it to make podcasts, record a voice memo on your phone, or even use it to generate new content for your blog.
Part 2.

Top 3 SpongeBob Voice Changer for PC

If using an online platform to generate SpongeBob voice is not convenient for you, then you can use these top 3 SpongeBob voice changer PC tools.
1. UnicTool MagicVox
UnicTool MagicVox is one of the best voice changer tools for PC. It comes with a lot of features that make it stand out from the crowd of other tools.
It is a voice changer for PC that can be used to change your voice in real-time. It has a wide range of fun and funny effects that you can apply to your voice, from Darth Vader to SpongeBob. You can also use MagicVox to record or playback any audio.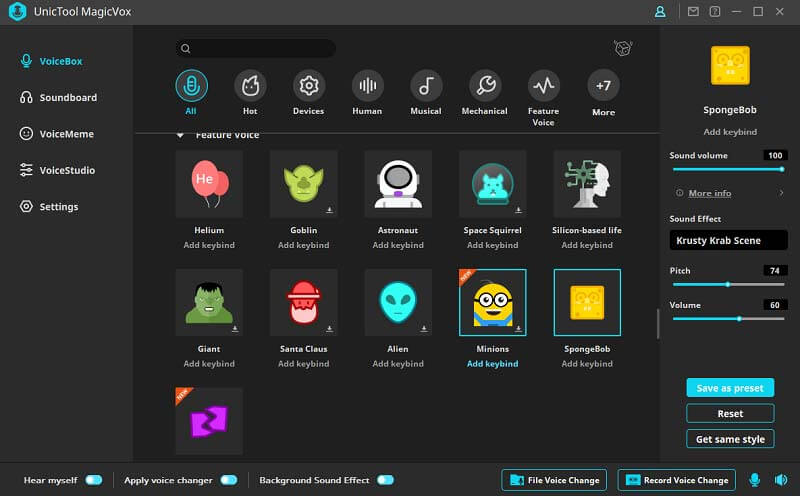 Key Features
It's a voice changer, so it can turn your voice into any sound you want in real-time
UnicTool MagicVox is easy to use, and it has a simple interface.
It supports many different audio formats, including WAV and MP3.
You can change your voice to male or female, old or young.
Choose from over 100 different voices, including SpongeBob SquarePants and many more.
It comes with a built-in voice recorder, so you can record any sound and then change the pitch.
It's easy to use; just open the app and choose your favorite character to start changing your voice.
2. MorphVox
MorphVOX is also one of the best voice changer software for PC on my list. The software works in a very simple way to change your voice into SpongeBob, thought it doesn't have preset SpongeBob Voice Filter, but you can use the custom voice feature to make your sound like SpongeBob's voice. The interface is quite easy to understand and use. You can change your voice by using this software and have fun with it.
The best part about this software is that it comes with many different voices that you can choose from. You can even record your own voice and then change it into any other voice that you want.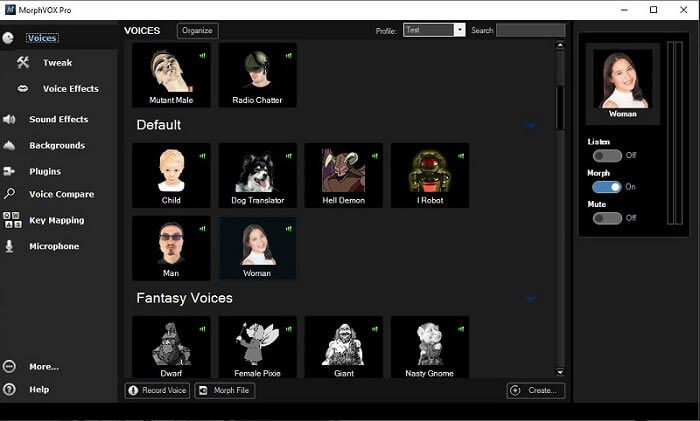 Key Features
It allows you to alter the pitch of your voice in real-time and add effects such as echo, distortion, and more.
It has a built-in feature that allows you to easily record your voice and change it into anything you want, including Robot, Animal, Cartoon, etc.
It can change your voice to male, female, child, old person, and many other voice styles.
It has a huge library of voices and character voices, including SpongeBob. You can also record your own voice with MorphVox and use it as a new character.
It has a very easy-to-use interface that lets you change your voice with just a few clicks. You can use MorphVox to record and edit audio files as well as use it in games and other applications for real-time SpongeBob voice changer.
3. Voicemod
A common video editing software, Voicemod is another good SpongeBob voice changer software that allows you to change your voice into anything, all you need to do first is use Voicelab to adjust the pitch and add voice filters to your voice. It allows you to change your voice to sound like a different gender or age range, which is great if you are trying to fool someone into thinking they are talking to a cartoon, older person, or a child.
It comes with an incredible selection of pre-recorded effects, so you can sound like a robot, an alien, or even a video game character.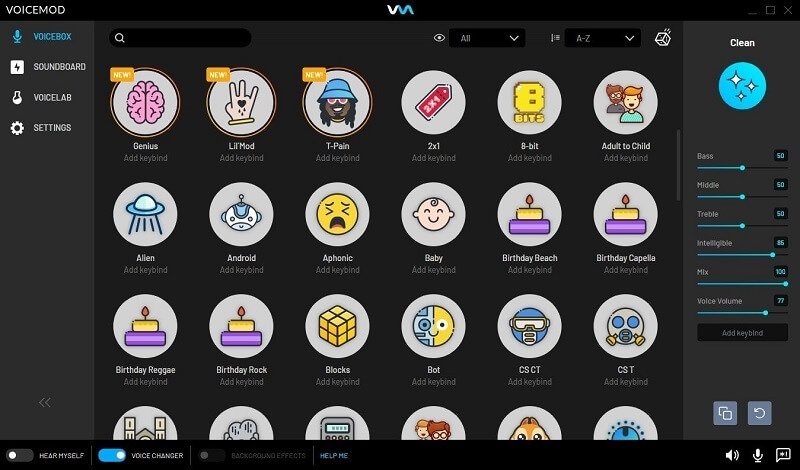 Key Features
It is compatible with almost any game or app on your computer to change your voice in real-time.
You can personalize your voice by using filters to add reverb, pitch changes, echo effects, etc.
There are more than 50 different voices to choose from while changing your voice.
The software has a very simple interface, and it doesn't take long to get used to it. You can easily change your voice in a couple of clicks, although the results may not be perfect.
However, the software offers a large number of options that can be combined with each other, which can help you get better results.
Conclusion
These are the top 8 SpongeBob voice generator tools that you can use to successfully change your voice into SpongeBob or any other character, cartoon, etc. All these tools have different features, but the most common thing is that they provide a good user experience and accuracy.
But, if you are looking for the best tool to change your voice in real-time, you can consider UnicTool MagicVox. It is a great tool that you can use in the long run.