People often look for ways to make their voices stand out. This can be done by changing voice using Pitch Voice Changers. A huge variety of Pitch Voice Generators is available on the market, making it challenging for people to find the best. If the same is the case with you, we have got you covered!
This article will help you locate the Best Voice Pitch Changer out there this year. It doesn't matter whether you want to sound like the opposite gender or a cartoon character or change the tone or pitch of your voice; voice changers are your best bet! That said, here are some of the Best Live Pitch Voicer Changers you can find: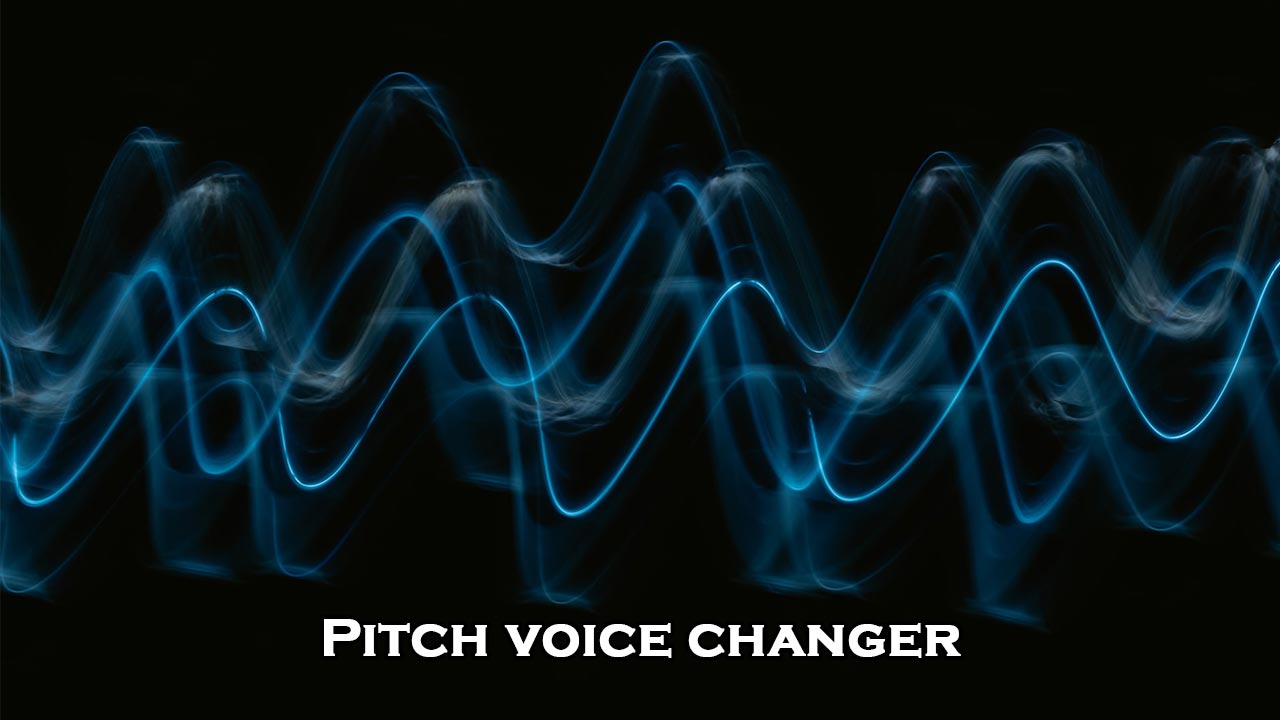 Part 1.

Best Live Pitch Voice Changer Software

Wondering what are the best-of-the-best pitch voice changer software? You have go to the right place! Hop on below to find your best buddy for changing pitch of your voice.

MagicVox is an amazing pitch voice changer and voice-altering software. It features the ability to change the pitch of a voice from male to female or vice versa. It also has a number of other features that make it an excellent voice-changing app.

It comes with a large number of presets for different voices, including many celebrity voices. This feature makes it easy for everyone to find their favorite celebrity's voice and use it as their own.

The app also has some really nice visual effects that can be applied to the person's voice in order to make them sound like they are talking through a megaphone, or on a telephone line, or any other effect that might be desired.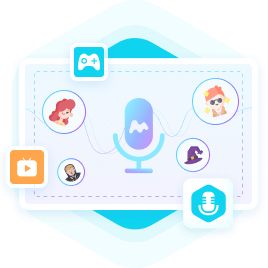 A Real-Time Voice Changer
Alter your voice while gaming or talking to someone online.
Allows you to customize preset voice filters to match your voice better.
Enables you to import your desired voice memes.
125+ Voice effects for one-click voice changing in real-time.
Huge library with 400+ Voice Effects and 150+ Voice Memes.
How to Use a Pitch Voice Changer
Step 1: Download the voice changer.
Step 2: Configure input and output device. From the setting, assign a microphone as input and headphones as an output.

Step 3: Select the platform and go to the Audio Setting, set Voice Changer Virtual Audio Device (WDM) as default input device.
Step 4: Select the voice filter you like and adjust the pitch and timbre to better match your voice. Or you can use the voice maker to custom a voice to fit your voice better.

Step 5: Record your audio or import the audio file to apply the voice effects and filters.
Voxal Voice Changer works as a high voice changer that can change your voice completely, allowing you to sound like someone else. The idea of the app was born out of the need to have a more personal and private conversation on the phone. This app is not just for entertainment purposes but also for privacy.
This app takes your voice, analyzes it, and then creates a new sound wave to alter it in real-time. You can choose from various voices or even upload your own! The software works on Android and iOS alike.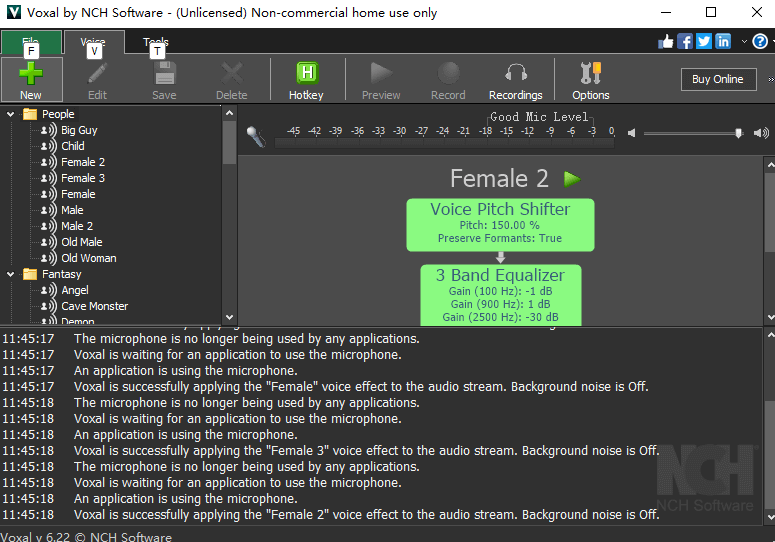 Pros
Works on Android and iOS alike
Multiple voices to choose from
In line with different existing applications such as Skype and Discord, and CSGO
Cons
Only works with macOS 10.5 and above
Clownfish is a high voice changer software that allows you to alter your voice. The app is not just for entertainment. It can also be used for business purposes and for people with disabilities who may need to alter their voice in order to communicate easily.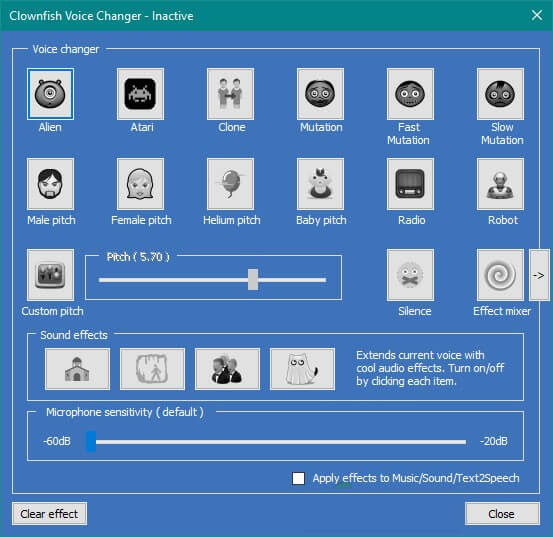 Pros
Enables you to sound like someone with a different accent
Comes with a sound player with built-in sounds and management
Can work as a mic pitch changer on different games
Cons
Some may find working on the settings of this software a bit difficult
Part 2.

Best Voice Pitch Changer Online

Voicechanger.io is a voice-changing app that lets you change how you speak directly via the Internet. It offers both male and female voices, and you can also modify the pitch of your voice to make it sound higher or lower. It is a great way to have fun with friends, prank call people, or change your voice for the day.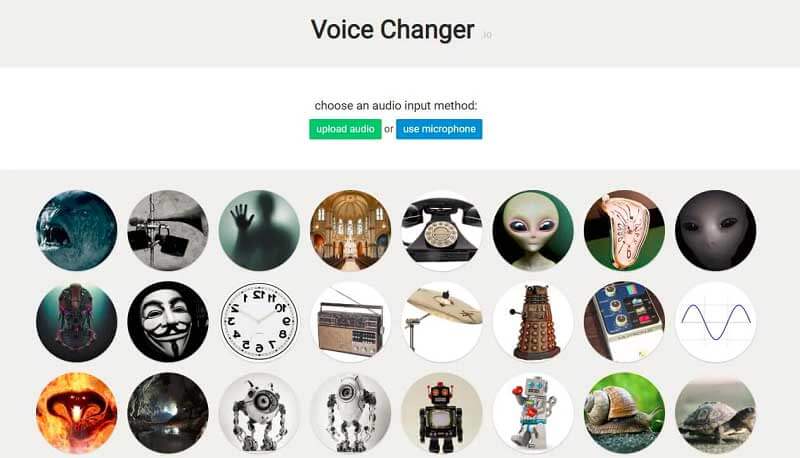 Voicechanger.io is one of the most renowned voice changers on the Internet, with several million users. The app also has a built-in echo effect that makes it sound like you are in a tunnel or talking from behind a wall.
Pros
Availability of realistic voices
No need to credit the website, if you want to use the output audio for personal use
Cons
Doesn't enable changing voice on gaming, chatting, etc., apps
Lingojam is a free online high voice changer. It can completely alter your voice to any language spoken in the world. You can also make your voice sound like a different gender or someone of different age. Moreover, it can be used to prank your friends by changing their voice to sound like an old man.

Lingojam is a free and easy way to change your voice to different accents. It provides the user with a list of over 100 accents, enabling them to choose one that best suits their needs.
Pros
Has a straightforward interface
Can be used for practical purposes within the workplace
Cons
Output audio files can be saved only in .WAV format
Part 3.

Best High Pitch Voice Changer Applications

Looking for the best pitch voice changers apps? Some of the most notable ones are listed below:

Voice Changer - Audio Effects is a mic pitch changer that allows you to alter your voice instantly. The app has a variety of presets but also enables users to create their own custom voice. It is available for both Android and iOS operating systems.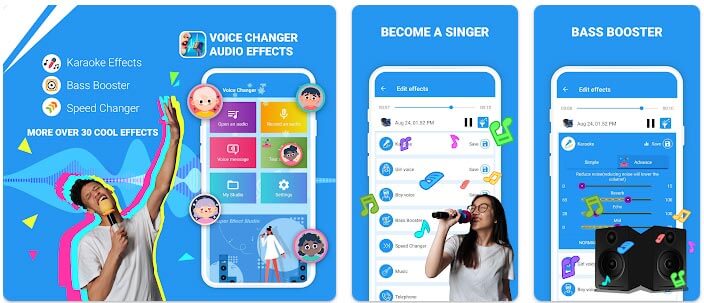 Voice Changer - Audio Effects has the ability to change the pitch and gender and add other effects to your speech. You can also change the speed of your speech or record audio messages and play them back at different speeds.
Pros
Can help you mask your identity
It's secure to use
Cons
May encounter occasional crashes
Voice Changer Plus is an application that allows you to alter your voice instantaneously. It is the perfect tool for prank calls, sound effects, and more.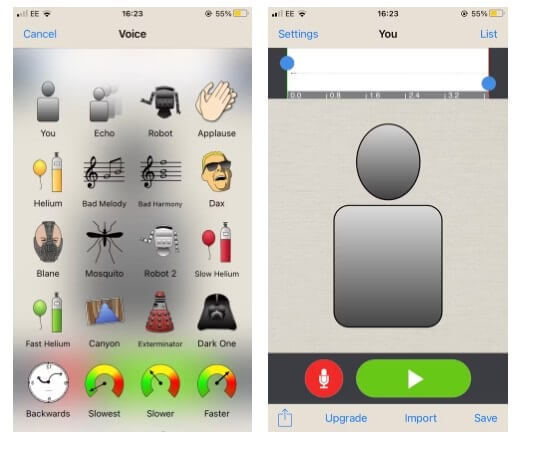 The app has over 50 different voices and includes the ability to add echo, reverb, and distortion effects. It also allows you to save your recordings as MP3 files so that you can share them with your friends or use them for other purposes.
Pros
Enables you to save your recordings
Can also open saved recordings to layer more effects
Gives trim control
Cons
Lack of voices of different cartoon characters
Conclusion
All in all, if you're looking for the ideal pitch voice changer, MagicVox may be just what you need! The voice-changing software doesn't just allow you to change your voice in the form of different characters completely; it even enables you to create your custom voice.
For instance, you can create your voice for your avatars in games such as Dota 2 through UnicTool MagicVox. In this way, the use of this software can be both fun and resourceful, depending on how you use the software yourself.