Are you looking to hit your friends with a mischievous activity that is harmless but can hilariously wreck your friend to the core? Prank Calls are the answer. It is a super hilarious act that you can pull anytime, anywhere. Since the age of technology, prank calls have received a lot of popularity and attention. You'll see people everywhere using prank calls to their advantage.
But there is a bit of an issue. You cannot prank call your friends in your voice, as the idea is undoubtedly outdated. Don't worry! I guess you might need a "voice changer superhero." Tons of prank call voice changers will be the "perfect prank partners" for you.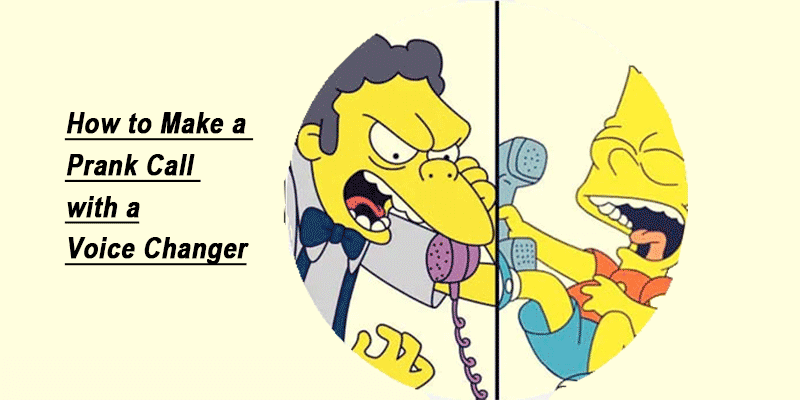 Part 1.

Top 5 Prank Call Voice Changer Apps for Android and iOS

To save you from the trouble of endless searching, we've put together a list of top 5 prank call voice changer apps that are useful and fabulous.

On the top of the leaderboard, we got a prank called the voice changer app by Ownage Pranks. This app is created by none other than your favorite prankster Ownage Pranks, who has over 5 million subscribers on his YouTube channel. It is a lifesaver for Ownage Fans as they can impersonate his unique voice-changing ability in his videos.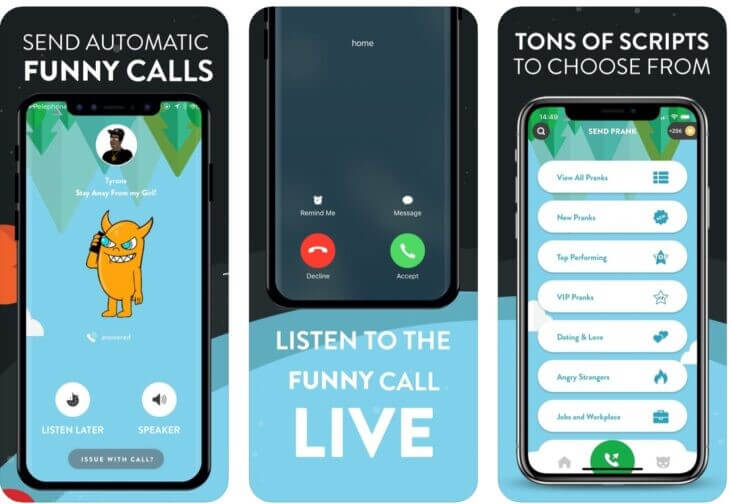 Not only that, but the app also has a rating of 4.3 and over a million downloads, which makes it ultimately the prankster's favorite. Once you install it on your phone, I bet the fun will be limitless.
Can't think of fake scenarios to pull out the prank? No worries! This voice changer prank call app has all the pre-recorded calls that follow a particular plan that you get to choose. All you need to do is select the contact that you want to prank, make a call, and see them losing to your wits. The app uses up to $0.99 - $27.99 credit per item.
Key Features
You can easily share your call recording with your friends.
You'll be able to receive free credits on the app every day.
It also has fake environment sounds that you can use to support your prank.
On the second spot, we have MagicCall- a prank call voice changer. Do you want to change your voice on live calls and follow your script? Then MagicCall would be a game-changer for you. It can effortlessly convert your male voice to a female or vice versa.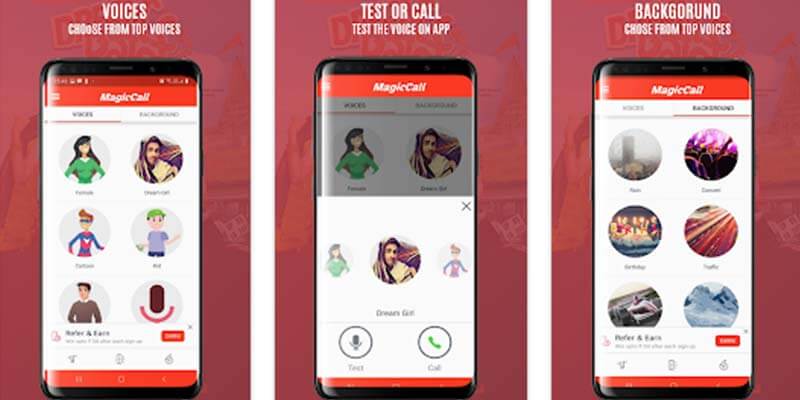 It supports the android systems for five and above. Also, there are plenty of features and voice filters that you can enable when you' re on call. You' ll pay a credit of $0.99 to $199 per item. We also got good news for free users. The app gives you free credit every day, so you stay on the track of pranking.
MagicCall has over ten million+ downloads on google play and a rating of 2.3. The best feature of the app is yet to discover. The app can allow you to change your voice in the middle of the call!
Key Features
It is available for both free and premium users.
You can even sound like a cartoon on a call through the slightest touch.
There are tons of different voices to choose from in the app.
It can be a bit expensive for users as the call time on a free credit is only 90 seconds.
Voice changer with effects had to be on the top 3. You cannot ignore that this app has over 100 million downloads on google play with a tremendously positive response from the audience, which is why it has a rating of 4.4 on google play.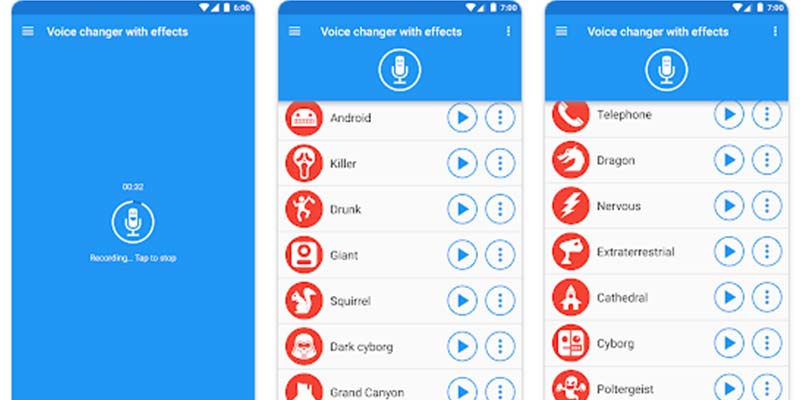 You can add different variations through sound parameters that will help you adjust the tone of your voice effortlessly. The impressive aspect of this prank-called voice-changing app is that it has numerous voice filters; you can have your pick based on your preference.
It requires an android system of 4.4 and up. Also, the price per item starts from $2.99, which is relatively cheap. It doesn't have a live prank call option. So, for calling your friends, you'll need to pre-record your voice in your chosen effect, play it during your call, and see your victim falling for your prank.
Key Features
You can edit and adjust your voice when required.
Your voice can be layer with various filters that can covert your voice to a robot, an alien, a gender swap, and more.
It is comparatively cheap.
Sadly, this app is available for Apple users only. However, you can use the previously mentioned applications on your phone. The app is considered the number one prank call voice changer. It has a mind-blowing rating of 4.8 on the apple store.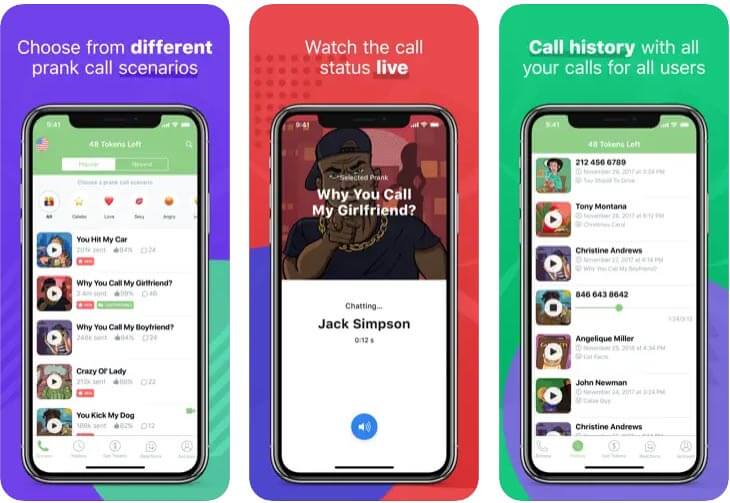 If you wish to follow a scripted scenario, then this one is best for you. The app contains 100+ scripted prank calls you can use to your advantage. PrankDial supports the 12.0 and up users of IOS. Also, unlike other apps, it lets you call a day thrice absolutely free.
Even though the three calls per day are enough for a single user, if you wish to call with your credit, there is an in-app purchase that varies from $2.99 to $25.99.
Key Features
It is well known for its efficient developer support as users hardly encounter any bugs.
Despite being on the apple store, the in-app purchases are pretty affordable.
It has a size of 78.6 MB, which can be a bit too heavy for some users
Last but not least! We got another IOS-supported app on this list for our IOS users. The best thing is that you can choose their trending scenarios like "Why did you call my girlfriend" to pull a prank on a stranger effortlessly.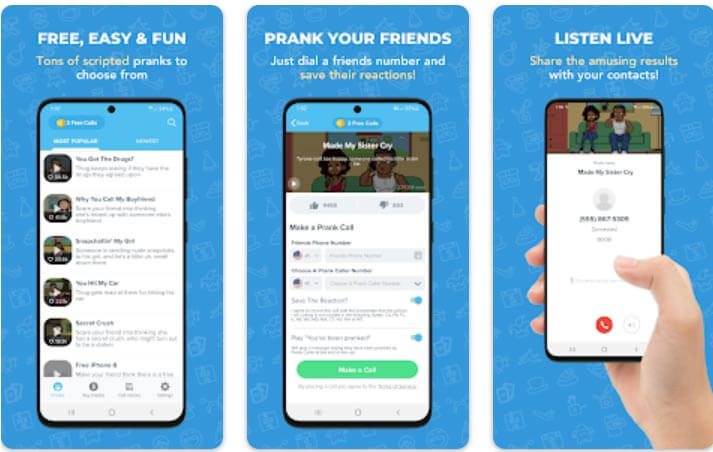 Like Prank Dial, Prank Caller allows you to get a 3+ free voice call experience daily. To the users who want to try out an IOS app with the comparatively same features as the Ownage Pranks app, install Prank Caller for yourself now.
It has a wide range of 150+ prank calls. Also, new jokes are updated daily. Isn't that amazing? It requires a 12.0 and above version of IOS and an 11.0 and above version for the app. With a rating of 4.8 and a top-notch swift developer's support, we can truly understand why it is one of the most famous prank calls voice changer app.
Key Features
There are countless witty scenarios to choose from in the app.
If you aren't confident using your voice, let Prank Caller take the hold.
It is mainly for a free audience. However, the in-app purchase has token packages that range from $3 to $4.
Part 2.

How to Make a Prank Call Tutorial

Using the Voice Changer Prank Call App by Ownage Pranks is simpler than you think.

In this section, I'll guide you on how to change your voice for a prank call and pull off a great prank that'd be worth remembering on your friend!
1

When you open your app for the first time, you'll be asked to log in by either connecting it to your Facebook or signing up directly from the app. A third option says "Sign in as a guest," but that is pretty useless as you'd have to be logged in properly with an account to make any actual calls. On top of that, you'll get three free credits once you sign up, which will later be used to make calls, so be sure to use them smartly.

2

Once logged in, you can choose from hundreds of pre-recorded scenarios that fit your liking.

3

After you've selected your prank, all you have to do is enter your victim's phone number and press "send prank."

4

Once you've sent the prank, all you must do is now sit back and wait for him to pick up and record his reaction!
Part 3.

The Best Voice Changer for PC Users- MagicVox

I specified all the apps mentioned above for our android and IOS users. That being the case, may I present you with the best voice changer for PC, UnicTool MagicVox. I'm pretty confident that I said those words because MagicVox owns it.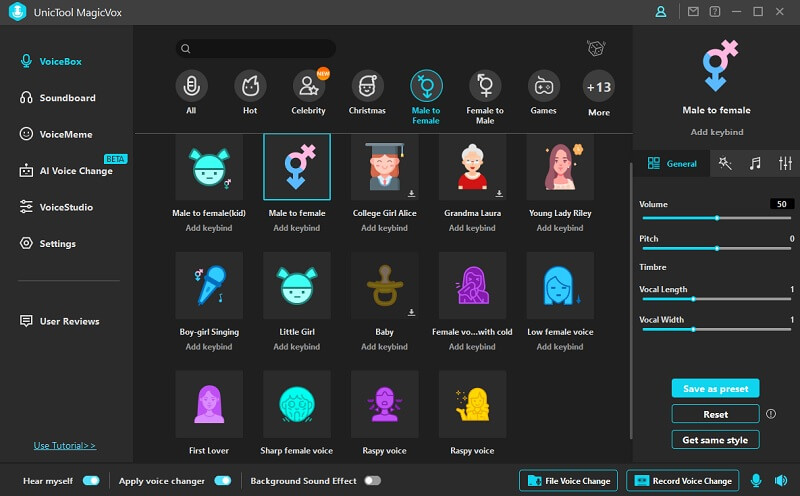 Despite being a not very popular app, the features of the app will blow your mind. MagicVox doesn't have the outdated, edgy, dull outlook like regular voice changer apps. It has an eye-catching and appealing design that will not bore you even after years of use.
In addition, you can unlock up to 300 voice effects that no other voice changer offers. It is compatible with your favorite games like Fortnite, League of Legends, and more. You can enter a gaming chat room like Discord and Twitch to blow everyone's mind.
It offers a real-time voice change, whether it is an online streaming or a pre-recorded video. The keyboard shortcut keys will save you from a lot of mouse fatigue. Do you wish to get studio-like audio settings on your PC? The "Sound Studio" feature is what you need. With it, you'll be able to adjust your voice through perfection with several sound-adjusting parameters.
Conclusion
I want to wrap up this article by claiming that prank calls can be endless fun and amusing experience. Plus, it is safe. So, it is worth giving a try to unlock your mischievous might.
I made sure to skim through the prominent features of our top 5 apps. Also, MagicVox is an honorable mention that I couldn't add to this article because of its restrictions of staying to the point, but I'll do it anyway. It is technically a carbon copy of MagicVox, which was mentioned earlier.