It's fun to change your voice when playing games, such as changing your voice to VRChat. A good voice changer for VRChat program will help you do this. Many people also use VRChat voice changer to play pranks on their family and friends by VR Device like Oculus Quest. To fool others, the majority of users use voice changers.
VRChat is nothing more than an online virtual reality multi-player game that brings many benefits to the global community. Here are the top 5 VRChat voice changer applications. These voice changers can effortlessly change the voice from female to male and create robot voices, animated agents, etc.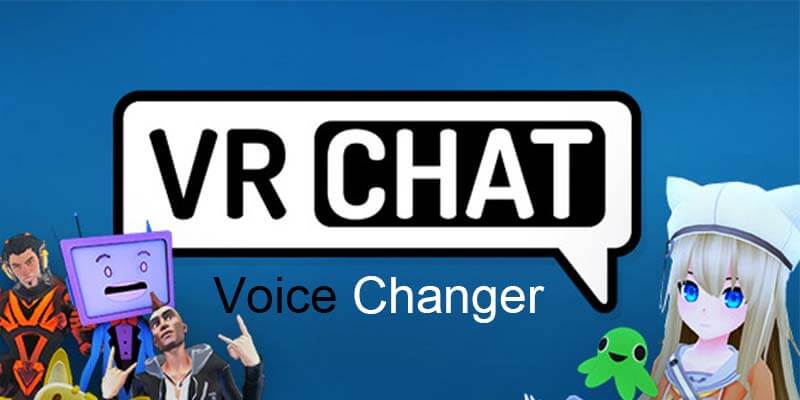 Part 1.

Best VRChat Voice Changer for VR Games
1. UnicTool MagicVox
MagicVox software converts voices by using a hundred filters for voice on VRChat. It can transform voices into the radio voice of men, women, and even babies for Gaming and Live platforms. Voices and sound effects are built-in too. Users must select an appropriate audio sample and then apply it.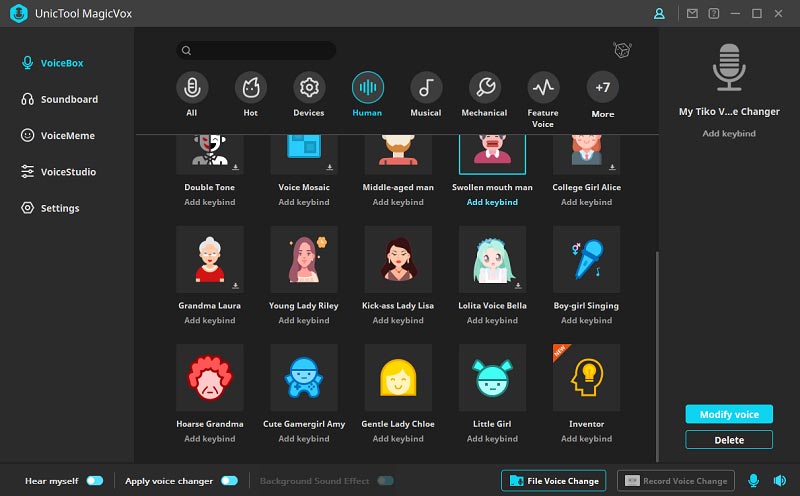 Voice filters can be used to play background music, allowing you to alter the mood and make the voice effects more vivid. MagicVox includes more than 300 radio effects from voice changers that can enhance the ambiance. It allows you to utilize hotkeys to control playback, delay, and playback of sound effects without interruptions while playing.
MagicVox allows you to upload your audio files quickly in WAV or MP3 format to create your sound effect collection. It has 150+ famous voice emoticons to fulfill your varied requirements. If you're interested in making funny things such as this, then MagixVox is an essential tool. It provides voice memes that can be used in Discord games, Gaming, or live streaming that will increase the fun. It also lets users download their favorite voice memes in a flash.
Pros
Easy to use
It allows you to improve your voice
You can create unique and distinctive voice recordings in only two clicks
Cons
Good game; however, not so great for Gaming.
2. Voicemod
The Voicemod application includes a soundboard designed exclusively for VRChat voice changer. It can transform the voice into a girl, spaceman, robot, or other—online Chat or gameplay in real-time. The voice changer works on Discord, Skype, Viber, VRChat, and games such as Apex Legends, LOL (League of Legends), Fortnite, and Minecraft.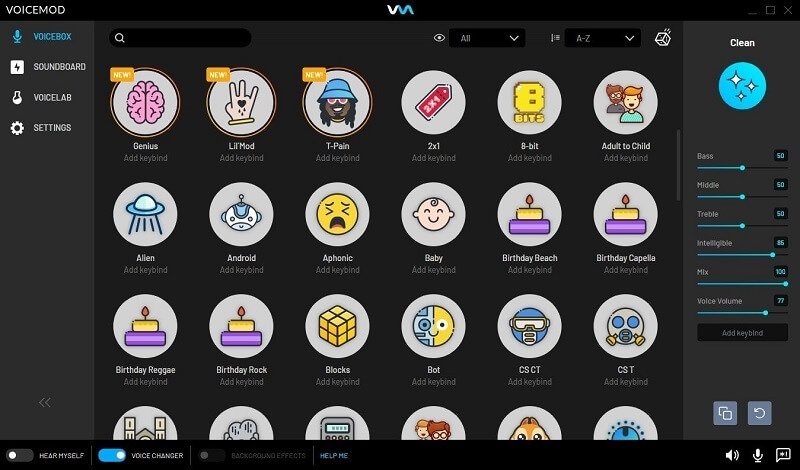 There are 42 effects for the voice you can pick from in Voicemod. Only seven free products are available if running the program's trial version. It can also function as a soundboard program for Windows, and you can discover funny meme sound effects and fun note sound buttons. The most fun software for playing and talking on the internet, Voicemod is a free voice changer for VRchat program for online Chat on Windows.
If you're using this program to alter your voice in real-time and it sounds great, it is. It sounds fantastic if you're using it to change your voice recorded. In reality, the article could be focused on searching for a voice changer to replace recorded voices. Instead of getting a voice changer for free for live Chat on Discord, VoiceMod will be the winner by a substantial amount.
Pros
The voices you create are great
Professionally designed and simple to install
Flexible and versatile with a variety of applications
Cons
The free version blocks too many of the features.
3. MorphVox
MorphVOX is a renowned VRChat voice changer with some exciting features. You can download it free of charge since it comes with a MorphVox junior version for the free version. MorphVox is voice-changing software that integrates with online games and VoIP or Instant Messaging applications.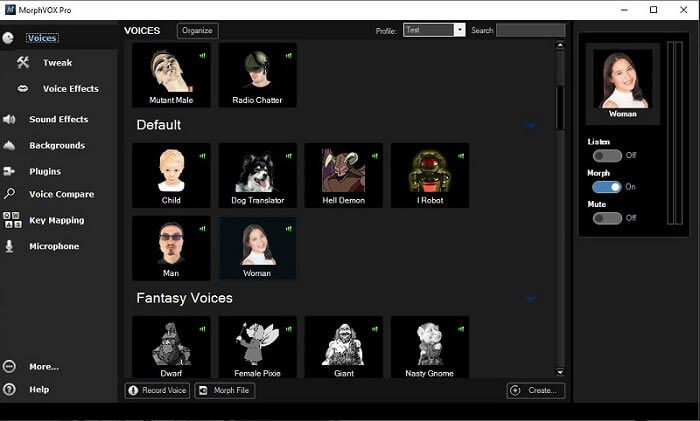 There are five kinds of voices that you can pick from, including male, and female fantasy characters, the voice of fury, and sci-fi celebrities. Through the MorphVox, the voice changer for VRchat allows you to communicate with your online friends, play games in which you're a different person, or even create background music to appear in a mall or the road.
However, it also offers MorphVox Pro with a premium version. It allows you to change your voice instantly and with incredible impact.
With various options, effects, and built-in sound, the voice changer on discord PC is among the best available. It might have been at the top of the list had it not restricted some of its functions to the premium version. Its free edition is decent. However, it's not as great as the paid-for version.
Pros
Utilizes only a tiny amount of bandwidth and CPU power
Sound effects that to add to the mix
Custom shortcuts make the use of this tool simpler
Cons
Paid-for subscriptions are costly
4. Clownfish
If you search for an effective Voice changer that works with VRChat, Clownfish Voice Changer will meet your expectations. With this fantastic software, users can change the audio's voice using any App they like.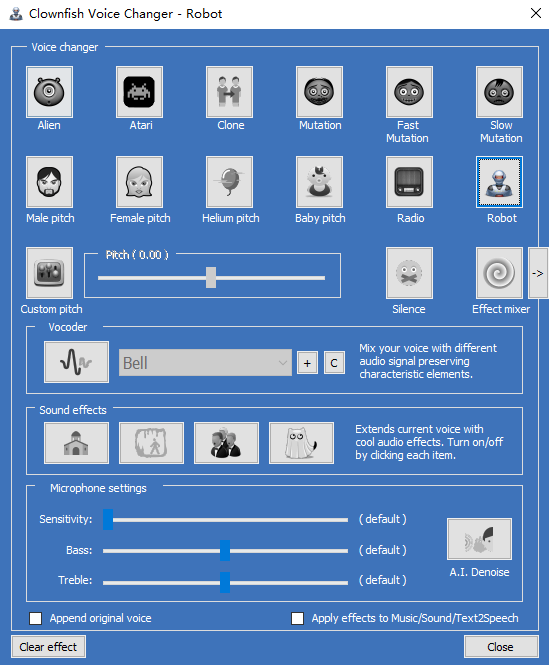 The supported apps include Discord, Skype, VarChat, and Viber. You can utilize it to alter your voice into the form of a stream. Its installation process is complicated because it provides an easy-to-use service to all its users.
Its Clownfish voice-changer for Discord is simple; however, it's worth it to make things easy. It's not a fancy tool. However, it does everything well. It is excellent with more features or voices, but this isn't a huge issue. It also provides an audio playlist to include background music to your microphone and a voice assistant that can turn the text you type into speech.
In short, it's software for changing voice on the mic that integrates with Skype, Steam, Hangouts, ooVoo, Viber, Ekiga, Jitsi, Ventrilo, TeamSpeak, and Discord on Windows PC.
Pros
There are 14 different voices to pick from.
You can play pranks on your friends by switching your voice.
It's freeware and doesn't need a subscription for free or sign-up for an account
Cons
Voice effects with limited voice quality to pick from.
5. Voxal Voice Changer
The most effective and free voice-changing software on Windows includes Voxal Voice Changer. The fantastic program is entirely free, has excellent recording quality, and has a pleasant interface that allows users to cut down on editing time. It also functions as a voice changer that provides fantastic services to its users. VRChat users are using it to change their voices.
This program has a variety of fantastic effect features and powerful voice choices. It permits you to switch the female voice into a male voice and reverse it. A smooth interface is essential to voice changer software since it can save users an extended learning time and allows them to edit their voice in a matter of minutes. This program can alter your voice while you speak, i.e., in real-time. It is instrumental when you are making live phone calls.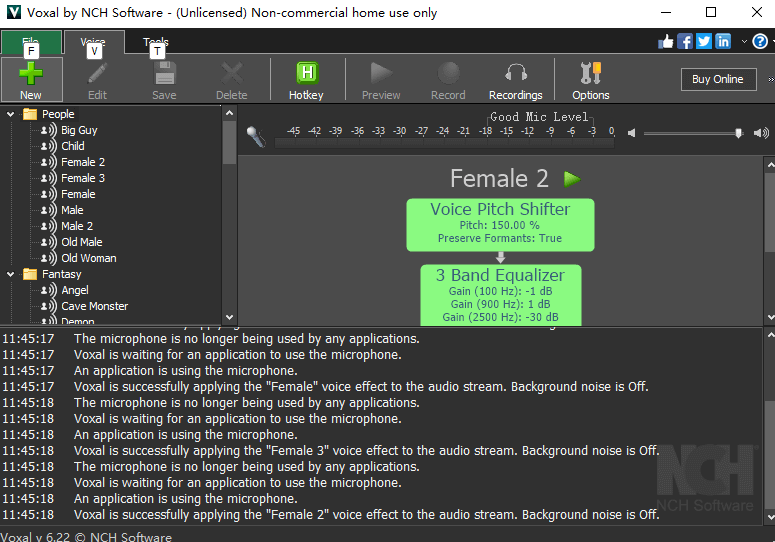 Additionally, they offer a variety of options for voice modification. From the classic pitch changing options to natural voice, you can pick among various options depending on your needs, from male to female or the robot-like version; you can find different options within this excellent software for changing voices.
Pros
Has a low usage of CPU
The interface is pretty simple to grasp.
Effects can be added to recordings and live voices
Cons
The compatibility of Steam games to Steam games is not guaranteed.
Part 2.

How to Get a Voice Changer for VRChat
2.1: Step by Step Tutorial to use VRChat Voice Changer
Step 1:

Open MagicVox from UnicTool

The UnicTool MagicVox should be launched, and the primary microphone should be selected as the input device.

Step 2:

Select sound effects

Select the Sound Effects option in the left-hand menu and select your favorite sound effect. There are over 190 sound effects available. Choose them and use them on any live stream, video game, or Chat application.

Step 3:

Use the critical bindings and select defaut input device for easy access.

You can add your favorite sound effects as a list and keybind them when you need to access them quickly. Navigate to Setting- Microphone- Voice Changer Virtual Audio Device (WDM)

Step 4:

Open VRChat and enjoy fun

Now you can paly VRChat and have fun with MagicVox.
Note
When you don't want to use Voice Changer on your gaming or real-time chatting, please remember to set your real microphone as your default input setting.
2.2: Changing your Voice in Real-time on VR Games
Step 1:

Download, install and run the UnicTool MagicVox

Please download and launch the UnicTool MagicVox program by following the wizard instructions. Is this your first usage of the program? Following the setup instructions will be of assistance to you.

Step 2:

Assign input and output devices correctly.

You must select the input and output to use this voice changer tool. Choosing a microphone as the input and headphones as the output would be best.

Step 3:

View the lists displaying the voice-changing effects.

Once you have selected your favorite voice filter, speak into the microphone. Please pay attention to how your voice changes as it comes out of the headphones. If the MagicVox voice changer does not function, you can follow the three steps to resolve the problem.
Use the MagicVox in Various Environments to Change your Voice with Sound Effects.
It is possible to change your voice on various gaming platforms and Chat environments, such as Fortnite, PUBG, Discord, Skype, Twitch, etc. To do this, please enter the following information.
1. Please reveal the App requiring the MagicVox sounds and enter the voice settings.
2. Set the input device to Microphone (Voice Changer Virtual Audio Device (WDM)). Take advantage of the 190+ sound effects available on different platforms, including games, chats, and live streams.
Conclusion
Sometimes the voice changer for VRChat can let you have amusement with your pals. When the discussion of VRChat is on the table, the importance of a voice changer grows more. It is possible to use the Voice Changer to have fun on VRChat.
We've examined five interesting VRChat voice changers which can make your experience much more enjoyable. MagicVox is one of the most-loved free software for changing voices. If you have different suggestions for the best voice changer software available for Windows, please share them by commenting below.