This is a virtual reality headset that brings the player to the Metaverse of Meta. With the passage of time, it is getting hype in the gaming world. Similarly, the requirement for complementary software is also increasing.
This VR headset allows the integration of a voice changer to change the voice in live call or streaming. Change the voice in real-time and use it in Meta horizon world, VRChat, Rec Room and others.
This article aims to analyze some of the best Oculus Quest 2 voice changers to make your selection easy.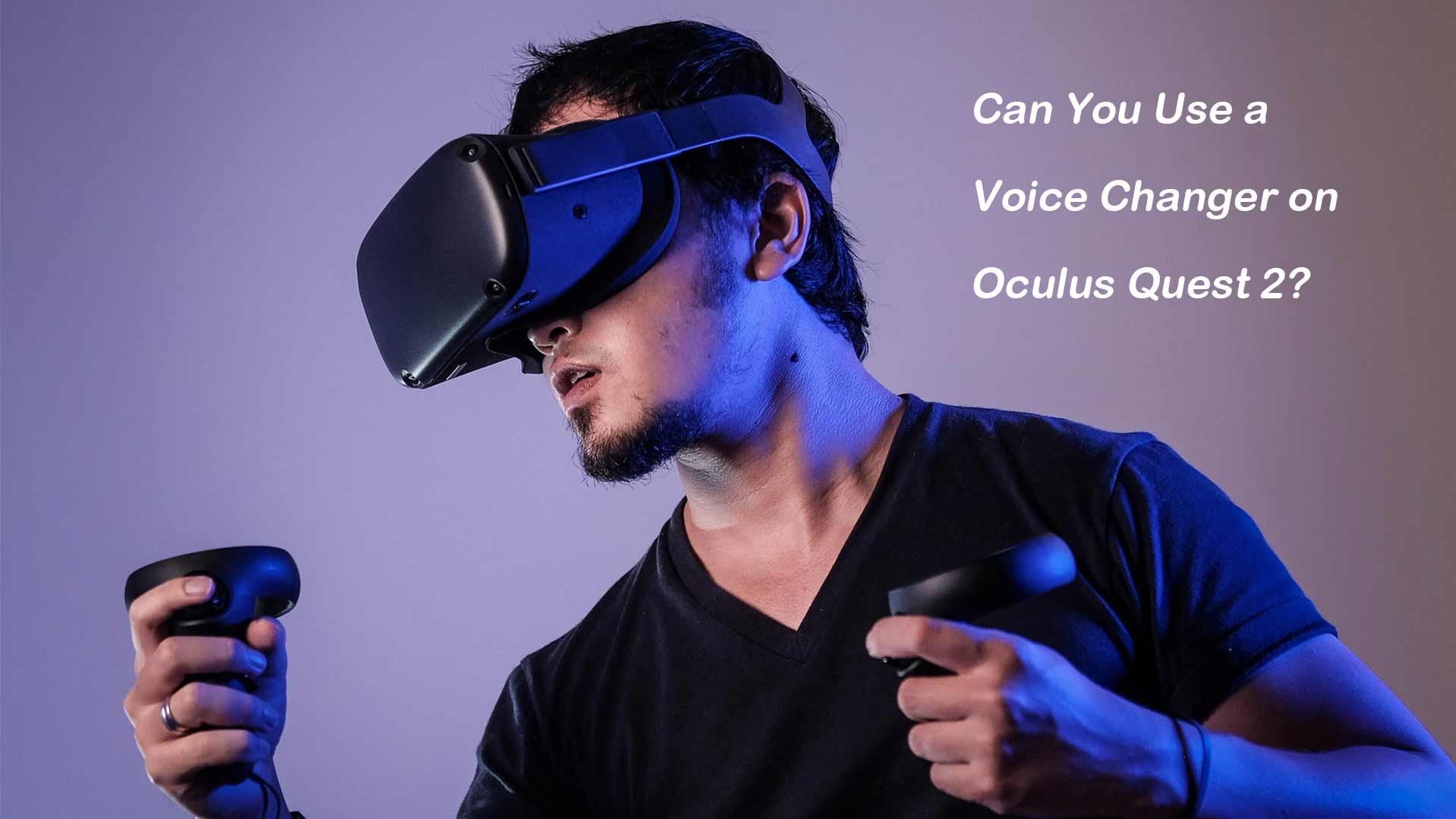 Part 1.

Best Voice Changer for Oculus Quest 2

Virtual reality chat is nothing more than a VR game that offers a lot of positivity across the world. Utilizing the platform, you can connect with different people worldwide and even play euphuistic games with Oculus Quest 2. Let's discuss some best Oculus Quest 2 voice changers to enhance euphoria.

Unictool MagicVox is the best, simple and highly functional Oculus Quest 2 voice changer, which is ideal for both beginners and amateurs. It is a powerful and dedicated voice changer that offers more than 200 predesigned voice effects for windows only.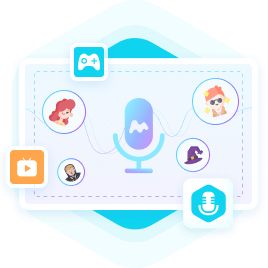 A Real-Time Voice Changer
Abundant sound effects: This application features more than 100 sound effects imitating people, animal characters, the environment, and so on. It brings the VR gaming time to the next level of energy.
Huge Library of filters: This Oculus Quest 2 voice changer offers a massive library of voice filters, for example, robot, alien, chipmunk, ghost, and many more.
Customization: With mere or full customization to create your tailored voice with MagicVox voice studio by adjusting in settings like pitch, frequency, etc.
According to the game, the player can select the voice of the girl, boy, robot, alien etc. the voice changer for Oculus Quest 2 offers a real-time voice transforming opportunity. You can also change the voice according to the need and make VR playtime exciting.
Rating: UnicTool MagicVox receives a rating of 4.5 out of 5.
User Experience: The software has been ranked number one due to its excellent interface, modest pricing, and high functionality.
Voicemod known is a well-known voice changer with worldwide popularity. It is highly compatible and integrates easily with almost every device, including Oculus Quest 2. It features a huge library of preset filters to simplify voice transformation. It has a wide range of filters and background voices. Moreover, you can also express your creativity by designing a hilarious or daunting voice. If you want to make the game time a fun time, do not overlook the Voicemod.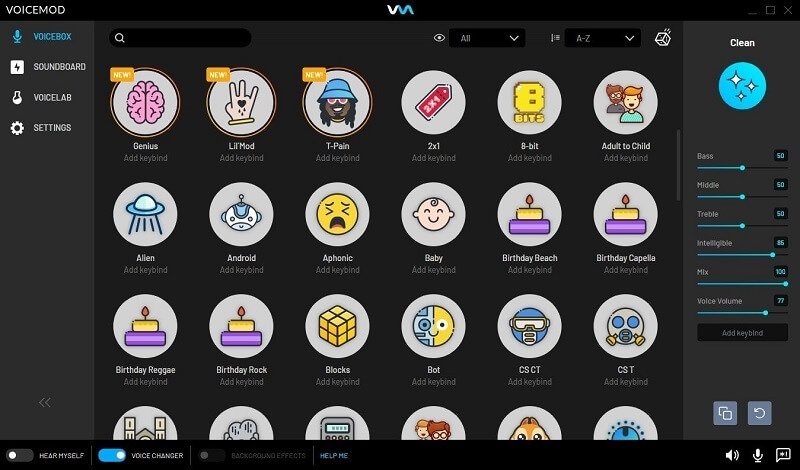 Key Features
Automatic integration: Once you connect the device with the software, it will automatically select the microphone as the input device by default.
Live voice change: The Oculus Quest 2 voice changer allows the user to enjoy the game or change voice instantly. There is no need for pre-setting and recording.
Customization: If you do not like and filter and are willing to create one, Voicemod will offer you the opportunity.
Voice library: As a gamer, if you instantly decide to play the game, there is no need to worry about filters. Voicemod will offer a wide range of hilarious and scary filters.
Rating: The software has got a 4.5 rating out of 5.
User Experience: People love this software due to its multiple valuable voices, real-time features, and easy integration. Its high performance and high-quality output give you an excellent experience.
If you are looking for a dynamic Oculus Quest 2 voice changer, fortunately, you have found one. Clownfish will surely live up to your expectations. While utilizing the voice changer, you can modify the voice or audio from any application you are willing to.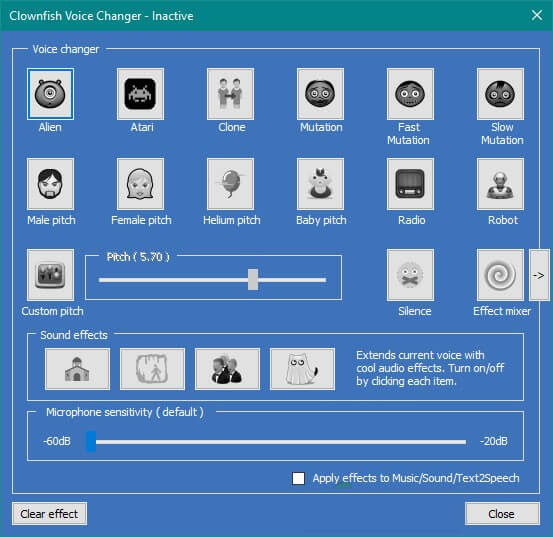 The user-friendly interface is designed for the beginner to navigate easily. However, some people find the installation and downloading process difficult. You cannot only change the voice but also create the voice with desired effects to enjoy the game to the fullest.
Key Features
Compatibility: The clownfish voice change is highly compatible. It connects well with windows to change the effects with time.
Sound player: The clownfish features a sound player that has the ability to play and produce different sounds.
Voice filter: This voice changer offers present filters to change the voice with a few clicks. You can change your voice without any technical skills.
Background voice: You can layer the voice with background music to uplift the mood and environment.
Integration: This versatile software integrates well with Oculus Quest 2 to provide enjoyable game time.
Rating: This amazing voice changer has secured a 4.5 out of 5 ratings globally.
User Experience: The addition of multiple preset sound effects has the Oculus Quest 2 voice changer a favorite of users. It is a good option to have an enjoyable time.
Part 2.

How to get a voice changer on Oculus Quest 2?

As you know the importance of a voice changer, you must select it carefully. If you have come up with one, it is time to integrate it with the VR headset. Follow these simple steps to get your work done.

Before starting the integration process, you need to take some steps. First, connect your headset with the application using a USB cable, or connect it wirelessly through the Side Quest interface. You might need to connect it with a cable before you do this.
Step By Step Tutorial
Step 1: Download the Voice Changer (MagicVox)

Navigate to the official website of UnicTool MagicVox. Click on the "Download" button. The software will start downloading in .exe format. Once the application has been downloaded, complete the installation by clicking the downloaded file. Run it on the computer.

Step 2: Configure Microphone and Headphones on MagicVox

Open the control panel and navigate to the control panel. Select microphone as the input device and headphones as an output device by fault so you will not have to face distortion and unpleasant events.

Step 3: Select the Platforms' Input Device

Oculus Quest has nothing to do with games for input settings. Open the game you want to play with a VR headset. Navigate to audio-video settings and select Voice changer Virtual audio device (WDM) as the default input device.

Step 4: Choose Voice Filter You Qant and Aet Keybind

Once you have done the above step, select the voice filter in which you want to change the voice. Set the keybinds to make additional voice rolling convenient while playing.

Step 5: Enjoy a Changed Voice

After completing the setting, enjoy the virtual reality Metaverse with Oculus Quest 2 and changed voice.
Conclusion
No matter which game you decide to play. It should be compatible with Oculus Quest 2, the vice changers. When it comes to Metaverse and virtual reality, the voice changer can do miracles to enhance the gaming experience. Therefore, you need to select an Oculus Quest 2 voice changer carefully.
Among all, UnicTool MagicVox stands on the top of the list. It features everything the player needs in a voice changer. It is equipped with advanced features and a user-friendly interface. The choice of MagicVox will not disappoint you.