Whenever it comes to voice changers, it is impossible to overlook Snapchat. Snapchat is a mobile application that has rolled into a new feature that allows user to modify their voices without a third-party voice modulator.
Nothing is more fascinating than using funny and cool voice filters offered by Snapchat voice changer, but many users don't know how to use them.
Therefore, this article aims to enlighten different ways to use voice filters on Snapchat. If you want to explore this feature, keep going with us.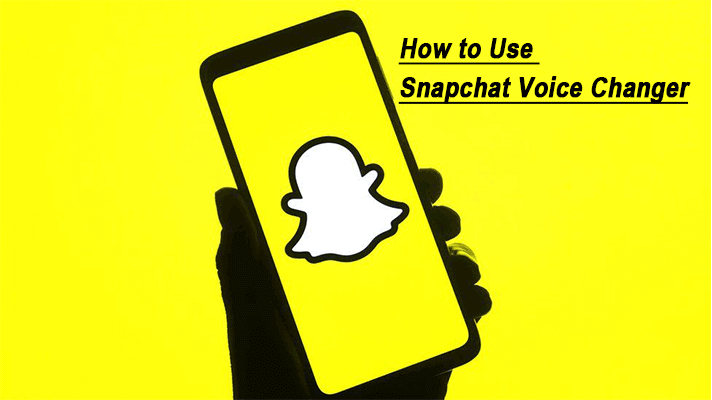 Part 1.

How to Use Built-in Voice Changer on Snapchat Filters

Snapchat is a versatile application with a bunch of face and voice filters that you can add to already recorded videos. Using a Snapchat filter sometimes becomes difficult when you do not know how to do it.

Tips: Download best voice changer for Snapchat to get more funny snapchat filters!

Here is an authentic and practical method to change your voice on Snapchat.
Step 1:

Download Snapchat from the play store and launch it. Double the camera screen to open the front camera. Ensure that your face is not fully or partially covered so Snapchat can detect it easily.

Step 2:

Tap and hold your finger over your face until a white grid pops up. It will activate the Snapchat lens feature.

Step 3:

The filter will be visible at the bottom of the screen. Select the filter. It is your choice; you can also record a video without a filter by holding the capture button.

Step 4:

If the red line appears following the circle's boundary, it shows that the video is recording. Say something to check the filter. Once you are done recording, release the capture button.

Step 5:

Once you have done recording, several other options will appear at the bottom left of the screen. It will also show 'tap to try voice filter.' You can also tap on the speaker icon to utilize the voice-changing filter.

Step 6:

A list of many different voice filters will appear above the speaker icon. Just tap on the filter to check the effects.

Step 7:

Carefully select the filter and tap the blue icon to snare the snap or save button to save the video. You can share the same snap with different voices.
Part 2.

How to Use a Third-party Voice Changer for More Fun on Snapchat

You must be wondering why one should use a third-party Snapchat voice changer when you already have voice modulating features in the application. Right? It is because Snapchat has limited voice-changing filters.

Moreover, you can also combine different voices from hundreds of voices from other voice changers like

Male to Female

.

No matter why you want to choose the voice-changing applications, you need to make sure; you get a hand on the best one. You can try UnicTool MagicVox Snapchat voice changer for free.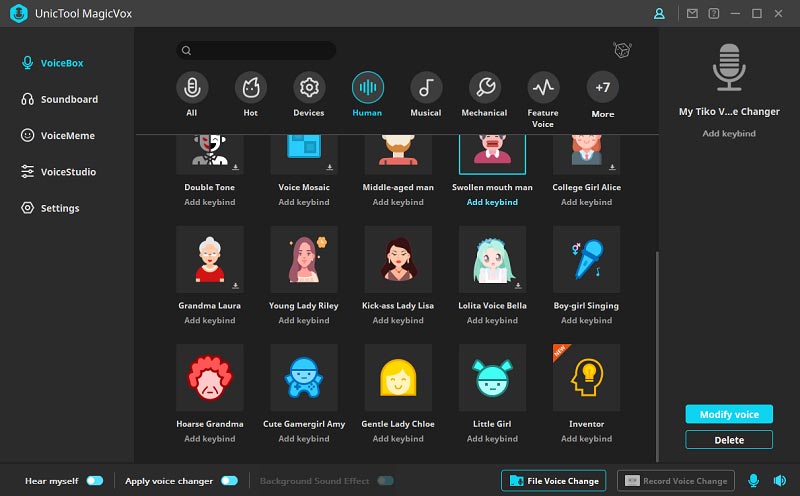 MagicVox is a simple and easy-to-use voice changer with rich features that both experts and beginners alike. This dedicated Snapchat voice changer offers more than 200 preset voice filters for windows.
Features
Features more than 100 sound effects imitating animals, people, characters, environment, and so on.
It offers a vast library of voice effects, for example, male to female, dwarf, minion, Chipmunk, and many more.
It lets you create your own voice with voice studio by adjusting voice settings.

Secure Download
This Snapchat voice changer is real fun. Sometimes the face and voice filter result in a hilarious combination.
Step-by-step tutorial to use UnicTool MagicVox
Step 1:

First, download the MagicVox on your computer and install it.

Step 2:

Once you have completed installation, launch MagicVox on your computer

Step 3:

Configure the audio tools

Step 4:

You can record your voice and change it.

Step 5:

When you want to change the voice for Snapchat's voice, you can extract sound from the video and utilize the audio changing function of MagicVox.

Step 6:

Download the import the audio track into MagicVox add a double click to bring the editing options.

Step 7:

Click the voice changer to apply it to the audio.

Step 8:

After editing, download file and upload back to the Snapchat.
You can follow these steps to change the voice on Snapchat using UnicTool. You will get a high-quality output to give realistic effects.
Part 3.

Tips: Snapchat Voice Filters Gone 2022? How to Fix?

We got some feedbacks from users recently, they complained that they can not find the 'Voice changer/ Voice Filter' on their Snapchat.

Is the Snapchat voice filter gone? We have asked the Snapchat Team, but we haven't get a clear reply for now.

We found the Android Users can still use the Snapchat built-in Voice Changer as we have mentioned on Part 1, but iOS Users will find the Speaker Icon is on the right side and only enables turning audio on/off, it seems they have removed the Snapchat built-in voice changer.
Don't worry, there is a way to fix Snapchat voice changer gone for iOS users, check it below.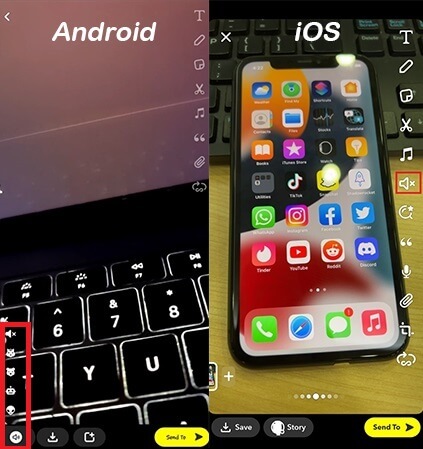 Step 1:

Lauch Snapchat and click the Smile Icon on the right.

Step 2:

When you see a list of Snapchat lenses/Filters, clicking "Explore"

Step 3:

Then you enter a Search Page of Lenses/Filters, input "Voice Changer", you will see many Lense/Filters with Voice Changer effect, it also has a lot of choises for different sounds effects.

Step 4:

Click the Voice Filter you want to use, and then you can create your video with voice changer effect for iOS user.

There is also an obvious defect in this solution, you have to use the lenses to get the voice changer effect. If you only want to use a changed voice without the video filters, you can consider using a third-party voice changer we will introduce next part.
Best Snapchat voice-changing filters
These are the most loved and highly used filters on Snapchat.
Teddy with stars filter: this is a highly popular filter that makes you look super cute. It gives you a pair of cute ears, a little nose, and a pair of glasses. It turns you into a captivating teddy bear.
Glasses filter: it is also a highly used filter that makes your face and nose and faces a bit smaller than the originals.
Possessed pumpkin filter: do you like a pumpkin" let's try it in the filter. It will turn you into a cute pumpkin and actually a sinister pumpkin.
Conclusion
Snapchat is one of the world's most widely used applications. Due to its large number of features, including a significant voice changer and fast and slow-motion, it does not require a third-party voice changer, but if you want to bring the creativity to another level, you will need it.
Among all, MagicVox is the most usable and well-appreciated tool by users. It not only easily integrates with the user but also gives a large number of features to make your own type of sound with unique voice filters.
Don't hesitate! Have a free try on MagicVox now!