Some people use voice changers in games and other online activities quite religiously. This is because they either enjoy the many sounds they can speak in or the fact that they do not want to reveal their identity online.
If you are one such person, we understand how switching computers might be complicated. This is because each system has its conditions for voice changers. If you are someone who switched to Chromebook from another OS, then we assure you voice changers do work here.Here is the list of the best voice changer for Chromebook.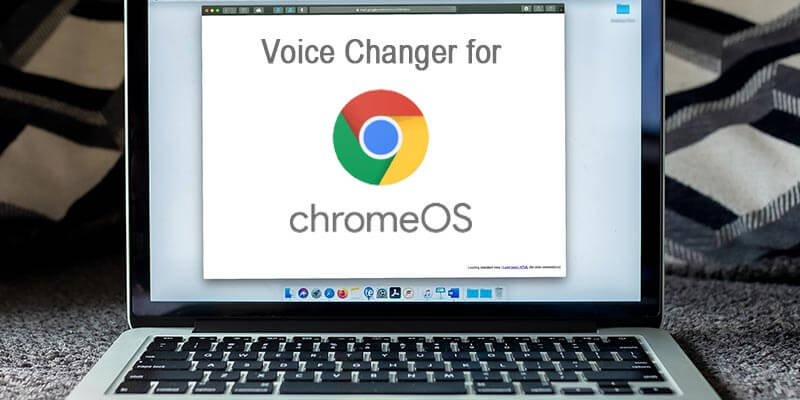 Part 1.

Best Voice Changer for Chromebook Chrome Extension

Chrome extensions are a relatively easy way to change your voice quickly. The click of a button on the extension service is a great way to continue your game or online activities while simultaneously switching between voices. If you are searching for the best voice changer from the Chromebook Chrome extension, then you are in luck. We have gathered a list of the two best voice changers for you.

The celebrity voice changer is one of the top voice changers for chrome extension. It allows you to change your voice into any celebrity you want without impedance. With various voice customization features, it's one of the most viewed and top-tier products among voice enthusiasts.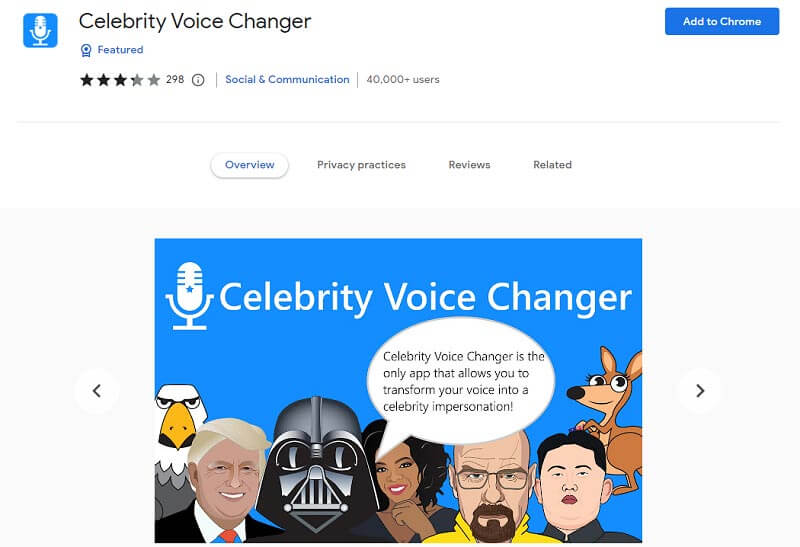 Key Features
Convenient: All you have to do after downloading the voice changer for the chrome extension is to enable your microphone and camera. Then you can select a celebrity you want to sound like, tap on the emoji and record your voice.
Instant: Once the voice is recorded, it takes a couple of seconds to generate audio with the voice changing effect. Later, you can then send these recordings to your friends or use them in real-time while online.
Customize Your Soundboard: If you find any celebrity voice attractive, you can request it inside the app. You will get a response within 24hours. However, for smooth functioning, ensure you have excellent internet connectivity for it to work correctly.
However, for smooth functioning, ensure you have excellent internet connectivity for it to work correctly.
The best part about this voice changer for Chromebook is that it is operable on all systems. Hence there is no doubt it will work on the chrome extension too. As the software doesn't require much space, you'll not have to cater to device storage limitations. Furthermore, it provides access to fourteen different voices too.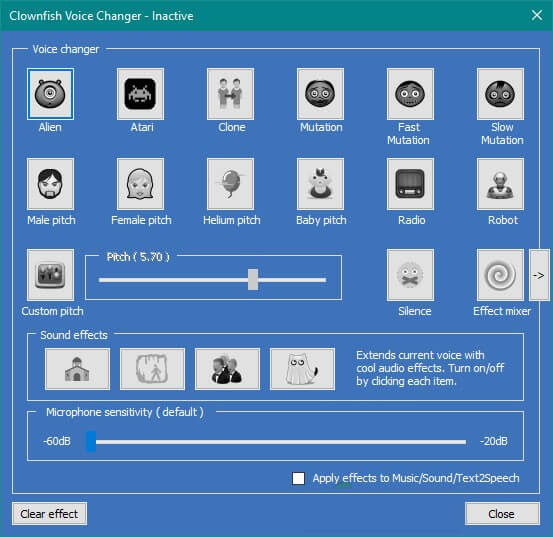 Key Features
Some key features of Clownfish are listed below:
Change Volume of Your Voice: It's convenient to alter the volume of your voice once it gets recorded. You can increase or decrease the volume as per your requirement.
Enhance Your Voice: As Clownfish is embedded with multiple voice effects, you can apply these effects to enhance your audio quality.
Masculine and Feminine Touch: By using Clownfish, you can give your voice masculine or feminine touch. It is very convenient and will also make your time on the extension version fun.
Part 2.

Best Voice Changer for Chromebook Online

People tend to use a lot of voice changers or filters when playing online, and they always look for quicker ways to change their voices. With these voice changers for Chromebooks, all you will have to do is download the mentioned voice changer for Chrome OS, and you are good to go.

LingoJam is a strong competitor among expensive male to female voice changers. It is a free tool that helps convert your male voice into a female voice and vice versa. Upload the audio clip, and adjust the voice setting like pitch height and frequency according to your requirement. As you get a voiced changed audio file, you can download it by clicking the download button.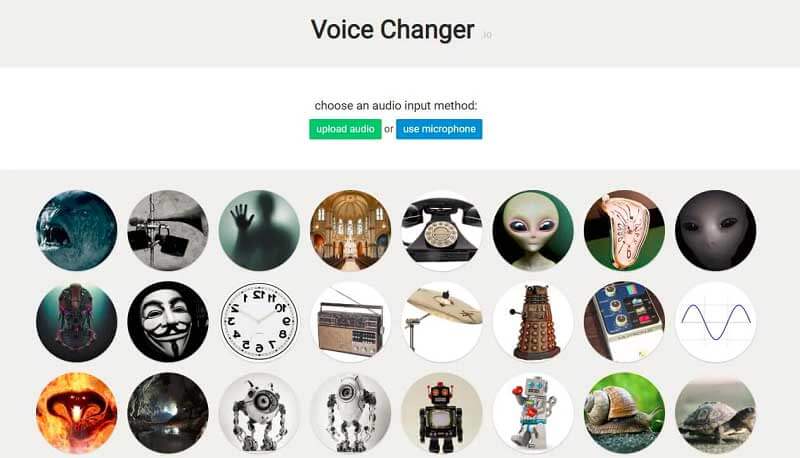 The voicechanger.io is a significant voice changer for Chrome OS. This particular voice changer for Chromebook allows users to change their voices using pre-recorded voice notes.
To make this voice change for chrome work, you only need a good microphone and a stable internet connection. However, the only drawback – which might not be counted as a drawback, is that you cannot upload or send the voice creations to any social media accounts directly. You will first have to download it to your system and send it.
Key Features
So, if you are planning to switch to Chrome OS, then the listed features will help you understand this platform's versatility.
Simple to Use: It contains two options: upload your audio or use a microphone. You don't have to go through the long setting process.
Variety of Voice Effects: You will have 51 voice-changing effects to jiggle with. Apply them to pre-recorded audio or use them in real-time to transform your voice into an amusing one.
No Subscription Fee: One of the fascinating aspects of Voicechanger.io is it's free of cost and open to all. No subscription fee or additional charges are applied.
LingoJam allows users to create translators themselves or use the translators that were created by others. This particular platform benefits people to convert female voices to male voices or low-pitched voices to high-pitched ones and vice versa.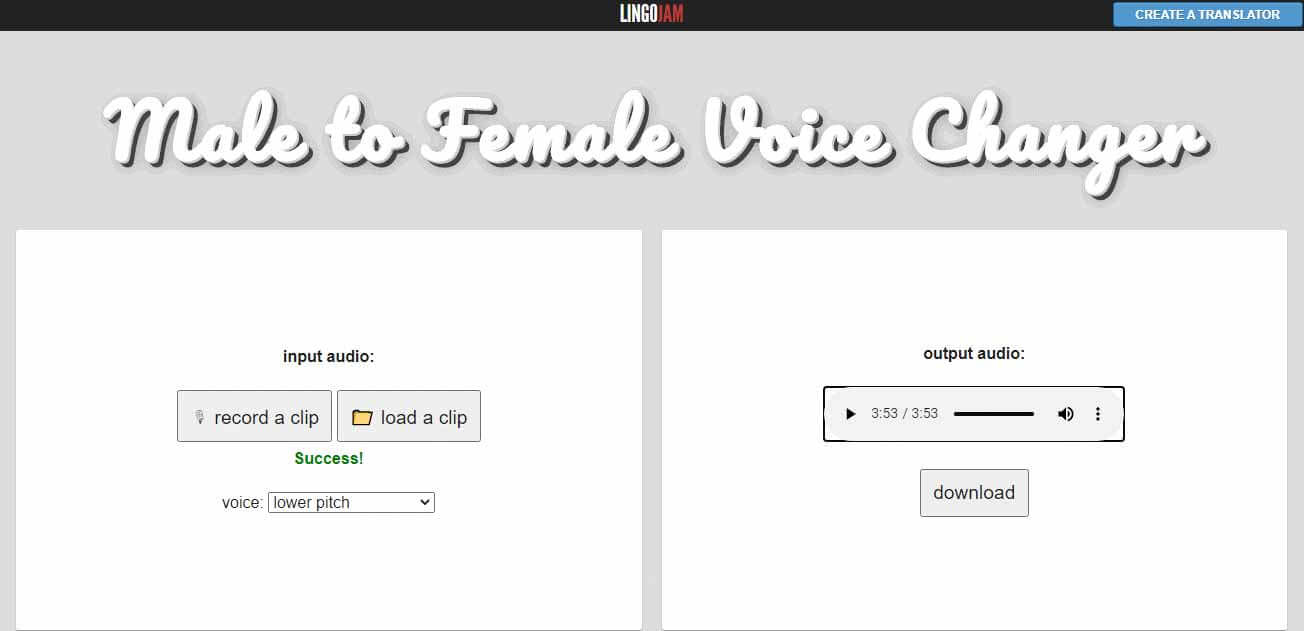 The application will allow users to listen to their recordings before letting them upload them on any program or send it on their socials.
Key Features
Here is a list of a few features to look at:
Versatile: LingoJam comes with multiple variations. From scary ghost conversion to amusing anime characters and unlimited filters, this voice changer for Chrome is perfect for optimizing.
User-Friendly: The website is available online, so anyone with the stable internet can directly utilize without going through the downloading or installation hassle.
No Charges: It doesn't restrict you with subscription-fee-like situations. LingoJam provides lifetime access to its unlimited premium features.
Part 3.

Is there Any Available Real-Time Voice Changer for Chromebook?

While many believe that Chrome OS is based on Linux Kernel – which is true, many don't understand that this OS isn't Kernel itself. This means that Chrome supports this particular concept. However, it itself isn't wholly it.

Hence, it does offer you several features in chromebook, but eventually, it deprives you of a few too. Here is a step-by-step guide on how you can avail the benefits of changing voices through Linux on your Chrome OS:
1

To start downloading Linux, you must first enable the developer mode. To do this, press the, etc. + refresh keys. While pressing these two, simultaneously press the power button to reboot your system

2

When the system is rebooting, an error message will pop up. This is not something to worry about. Press Ctrl + D, and you will see an OS verification page. Press Ctrl + D to proceed to the developer mode.

3

The next page will ask you to turn off the verification. To proceed with the developer mode, you will have to do it. Press enter, and you are good to go.

4

Press Ctrl + D again, and wait for a few minutes. Do not panic because the screen might look like you did something wrong. However, patience here will be the virtue.

5

Once the process and loading end, your Linux will be uploaded successfully.
Uploading Linux isn't a tough job, and you will be good to go by following a few simple steps.
FAQ
1. What are the hottest voice changers on the market?
Voice changers like UnicTool MagicVox, VoiceMod, and Clownfish are some of the well-known names in the market. While these are renowned names, Chrome has other exceptionally working voice changers. All you have to do is find which one works best for you.
2. Is there a Voice Changer made for Chrome OS?
Google is known for its fantastic updates and launch of some exceptional products. While currently, Chrome OS supports other forms of voice changers on its platform, the tech giant doesn't have its private version. However, we might see its own software in the future.
3. Can I use Voice Changer on Chromebook?
While Chrome doesn't have its version of voice changer, it relies on external voice changers. You can finish your work quickly with the online extensions and Linux methods.
Conclusion
Talking to your friends online while changing your voice is a fun activity. The thrill you get after making them a fool with different voices, or simply your whole squad playing a game while talking in funny voices, is fun and leaves all of you in hysterical fits.
With such fantastic voice changers, there are several benefits you can avail yourself of. So, if you are a Chromebook user, we hope the advantages mentioned above intrigue you and that you will be using the services soon.
However, we want to inform you that Chromebook isn't the only thing that can give you access to different voices; there is something else too. What is it?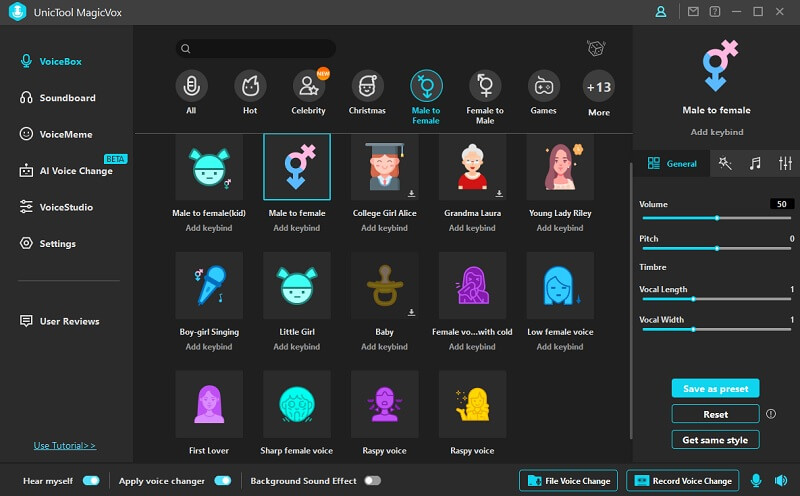 UnicTool MagicVox is another software that serves excellent purposes for voice changing on Windows. This particular software allows users to change their voices without much hassle instantly and gives them access to over one hundred filters to choose from.
While all this is great, it is not all. MagicVox helps the environmental sound diminish and creates a background sound that sets will with the voice you are talking in. This application gives real-time experience and is one of the best voice changers on the market.