It is hard to find a voice changer with auto-tune. Autotune manipulates and modifies audio tracks. However, if you find one, it affects computer performance by creating lags and covering a lot of space. Auto tune voice changer manages the pitch of your voice to give a smooth finish.
It may seem impossible, but some voice-changing software is not a nightmare for your devices because some work seamlessly without covering much space. To make your hunt easy, we have reviewed some best auto-tune voice changers for Discord, Live, and other platforms, we will tell you how to use an autotune voice changer.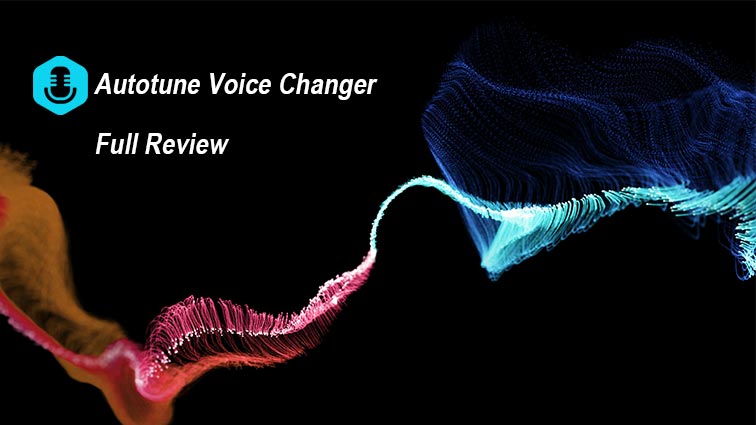 Best Autotune Voice Changer for PC and Mobile
There are lots of live autotune voice changers available in the market claiming to offer the best features for Discord chat or singing. Beware of these scams and pick the best because compromise over software means compromise over virus security. These are the best autotune voice changers for Discord PC.
UnicTool MagicVox is one of the best voice changers with autotune voice effects and does its job well. It not only changes the voice but also adjusts the pitch according to the voice to avoid lags and distortion. You can also apply different voice filters during live streaming or playing with friends on Discord. MagicVox is well-known due to the most extensive list of valuable filters.
Many voice-changing software allows to change the voice but does not let the user import from local storage. This is not the case with MagicVox. It facilitates the user to import files to help use the sound effects of their choice.
Pros
It offers more than 150 preset filters.
It supports 300+ sound effects to optimize background
Allows the user to add key bindings to add effects in the live stream directly
Allows favorite sound effect importing.
You can customize your voice effects.
Cons
Offer limited features in the free version.
How to Autotune your Voice for Discord
Step 1: Download and Install UnicTool MagicVox App
Step 2: Configure Mic and Headphone

Step 3: Launch Discord and go to the Audio Setting- Voice& Video, set Voice Changer Virtual Audio Device (WDM) as a default input device.

Step 4: Select the Sound Effects

Step 5: Enjoy Transformed Voice
This auto tune voice changer is specially designed for a live class and live streaming. You can also integrate it while playing other games. With the captivating auto tune feature, you can fix the voice quality without hassle and delay.
If you want a voice changer for professional use, a voice changer will definitely work for you. You can utilize it to transform the voice and sound better during a live stream. With a bunch of filters and sound effects, you will never lack versatility.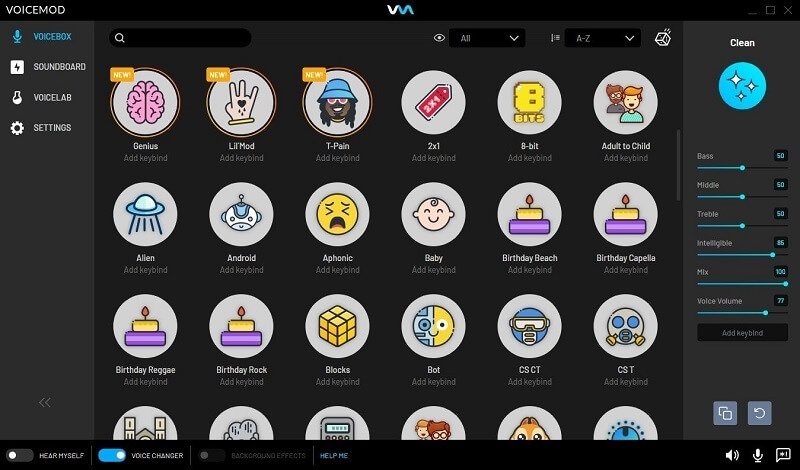 Key Features
Supported System: This voice changer with autotune is personal computer software that integrates well with Windows. Not available for Mac yet, Check Autotune voice changer for Mac
Voice Filter: Voicemod is the perfect software with adequate variety. It features around 90 voices, providing the user with variety and avoiding confusion simultaneously.
Background Sound: Background sound plays a crucial role when it comes to living streams and pranking friends on call. You can layer the voice with background sounds to give legit expressions.
Live Autotune Voice Change: Voicemod has the capability to transform the voice in the live calls without pre-recording and editing.
Customization: If you are the one who does not like voices soon, you must try Voicemod. It allows you to modify the voice variables and create an entirely new voice.
Pros
It is easy to use.
Allows the user to customize the voice.
You can add background sound with your voice.
Cons
Limited features available for free version.
Voicechanger.io is the best downloadable auto tune voice changer that is made to be used online. It contains a huge variety of different voice filters and sound effects to select according to the scenario. You can auto tune your voice as you like in no time and effort for promising results.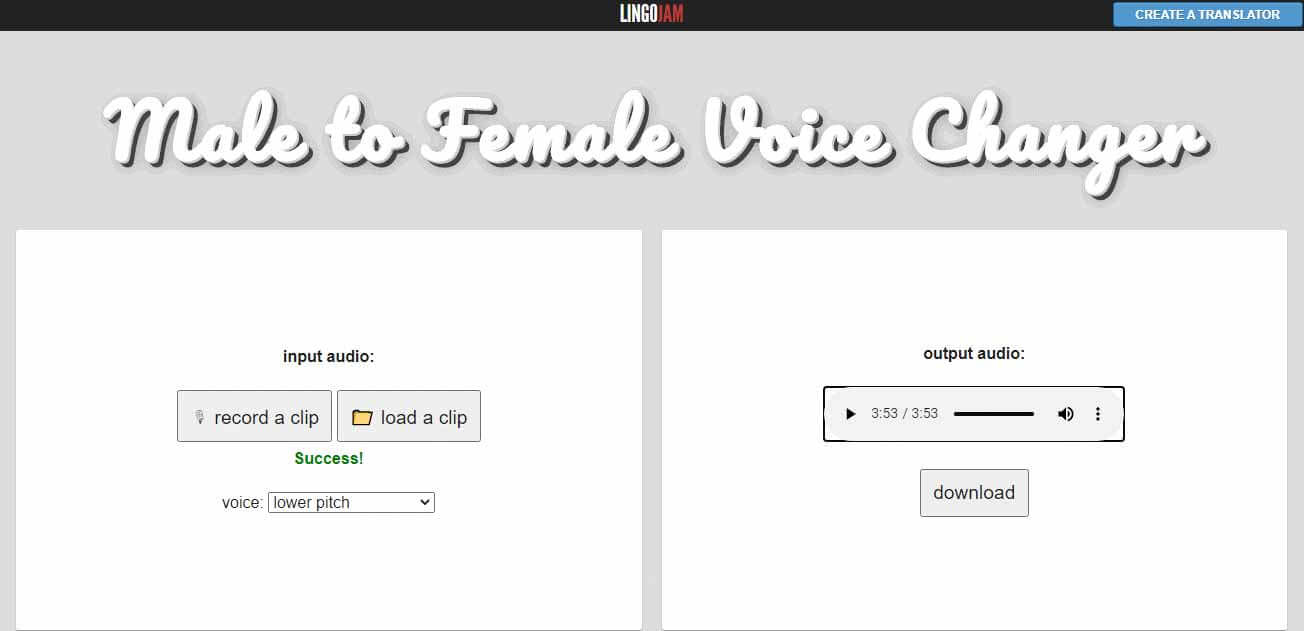 Key Features
Easy-to-Use: This autotune voice changer is feasible for beginners or people without technical skills. It performs tasks efficiently, making the process easy for users.
Interactive Interface: The interactive interface engages the user and gives new ideas to prank friends and make the voices.
Huge Library of Voice Filters: This voice changer for auto tune features a fast library of preset filters to ensure instant voice change. You can select your favorite filter with one click.
Supported System: The voice changer.io is specifically designed for online and also available for Chromebook users, check more voice changer for Chromebook.
Pros
Interactive interface
Features a variety of sound effects
Capability to autotune your voice
Ideal for beginners
Cons
It is not ideal for a professional setup.
It is the best auto tune voice changer app made for android smartphones. It can effectively transform the voice into a different sound with audio effects. Thanks to the voice changer and editor, it has made the voice-over text fun and exciting.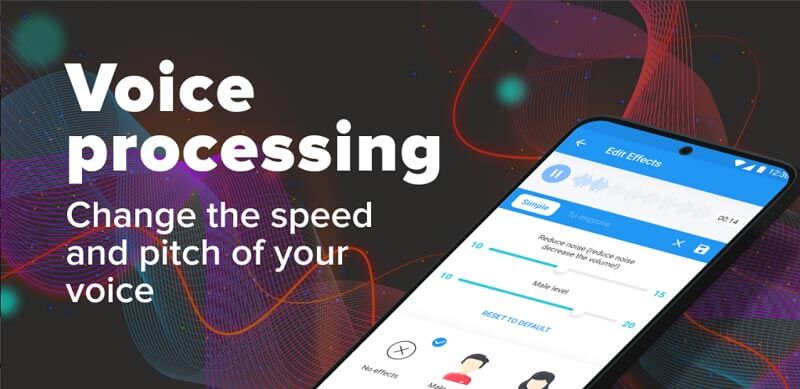 Key Features
Supported System: This autotune voice changer is high- functional and compatible with smartphones.
Recording: It allows you to record your voice with a single press. You can import the files for editing but also record them conveniently.
Text to Voice: The user can add text to the application to convert it into speech. With high accuracy, the software will change the text into voice.
Pros
Easy to use.
High compatibility with android smartphones.
It converts text to voice.
Cons
It does not support all audio file format.
This application is highly functional for iPhone users. They can change their voice beyond recognition. Autotune vocal voice changer allows them to shoot cool stories and record audio messages with this application. You can cheer up the mood or surprise friends with entirely different voices. You just need to come up with a story, record it in the voice changer and share it with friends after selecting the filter.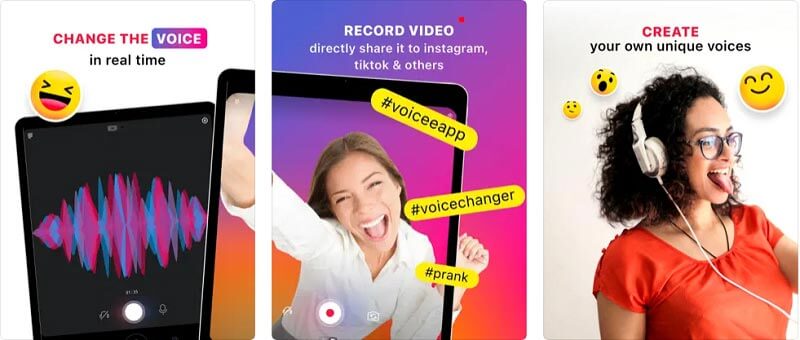 Key Features
It is easy to use.
Interactive interface.
Allows video recording.
Give the instant high-quality output.
Pros
Sometimes bugs hinder the functionality.
Cons
It is not ideal for a professional setup.
FAQ
1. What is Autotune?
As the name reflects, it is a device or facility for turning the distorted voice into a smoother one. It is incredible computer software that enables the correction of a trembling and out-of-order vocal performance. Autotune is generally used to smooth out the sharp and flat notes to ensure that the singer is singing with the correct pitch. After selecting the pitch the singer will follow, the software will scan the voice to bring the scale on line while singing.
2. What Voice Changer with Auto-tune?
Many auto tune voice changers are working in the market and claim to offer the best features in no time. However, you must be aware of scams and frauds to protect the monitor or mobile from viruses and bugs. Therefore, you need to select authentic voice changers. In our opinion, these are the best voice changers with auto tunes.
1. MagicVox
2. Voicemod
3. MorphVox
These are desktop software available on the official website to download. They are not only highly functional but also auto tune the voice in real-time. The addition of other valuables makes them the best choice for users.
3. Is Autotune Voice Changer Free?
All sorts of products are available in the market. The free autotune voice changer is an excellent tool for beginners because they offer a large number of features with no investment. However, free software or application will not be a good choice if you require a voice changer with auto tune for professional use.
In that case, you need to buy pro versions of auto tuners to impress everyone with high-quality output. With just a few clicks, you can add many auto tune effects, turn your podcast smooth and worth watching and make your voice pretty melodious with soft pitch.
Conclusion
Auto tune voice changer applications are taking the market by storm with unique features. No matter which level of company you are working for or running a small podcast channel, voice changers are essential building blocks that work effectively to make and break the event and episode.
In our opinion, MagicVox autotune voice changer is one of the best with various autotune voices. It does not occupy massive space in the computer while it keeps functioning flawlessly. With a few clicks, you can transform your distorted voice into a smooth, melodious voice. If you want software for professional use, selecting the UnicTool MagicVox, among others, will be the best decision.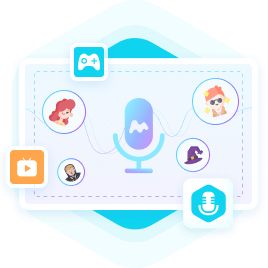 An Auto-Tune Voice Changer
Live Voice Change: MagicVox allows changing the auto tunes voice in real-time. There is no need for presetting and pre-recording. Play and enjoy.
Customization: You can customize your own voice or pre-existing filters to add your own creativity and create something different and unique.
Auto-tune: It won't change the voice but adjusts the pitch according to the voice to get a perfect voice.