No doubt, in the past, it was just a fascination that we could ever convert or transform our voices into an imaginary character. With the emergence of the Talking Ben soundboard, the concept of voice modification was incepted. At that time, the technology was in its most basic form but today, it has transformed into an unbeatable manner.
There can be various reasons for replacing voice with fantastical audio. It is both fun and pragmatic but where there is merit to something, demerit also exists. Voice changers are also being subjected to misuse. Criminals alter their voices to hide their identities.
Labeling it as good or bad depending on its use. Before stepping forward towards the available audio modifiers in the market, check their compatibility with the device you are using.
Android and Windows users have various voice-changing tools to choose from, but mac users are unfortunate. They don't have multiple or alternative applications when it comes to audio conversion. So, which is the best voice changer for mac? Here we are stocking some of them.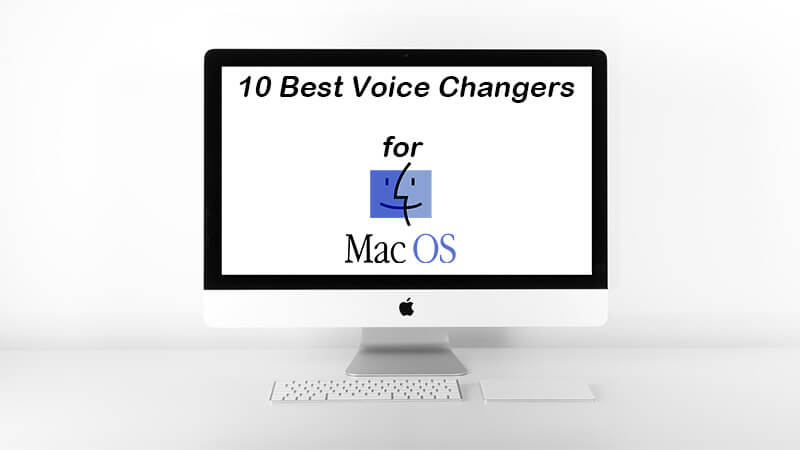 Part 1.

Best Free Voice Changer for Mac 2022

Each software listed below can be used for sole or various purposes. Depending on your intention, you can switch from one application to another. Let's dive in to analyze what choices mac users have.

It's a voice changer compatible with Macintosh computers. This software is equipped with various voice modifying tools to apply to real-time voices directly. You can transform your voice entirely into the opposite gender or a personality you want. It's designed for online gaming, but you can integrate it with social applications to prank your friends anytime.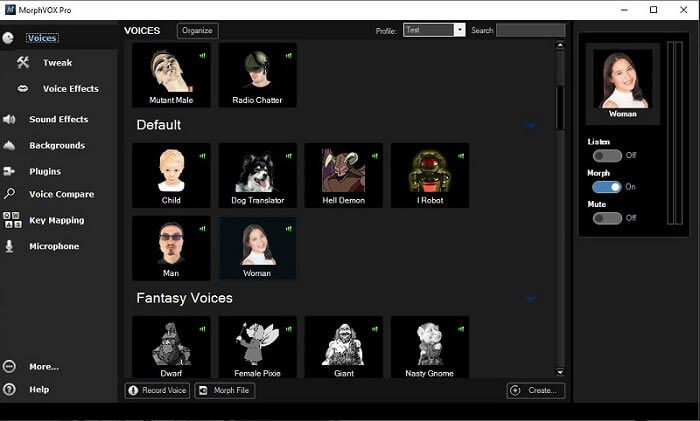 Key Features
Dig into the key features to understand the complexity of this fantastic tool.
Embedded with Latest Technology: The application is based on the latest AI technology, like learning from the user's audio to enhance the quality of generated outputs.
Pre Designed Effects: Its preset voice collection includes several audio effects ranging from man, woman, and robot to otherworldly sounds.
Easy to Use: This tool comes with a user-friendly interface that adds worth to its optimization.
User Comment
MorphVOX Junior Mac is famous for incorporating VoIP applications to give prank calls to your friends anytime while staying anonymous.
Rating
Recorded as three out of 5 stars for being incredible in terms of voice quality.
Voxal Voice Changer is a multi-purpose audio modification application that allows you to disguise your voice behind the character of your choice. Whether it's a matter of distortion, amplification, alteration, or enhancement, you can entirely rely on this sound editor.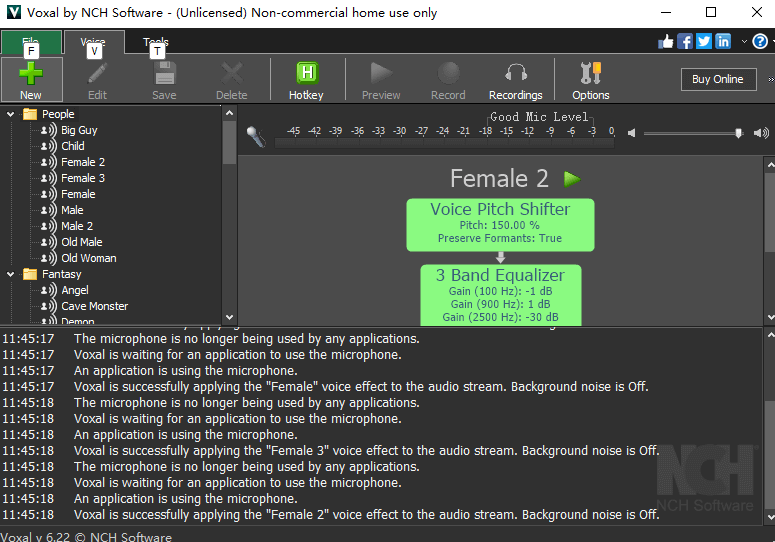 Key Features
Here is a list of essential features that will blow out your mind:
Low Burden On Your System: This application doesn't take up much space on your device, putting less burden on the CPU, resulting in low interference during multi-running applications.
Expended Vocal Library: It contains a list of various voice effects ranging from a robot, girl, boy, alien, atmospheric, and echo to many more.
Compatibility: Amazingly, it can work with all the pre-existing applications and operating systems.
User Comment
You don't require to go through the configuration setting if this software is integrated with other applications. Have fun with this voice changer in real-time.
Rating
3.2 out of 5 due to its substantial vocal library.
You can have access to all the voice modification and alteration tools in a single place. Whether you want to use it on pre-recorded audios or in a real-time call, it contains more than 200 effects to add on.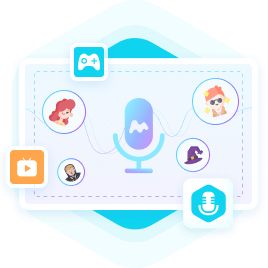 A Real-Time Voice Changer
Can Be Used with Any Platform: This tool allows easy integration with any platform. Whether it's a matter of online gaming or conference call on social applications, you can prank anybody anytime.
Background Music: It offers background music with some voice clips and audio filters. Which provides a dramatic effect to the overall audio.
Voice Customization: There is a tool called Voice Studio inside the UnicTool MagicVox, which allows voice customization through the sound adjusting parameters.
Key Features
A colossal voice library and unique features for audio modification are reasons for counting this voice changer on our list.
Rating
Rated as 4.5/5 for providing outranked performance.
Step 1: Download the application.
Step 2: Configure input and output device. From the setting, assign a microphone as input and headphones as an output.

Step 3: Select the platform and go to the Audio Setting, set Voice Changer Virtual Audio Device (WDM) as default input device.
Step 4: Select the Sound Effects

Step 5: Record your audio or import the audio file to apply the voice effects and filters.
People love to click pictures in photo booths. Voice candy - a photo booth of voice software is absolutely more fun. It comes with significant audio effects to jiggle with. Capable of deforming your voice into an utterly unrecognizable character.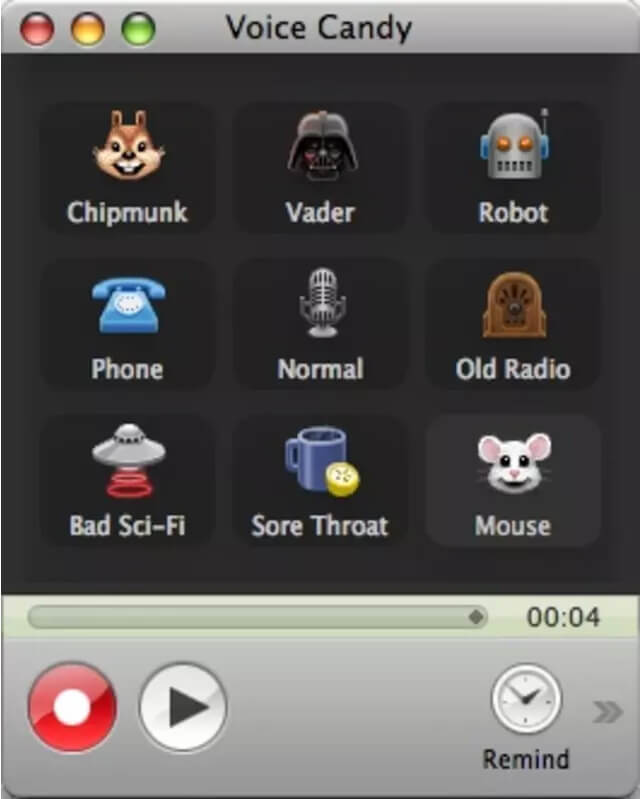 Key Features
You can't resist yourself once you go down to its features mentioned here.
Easy to Use: Comes with an intuitive, user-friendly interface. Download it and launch it, here you are, good to go.
Voice Effects: This contains a list of cute voice filters which can be applied on recorded or in real-time voice.
Share On Other Platforms: It allows to send recorded or distorted voices to iTunes or share them via Apple Mail.
User Comment
We find this application best for home use or if you want to modify your voice a bit. For commercial use, try alternative tools like UnicTool MagicVox.
Rating
2.7 out of 5 stars for its user-friendly interface.
Clownfish is an audio modification application that allows altering a human voice to a great extent. As a strong competitor of other voice modifiers, it still lacks some pro features. However, it can work with the systems embedded with the microphone for sound input.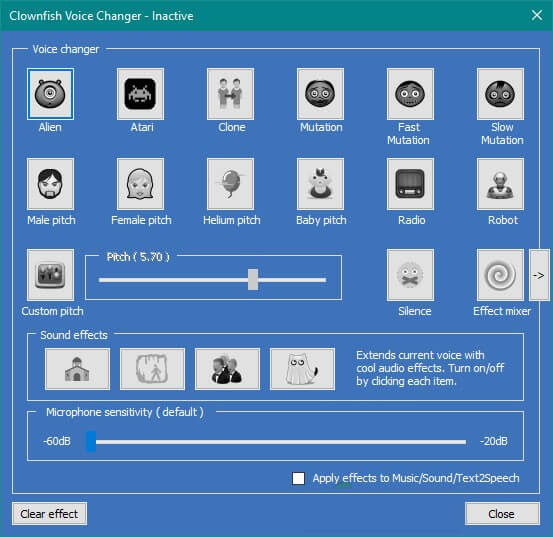 Key Features
Services it can offer:
Voice Effects: You have 12 different sound effects and filters to choose from. Furthermore, it can change your voice on social media applications like Skype, Viber, Discord, etc.
Music Player: Designed with the music player to have complete command of background music coming from the microphone.
Voice Assistant: A unique feature that can convert text into speech.
User Comment
A user-friendly interface and settings make it a highly optimized application for gaming and fun.
Rating
It receives 4.5 stars out of 5 due to its unique features.
People who are fond of voice changers can't refrain themselves from using VoiceMod - A great application that offers nearly everything regarding audio modification or distortion that a user ever demands. But their Mac Version is not available at the moment, hope it can be released at the end of this year.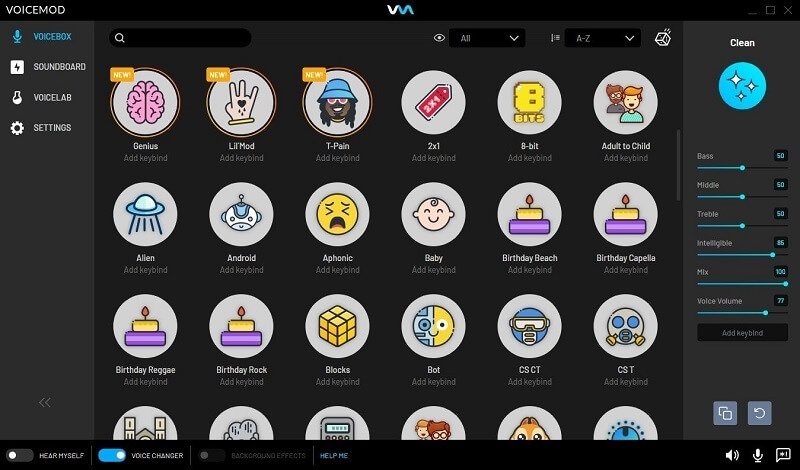 Key Features
What VoiceMod can do with audios listed here:
Compatible with Multiple Platforms: VoiceMod supports a wide range of social applications and gaming platforms, including Rust, Discord, and many more.
Expand Your Voice Library: Enjoy the sound effects that come with the soundboard of VoiceMod or upload your created or downloaded filters from elsewhere in .MP3 or .WAV format.
Real-time Voice Changer: With the VoiceMod, you don't have to go through the recording hassle first. It can change your voice in real-time.
User Comment
Users find this application supportive of tuning their voices. Its intuitive interface has made the job effortless.
Rating
It is appreciated for commercial purposes and rated as great application by 78% out of 100.
It's a single stand-alone application that manages input voice from the microphone while combining with the audio from your computer's software to produce single audio output. It is a desktop-based program that ensures audio mixing from various sources with pinpoint accuracy.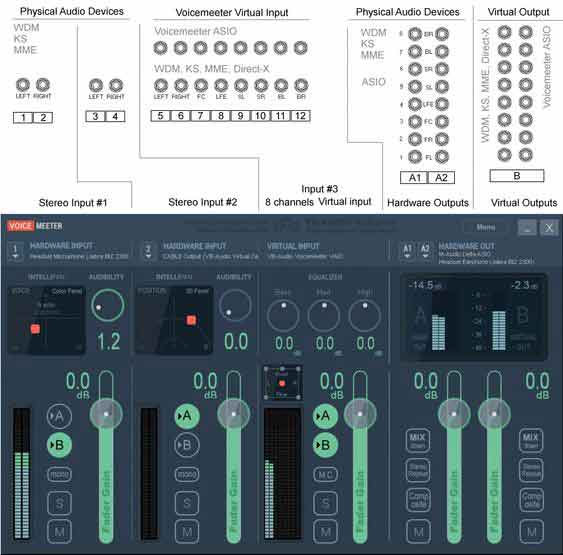 Key Features
Let's figure out the commendable features of Voicemeeter
Virtual Audio Mixing Board: it can handle up to three inputs and three outputs with the help of 2 buses.
High-Quality Output: this application generates high-quality flawless outputs free from voice doubling or any error.
Integration with Other Platforms: Combine your voice and video game audio in Skype or other conference calls.
User Comment
It can take your streaming to an advanced level. Incorporate Voicemeeter as a primary tool to adjust the volume of input audios.
Rating
Due to its complex dynamics, it is rated 3.8 out of 5.
What was created as a hobby has now become a well-renowned application used for voice amending. It includes several voicing effects ranging from echo-ey voices to totally unrecognizable worldly sounds.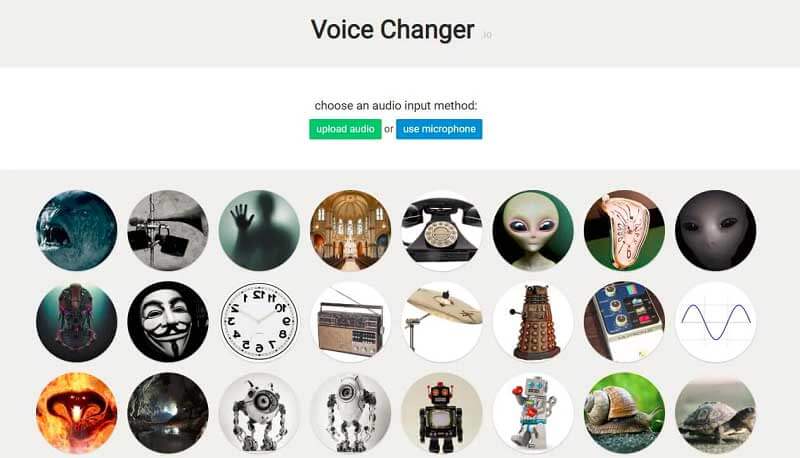 Key Features
What we can prospect from this website is stated underneath:
Easy to Use: No need to download it, just visit their website and start converting your voice from one character to another.
Customize Your Own Effect: If you have tried every voice filter and want something new, customize your effect to add it to your audios.
Speech from Text: Embedded with the uniqueness of text conversion into speech.
User Comment
It has been ranked as one of the most easy-to-use voice-changing websites, providing access to 51 explicit music effects.
Rating
Rated as 4 out of 5 due to its simplicity.
If you are looking for a voice changer that can work without going through downloading or installation hassle, LingoJam is for you. Apart from voice distortion, you can adjust your pitch to analyze your it at a deeper level.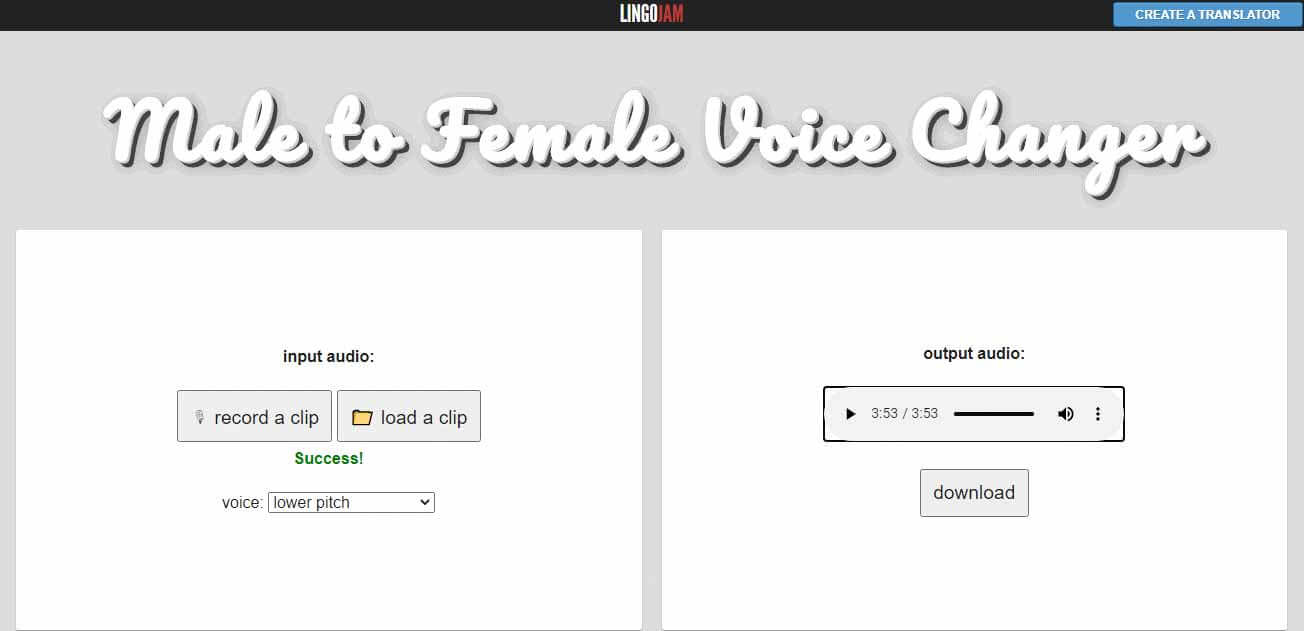 Key Features
Some of its key features are indicated as follows:
Easy to Use: You have two options to choose from: record your voice and upload audio. No further complexities you have to tackle.
No Installation Hassle: The website is open for everybody; you are not demanded to subscribe or install to access its all features.
Useful for Vocal Training: Transgender can use this application during vocal therapy to examine their voices at various pitch levels.
User Comment
To modify your voices at a bare minimum level, use this straightforward voice changer added with the main functionality.
Rating
4 out of 5. Globally it is ranked in the list of best voice changers to convert your voices from male to female.
Looking for a converter that can modify voices and as well videos? Media.io is there to help you out. It can transform your files from one format to another while keeping its quality high.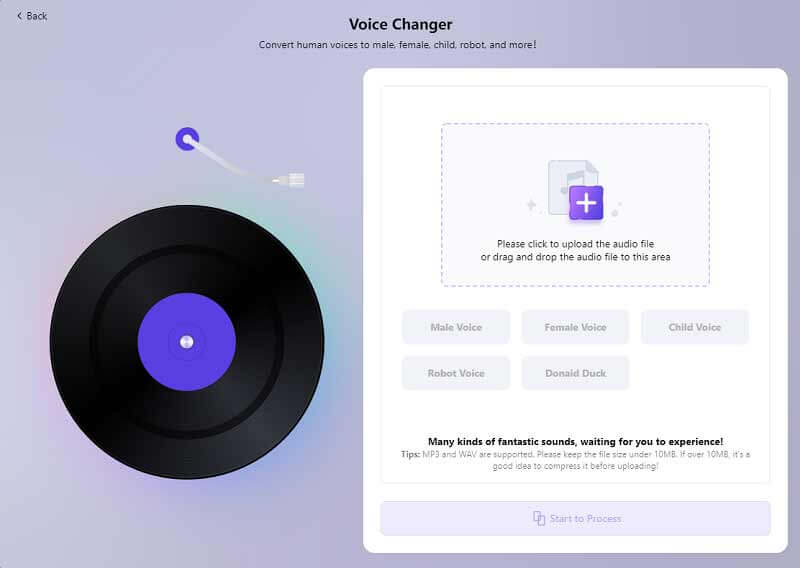 Key Features
This 2-in-1 modifier delivers various advantages, some of which are mentioned below:
Various Text Styles: Substiles on your videos can be added in multiple styles.
Add Waveforms to Your Video: With this modifier, you can include sound waves or shapes to give an aesthetic visual effect to your projects.
Subtitle Generator: This audio converter is based on the latest technology embedded with AI tools. Once the video is uploaded, audio subtitles are generated automatically.
User Comment
A multi-functional converter is used for both video and audio modification.
Rating
Due to its simplicity, it receives positive responses from millions of online users.
Wrapping Up
Mac users are confined to few choices when it comes to voice modifiers. Voice changers for mac are either paid or provide minimal access to its features.
Glad to find applications like UnicTool MagicVox, added with the mandatory and pro features needed for audio amendment or enhancement. Whether it's a matter of voice conversion into a completely different personality or audio modification to improve its quality, you can rely on this tool wholly.