A voice changing application fulfills the legacy of name. It does what the name reflects. This software permits the user to fabricate and modify your voice in real time. When it comes to a real-time voice changer for PC, you can layer the changed voice with background music while live streaming, gaming, and calls.
There are many reasons why people use voice-changers. Some people do it for business purposes, while others for fun, trolling, and keeping their identity hidden. No matter what motivation is behind it, you need to select the best real-time voice changer. Therefore, this article aims to analyze the advantages and disadvantages to help you select the best live voice changer for PC.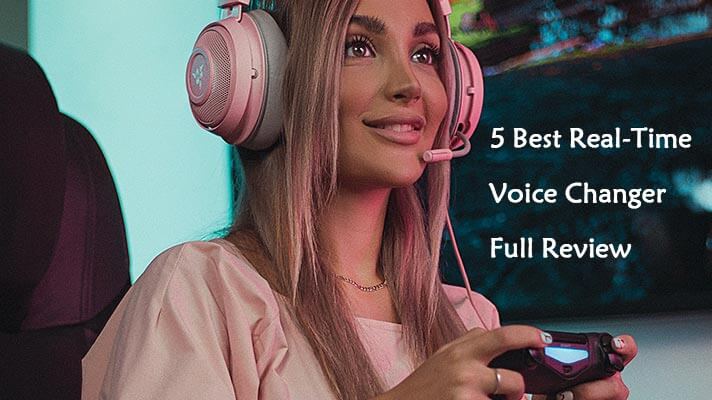 5 Best Real-Time Voice Changer for PC
| | OS | Voice Filters | Custom Voice | Real-Tme Voice Change | Pricing |
| --- | --- | --- | --- | --- | --- |
| UnicTool MagicVox | Windows | 100+ | Yes | Yes | Free (Offer Paid Version) |
| Voicemod | Windows | 80+ | Yes | Yes | Free (Offer Paid Version) |
| Clownfish | Windows& Chrome | 14+ | Yes | Yes | Free |
| MorphVOX | Windows& Mac | 23+ | No | Yes | 39.99$ |
| Voxal Voice Changer | Windows& Mac | 5+ | Yes | Yes | 14.99$/24.99$ |
UnicTool MagicVox is one of the best real-time voice changers for PC. With a huge library of more than 200 voice effects, you can change your voice to prank friends and make gaming more fun in real-time. Voice filters incorporate background sounds to enhance mood and environment and make voice-changing effects more vivid.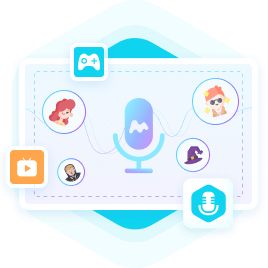 A Real-Time Voice Changer
Voice Effects: The voice modifier comes with 100+ pre-designed voice filters. It makes the call, gaming, and streaming fun as you can use voices from ghosts to sweet girls in real time.
Custom Voice Change: The application features a voice studio that enables the user to modify the voice as per preference. It is not just a voice changer but a modifier as well that allows you to give your touch.
File Voice Change: As an audiophile, if you are looking for a tool giving high-performance, MagicVox is the right choice for you.
It is compatible with various platforms, including Skype, Discord, Viber, and other live call platforms. The most surprising thing is that although it is new software, it has everything to change voice in real time, such as voice customization, background sound, keybind, etc.
Pros
100+ predesigned voice filters.
Works for various platforms like Pubg, Skype, etc in real time.
Multiple sound effects during gaming.
Set keybind for voice and sound effects.
Cons
The free version has some limitations.
Pricing: Price is the primary concern when it comes to a new tool. In the case of MagicVox, you get a free version but with limited features. Getting complete packages will change the modest cost to around $0.2 per day.
Rating: This live voice changer app is a new tool but has received excellent reviews from users. Collective rating worldwide is 4.5 out of 5, which is appreciable at the initial level.
Comment for Rank: We ranked this software number one due to its excellent interface, pricing, and functions. It is worth the money because of its super-fast customer service.
How to Use a Real-Time Voice Changer for PC
Due to a lack of proper guidance, users miss this tool. This tutorial will help integrate MagicVox real-time voice changer.
Step 1: Download and Install UnicTool MagicVox

Visit the official website of MagicVox and click "Download." The file will start downloading in .exe format. Once the application is downloaded, click on it. An approval box will appear on the screen. Click "Run" to complete the installation

Step 2: Configure Mic and Headphone

Navigate to the settings menu, and select the headphone as an output device and the microphone as the input device. You can also configure the mic through Windows audio configuration from the "Control Panel."

Step 3: Select the platform

Open the platform where you want to integrate the voice changer and step into the voice setting. Select input as Voice changer virtual audio mode.

Step 4: Select you favorite filter

Select the filter from pre-designed options.

Step 5: Self-test and enjoy

Start speaking into the microphone to ensure a live voice changer app effect. The changed voice will be delivered to other players and listeners on the call.
For the sake of a smooth and quick conversation, you should give Voicemod a try. It is a live voice changer app that has the capability to convert a user's voice into a monster, male, female, chipmunk, or robot voice. The real-time voice changer allows modifying the voice in live games and streaming to prank friends.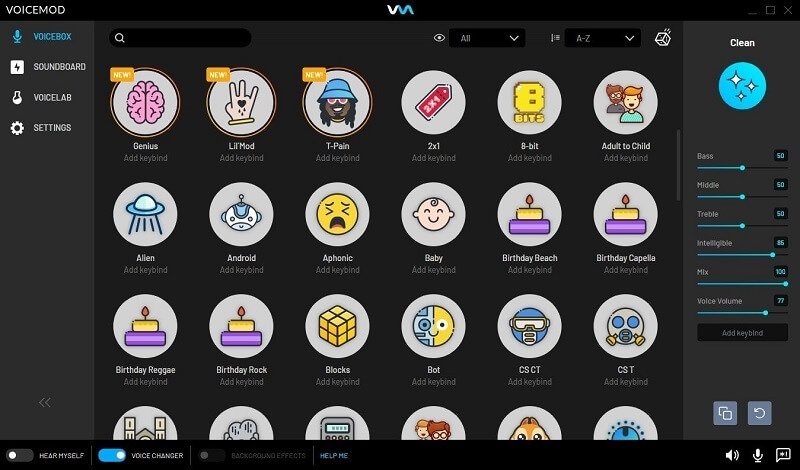 Pros
Compatible with various software like Paltalk, Skype, Viber, and Hangout.
Adds effect to voice during conversation in live time.
The application is easy to use for beginner.
You can upload your sound effects to the library.
Cons
It is large software that consumes time while downloading.
Supporting system: Despite being new software, it supports almost all softwares. It works seamlessly with Windows 7, 8, 8.1, 10, and 11. However, this real-time voice changer is not designed for macOS, Xbox, and PS4, but the team is working to improve availability.
Voice effects: Voicemod offers a huge pre-designed voice filter library. It features more than 90 voices for changing the voice.
Custom Voice Change: It allows the user to make their own voice with voice-changing effects and soundboards.
File Voice Change: This personal computer's software extends its services by facilitating the users to modify their recorded audios in the file format and store them in MP3 form.
Price: It has a free version for newcomers. They can enjoy the software but will have limited functions like only seven preset voices. You need to get the paid version for the complete package, which would change to $20 per month.
Rating: More than 75% of users have appreciated the Voicemod software, especially gamers and software companies. It has managed to get 4.6 out of 5 rating.
Comment to Rank: We like this software because of its multiple useful voices and real-time features. It gives high performance making the call smooth, seamless, and fun.
Clownfish is one of the simplest, most accessible, and user-friendly real-time voice changers for PC. You can utilize it on various live platforms to make a fun game. Once installed, it integrates with all applications that have mic access.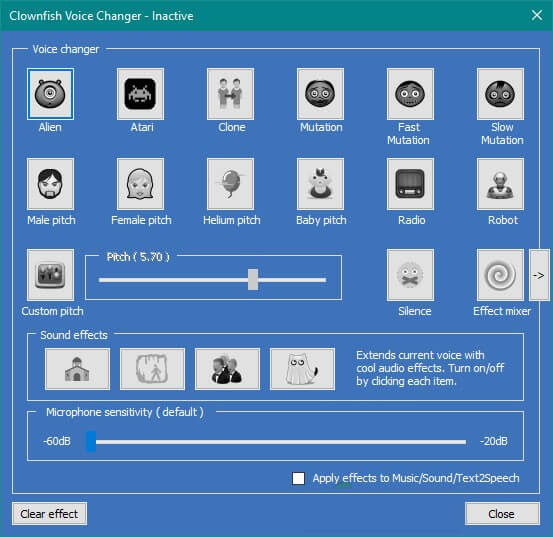 Pros
It supports a sound player, which is helpful in audio modification.
This software can convert text to speech in your selected voice.
Serves as a background music player.
Supports VST plug-in.
Supporting System: Clownfish is available for almost all softwares. It is compatible with 7, 8, 8.1, 10, and 11.it also works well with Linux, Android, and Chrome.
Voice EffectsClownfish offers only twelve voice effects, including Male, Female, Robot, Alien, etc.
Custom Voice EffectsIt allows changing the voice on different platforms like Skype, Discord, etc. but does not support soundboards for customization.
File Voice ChangeThis is beneficial software that converts text into speech. Furthermore, it supports several media formats and the VST plugin.
PricingThis is a free tool.
RatingPeople love this application. It has a 4.5 out of 5 rating.
Comment for RankIf some want to use the voice changer for gaming purposes, this is an excellent choice. Clownfish offers the best services and sound effects.
MorphVOX voice is a captivating and practical live time voice changer for PC. It changes the user's original voice in different voices. Users can utilize featured sounds, and effects to transform voices into male, female, child, and many more. It gives the best output quality.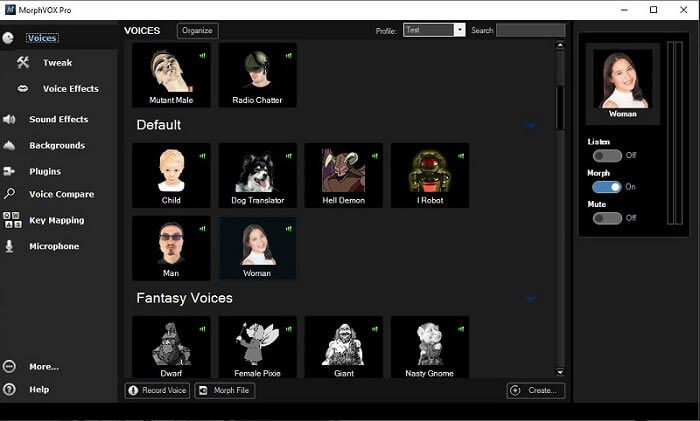 Pros
Preset voices and sound available.
Optimize voice change effects.
It offers multiple parameters to alter the voice.
Allows modification.
Supporting System: This live voice changer app supports Windows and Mac.
Voice Effects: The wide range of preset voice libraries has made it stand out from all voice changers. MorphVOX can transform choices into sweet girls, children, men, and robots.
Custom Voice Effects: The addition of studio mode in software permits users to modify the sound. You can adjust pitch and frequency according to preference.
File Voice Change: MorphVOX real time voice changer enables audiophiles to record and modify the sound of audio in WAV format.
Pricing: A free version of software is available for clients to test features and performance. If you want to unlock all valuable features, then a paid version is recommended that costs $39.99.
Rating: Since its release, MorphVOX has been a favorite voice changer. It has a 4 out of 5 rating.
Comment for Rank: We like this software due to its huge preset voice library, interface, and customization. This is the best software for both fun and professional purposes.
Voxal live voice changer app facilitates the users to modify, alter and disguise their own voice into a game or any application utilizing a microphone to make the call creative. From a robot to a human, the voice effects are limitless.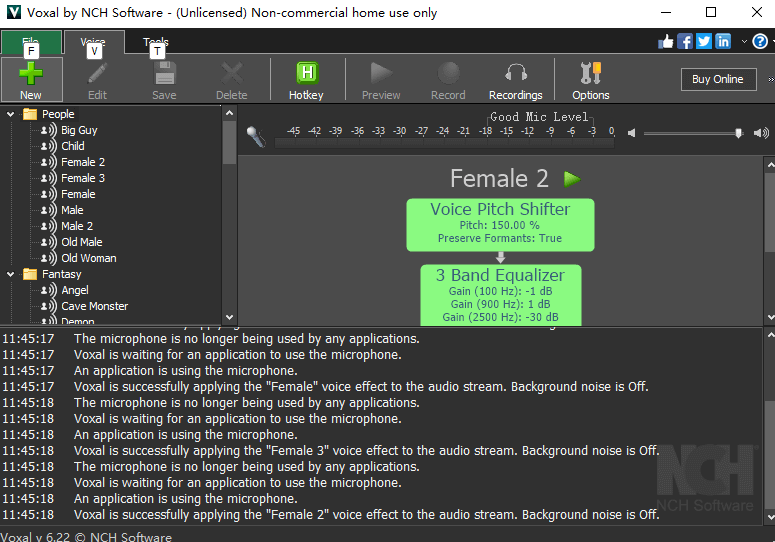 Pros
A huge preset filter's library.
Compatible all application.
Low CPU use.
Cons
Limited options in the free version.
Supporting System: This high-performing voice changer is supported by Windows 7, 8, 801, 10, 11, and Mac.
Voice Effects: This real time voice changer supports a large number of preset features, including male, female, monster, alien, robot, and many more.
Custom Voice Effects: The versatile application allows you to modify the pitch, frequency, and timbre to make your voice.
File Voice Change: Fortunately, it features all audio editing formats. You can upload a file to change the voice.
Pricing: Availability if a few versions allow you to modify the voice for free. For the full package, you need to get a full version starting from $35.99.
Rating: Since the release, Voxal voice changer has received a good rating of 4.5 out of 5.
Comment for Rank: Due to its simple and interactive interface, we have ranked this application. It offers a flawless and distortion-free experience.
Conclusion
A real-time voice changer for PC is used for multiple purposes, including making memes, pranking, and professional audio editing. We have reviewed some best voice changers, but UnicTool MagicVox is the best among all. It has unique features that work seamlessly with almost every system. To get all the features in one software, you should give it a try.