The COVID-19 outbreak last year made the trend of working from home commonplace, leading to a rise in online meetings. The use of digital tools by friendly chatters quickly developed into sober boardroom conferences with the help of video conferencing apps and online classes with the use of video conferencing software. There are many video conferencing solutions available in the market, like Google Meet, Teams, but Zoom is the most popular one among businesses. You can also change your voice in Zoom, so it's fun in meetings. If you are wondering how to change your voice on zoom, there are several ways to do so.
When it comes to finding the best voice changer for Zoom, this is where you need to be. Devices or software programs that change the tone and format of a voice are called voice changers or voice modulators. It's as exciting today as it was during its inception to distort your voice to the point where it becomes completely unrecognizable. In this article, we will discuss 5 useful voice changers for Zoom.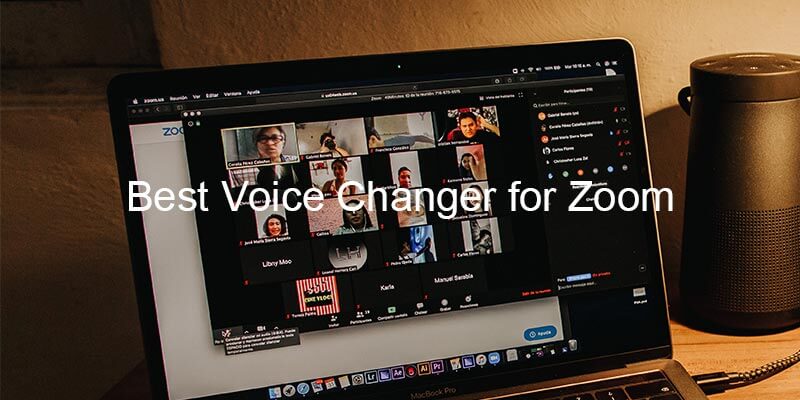 Part 1.

Top 5 Useful Voice Changers for Zoom

Some of the most useful voice changers for Zoom are listed below.
1. UnicTool MagicVox
UnicTool MagicVox is one of the best screen recording software, audio recording software, and voice alteration software for Zoom on the market. The premium Zoom recording tool includes all the great features and hilarious sound effects that a premium recording tool would. Changing your voice is as easy as clicking a button in different voice filters. We have over twenty different voice filters to choose from so that you can try any voice that you like. As you play games, chat, or live stream, your character's voice can instantly change.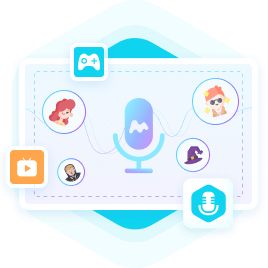 A Real-Time Voice Changer
High-quality Changed Voice for Zoom
Audio sources can be modulated
All Your Needs Satisfied with 190+ Sound Effects
Only 1 Minutes to Get Started!
It has been my experience that UnicTool MagicVox is among the best voice-changing apps that can be used for Zoom. Customize your soundboard with this amazing voice changer with VoiceStudio. MagicVox serves as a great soundboard for Windows and does more than that. As a result, you will be able to have an amazing online gaming experience on Discord, Fortnite, CS: GO, Zoom, etc., using what will sound like a natural voice.
2. Voicemod
Voicemod is one of the most popular voice changers for Zoom, which is a feature that allows you to change your Zoom voice to include a variety of exciting voices including Baby, Alien, and Chipmunk. Despite its elegant appearance, don't be fooled by the interface as this program comes packed with all the best features for changing voice that you would expect from a quality tool. One of the most popular voice changers is Voicemod. Several voice effects can be converted into girl voices, funny voices, professional voices, or practical voice effects.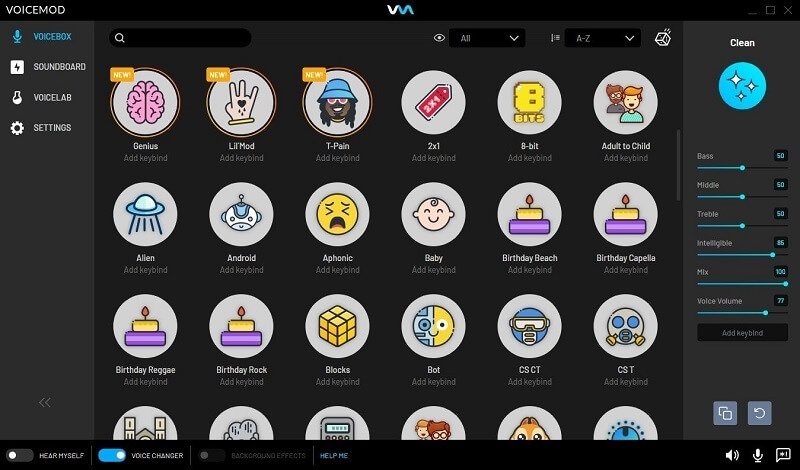 Feature Specifications
You can use it for free.
Demos of voice effects in real-time.
Games and apps of all types are compatible with the device.
Change your voice for Zoom with this reliable voice changer
With Streamlabs OBS and Stream Deck, it integrates seamlessly
Easy-to-integrate upper in a matter of seconds.
I think VoiceMod is a great place to search for funny and cool voice effects, as it will not disappoint. This app can also be used for Google Meet. This app has a large selection of voice effects.
3. MorphVOX Voice Changer
The MorphVOX voice changer stands out from the rest. A program that enhances your browsing experience. You can change your voice's tone and pitch. It allows you to make a sound that is similar to the sounds of men and women. Besides being able to change the voice on Zoom or Google Meet, the tool can also be used for that purpose as well. MorphVoX Junior is a free tool that you can download, and MorphVoX is a paid version that you can purchase. Users will enjoy using this tool. You can enhance your online gaming experience by adding background music.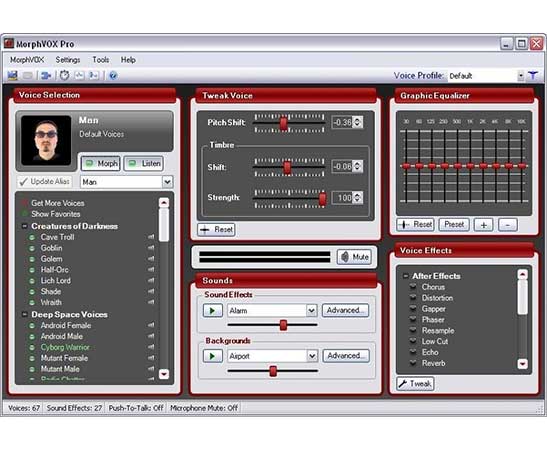 Feature Specifications
A facility for changing voices of high quality.
This software can be easily integrated into chat programs and online games so that everyone can get the most out of it.
The CPU is used less.
Sound effects and voices are built-in
Create custom features for the mouse and joystick.
Sound effects are a great way to entertain your friends.
Check out MorphVOX for yourself with a free trial today! Superior voice learning, background canceling, and sound quality allows you to take voice changing to the next level.
4. AV Voice Changer
This voice modulator software provides endless hours of fun by changing and creating different voices. Fortunately, thanks to its impeccable features and intuitive interface, this software has become one of the most prominent voice changers for Zoom. AV Voice Changer has millions of downloads and provides a wide range of innovative voice effects you can implement with a single click. It works very well alongside Zoom, as well as with many other audio and video chat applications.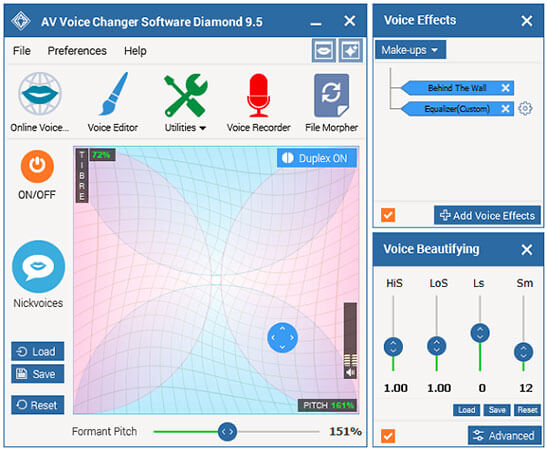 You can use it to morph all audio files selected at once using its batch file morphor. It is a compact audio editor that lets you edit the output file after you have selected it.
Feature Specifications
Accessible and easily modifiable.
Files can be converted into batches.
Provides professional results when used with VoIP apps.
Less action and more fun.
The sounds are numerous.
Morphs sounds and files.
Having used this product myself, I believe it will work with almost every VoIP program. It does not have a free trial and the basic version costs 29.95$, which is reasonable given the features.
5. Clownfish Voice Changer
Clownfish Voice Changer is very simple to use this Windows program. Specifically, Clownfish Voice Changer works on any program that has access to the microphone, so by activating the program, you will be able to change your voice on Google Meet, Skype, Zoom, or any other program that has access to the microphone. There are a variety of effects on display: alien voices, Atari voices, robot voices, radios, helium, and more! Since it is specifically designed for Windows operating systems, it comes with an intuitive and user-friendly interface that makes it a great choice for beginners. The software also allows users to generate high-quality sound effects using VST plugins.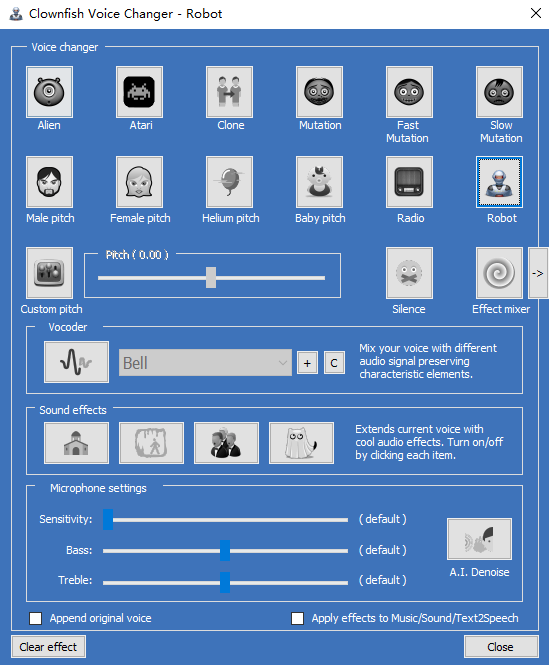 Gamer and live-streamer fans of clownfish are separate. In the background, it can run any sound & modify it with a microphone.
Feature Specifications
The 32-bit version is available as well as the 64-bit version.
Provides sound management through the Sound player
Control of background music from the microphone
Various types of voice effects are available
Text can be converted into speech using the Voice Assistant.
Multiple devices are compatible.
Google Meet voice changer that works reliably
A message can be encrypted and translated into another language.
The app does not collect any of your personal information, unlike other apps
A voice changer app such as clownfish is free, easy to use, and reliable. If you are using Zoom or any other video conferencing software, this will be the best voice changer option.
Part 2.

Best Voice Changers for Zoom Mobile
1. Voice Changer with Effects
Do you wish to change your voice on Zoom Android? Voice changer with effects, you can also use 40+ voice filters to make voice changing more fun and enjoyable. Whether it's a raspy zombie voice, a prolonged husky robot voice, a cute baby's voice, or a seductive woman, it has become a way more manageable.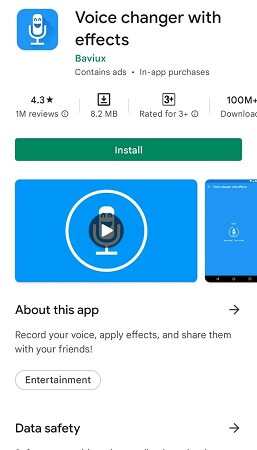 Feature Specifications
40+ voice filters
Generate voice from the text
1.3M+ Downloads with the Rate of 4.3
Voice Changer with Effects is free, easy to use, and reliable, but provide paid subscrition. If you are looking for a Android Voice Changer for Zoom, this will be the best voice changer option app.
2. Voice Changer Plus:
Voice Changer Plus brings you a platter of many more voice options. But, alluringly, it's not only about talking. You can sing anything and make the piece even more special with voice effects from the music band you love. Besides, this live voice changer app can put different layers of voices in previously recorded files. Encouraging optimum user-friendliness, Voice Changer Plus has received a 4.6 rating. Thus, Voice Changer Plus would be a perfect option for zoom mobile.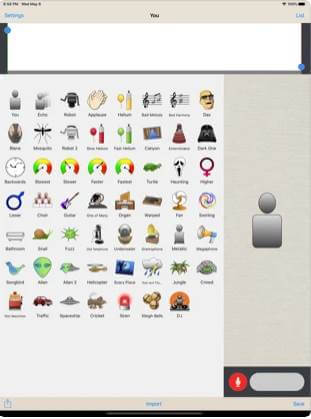 Key Features
Comprises 55 different voice effects and background sounds
Allows insertion of voice layers over prerecorded audio files
Photo sharing is among the premium features
Part 3.

How to Use Voice Changer on Zoom

A great software program for zoom recording, audio recording, and voice-changing is UnicTool MagicVox. For premium Zoom users, a recording tool with all the awesome recording features and amusing voice effects you would expect from a tool of this caliber is now available. The following steps describe how to use the UnicTool MagicVox Voice changer as an example on Zoom.
1

Download, install, and then run the appropriate voice changer program. Complete input and output settings on its settings interface.

2

In Zoom, click on the settings option button at the top right of the window.

3

If you clicked on the "Audio" tab in the settings window that opened, the Audio settings window opened.

4

From the drop-down, select "Microphone (Voice Changer Virtual Audio Device)" for the microphone option.

5

Turn off the automatic volume adjustment by clicking Uncheck this box.

6

If you want to test your microphone, simply click on Test Mic and speak into it. Adjust the microphone to your mouth position so that the bar shows in the middle when you talk. If your microphone was not originally set up, you may need to make some adjustments to it. Whenever you want to test your microphone, select your real microphone and run the "Test Microphone" command. Then go back to the MagicVox Virtual Audio Device. Make sure the microphone is set to 50%.

7

Click on the "Close" button to close the settings window.
Conclusion
The voice changers that we have listed above are all considered to be the best voice changers for both the Zoom and Google Meet platforms, according to our recommendations. When choosing a voice changer, it is important to select one that gives a comprehensive list of voices from which to choose. It should only use a small number of CPU resources, as well as have a low bandwidth requirement. I find that UnicTool MagicVox has the most voice differentiators for Zoom voice change when compared with the other voice changers that we discussed, and it is the best voice changer for Zoom at the moment.