International telephonic calls increase the inventory cost of people that sometimes have network issues due to bad weather and end up with unwanted interruptions during the calls. To make communication easy, techy veterans have introduced Skype to the market. Skype is a free software program allowing people to communicate in the best cost-effective way, especially for long distances. Nowadays, people are using VR Skype voice changers that transform the sound of your voice with real-time effects via computers and infuse fun into Skype conversation. So, unearth some voice changers for windows and glance at their exclusive features.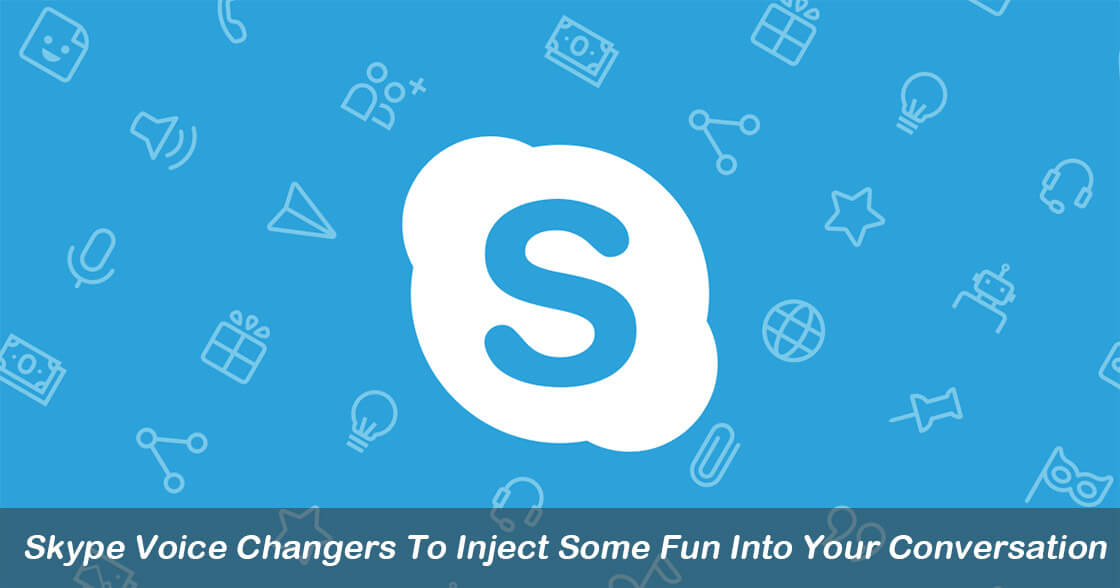 Part 1.

Best Skype Voice Changer for Windows

It is a real-time Skype voice changer preferably used in windows during a live chat on social media, Skype, chatting with friends during gameplay, or live streaming. People who love the fun of fooling others with voice changers can use them once for a brief idea of this MagicVox. Although the sound quality is marvelous, it gives satisfaction to the people. People use this voice changer on windows, Skype, zoom, and Interlabs. Fortnite and many more destinations.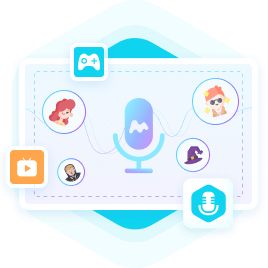 A Real-Time Voice Changer
Use numerous voice filters in real-time to change your voice via Magic Vox.
It incorporates 200+ voice effects which you can use on different programs.
Alongside it gives instant emulation of your voice while playing and doing live chats streaming with ease.
You can use it on Skype, stream labs, XSplit, Twitch, Overwatch, and many more.
MagicVox can collect your sound effects in audio files via WAV or MP3 format.
Pros
Easy to navigate
It gives clear sound quality
Get outstanding voice records of men, women, babies, or animals.
Cons
Expensive to use the pro version
The Voicemod Voice Box, a Skype voice changer, is an exclusive voice changer to use it. Just click an icon to activate it by setting the toggles at the bottom for user convenience. Find the Voicemod PRO version where the users get full access to the Voice lab. Here you can make your custom voice changers within seconds. You can edit your voice change in any type you want by adjusting the sliders set on the right-hand pane. Experiment with something new and create something unique! It has the saver box where you can store your records in Voice Box and share them with your friends to get the ultimate fun made by it.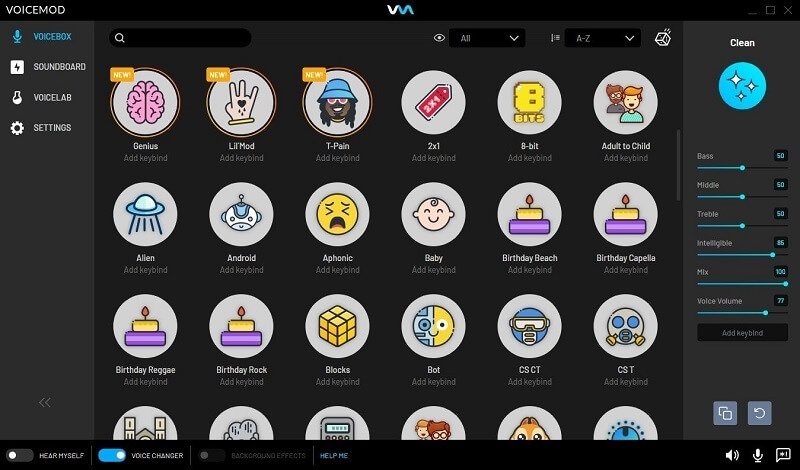 Key Features
Voice mod window stores exclusive switches, which provide various functions on this Voice Mod so that your near one cannot identify you on Skype.
Hear your voice after recording by earphones and make changes by switching different sound effects incorporated in the Voicemod.
Voicemod allows you to activate and deactivate any background effects instantly.
Voicemod adds real-time voice sound effects to every communication app, including discord, Skype, Zoom, Google Meet, WhatsApp, Desktop, and many more.
Pros
Five minutes to Download
Self hearing accessibility
Used during live streaming and easy to use
Supercharge your Skype experience with the voice changer Pro. This unique Skype voice changer has fantastic features that enrich your voice quality to transform it into different sound effects. In addition, it can be accessed as a modulator, creating some unique voices that sometimes remain unidentified by you. An exclusive voice changer app makes good fun with friends and is sometimes used by detectives to stop vulnerable crimes. The trial edition of this app will allow you to store the first 30 seconds of your call to WAV. However, if you have the license to use the pro version, get your whole conversation record in any audio compression format, including WMA, MP3, and AAC.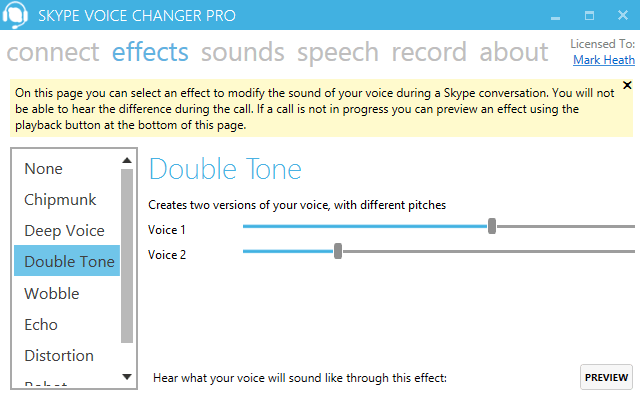 Key Features
At the Skype Voice Changer Pro, you can replay all the records, including the records of your previous conversations on Skype stored in their files.
The speech synthesis imbibed by Windows allows you to type any conversation or message. Then the voice changes will allow you to choose the voice you want to say and press play. Next, the voice changer app will generate a computer-generated voice that will speak the message on your behalf to the opposite person who is hearing your message.
You can adjust your voice parameters even when talking to any person on Skype.
Pros
The interface is simple and easy to navigate
You can add effect in live chats
Lo usage of desktop
Cons
The steam games are not accessible in this voice changer app.
Part 2.

Best Voice Changer for Skype Mac

MorphVOX, known as the Skype voice changer Mac, is a VRChat voice changer with exclusive features. Surprise yourself by downloading the voice charger free of charge as it has a MorphVox junior version. MorphVox is a real-time voice-changing software that affixes outstanding online games and VoIP; it also allows the user to start with the Instant Messaging applications. Also, it runs best on Mac devices to upgrade the convenience of the user experiences.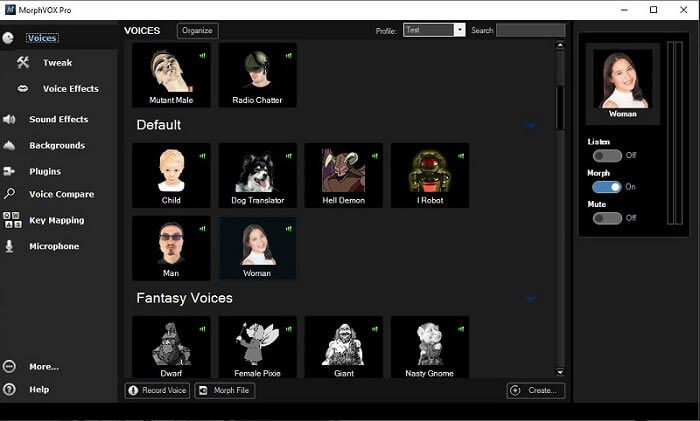 Key Features
It has superb voice learning technology, significant sound effects, and a background cancellation program.
Users can turn MorphVOX voice changer into a soundboard within seconds and send some nuisance sounds of farts and drum-rolls during live chats on Skype.
It is highly optimized with mobile games' you can add the sounds of dwarfs or other characters you are playing to enrich the fun of the gameplay.
It incorporates some fantastic voice-changing algorithms to form an ultra-quiet background cancellation within minutes.
Also, have voice parsing detection modes.
Pros
Palette and content organizer in the interface at this Skype voice changer
Has pre and post-graphic equalizer
Supports stereo and microphones
Cons
Do not include many features in the junior Morphbox version.
Voxal Voice Changers is a Skype voice changer Mac, which is quite an interesting tool used to modify your voice to make pranks and have fun with friends via Skype. With the accessibility of a real-time changer, you can convert your voice, including the tone and volume in games, music, and other platforms. In addition, you can use the equalizer of this app that includes: volume, bass, frequency, and stereo output. Thanks to these options, people using Voxal Voice Changer get the real-time voice changing modulator while talking on VOIP. Alongside, it is one of the leading VRchat options provided to people to meet all of their expectations.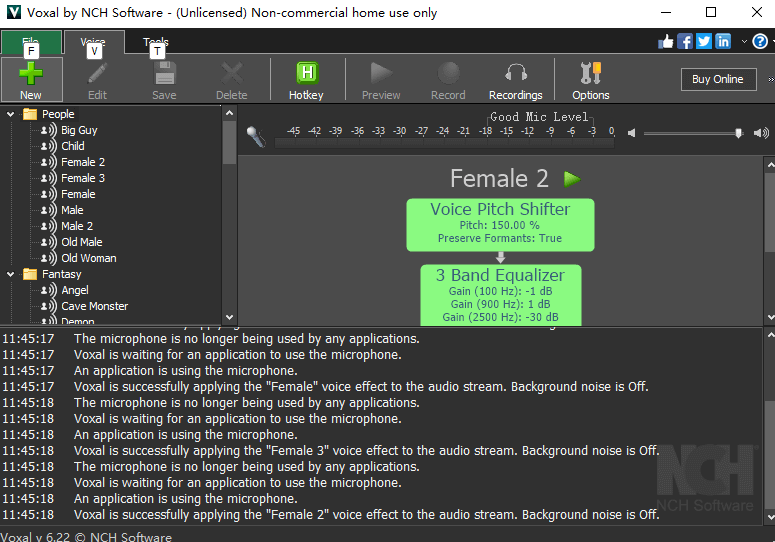 Key Features
It sounds like effects can be applied to different applications taken from the records of existing files.
Infuse sound effects in real-time through an audio input device
This Skype voice changer can store chains of custom voice effects for voice modification
The vocal effect library comprises a robot, alien, atmospheric, human beings, and many more
Create voices for audiobooks specifically of characters
Low CPU usage and don't interfere with other running applications
Pros
It runs smoothly on online gaming channels
Switch to different custom voices through hotkeys
Add background noise effects like rushing first, breezing of air, and many more.
Cons
Slightly complicated interface
Part 3.

How to Use Voice Changer on Skype

Are you tired of the same old calls? There is an extensive library of voice changers listed above. Let's experiment with anyone and pick what suits you the most. But the questions arise. How to get a voice changer for Skype? They are highly intuitive on Skype and other online call domains that revitalize your chatting experience. Whether you want to scare your friends or make pranks on them, these voice changers will be the ultimate takeaway. To download these voice changers on your PC, or Mac, you have to acquire these tutorial guide to get started in these five simple steps-
Step 1: Install the voice changer of your choice
Step 2: Download Skype on your PC and open it.
Step 3: As the screen opens, it displays three dots; you have to click on them that pop up with another page providing your username. Next, select the settings option on the right-hand corner by clicking on the Audio & Video tab.

Step 4: On the same page, you will get a Microphone option at the end. You have to scroll down the page to see it. In a voice changer like MagicVox, the Voice Box feature will be reflected on the left side of the main window.

Step 5: Browse the different sound effects. Then, download the voice changer and configure it on your PC. Then, you can apply these voice changers on Skype and see the functions of it to inject fun into your video calls.
The Bottom Line
The popular TeamSpeak voice changer is UnicTool MagicVox, which provides umpteen voice filters for the users. You can log in anytime after installing the tool on your PC. It offers more than 200 voice effects that you can integrate with the TeamSpeak app. These voice changers are used for your friends' or audience's fun and entertainment if you live to stream your games. TeamSpeak is the best VoIP platform for gamers, and a voice changer like MagicVox can help you tweak your voice the way you want. It can be a female, male, alien, Boba Fett, Stormtrooper, robot, or the bot voice.