If you own a prank video channel on YouTube, you must be familiar with the voice changers and their audio effects. The funny audio effect might grab the viewer's attention, but the scary voice will make them stick to the video for longer.
Why are monster sound voice changers eminent? Kidnappers and criminals use these voice modifiers to make their vocals resemble computerized creepy monsters' voices while hiding their real identities in movies. Whatever the motivation behind, research has shown that scary voice effects ensure believability to the surroundings, and most of us enjoy being scared. That's why horror movies are still released.
There are a bunch of voice changers who claim to produce inhuman voices. How to filter out the best one among them? Do they contain famous monster sounds? Check out the list below to find answers to these respective questions.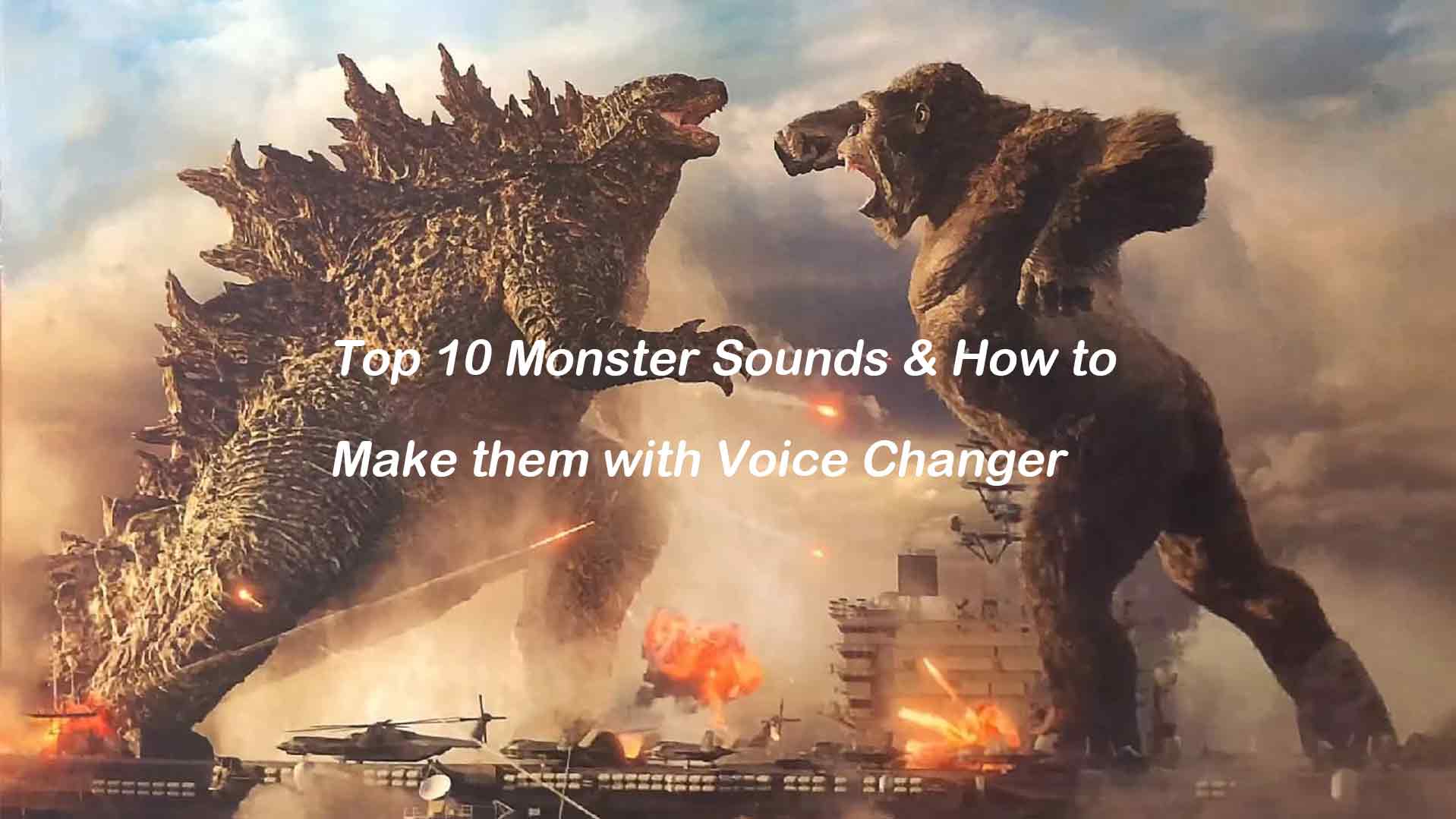 Part 1.

Top 10 Monster Sounds of All Time

Scary sounds are used for opposite purposes sometimes. Like, combining the Satan-like voice with something cute or evil giggle when you find something more amusing. Here we are mentioning the top 10 monster sounds of all the time.
1. Operation Wandering Soul
This monster-like awful sound was first used in the Vietnam war as a psychological operation to figure out if any soul was wandering out or not. Actually, the Vietnamese used to believe that if a person died and were not buried, his soul would be roaming alone in pain to seek eternity.
2. Tao-Tei: The Great Wall 2016
The Tao Tei are the primary antagonists of the historical-fantasy monster film. They are an ancient reptilian race that belonged to an unknown planet and invaded China. These monsters have shark-like teethes and tremendous strength. Cool monster vocals provide these inhuman creatures a realistic effect.
3. Vampires: Priest 2011
Once the discovery of vampires was made, the war between humans and vampires was initiated, which led to the devastation of the planet. Though these vampires' features were quite frightening, but the monster vocals were the most disturbing.
The Kraken: Clash of the Titans 2010
The Kraken is the critical antagonist in Clash of Titans. He is a giant sea monster 200-foot high, having tremendous strength, tentacle-like arms, and a mouth full of large and sharp teethes. There is more to be afraid of than a booming splitting roar.
5. Predator: Predator 2010
One of the most influential and terrifying monster sounds we have ever heard. His appearance is enough to spread the terror, but they used the fantastic idea of associating the picture with the unforgettable monster sound effect.
6. Godzilla: Godzilla
Finally, a king of all the monsters, Godzilla is a giant lizard, associated this creature to fire-breath due to its signature design. Its deafening shriek is enough to shake the viewers.
7. King Kong: King Kong
Like other monsters on our list, King Kong is another fictional character with a colossal size resembling a gorilla. Apart from its appearance and strength, we are compelled to reckon with it because of its ear-splitting roar.
8. Jigsaw: Saw
Games are designed to have fun unless they are organized for exploitation. A masked killer having the quench for blood and violence, arranged a game show for devastation. Along with it, a monster sound changer is the most horrific he utilizes throughout the series.
9. Monsters: A Quiet Place
How can we forget to mention one of the best monster movies of all time? Featuring the main cast who deliver magnificent performances in the series. The insertion of realistic monster sound effects makes the movie more interesting.
10. Kara then: Aquaman
A colossal sea monster with superhuman abilities and tremendous strength. Its tentacles let it move or slap around. Furthermore, its mighty monster-like roar is what forces us to mention it in this list.
Part 2.

Best Voice Changer get Monster Sounds

To make your research hassle-free, we have tested and mentioned out-ranked voice changers of 2022.

UnicTool MagicVox is launched just now, but still, it grasps the attention of voice-enthusiasts so quickly. Whether it's a matter of pre-recorded voice or real-time voice modification, you will always find this application serving the best in all possible ways.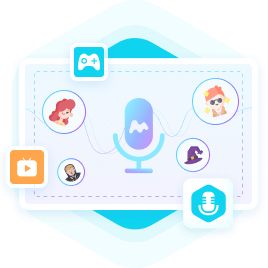 A Real-Time Voice Changer
Quick and Easy: It contains more than 100 voice filters to be readily utilized. Once the sound is recorded or you are in live streaming, it can transform your voice into the selected version within seconds.
Embedded Background Music: We have not seen this feature in other monster sound voice changers. Its voice filters come with embedded background music to provide a dramatic effect to your recording.
Customize Your Own Soundboard: If you are not impressed with the considerable collection of voice libraries, you can customize your audio effect or filter with the help of voice parameters.
If your motivation behind voice fabrication is trolling or doing pranks, monster voice clips and audio effects will suit you best. These scary sounds associated with the horrifying picture create the best menacing combination ever.
User Comment
It performs pretty excellently as a voice modifier and editor. Even in the free version, it provides hands-on access to some pro features, and by paying 0.2$/day, you can switch to the advanced version.
Rating
4.5/5 for delivering outclass performance.
How to Use UnicTool MagicVox? Step by Step Tutorial
1. Download the application.
2. Launch it into your device.
3. Configure input and output device. From the setting, assign a microphone as input and headphones as an output.
4. Record your audio or import the audio file to apply the voice effects and filters.
People who are not aware of UnicTool MagicVox rely on Voicemod to get their work done. It's a significant voice changer that can add real-time voice effects to streaming platforms and communication applications. Plus, it contains a few features for Fortnite, Among Us, Minecraft, and many more.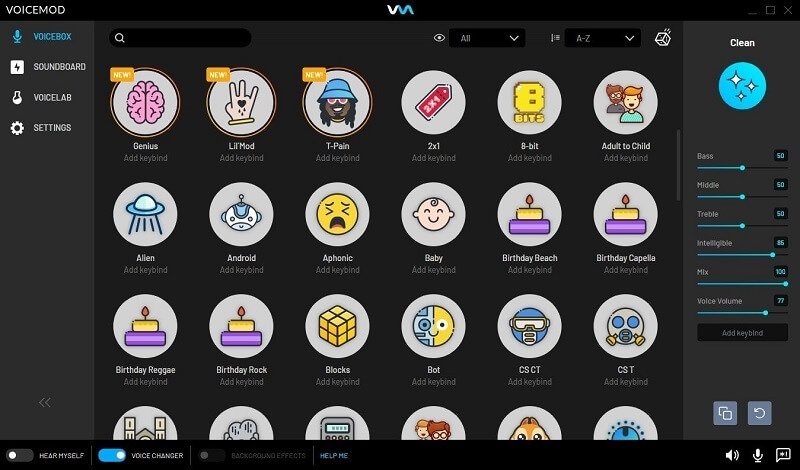 Voicemod is an on-go choice for most various voice enthusiasts. With this application, you can sound like a man, woman, robot, or horrifying monster. With its vast voice collection, you can convert audio into any of the imagined or desired monster you want.
Key Features
Easy to Operate: Get a VoiceMod on your device, and you are good to go with it.
Compatibility: VoiceMod is compatible with the latest Windows operating systems and Macintosh Computers. Furthermore, they support the applications like Audacity, Twitch, Elgato Stream Deck, Omegle, and Streamlabs OBS.
Voicelabs: If you get bored with the filters and effects offered by the VoiceMod, then you can create your personal soundboard. Here we can rely on the Voicelab as it possesses professional-grade effects for voice modification.
User Comment
Voicemod contains some pro features that let you create entirely different vocal identities to jiggle with. Its voice library contains everything regarding audio modification a user can ever imagine.
Rating
4 out of 5 from all over the world. Primarily, it is utilized by gamers to deliver outstanding voice quality.
If you aim to utilize a few features like transforming voice or adding a scary ghost effects on audios with no aim of advance adjustments in clips, Voice Changer is perfect. You can change your voice into a character you want as the website is flooded with numerous voicing effects and filters, including monster, alien, robot, and plenty more.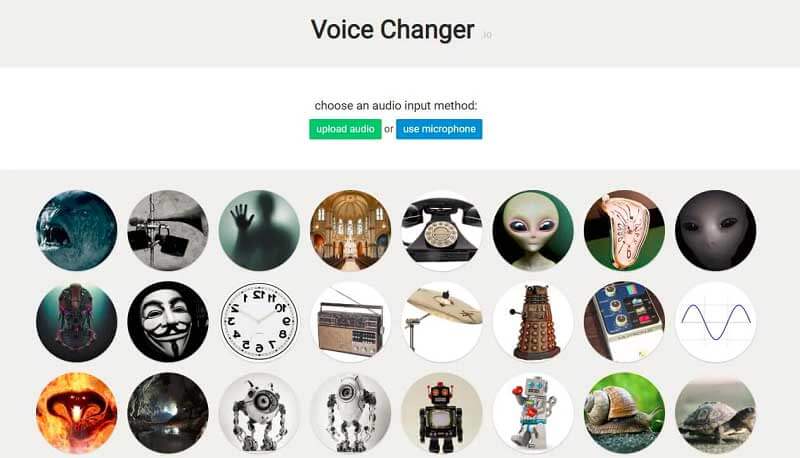 Key Features
Look at its features to understand the simplicity of this fantastic tool.
User-Friendly: With this voice changer, you don't have to wait or go through the installation process. Load this website in the browser, and there is no registration or subscription-like option you find. Choose the pre-recorded audio whose vocals you want to transform or use a microphone to utilize it in real-time.
Speech from Text: Another unique aspect we notice in Voice Changer is generating a speech from text. To utilize this feature, enter the text, and you will be given three voices to choose from. By making a slight configuration, you will receive an output.
Free of Cost: Things sound astonished when it offers for free. No additional charges are applied to this website to access its pro and advance features. It's free and open to everyone.
User Comment
We find this app simple and best in terms of voice conversion. Additional features like text conversion into voice add value to its worth.
Rating
4 out of 5 for providing its commendable features free of cost.
While other voice-changing platforms are working on audio conversion only, Lingojam was engaged to make trans genders' life more manageable.
Not everyone likes to undergo reassignment surgeries or hormone replacement therapies for adjusting vocals and voice pitches. Still, if they do, they need vocal training as well. This voice changer lets you listen and analyze your voice pitch at a deeper level to make your session successful.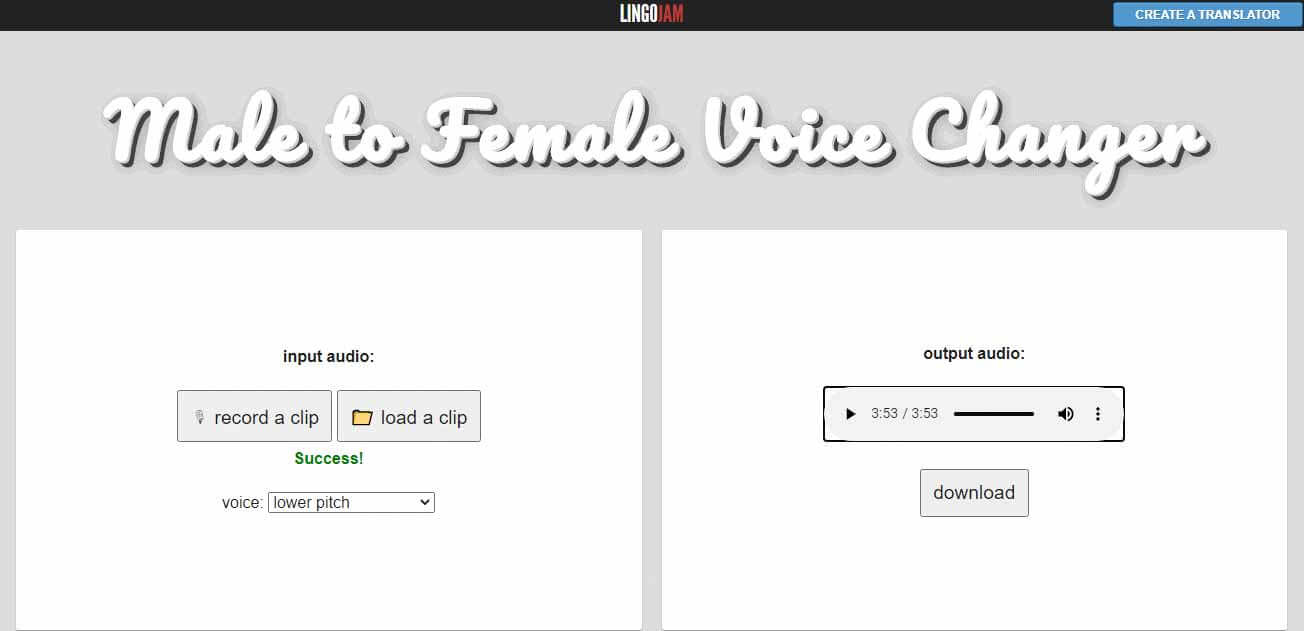 Apart from it, you can have fun by producing funny or monster sound effects. Its huge preset sound library can create inhuman scary sounds without any effort.
Key Features
Let's dig into its features and what it can offer:
Voice Pitch Analyzer: Listening to the other men's voice is simple, but focusing on a person's audio whose accent is different than usual is quite challenging during vocal training. An embedded voice pitch analyzer can help you to critically examine the pitch at various levels.
Ease of Use: You have two options to choose from Record audio by enabling the microphone or uploading the pre-recorded audio. Choose an audio effect, and output will be generated in a couple of seconds.
Cost-Effective: This website doesn't cater to you with the premium fee-like situations. All of its features are available online and free of cost.
User Comment
One of the best voice modifying software to use in vocal training and for voice conversion to amuse your community.
Rating
3.5/5 due to its simplicity.
You may find thousands of monster voice changers to work on desktop computers, but there are hardly a few scary voice-changing applications for android. Finding the best one with the worthy features included is quite challenging.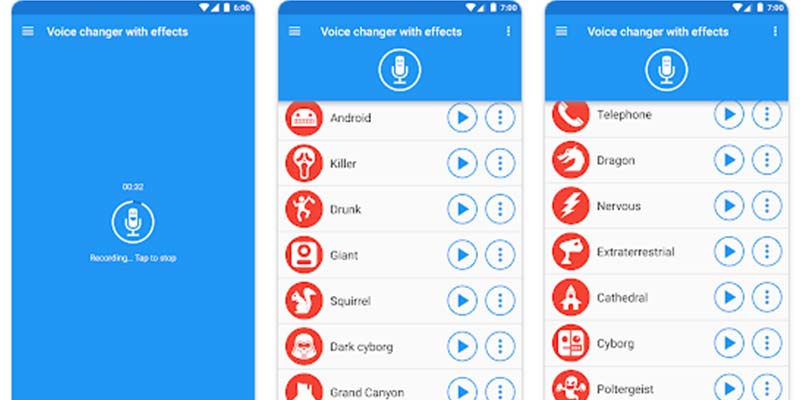 Voice Changer with Voice Effects is an android software quite famous for its voice modifying tools, variety of audio filters, and effects. Try not to be afraid while combining the freakiest music effects voices together with this software. It's an excellent monster voice changer for android we have ever seen.
Key Features
For better understanding, read its features mentioned below:
A voice from Text: A unique aspect of this application is it can create a voice from the text. If your microphone is not functioning or you cannot suppress background noise, then it's better to utilize this feature for flawless output.
Share Your Files On Social Platforms: Once the voice is converted to a character or tune of your choice, you can share it on social media platforms to prank your friends or for other purposes. Moreover, the app can generate a related image with the transformation to give it a more dramatic effect.
Free of Cost: Once the application is downloaded, you have free lifetime access to all its features. Create transformed audio and have fun with it.
User Comment
Ease of use and file sharing option, along with the other unique features, make it a top-notch choice for users regarding voice adjustment or amendment.
Rating
4.3/5 for being very simple and easy to operate.
Part 3.

How to Get Monster Sounds with Voice Changer?

The monster creatures demonstrated in horror movies are enough to send a shiver down somebody's spine. But what if you want your voice to sound like a demon?

If we were in the 90s, we'd probably laugh out loud at this ridiculous demand, but it's an era of the 21st century where every illogical thing can happen or be expected. Thanks to the latest technology of UnicTool MagicVox, which can transform our voices into something we never imagine.
Step By Step Tutorial
Step 1: Download and Install

Visit the official website of UnicTool MagicVox or whatever voice changer you are supposed to use. Click on the download button and install it on your device. If you are operating with it for the first time, read the user manual for further assistance.

Step 2: Set Mic and Headphone

Next, configure input and output devices. Assign a mic as input and headphones as an output. You can control device configuration through the control panel by locating to "Windows audio configuration."

Step 3: Platform Integration

To use your voice changer in real-time, enable it on the communication apps like discord, teams, or zoom. You can integrate it with real-time games like PUBG or Rust. Go to the Setting- Audio Setting- Microphone- Select "Voice Changer Virtual Audio Device" as the default input device.

Step 4: Filter Selection

Stop here if you aim to apply the scary monster effect to the single recorded audio. Modify your voice clip, and here you are, good to go.

To use it on integrated platforms, browse through the pre-designed scary voice filters, and choose the monster effect to make your friends scream.

Step 5: Customize Your Own Monster Sound

If you have tried every monster filter offered by UnicTool MagicVox, it's time to do something remarkable. Create your own horrific sound effect with the help of voice parameters available in VoiceStudio.

Speak into the microphone to ensure that the monster effect is applied. A converted voice will be delivered to the other members who are in the conversation.
Conclusion
Monster sound voice changer can be used for various purposes. Whether these emulated sound effects are utilized for professional purposes or for the sake of fun, always put your hands down on quality applications like UnicTool MagicVox. Its huge voice library always has something unusual to offer.
Apart from annexing already created monster effects to videos, you create a custom monster sound which is not there before. Who knows, you will end up with an outstanding horrific clip to stand out in the horror history.