If you want a female voice for a project, podcast, or animation, try the best voice changer. Girl voice changers are the best application not just to add fun and creativity to your video but also to pull pranks and do fun with funny voices.
There are plenty of girl voice changer apps and online software. Selecting the best voice changer can make or break your video and streaming. Don't worry! We have mentioned some best voice-changing applications available in the Google play store and App store.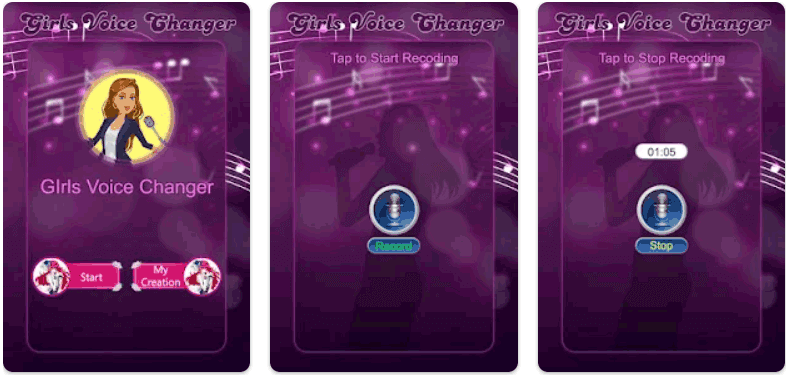 Part 1.

Best Girl Voice Changer for PC

Every device has a different demand. Some software works seamlessly with PC while others are specially designed for mobile. However, mentioned voice changers are best according to users. Let's explore:

UnicTool MagicVox is an all-time favorite of advertisement and software companies. It is a whole package of voice changer tools. The huge library allows you to select a pre-designed voice to complete the task with one click. If you want to modify and make a different voice, the soundboard enables you to set pitch, frequency, etc. According to preference, it is easy-to-use interface is ideal for beginners, and its abundant features make it fascinating to you experts.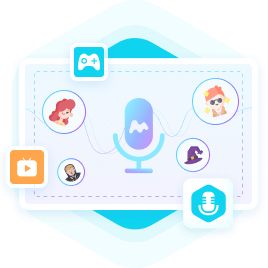 A Real-Time Voice Changer
Instantly change your voice: you can easily change your voice into different characters using pre-set voice filters with one click. More than 100 filters are present to make the process easy.
Real voice changer: you can instantly change the voice during live calls, gaming, or streaming with ease. The addition of an outstanding filter with background sounds uplifts the environment, mode and makes the voice-changing effect vivid.
Excellent soundboard: UnicTool MagicVox supports practical and functional soundboards. More than 300 sound effects make the chat and live stream euphoric. Use the hotkeys to control playback, stop, cycle, and replay sound effects without interruption while chatting.
Key Features
File Editing: this vivid girl voice changer allows you to easily import your MP3 or WAV audio files to expand your sound effect library.
Voice memes: it integrates 150+ most popular and hilarious voice emotions to meet your requirement to manifold the fun for discord, live streaming, and gaming. Import and make the memes effortlessly.
VoiceStudio: voice studio is a must-have feature in girl voice changer. It is easy to use, offering a wide range of sound parameters to adjust. Make your own unique and special voice with some clicks.
User Experience
People like this application because they found everything they need for voice changing. No need to visit and download different platforms for different tasks. Moreover, its high quality and performance have made it an all-time favorite.
How to Enable UnicTool MagicVox to Personal Computer
Step 1: Download and Install UnicTool MagicVox App

Clicking the link mentioned above, click "Download" to start downloading. After completing download, install and run application.

Step 2: Configure Mic and Headphone

Navigate to the settings menu, and select the headphone as an output device and the microphone as the input device. You can also configure the mic through Windows audio configuration from the "Control Panel."

Step 3: Select the platform

Select the platform where you want to change the voice, like the game, Skype, or live calls, by assigning the input device as Voice Changer Virtual Audio Device (WDM). You are ready to enjoy the female version of your voice.

Step 4: Select the Sound Effects

Open the application. Click "VoiceBox'' to select the preset filter. For female voice, you will choose the 'Girl' filter.

Step 5: Enjoy Transformed Voice

Click on self-testing from the platform to check if the voice changer is working how you sound. After cross-checking, you are all set to have fun in live chat and game.
MorphVOX is one of the well-known girl voice-changers. If you are looking for an easy-to-use application for beginners, fortunately, you have come across one. Its high compatibility works for almost every operating system and allows real-time voice changing. If you want to change the voice to a female voice, a free version will work for you. To get access to all features, you need to purchase an application.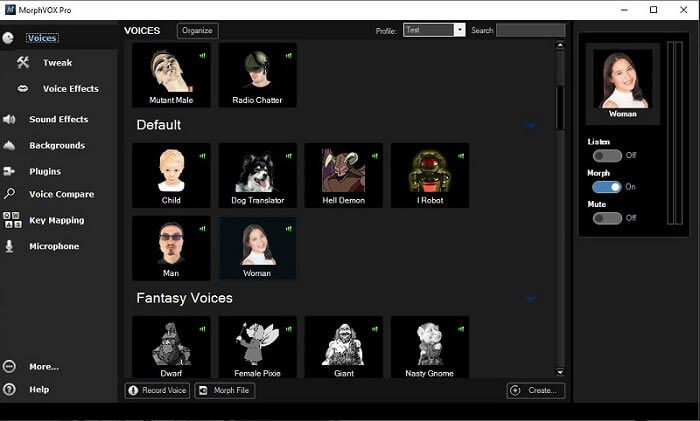 Key Features
Pack of free voices: you can tweak pre-designed available voices the way you can make a voice combination. It makes the process compact in one step
Add background effects: it features a soundboard to prank the friend. You can actually make him sure that you are stuck in traffic by adding a traffic voice in the background.
Excellent Voice Changing Algorithm: this versatile girl voice changer offers an ultra-quiet background noise cancellation feature to make it silent in the surroundings
Optimizations for Online Games: You can sound similar to the character during the game. Therefore, you can select if you want to sound like a sweet girl, a grumpy dwarf, or a dangerous giant.
User Experience
Multiple features association offered by advanced girl voice changer MorphVox has made it the favorite voice changer according to users. They are satisfied with the performance and quality.
Voicemod is one of the best girl voice-changers with an impressive list of voice filters. You can choose from a wide range of voice effects for fun and professional use. This tool is spectacularly easy to use and absolutely free across all windows. Although applications work for discord, you can integrate with Skype, Viber, and online chat or streaming platforms.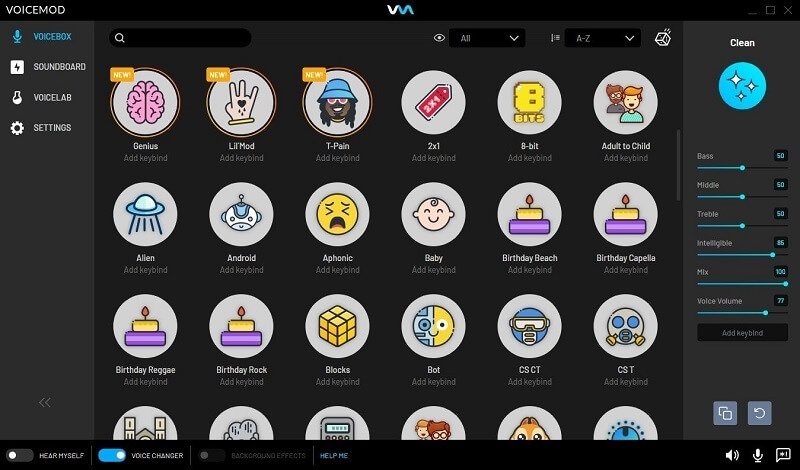 Key Features
Automatic connection: this application is more convenient to use for beginners. It automatically adds a microphone input device setting for any application upon installation.
Huge library: Voicemod features more than 90 preset voice filters to change the voice instantly. You can select from the library and enjoy the game with a changed voice with one click.
VoiceLab: If you are the one who likes to sound unique, Voicemod will help do that. With the voice studio, you can create your own desired voice.
Background voice blending: this girl voice changer has made pranking convenient. You can layer the voice with any sound or music to uplift the mood or make excuses that you are somewhere away.
Use experience
Voicemod is the penthouse of all necessary voice changer features. The beautiful, simple interface makes it useful for beginners. Users appreciate its collection of voice effects.
Part 2.

Best Girl Voice Changer Online

Voice-changing technology is not limited to the PC. Now you can use girl voice changer online through any device. You just need to have a strong connection, and you are ready to rock.

This girl voice changer is a website where you can create your translator or discover the existing one. LingoJam is a platform where you can record and upload an audio clip. Select available options to change the voice. You can also preset voices like a female, male, chipmunk, mountain, etc. Once you are done with editing, download it and save the editing audio, but you cannot change the output format. Every audio file is saved in WAV format.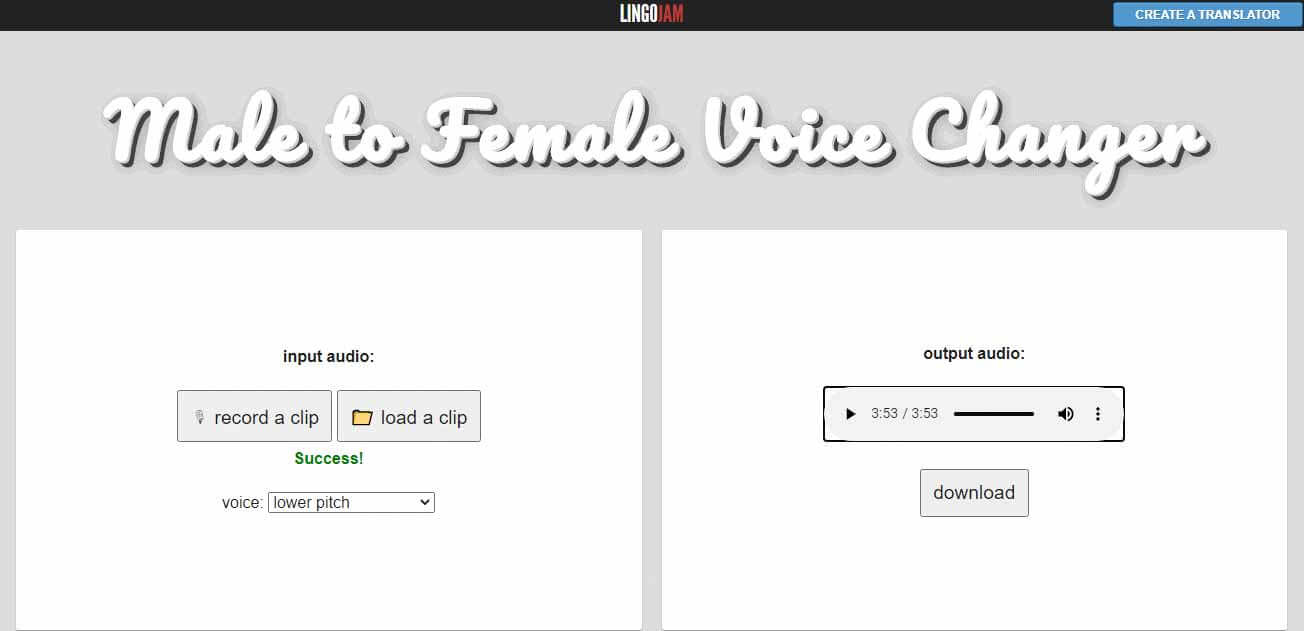 Key Features
Easy-to-use: the interface seems monochromatic but fascinating. Two sections are available to upload and download. This LingoJam is easy and simple for beginners.
Support all audio files: LingoJam girl voice changer does not support real-time voice changing. But you can upload audio files of any format but cannot select the downloading format. It is a good website for audiophiles.
Pitch alteration: although it does not feature too many complex features, it allows pitch alteration to add to your own taste.
User Experience
Due to its easy accessibility and valuable features, users are satisfied and appreciate the simple and interactive interface.
Whenever it comes to creativity about voice changing, Media.io comes to mind. It has brought on the game with unique features and effects. It is an admirable online girl voice changer for content creators, YouTubers, and gamers.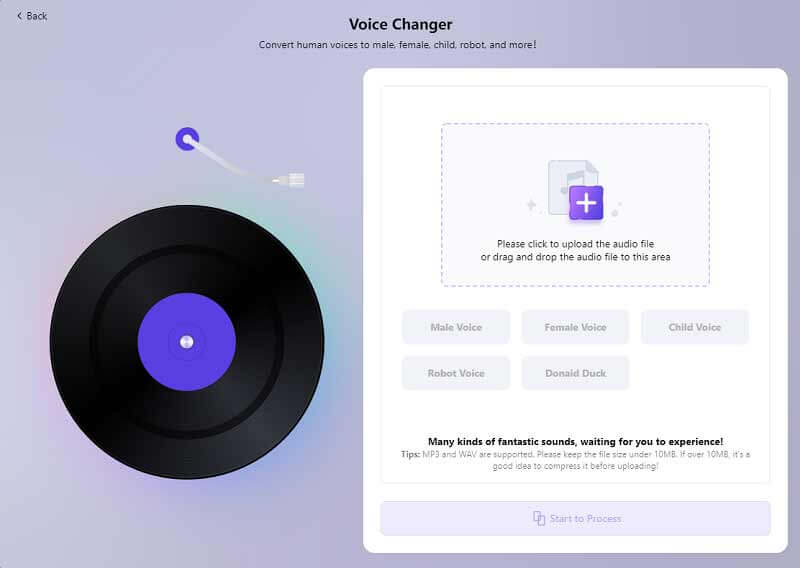 Key Features
Easy and fast: no need to download the software. The best girl voice changer instantly changes the voice into the female with a few clicks.
Abundant Voice Filters: this versatile voice changer features a large number of preset voice filters. You can transform the voice from a male to female, child, robot alien, and many more. Get a little scary with hunted clowns and scary ghosts.
More than a voice Changer: it is a voice changer and editor. You can edit the audio easily with voice studio to get the desired voice.
Support all audio files: this is a practical voice changer always up to serve with ease. You can edit the audio by uploading audio in any format.
User Experience
Users found this voice-changing website fascinating due to its abundance of features. It charges a bit, but worth it.
This application does exactly what the name suggests. If you are willing to find a free source to edit the pre-recorded file with a few clicks and create a new one, VoiceChanger.io is the best functional choice. Once you have recorded the file, you are ready to transform it into the alien, robot, or girl's voice. You cannot share directly on the social media platform. First download, then share.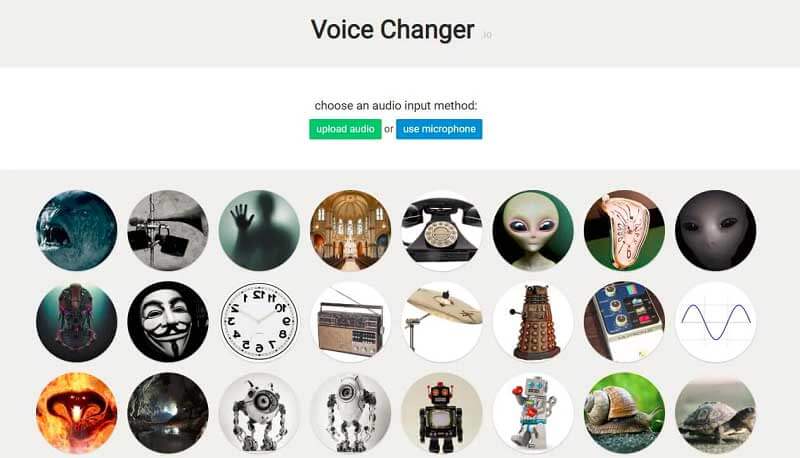 Key Features
Easy to use: this girl voice changer is designed for a single purpose. It performs the task efficiently and makes the process easy for users with a simple interface.
Abundant Voices: VoiceChanger.io features dozens of voices that allow you to transform the voice into an alien, villain, female, or superhero.
Support all audio formats: this application supports all audio formats. You can upload the recorded voice easily, but remember that the quality of voice depends on the microphone. It does not hinder the quality.
User experience
Users find the girl voice changer effects for beginners and audiophiles. Gamers can also change the audio but not in real-time. Therefore, it does not stand high on the list of best voice changers for gamers and streamers.
Part 3.

Girl Voice Changer Apps

If you have a smartphone, you can operate voice changers as well. Download the application from the play store, install it, and you are all set to prank your friends.

Voice changer is one of the most appreciated tools with many necessary features. The free-to-install application is available on the play store. Voice changers have made the pranking, fun and creative euphoric. If you like to create different voices, this funny free voice changer is your thing.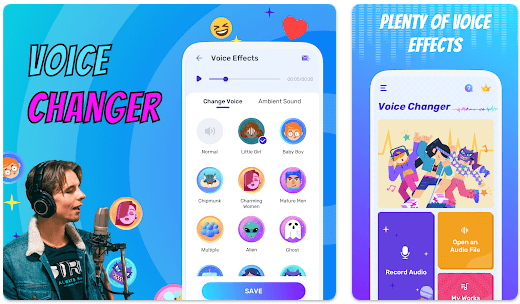 Key Features
Abundant Voice filters: if you are midway through the live stream and willing to add some crisp, you're just a few clicks away. Select the female filter from the Voice Changer, and here you go.
Easy to Use: this girl voice changer app is designed for beginners. Whether you are a beginner or expert, you will find it easy and instant to operate.
Customization: some users do not find preset filters fascinating. Therefore, they want to come up with their own unique voice. This Voice changer can help you design one.
User experience
Many users have responded positively to the application due to its high-quality features and excellent performance.
Are you willing to hear a female version of your voice? Girl voice changer will make it happen. Record your voice by using this application and transform the video effortlessly. It is simple to use with a captivating colorful interface.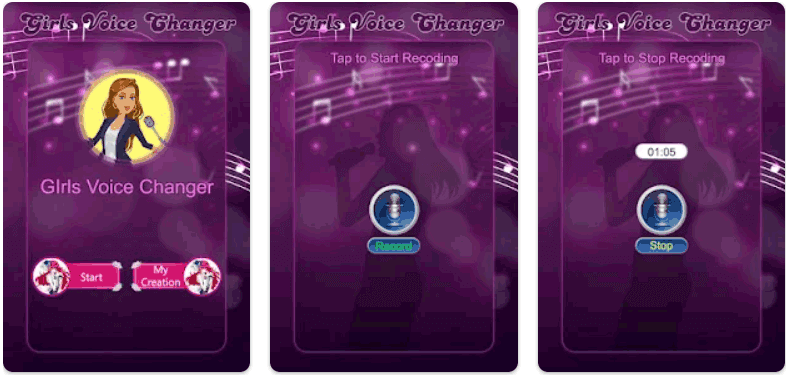 Key Features
Easy and efficient: the application does not take more than two minutes to download. With the beautiful interface, it is easy to operate for beginners.
Customization: the application allows limited but essential customization to create your voice.
Support all audio files: this is one of the best girl voice changers with the capability to upload audio files of all formats.
User experience
Its collection of preset filters is terrific for making funny voices. People have given positive responses to this application due to its simple yet abundant features.
Voice changer plus is a practical, functional, and highest-rated tool. Apart from generating Mickey Mouse voices, it also generates girl voices. You can also find dozens of other voices to make the video hilarious. It offers dozens of amazing and super funny voice effects to modulate your voice to your satisfaction.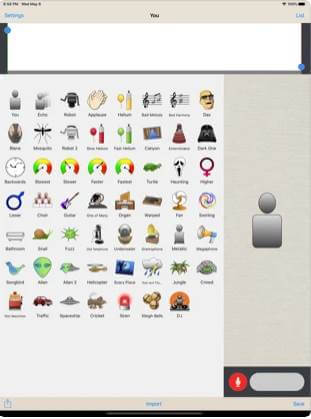 Key Features
Background Sound: multiple background sounds are available for pranking and excellent editing.
Voiceover support: it is one of the few girl voice changers supporting voiceover facilities.
Direct sharing: this application allows users to share on social media directly.
User experience
The incorporation of excellent and essential features has made it rank among the top girl voice change app.
FAQ
How does a girl voice changer work?
The girl voice changer applications generally work by shifting the pitch sensitivity to higher notes. Using voice changers, when boys imitate a girl's voice, they typically raise their voices to a higher pitch and make them sound like women.
Is voice changer illegal?
Voice chargers that help in voice modification or tone, format, and pitch using different filters and effects are legal. It is good software for fun and professional use, but committing crimes is not legal.
Conclusion
The excellency of a voice changer depends on the requirement of the user. Whether you want a voice changer for gaming platforms like Skype, Hangouts, etc., or for professional use, you must select accordingly. The girl voice changer is fun. The UnicTool MagicVox is excellent to use on both gaming and professional platforms. It supports every feature necessary for voice changing.