Have you ever considered the fun you can have while playing Valorant in a girl's voice? Valorant is an online multiple-player game with a five-versus-five setting divided into two teams. The attacking team aims to plant the spike.
Valorant is a real-time gaming platform where players communicate openly to direct their team members. The players collaborate to reach their individual aim. Can you imagine the fun you can have by completely fooling your friend?
Continue reading to learn about the software options for a girl voice changer for Valorant and how you can completely customize a Valorant soundboard.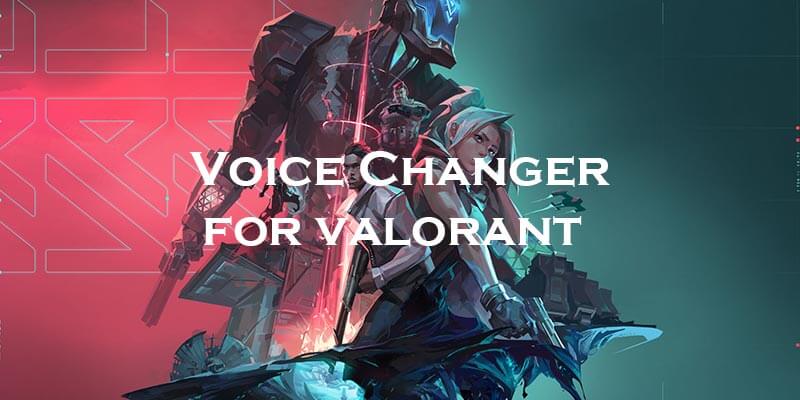 Part 1.

The Best Voice Changer & Soundboard for Valorant

MagicVox voice changer for Valorant offers real-time audio changing. The user can enjoy sound effects and a complete meme board to have fun with the friends in the lobby.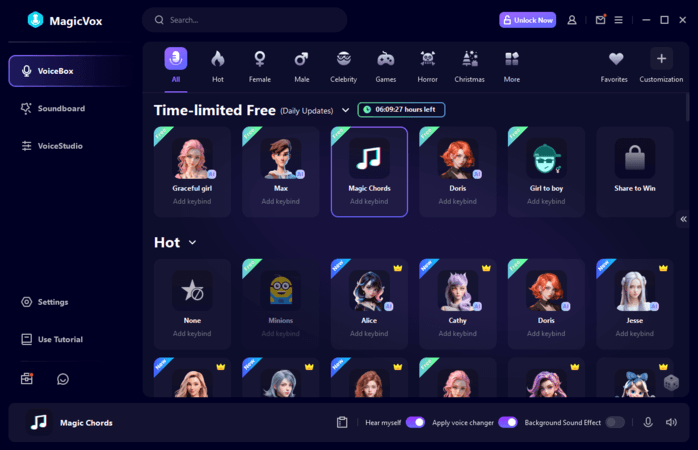 With the UnicTool MagicVox girl voice changer for Valorant, you can assign shortcuts to different keyboard keys for voice filters and soundboard. As a result, the user can launch sounds mid-stream without the audio obstructing them.
The user can also import mp3 or WAV files without any difficulty. MagicVox is a good Valorant soundboard that is entirely customizable.
The software updates every month with additional voice filters and soundboard options. Recent additions include a failing heartbeat and a dog barking.
Features of MagicVox Valorant Soundboard and Voice Changer
It comes with 130+ voice changing soundboards, including variours anime girl, gamergirl voices and soundboard, voice memes.
You can control the playback of voices and soundboards while playing Valorant so that there is a little interruption.
With AI voice cloning technology, the voice changing effect is more realistic.
Background sounds are supported so you can create fake environment sounds.
Noise reduction for high-quality voice output.
Part 2.

How to use Voice Changer and Soundboard for Valorant?

UnicTool MagicVox is an easy-to-use voice changer for regular use and online gaming. You can use it alongside many streaming platforms. Like Space Marine, Call of Duty, Fortnite, Twitch, Discord and so on.

MagicVox also offers more than 600 sound effects that are timeless additions to the software. Furthermore, you can increase the sound effect portfolio by importing mav and mp3 audio sounds as necessary.
2.1. Girl Voice Changer for Valorant
Here is how you can apply a girl's voice while playing Valorant:
1

Download and Launch MagicVox girl voice changer for Valorant.

2

Select "VoiceBox" from the menu on the left.

3

Select "male to female" or other girl voice effects.

4

Launch Your Game and Change Settings

Now go to settings of Valorant and look for Audio. Click on Voice Chat > Input Device. You will see different options, and you have to select Microphone (Voice Changer Virtual Audio Device) as your input device. Once done, hit Apply.

5

Run MagicVox With Valorant

That's it! Now when you play the game, you can instantly choose a voice from MagicVox and have fun with other players.
2.2. Popular Girl VoiceMeme and Soundboard for Valorant
Trick your teammates in the lobby and the game with girl voice and other custom meme soundboard. How to do it?
1

Launch UnicTool MagicVox

2

Select "Voice Meme" from the menu on the left.

3

Select E-girl, Anime, or Crazy Girl modes from the horizontal line.

4

Templates of a girl saying "Bye, How old are you, Stop" are available to choose from.

5

Select the sound. Apply a keyboard shortcut using the "Add keyboard" option on the right.
Now let us discuss how we can incorporate the soundboard for Valorant
1

Launch UnicTool MagicVox

2

From the side menu, select the menu "Soundboard."

3

Browse and play the sounds on the interface.

4

Click Play to…play the short bursts. Stop to end the audio. Replay to play the sound again

5

Once you know which sounds you like, click on "Add keyboard."

6

Now the "Add keyboard" sign has become active. Assign a keyboard key shortcut.
The feature ensures the sound effects are timely with no interruptions. Now you can:
1. Press 9 for a laughing sound when a friend's joke is not funny.
2. Press 6 to play a fake message tone to give yourself a false break.
These are only two of the many options to choose from. You can assign shortcuts and revolutionize the gaming experience according to your taste, interests, and friends.
Conclusion
With the simple instructions above, you can easily find valorant soundboard to impress your friends in real time. UnicTool MagicVox is a reliable voice changer for Valorant, Discord, Fortnite, CS Go, World Warcraft, League of Legends, and PUBG on a Mac or a Windows PC.
If you want to come across a fascinating valorant voice changer, download MagicVox for free down below now to enjoy a Valorant voice changer!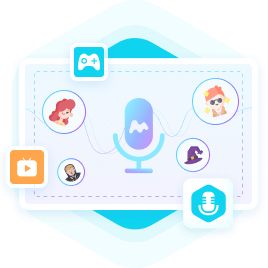 Valorant Soundboard and Voice Changer
200+ voice effects that can be applied in real-time, and you can also add background sound effects
MagicVox has a real-time voice changing configuration with platforms like Fortnite, PUBG, Valorant, CS: GO, Twitch, Zoom, Discord, etc.
Inherent voice changing effects like female voice changers, minions, monsters, chipmunks, aliens, robot, etc.
The Voice studio of MagicVox lets you edit your voice, change pitch, and adjust voice settings to get the desired sound effects.
600+ sound effects and voice memes for gaming creation lighten.