Have you ever considered the fun you can have while playing Valorant in a girl's voice? Valorant is an online multiple-player game with a five-versus-five setting divided into two teams. The attacking team aims to plant the spike. On the other hand, the defending team prevents the opponent from doing. However, the defender team can still lose if they cannot diffuse the spike.
Valorant is a real-time gaming platform where players communicate openly to direct their team members. The players collaborate to reach their individual aim. Can you imagine the fun you can have by completely fooling your friend? Continue reading to learn about the software options for a girl voice changer for Valorant and how you can completely customize a soundboard.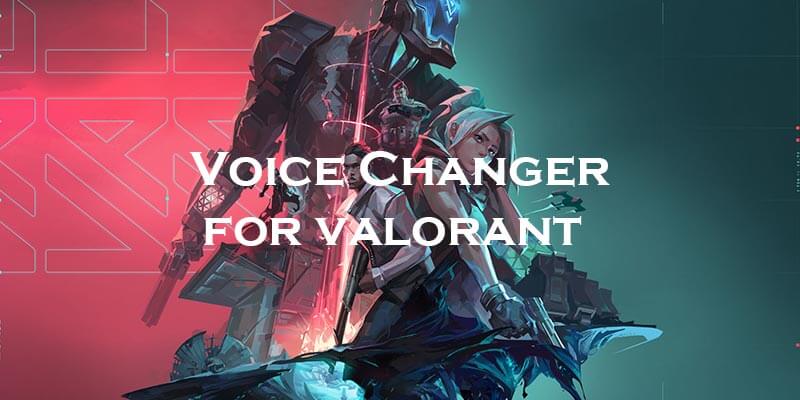 Part 1.

Top 3 Voice Changer for Valorant
1. UnicTool MagicVox
UnicTool MagicVox voice changer for Valorant offers real-time audio changing. The user can enjoy sound effects and a complete meme board to have fun with the friends in the lobby. It enhances the playtime and makes the stream truly memorable.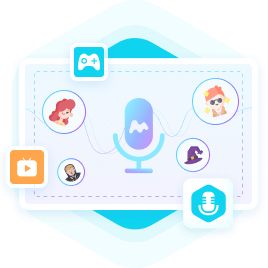 A Real-Time Voice Changer
200+ voice effects that can be applied in real-time, and you can also add background sound effects
MagicVox has a real-time voice changing configuration with platforms like Fortnite, PUBG, Valorant, CS: GO, Twitch, Zoom, Discord, etc.
Inherent voice changing effects like female voice changers, minions, monsters, chipmunks, aliens, robot etc.
The Voicestudio of MagicVox lets you edit your voice, change pitch, and adjust voice settings to get the desired sound effects.
With the UnicTool MagicVox girl voice changer for Valorant, you can assign shortcuts to different keyboard keys for voice filters and soundboard. As a result, the user can launch sounds mid-stream without the audio obstructing them. You can completely change the gaming experience.
The user can also import mp3 or WAV files without any difficulty. MagicVox is a good Valorant soundboard that is entirely customizable. Gaming lovers can create their soundboards and launch sounds as necessary for laughter.
The software updates every month with additional voice filters and soundboard options. Recent additions include a failing heartbeat and a dog barking.
2. Clownfish Voice Changer
The second option we offer regarding a girl voice changer for Valorant is the Clownfish Voice Changer. You can employ the sound change in private gaming or while you stream too.
Clownfish voice changer offers many features for the users. The features called Alien, Atari, Slow Motion, Fast Mutation, Baby Pitch, Robot, and Custom pitch make it quite popular with the users.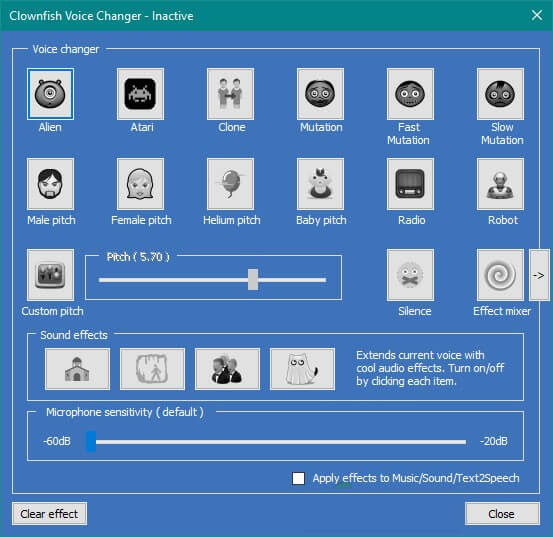 Clownfish has intensified its privacy policy. It protects the users, making it stand out from the competition. Furthermore, the voice changer for Valorant advises using a VPN to overcome vulnerabilities in the connection. It also creates a robust connection as well.
Lastly, the option for a girl Valorant voice changer is also localized to appeal to a broader audience. The user interface ensures the software is easy to understand and follow too.
3. Voicemod
Voicemod was founded by three brothers in 2014. Their organizational aesthetic of teamwork is inspired by growing up with 10 siblings. Now you can sound like a cool superhero or an anime princess. If you are uncomfortable with your voice, you can freely use the audio communicator with the lobby members. It creates an additional level of security.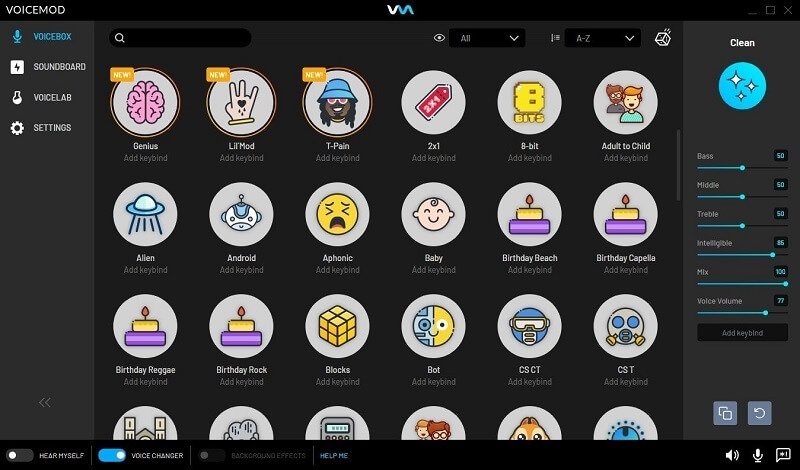 Voicemod does not confer on local boundaries. It is appropriate software that is applicable in many fields of work such as leisure, gaming, education, and professional spheres.
On the other hand, the voice changer for Valorant represents the in-game avatar accurately with added features. You can use Voicemod efficiently to communicate or request information.
Voicemod aims to bridge the gap between humans and audio. The founders believe the software is a revolutionary experience that impacts voice changing technology for the better. You can customize your own Valorant agent voice changer like Omen, Sage, and Sova in VoiceLab, it can help players to get a better gaming experience on the skins of agents.
Part 2.

How to use Voice changer and Soundboard in Valorant?

UnicTool MagicVox is an easy-to-use voice changer for regular use and online gaming. You can use it alongside many streaming platforms. MagicVox software is the ideal tool for having fun with friends. The user can choose from more than 200 voice effects.

MagicVox also offers more than 300 sound effects that are timeless additions to the software. Furthermore, you can increase the sound effect portfolio by importing mav and mp3 audio sounds as necessary.
2.1. Girl Voice Changer for Valorant
Here is how you can apply a girl's voice while playing Valorant:
1

Launch UnicTool MagicVox

2

Select "VoiceBox" from the menu on the left.

3

Select "male to female" or other girl voice effects.

4

Launch Your Game and Change Settings

Now go to settings of Valorant and look for Audio. Click on Voice Chat > Input Device. You will see different options, and you have to select Microphone (Voice Changer Virtual Audio Device) as your input device. Once done, hit Apply.

5

Run MagicVox With Valorant

That's it! Now when you play the game, you can instantly choose a voice from MagicVox and have fun with other players.
2.2. Popular Girl VoiceMeme and Valorant Soundboard
Trick your teammates in the lobby and in the game with girl voice and other custom meme soundboard. How to do it?
1

Launch UnicTool MagicVox

2

Select "Voice Meme" from the menu on the left.

3

Select E-girl, Anime, or Crazy Girl modes from the horizontal line.

4

Templates of a girl saying "Bye, How old are you, Stop" are available to choose from.

5

Select the sound. Apply a keyboard shortcut using the "Add keyboard" option on the right.
Now let us discuss how we can incorporate the soundboard for Valorant
1

Launch UnicTool MagicVox

2

From the side menu, select the menu "Soundboard."

3

Browse and play the sounds on the interface.

4

Click Play to…play the short bursts. Stop to end the audio. Replay to play the sound again

5

Once you know which sounds you like, click on "Add keyboard."

6

Now the "Add keyboard" sign has become active. Assign a keyboard key shortcut.
The feature ensures the sound effects are timely with no interruptions. Now you can:
1. Press 9 for a laughing sound when a friend's joke is not funny.
2. Press 6 to play a fake message tone to give yourself a false break.
These are only two of the many options to choose from. You can assign shortcuts and revolutionize the gaming experience according to your taste, interests, and friends.
Conclusion
With the simple instructions above, you can impress your friends in real-time. UnicTool MagicVox is a reliable voice changer for Valorant, Discord, Fornite, CS Go, World Warcraft, League of Legends, and PubG on a Mac or a Windows PC.