Gaming is regarded as kid's hobby, but there is no age limit to play games. No matter how old you are, gaming is always fun with friends. Do you play games? How about pranking the friends with scary voices and hiding their identity? It will take madness to another level. Yes! It is possible to create insane voices. All you need to do is get a soundboard application to modulate your voice.
The madness of gaming has no boundaries. Therefore, developers are also striving to make new additions to keep this fun going. Among their acquisitions, the soundboard is a worthy addition. Apart from professional life, it makes gaming time thrilling and insane. Therefore, this article aims to enlighten you about the best gaming soundboard.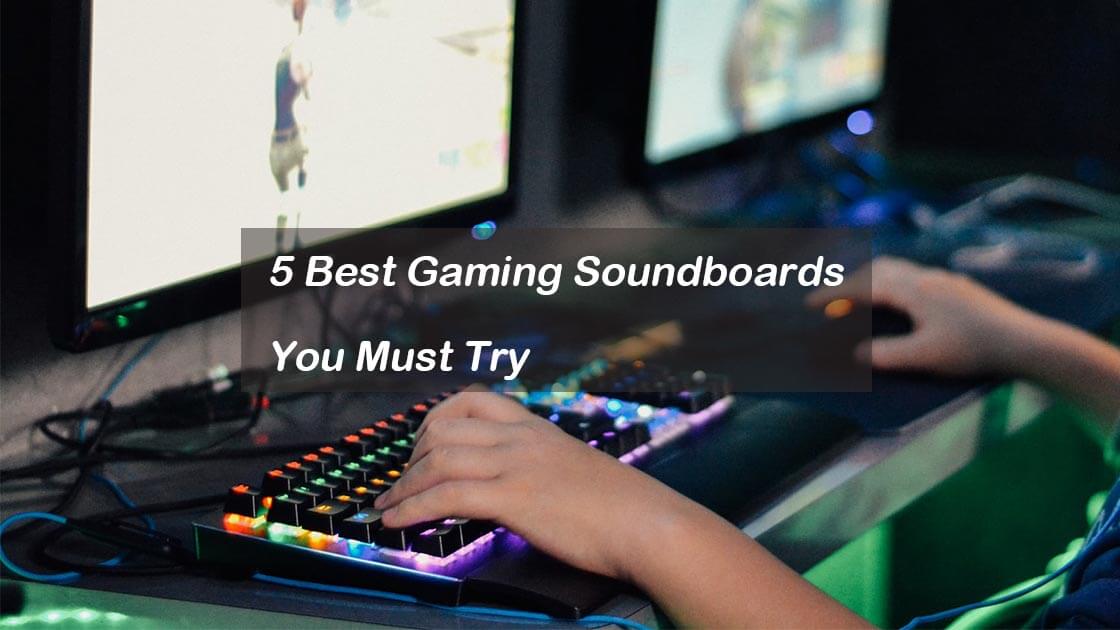 Part 1.

What is a Gaming Soundboard, and How It Works?

Soundboards are a great way of making voice messages for different gaming platforms. It helps the gamer modulate the voice or play effect. The soundboard is a pretty useful thing for those willing to keep their identity hidden during the game.

The soundboard is also used to assign hotkeys for certain sound effects that you frequently use to play the effects when you need them.

Many soundboards are free to use but have limited features, which is excellent for many people. A little investment is a good idea if you want to customize the voice and effects with a wide variety.

The soundboard seamlessly integrates with gaming applications and operates on the principle of forced vibration. To make it functional, you have to follow these steps.
Download Virtual Audio Devices, for example, VB-Cable, Voice Changer Virtual Audio Device.
Open the platform and click the 'setting' icon.
Navigate to the 'Voice and video' setting and click 'input device.' Select 'Cable output' or 'Voice Changer Virtual Audio Device' from the drop-down menu.
Open settings on the computer and click 'Systems.' Now click 'Sound' and then 'Microphone' as your input device.
Part 2.

Best Gaming Soundboard You Must Try

Do you know why gamers are so fond of soundboards? There is a long list of reasons. Among all, fun and pranks rank above all. Hence, we have mentioned some best gaming soundboards to make your selection easy.

Beginning with the best, MagicVox is an ever-loved and well-known soundboard in the gaming world. The versatile platform features a massive library of preset voices and sound effects, but adding your touch of creativity is a different thing. The application supports multiple online and offline games to serve almost every person. No other gaming soundboard integrates easily other than MagicVox. Therefore, whenever you want to modulate your voice while playing games, hit MagicVox. Its hotkeys have placed fun at a click distance.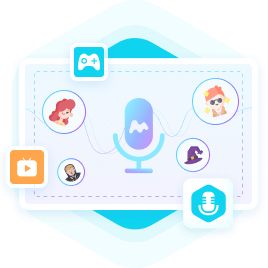 A Real-Time Voice Changer
Features a practical soundboard for adding background sounds. It includes drum roll, sinister breeze, cranky laugh, and many more hilarious and scary sound effects to play during gaming.
Features a voice studio to adjust frequency, pitch, and other voice parameters.
It has a live voice modulating feature to help customize the voice during live streaming and gaming.
It offers more than 150 preset emoticons.
It allows you to conveniently assign hotkeys to buttons to play sound effects during the game.
Pros
User-friendly interface.
A huge library of filters.
It works well with multiple gaming applications, including Fortnite, PUBG, etc.
High compatibility.
Cons
Limited features are available in the free version.
How to use MagicVox soundboard on Gaming Platforms:
The integration process of MagicVox is simple. Here is all you need to do:

Step 1: Download MagicVox from the official website and complete installation.
Step 2: Run MagicVox soundboard on the computer and click settings to configure voice settings. Select mic as default input and headphones as output.

Step 3: Open the MagicVox soundboard and set keybinds for the soundboard you want to use. You can create your soundboard as well by uploading the file. It supports WAV format or MP3.

Step 4: Navigate the gaming platform you want to use. Click 'Settings' and then 'Audio' from the drop-down menu. Set the virtual audio device as your default input device.
Review:
Overall, MagicVox is the best gaming soundboard with a considerable filter and sound effect library. It features everything that you need to have crazy gaming time.
AV Voice Changer is professional software that facilitates easy modulation and gives easy access to any character's voice. It is based on advanced virtual driver technology, making it compatible with multiple platforms. This application features a practical soundboard for gaming that allows you to make adjustments and changes in numerous aspects of voices.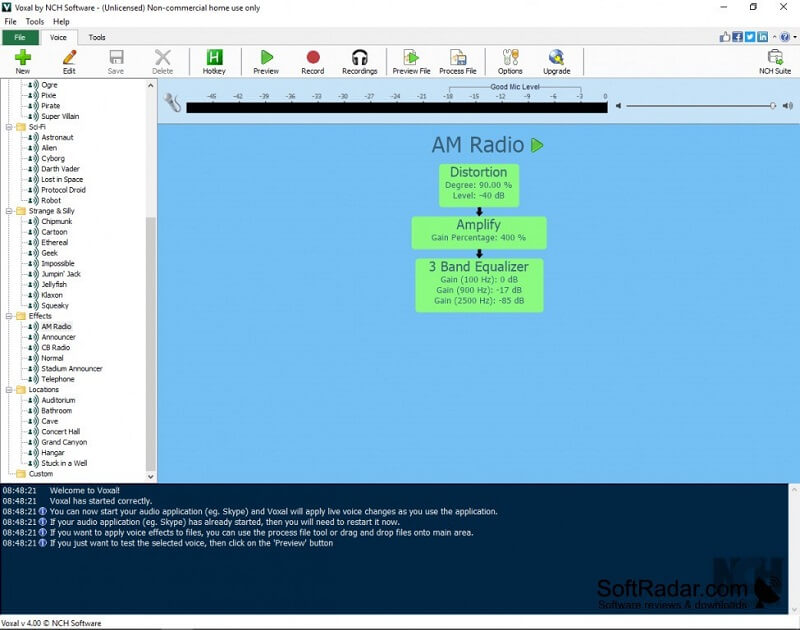 Key Features
This app supports many audio file formats.
It works seamlessly without distortion with Windows.
Apart from modification of voice, it also works as a voice recorder, Morpher, and editor.
It is a complete workstation that allows the user to mix parody voices to create a new parody voice.
It will enable the user to mimic other people, such as Hollywood celebrities, to prank their friends.
Multiple preset voice filters and background effects are available.
Pros
It is easy to use.
Preset filters for instant voice change.
It allows editing the voice.
Cons
This is an expensive soundboard
Review:
Overall, it has multiple useful features, but it costs too much. You can find similar features in other applications which are free to use or charge a few dollars.
If you are willing to get the best soundboard, even if you have to spend cash, go for Soundpad. It is a multifunctional application that not only modulates the voice and sound effects but also works as a recorder and editor. It allows you to assign hotkeys and supports unique features that are hard to find on other platforms. It normalizes the voice, ensuring all sound plays at the same volume. Soundpad is a gaming soundboard that supports mic toggling and recording sounds.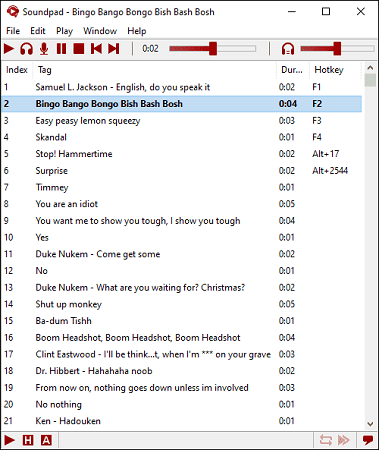 Key Features
It supports multiple files, including M4A, AAC, FLAC, MP3, OGG, and WAV.
The Soundpad works well with Windows 7, 8, 8.1, 10, and 11.
Allows set hotkeys for every sound effect and plays instantly during the game.
Features volume normalization that equalizes the volume to produce an even tone.
Besides supporting multiple features, it is slim and consumes a little space in the computer.
Pros
Interactive interface.
Easy to use and obtain.
Volume normalization for even voice.
Recorder and editor.
Cons
The free version is not available. However, you can check if it's working with a free trial.
Review:
Soundpad is a multifunctional gaming soundboard. Its noteworthy features are worth the money. Therefore, if you are planning to use a soundboard for long-term use, the Soundpad is a good option.
With notable features, Voicemod Soundboard has managed to rank among the best voice modulators. This application supports almost similar features to MagicVox, but it is a few steps behind. Voicemod's soundboard for gaming contains lots of sound effects. Utilize them while playing popular games, for example, Fortnite, Minecraft, PUBG, and others. This versatile soundboard comes loaded with many existing songs, sounds, and effects to create your unique sound.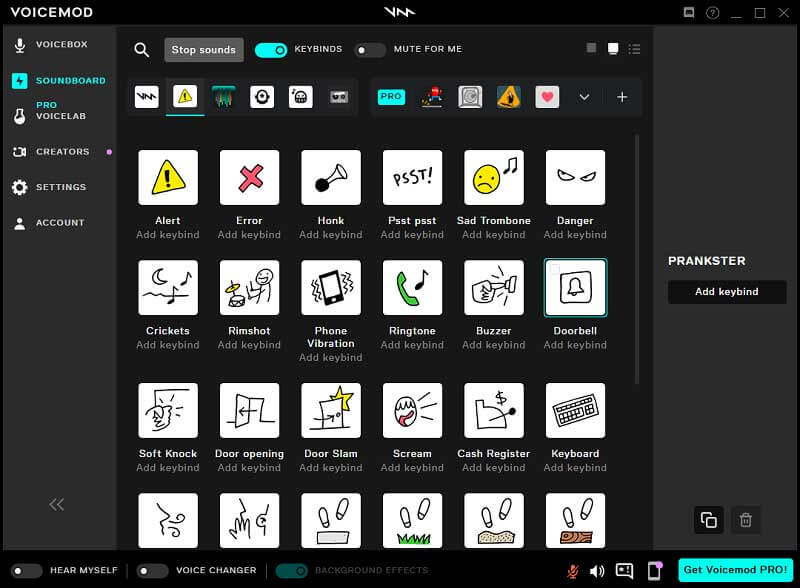 Key Features
It is currently compatible with Windows but soon will be viable for Mac.
The practical soundboard is ideally compatible with many gaming platforms.
It is a real-time audio generator that allows sound like a robot or alien while live streaming and chatting.
You can create customized effects for fun.
It supports only mp3 and WAV files.
The 'Voicelab' allows users to set voice parameters according to requirements.
Pros
Easy to obtain.
User-friendly interface.
Popular among worldwide users.
Allows sound effects customization.
Cons
Limited features are available in the free version.
Review:
The remarkable features and outstanding performance have satisfied the user and got a good rating as a voice modulator.
It is not surprising to see Clownfish ranking among the best soundboards for gaming. Clownfish's friendly nature allows working on every application installed on the computer and having access to the microphone. This application is an excellent soundboard app that you should definitely check out. With easy download, you get tons here, including aliens, robots, females, babies, and many other exciting voices. The addition of a built-in media player with audio controls and a playlist in Clownfish Voice Changer allows you to have fun with friends during live streams and gaming.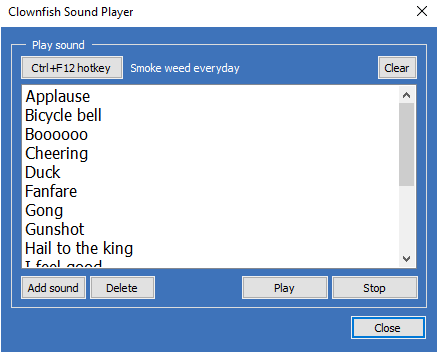 Key Features
A highly compatible voice changer seamlessly connects with multiple gaming platforms, including Fortnite, PUBG, Skype, and many more.
An extensive list of voice effects such as alien, clone, female, pitch, etc.
The Clownfish Voice Change works well with Windows Vista, 7, 8, 8.1, 10, and 11.
It allows users to transform any sound effect into an audio file to chat with folks and peers.
Pros
Easy-to-use interface.
Unleashes your creativity.
Free to use.
Allows sound modulation with a practical soundboard.
It supports all major types of files.
Cons
Only available for windows.
Review:
Clownfish Voice Changer has multiple useful features to make gaming a crazy experience. Try Clownfish if you want to use the voice changer for pranking friends.
Conclusion
Application featuring a soundboard enables you to have crazy times with friends during live streaming and gaming. You can enjoy pretending to be a celebrity by mimicking their voice. Moreover, the addition of gaming soundboard allows playing live DJ concerts to entertain friends and company.
There are many soundboards available, but it is hard to match the level of UnicTool MagicVox. Through its unique features and interactive interface, you can add customized or preset sound effects to the game with a few clicks. MagicVox is the best affordable and practical option to enhance craziness in games.