Playing games or talking to friends online is a much more common practice now. However, what makes playing games with friends while on call online even more interesting is the ability to change your voice.
There are a lot of voice changer themes present; however, the space marine voice changer is what has taken the stage currently. Are you someone who wants to try this exceptionally great Warhammer voice changer and want to know why it got famous? Well, we got you covered.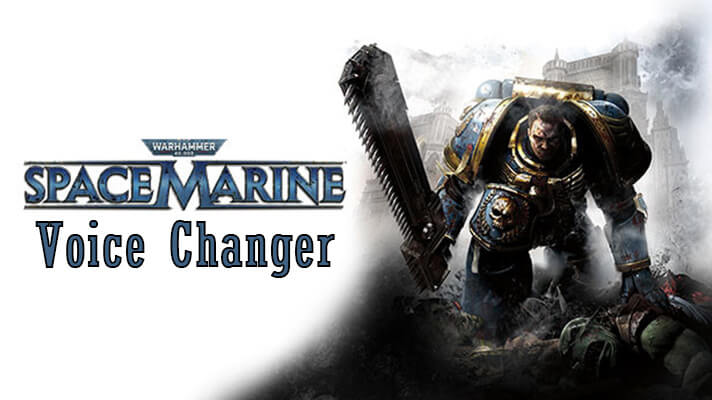 Part 1.

Best 3 Apex Legends Voice Changer to Improve Gaming Experience

In order to get the best experience, it is important to select the best voice changer with multiple useful features. After testing and analyzing we have listed three best voice changers for the Apex Legends game.

When opting for different voice changers, all users search for places that can deliver the best voice changer themes. So, if you are someone in the same boat who wants to know where they can find the best space marine voice changers, your search ends here.

Below we have gathered some of the exceptionally best voice-changing tools that provide top-quality space marine voice changers.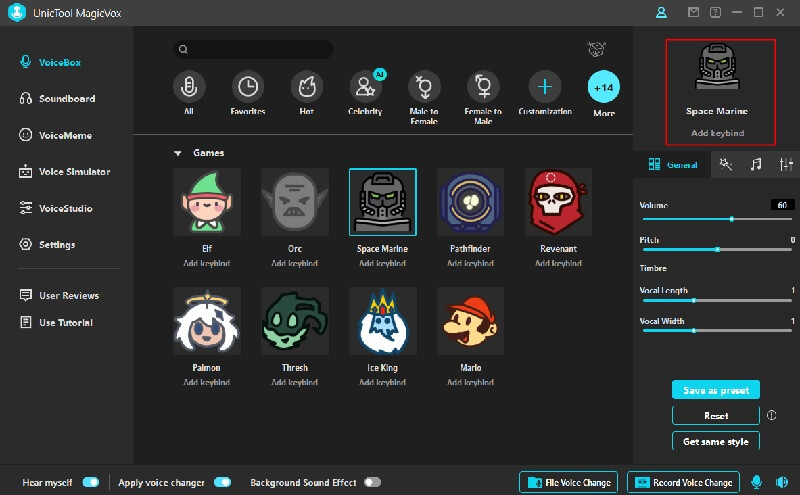 The platform allows users to create voice themes through the voice studio option. So, while you won't get the exact version of 40k Warhammer Voice Changer, you can create your replication with this version with your twists.
Moreover, apart from its impeccable delivery of the space marine voice changer replication, it holds so much more to it.
Feature Specifications
It comes with 600+ voice changing effects for gaming, chatting and live streaming, live GTA-V, Call of Duty and so on.
Roleplay soundboard: You can enhance your gaming experience by adding more than 600 sound effects and voice memes to your gameplay or live streams.
Voice Studio Function: Customize and fine-tune your voice with the Voice Studio function for a truly personalized experience.
Noise reduction technology for high voice output
Customizable Keybinds: Easily switch between different voices with just a single click using customizable keybindings.
Real-time voice changing: MagicVox is capable of modifying a user's voice in real time, which makes it possible to create an immersive experience during gameplay.
Voice Changing for Records and Audio Files: Not only for real-time interactions but also for recorded voice and audio files.
Wide Range of Voices: It offers a wide range of voices, including SpongeBob, Minions, celebrities, anime girls and many others.
Different free sound effects available every day.
How to Sound Like Space Marine with Voice Changer
Step 1: Download and install the application.
Step 2: Open the settings and click "Audio" to configure Audio tools. Set Microphone as an input device by default and Headphones as the output device.

Step 3: Launch Apex Legends, click "Settings" and then "Sound". Navigate to "Voice Chat Device" and select "Voice Changer Virtual Audio Device" from the list.
Step 4: On MagicVox, navigate to VoiceStudio, adjust the frequency of Pitch, Reverb, etc., to get the voice like Space Marine. The next version of MagicVox will come with a preset Space Marine voice filter.
Another top-quality voice changer that helps avail the space marine voice changer theme, the Voicemod, was meant to make this list. Similar to its above counterpart, this particular platform doesn't directly provide the Warhammer 40k Voice Changer effect but will allow you to create your version.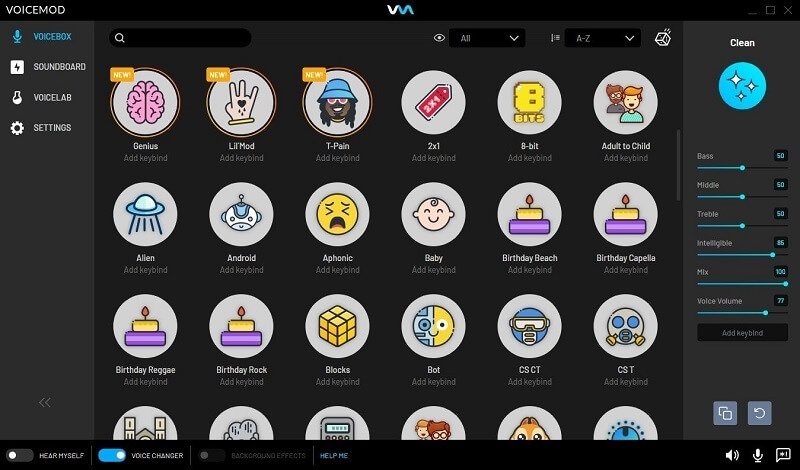 With many exceptional sound effects, and the ability to experiment in its VoiceLab, this platform is an excellent option for you to choose from.
With ten years of experience within the voice-changing space, Voicemod believes in providing the best voice themes for its users to express themselves. Changing voices are a fun activity for the new generation, and the platform highly believes in giving them a voice to express themselves with their new interest.
So, if you are someone who plans on making the best space marine voice changer theme for your voice chats, gaming application, or any other platform, the Voicemod voice changer is your best friend for this.
Not only is it pretty simple to use, but its experience of over a decade and the addition of new voices and tools now and then make it a great choice to experiment with different voices.
3. MagicMic Voice Changer for Gaming
In case you are someone who doesn't want to create their voice effect for space marine voice changer and want the original authentic version. We got you covered on this too.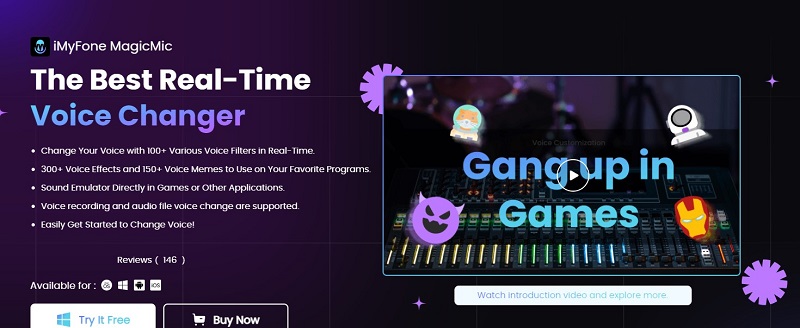 The MagicMic voice changer is currently one of the top quality voice changing platforms. Many people use this voice-changing platform, and the younger generation loves the number of voice themes it offers them.
This voice changer platform is an easy way to surprise your friend with different voices while on call and is also fantastic to use when playing some online game with friends.
The best part about MagicMic is that while it does provide an exceptional amount of voice-changing themes, it also offers a free trial. So, users won't have to go head first into purchasing any voice effect.
If there is a voice effect that you like, you would be able to try the free trial version before deciding on whether it is worth a buy or not. So, for the original space marine voice changer track, the MagicMic is one of your best choices to choose from. Trust us.
However, if you cannot decide between the three, let us give you extra insight.
Part 2.

Best Space Marine Soundboard for Discord Voice Chat

While perfect for gaming and other additional platforms, the MagicVox is a pretty exceptional application to use on Discord Voice Chat too. Discord is the WhatsApp for the younger crowd coming in. So, while our parents still use the former as a means of communication, the new youngsters are communicating heavily on Discord – why shouldn't they?

With the ability to talk on call, communicate in messages, play songs and games, and send memes all in one place, Discord is a great new platform. Adding the Space Marine Soundboard to their Discord server will be an exceptional addition. This is because, with this best space marine soundboard, discord users can easily communicate using the space marine voice changer theme and have fantastic excellent experiences with their friends.

So, what is not to love about this best space marine soundboard on discord, right?
1

Open the MagicVox voice changer.

2

Click "Soundboard" and enable key binding by pressing the slider available on the top of the screen.

3

Click on the sound effect and the bar will appear on the right side of the screen with additional options.

4

Alter the effects if you want from direct sliders.

5

Click on "Add Keybind" and type the button such as "Ctrl+T".
Part 3.

Also Recommend: Space Marine Text to Speech Generator

Experience the power of the Space Marine Text-to-Speech! Dive into the epic universe of Warhammer 40,000 like never before. With our cutting-edge technology, you can bring the mighty Space Marines to life, as their voices resonate through your device.

Unleash the might of the Adeptus Astartes, hear their battle cries, and immerse yourself in the grim darkness of the far future. Get ready to conquer the galaxy, one word at a time, with Space Marine Text-to-Speech!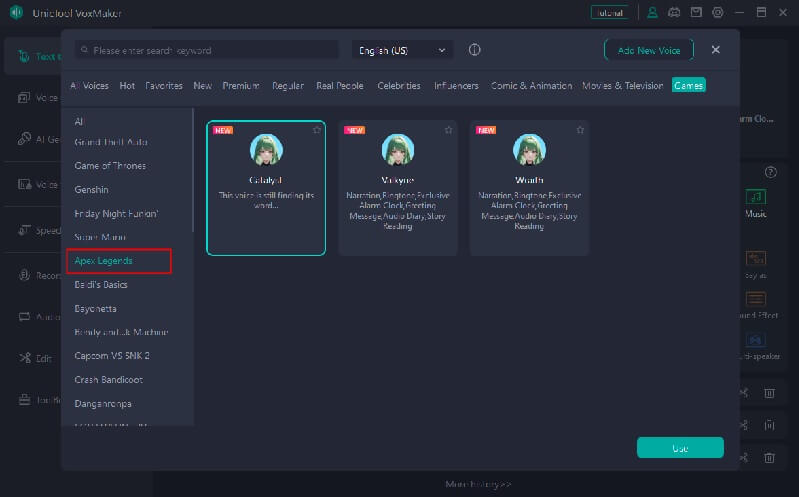 How to Use?
Step 1: Download and install VoxMaker
Step 2: Navigate to the "Text-to-Speech" option in the left sidebar, then click "change voice" and find the voice you need.

Step 3: Click on "Convert" , and then you can export the speech into different formats.

Key features:

Extensive Voice Library: Access over 3200 AI voices in 46 languages, featuring 100+ accents.

Diverse Voice Selection: Explore a wide range of voice types, including singers, actors, game characters, among others.

All-in-One Toolist: Enjoy functionalities like speech-to-text, voice to voice, voice cloning, and AI Generated Rap Songs.

Voice Customization: Personalize voice settings such as pitch, speed, and volume to match your preferences and specific project requirements.

High-Quality Output: Free Export in MP3, WAV, AAC,etc.

Part 4:

FAQs about Voice Changer for Space Marine

What is a Voice Changer for Space Marine, and how does it work?

A Voice Changer for Space Marine is a software or device that allows you to modify your voice to sound like the iconic Space Marine characters from the Warhammer 40,000 universe. It works by applying various voice modulation effects and filters to your input voice in real-time, transforming it into a Space Marine-like voice.

Can I use the Voice Changer for Space Marine on different platforms and devices?

The compatibility of a Voice Changer for Space Marine depends on the specific software or device you choose. Some voice changers are available as software applications for PC, while others may work on gaming consoles or mobile devices. Be sure to check the compatibility details of the particular product you're interested in.

Are there different voice presets available for Space Marine characters, or can I customize my own?

Many Voice Changers for Space Marine offer a range of preset voice options that mimic different Space Marine characters. Additionally, some may allow you to customize the modulation settings to create a unique Space Marine voice that suits your preferences and role-playing needs.

Is the Voice Changer for Space Marine compatible with popular voice communication software used in gaming?

Yes, MagicVox Voice Changer for Space Marine are designed to work seamlessly with popular voice communication software used in gaming, such as Discord, TeamSpeak, and others. This ensures that you can communicate with your fellow gamers using your modified Space Marine voice while playing.

Does the Voice Changer for Space Marine offer real-time voice modulation, or do I need to pre-record my lines?

The majority of Voice Changers for Space Marine provide real-time voice modulation, allowing you to speak in your Space Marine voice during live conversations or gameplay. You won't need to pre-record your lines, making it a convenient tool for instant immersion into the Warhammer 40,000 universe.

Conclusion

If there is something gamers love, it is access to some quality voice changers they can get their hands on. So, with the Warhammer 40k Voice Changer getting so much hype, everyone was trying to get their hands on it.

We hope this article summarized the fact where this significant new voice changer can be found and platforms you can create a replication of it on too. With MagicVox Space Marine voice changer having so many sound effects and exceptional themes, we hope you would kick your creative side and make some exceptional space marine sounds on your own too.

A Real-Time Voice Changer

It supports 600+ unique voice filters to sound like any characters.
The addition of around 200 voice effects optimizes the speech and makes the atmosphere proper by adding background voices.
Allows customization of voice by altering various sound parameters. It provides a chance to generate beautiful and unique voices.
You can change the voice in real-time to make live streaming fun, like Valorant and Discord.