Do you want to hide your identity while live streaming? You Should try a voice changer. With increasing ever of PUBG among all age's people, the demand for a voice changer for PUBG has increased to hide real voices.
It can be used to pull a prank on friends and pretend to be a bot. Whatever the motive, you must select the best tool for an amazing experience. This article aims to analyze some best PUBG mobile voice changers to offer you the best one.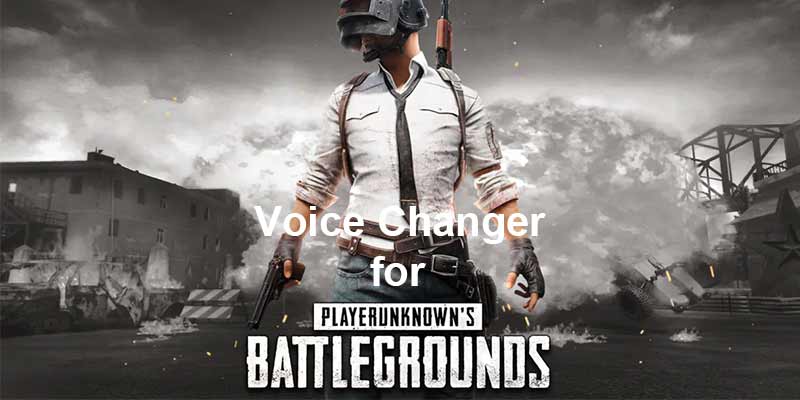 Part 1.

Top 3 Voice Changers for PUBG PC

Gaming requires high-quality and premium functioning voice changers. Here we have mentioned some best voice changer for PUBG that you can use to make the gaming fun.

UnicTool MagicVox allows you to use real-time voice effects and modify the recorded files. It has a free version that offers limited voice modification options. To make it to all advanced features, you have to buy a paid version. This is the best voice changer for PUBG mobile permits you to transform your voice into a robot, male, female, cartoon or any game charactor, like master chief or batman.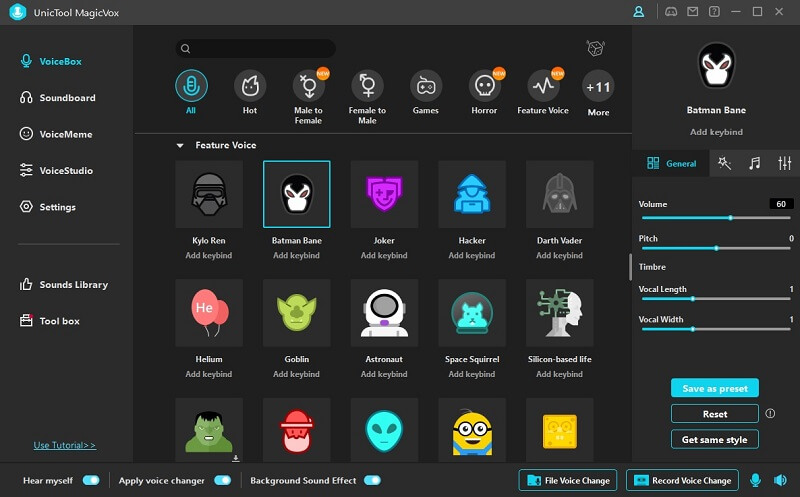 Secure Download

Secure Download
Pros
200+ voice templates to make streaming and gaming easy and fun, like pubg, master chief, robot and other game voice changer effects.
This application maintains high privacy by changing the original voice.
High compatibility makes it serve almost every device.
Easy to use interface helps beginners stop kick star easily, you can easily use the voice changer for PUBG when you are gaming.
Cons
It is a new product, not very famous.
1.

Download and Install UnicTool MagicVox Application

Navigate to the official website of UnicTool MagicVox. Click the "Download" button. The file will start downloading in .exe format. Once it is downloaded, run the application.

2.

Configure Audio Tools

Navigate to the audio setting from the control panel—select microphone as input and headphones as output.

3

.Set Voice Changer on Platform

Open PUBG and navigate to Setting. Select input as MagicVox virtual audio mode and output as a headphone.

4

.Select Voice Effects

Go to the application and select the desired effect from a huge library of preset sounds.

5.

Enjoy the voice

Once you set the setting, your teammates will hear the changed voice of the selected avatar.
Voicemod is one of the best voice changer for PUBG mobile and Windows, which allows the user to modify voice anytime while playing. You just need to use sound effects from the soundboard. Modify your voice in real-time and make some memorable and hilarious moments with teammates.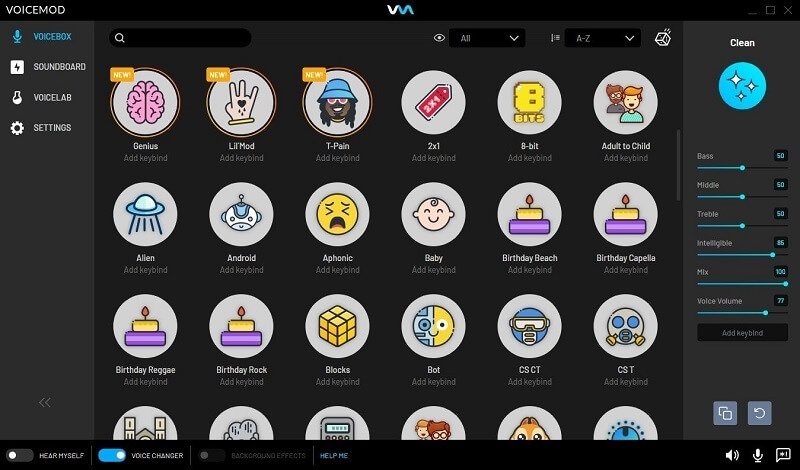 Feature Specifications
Compatibility: this amazing PUBG voice changer is highly compatible with Android and Windows 7, 8, 8.1, 10, and 11.
Voice Effects: a collection of 90+ different preset voice filters elevate the level of the game.
Customization: you can add your flavor to the voice by altering pitch and frequency. Eliminate every chance of recognition.
Rating: this application has secured high ratings with high-quality services. It has a 4.6 out of 5 ratings based on user experience.
Pros
More than 90 preset voices are available to add up to your ease.
It does not require pre-recording or after-match setting.
It features a user-friendly interface for beginners.
Cons
Pirated versions trick the user and harm the computer.
1

Download and Install

Visit the official website of Voicemod through Google. Click the "download now" button. The file will download in .exe format. Open and run to launch the application.

2

Configure Audio Tools

Open audio settings on the computer from the control panel. Select microphone as the input device and headphones as an output device.

3

Set Voice Changer on Platform

Download the PUBG on the desktop from the official website and open it. Navigate to vice settings and select Voicemod virtual audio mode as input.

4

Select Voice Effects

Open Voicemod to select the effect. You can create your own or select from 90+ preset filters.

5

Self-Test and Play

After following the above steps, you are all set to rock the game with a changed voice.
MorphVOX is a famous tool among gamers. It allows changing the voice while paying the PUBG. This versatile tool has the ability to turn boring moments into hilarious times. To unlock full advanced features, you need to buy a paid version.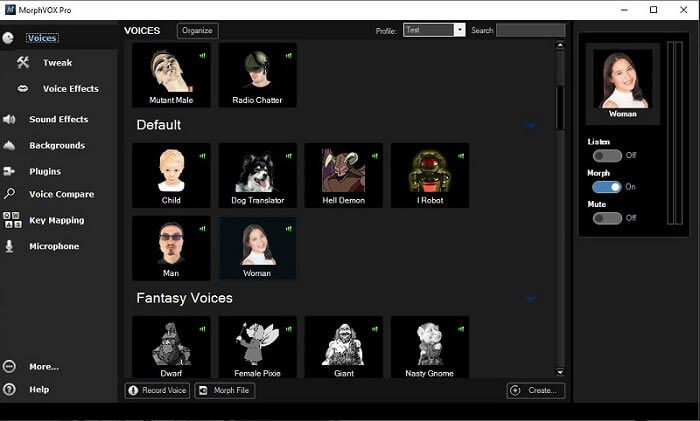 Feature Specifications
Compatibility: this is one of the most liked and high compatibility software. It is compatible with Windows, Mac, and iOS.
Voice Effects: multiple preset voices allow you to change the voice into the girl, woman, alien, robot, zombie, or whatever you want to be.
Customization: if you are unsatisfied with already existing voice effects, you are facilitated with a soundboard to modify and come up with your desired voice.
Rating: MorphVOX is an excellent PUBG voice changer PC application with 4 out of 5 ratings.
Pros
Preset voices make sound changing easy and a few clicks away.
It allows customization and optimization of voice.
It has high compatibility to serve maximum people.
This versatile software gives high-performance for a distortion-free experience.
Cons
It is tricky for beginners, you may need some study before you can operate.
1

Download and Install

Visit the official website of MorphVOX and click on "Download" to start downloading. Once the application has been downloaded, click and run to launch it.

2

Configure Audio Tools

Navigate to the control panel for the audio setting. Configure the mic and headphones by selecting microphone as input and headphone as output.

3

Set Voice Changer on Platform

Download the PUBG and open it. Navigate to settings and choose MorpheVOX virtual audio mode to integrate the voice changer.

4

Select Voice Effects

Open the MorphVOX and select the desired effect. You can also select from the pre-designed voice library and layer the voice with background music.

5

Self-Test and Play

Once you have completed the settings, you are all set to fabricate the voice effortlessly and prank your friends.
Part 2.

Can I use Voice Changer for PUBG Mobile?

It was difficult in the early days after the PUBG release because the initial stages usually work without a handy tool. With time, technology and developers have made it easy. Different voice generator for PUBG has been introduced. You can download and use this software for free to fabricate original voices and keep streaming while staying anonymous.
2.1: Using Android emulator- Bluestacks on PC
You can follow these steps to set up a voice changer with BlueStacks on your PC.
1

Download BlueStacks on your personal computer and log in using your pre-existing Google account.

2

Search for the PUBG in the search box and install it.

3

Inside BlueStacks, go to the setting and select the audio. Then select your preferred audio device, choose Voice Changer Virtual Audio Device as the microphone, and press "Save Changes " to complete the process.

4

Now download the Voice changer application on this page and complete the installation correctly on your emulator.

5

Open the voice changer and enable "hear myself" ad "voice changer," and start testing the modified voice. You can also set different sounds using the sound box.

6

Select your favorite vice effect and go back to the game and enjoy.
2.2: Downloading VoiceFX - then start to play on mobile
VoiceFX is the best voice changer for PUBG mobile because it facilitates the user to change the voice in real-time. When you have this application, you can do a live stream with a changed voice. The best thing about the application is that it is free of cost.
Follow all the below steps to change PUBG mobile Voice.
1

Download the VoiceFX application from the play store.

2

After completing the installation, open the VoiceFX application

3

Navigate to the setting.

4

Click on "Live voice Playback"

5

Choose the desired sound effect.

6

Open the game PUBG (Player unknown battleground) Mobile.
You are ready to rock the game with a changed voice. All you need to do is to open the game, and you can play VoiceFX in the game.
Conclusion
Whether you want to prank your friend or do live streaming, selecting the best voice changer application is crucial. Typical software and apps cause hindrance and distortion. Hence, we have reviewed some best voice changer for PUBG that will not disappoint you and will definitely elevate the game fun.
Among all voice changes, we recommend UnicTool MagicVox because of its unique and amazing features. It is highly compatible to serve almost every person with a PC. Apart from PUBG, it can also integrate with FreeFire, League of Legends, Second Life , Fortnight, Crossfire, etc.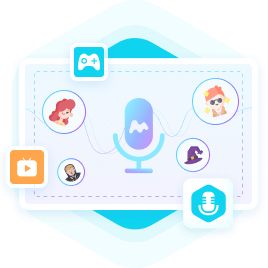 A Real-Time Voice Changer
Voice Effects: 200+ voice filters are featured to make voice changing versatile, easy.
Customization: this application offers you to express your own creativity by modifying and creating your own voice.
Compatibility: It works seamlessly with Windows 7, 8, 8.1, 10.