Have you ever been pranked through a voice-changing call? Well, the voice change application does it all. There are numerous ones like MagicVox, Prank Call Voice Changer App by Ownage Pranks, and Voice changer with effects that individuals can download and use on PC, Android, and iOS systems.
In addition, they are used as a voice changer for WhatsApp, Messenger, Discord, and other communication apps. These voice changers are used by individuals to have fun, musicians to change their vocals, and many other individuals.
We have talked about phone call voice changer before and today we will discuss how to use a voice changer for WhatsApp calls. Continue to read this post ahead to identify the best girl voice changer for WhatsApp calls.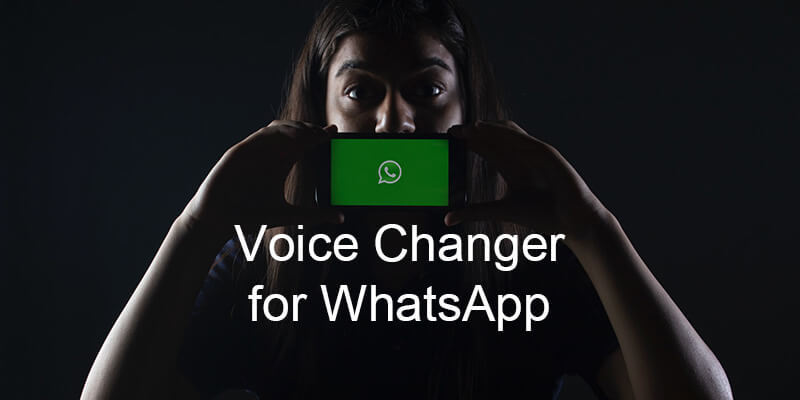 Part 1.

Best Girl Voice Changer for WhatsApp Call

WhatsApp has been one of the leading communication platforms on PC, Mac, Android, and iOS systems. It offers an outstanding user experience and has been acknowledged by millions of individuals worldwide, mainly due to its features.

One of them includes amalgamation with third-party applications, such as voice-changing software.
1. Voice Changer with Effects
Voice Changer with Effects is a fun and entertaining WhatsApp Voice Changer male to female app that allows users to record their voices and change them through several sound effects, including animals, humans, and other things.
You can also save it for later use or send it to a friend. Also, you can use it as a ringtone, reminder, or alarm-clock alert.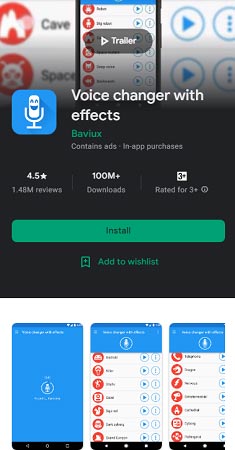 Features:
a. Save Recordings
This is an excellent feature for those who like to prank people regularly. The call can be saved in a separate folder and accessed whenever one needs to enjoy it. Also, you can improve on your pranks by changing certain parameters in your saved recordings. Lastly, you can share it with friends via WhatsApp, Messenger, email, and other tools.
b. Text to Voice Converter
Baviux Voice Changer with Effects offers an astounding feature that converts simple text into a voice note. This note can be further used for pranks or for recording important messages. Very few applications tend to have this feature.
How to Use WhatsApp Voice Changer during Call with Voice Changer with Effects?
Below are some steps you can follow to use and install the app on your smartphone.
Step 1: Download and open the application on your device.
Step 2: Permit it to capture your voice.
Step 3: To record a voice note, go to the top part of the screen and click on the microphone symbol.
Step 4: When you have completed your recording, click the microphone sign again and save the file.
Step 5: You will see a three-dot sign on the right side. Select the voice note you want to hear and press the pause button.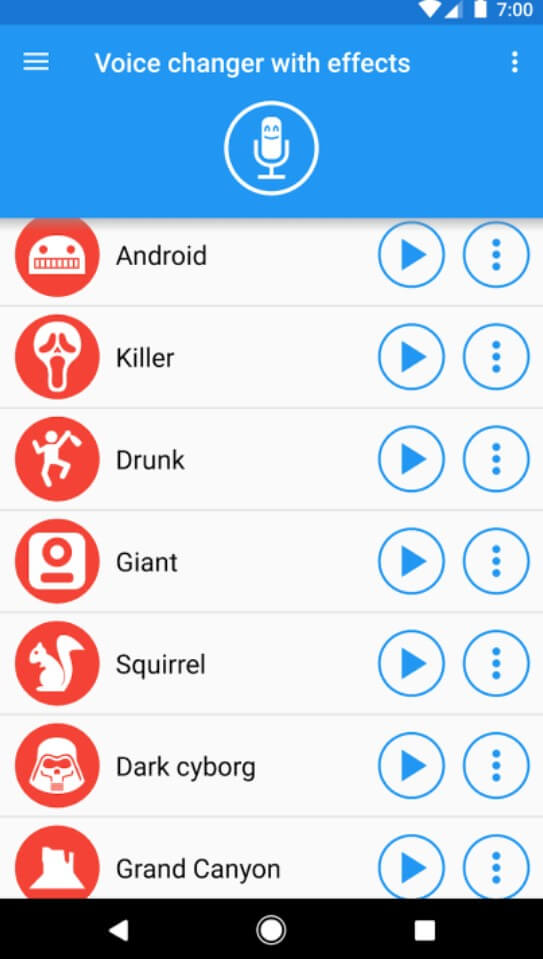 Step 6: Send the file to your friends and other acquaintances.
Step 7: To promote your recording, click on the Share button, and it will be transferred through WhatsApp or any other communication app.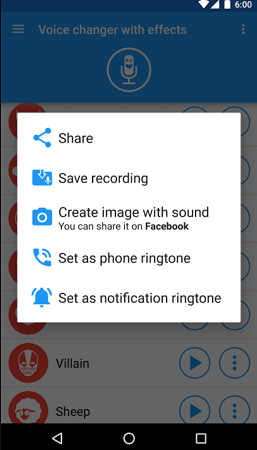 So, if you are looking for a voice changer for WhatsApp, then Baviux Voice Changer with Effects is one of the best you can have.
2. MagicCall
Developed by BNG Mobile, MagicCall is an awesome WhatsApp Voice Chager app for iOS and Android systems. It has been downloaded by millions of users and is rated among the best ones on the Internet.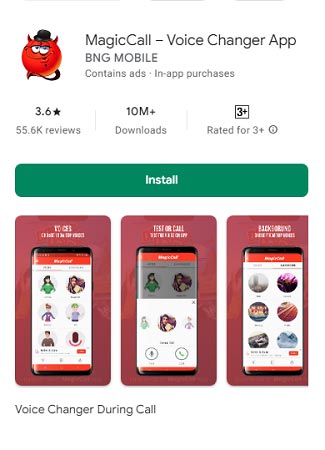 Features:
a. User-Friendly Interface
MagicCall offers a vivid screen resolution and interface for users to access easily. There are multiple tabs in the application, which include voices and background. Navigating through the Voice section, you will find tonal sounds of a child, dream girl, cartoon, etc. Once you click on it, you will be able to test the sound or use it for a call.
On the other hand, the background effects include the sounds of James Bond, traffic, airport, and many others. These effects can be adjusted to the main vocal sound for a more enjoyable experience.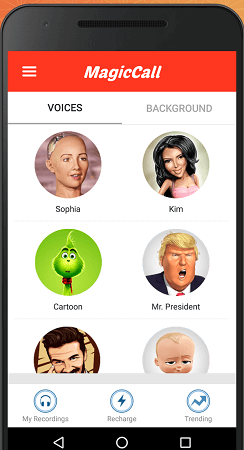 b. Multiple Voice-Changing Options
After downloading the application, you can navigate to the Voice section and enjoy a variety of tonal sounds, including male, female, robot, child, and many more. You can also use different emoticons with sounds like clap, laugh, gasp, etc. Lastly, the prefixed background voice effects include rain droplets, traffic during transit, sports cars, etc.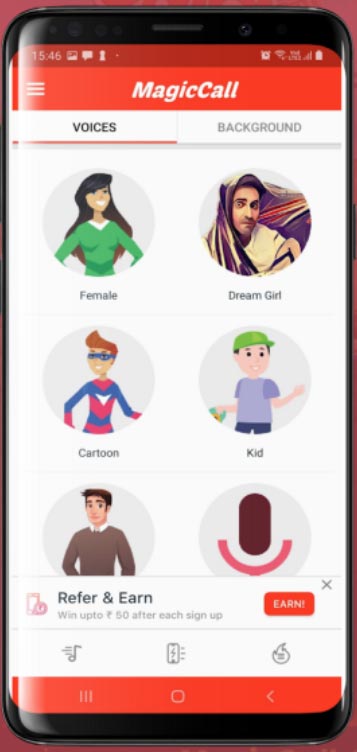 c. Recharging the App
There is also a recharge option where you can purchase credits according to your needs. The more credits you purchase, the more you can use this app. However, it offers free credits when you log in for the first time. The app includes three options for recharge: Beginner, Intermediate, and Pro. Lastly, you can also refer this app to your friends and get scratch cards to earn more.
How Does Whatsapp Voice Changer Male to Female App Function?
If you are using MagicCall for the first time, it's better to go through the step-by-step tutorial. Firstly, you need to register with the application. After the installation process, it will prompt you to input your cell number before accessing your contacts. Then you can make prank calls to your friends and loved ones.
How to Use Whatsapp Voice Changer Male to Female
Step 1: Reach out to a safe website and download the software. Next, install the application.
Step 2: Get the required permissions, such as access to contacts, audio recording, selecting background effects for calls, etc.
Step 3: To make a call, select a contact from the list in the menu.
Step 4: Click on the contact's name and choose the Female Voice Filter from the options.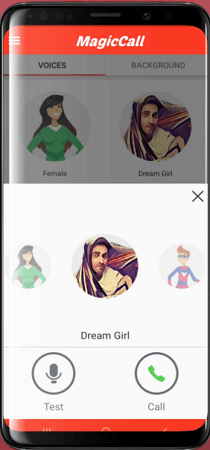 Step 5: Use the Whatsapp voice changer male to female options to play an additional sound effect during a call.
Step 6: You can share this call with your friends and close ones as it is recorded.
If you want to enjoy your experiences with voice changeovers, then install MagicCall, a great voice changer for WhatsApp and other applications.
3. PrankCall Voice Changer App
A fun-oriented software developed by Ownage pranks, PrankCall is one of the best Whatsapp Voice Changer, is a renowned application rated for kids and adults alike. It has been installed by millions of users worldwide. PrankCall offers many exciting features, including voice changing options, multi-language support, and improved app stability.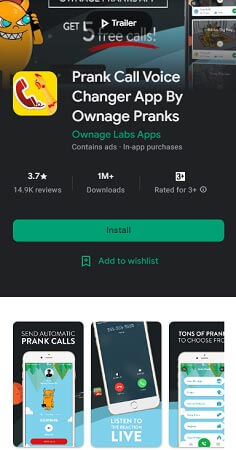 Features:
a. Multiple Sound Effects
Prank Call Voice Changer is great for communication software, like WhatsApp. Choose from various sound effects and send it to any contact to start a conversation. You can choose from hundreds of prank calls with different sounds, such as ghost, male to female, kid, etc. Also, new ones are regularly updated for more fun and excitement.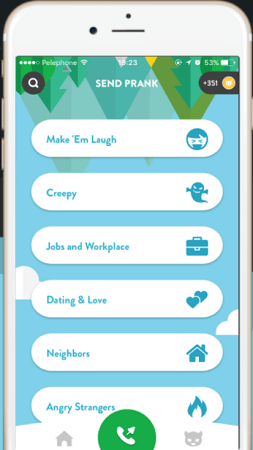 b. Get Free Credits Everyday
While using this entertaining app, you can earn free credits every day by watching advertisements or referring them to your friends and acquaintances. However, the rates are lower than other applications available for WhatsApp, together with offering different types of pranks for everyone to enjoy.
How to Change Voice on WhatsApp to Make Prank Calls?
Call your friends and have a great time with them through PrankCall Voice Changer for WhatsApp. Following are basic steps for you to make a call:
Step 1: Select a pre-recorded prank from the library like male to female and make a fool-proof prank call by selecting a contact from the list.
Step 2: Try choosing a recipient with no experience with prank calls.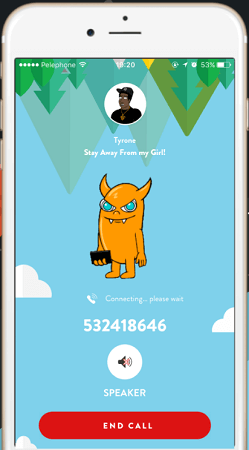 Step 3: Once you've finalized the call with them, send it to your friends and loved ones for more enjoyment.
How to Download and Install Prank Calls WhatsApp Voice Changer?
To download the application on your Android or iOS smartphone, use the following method:
Step 1: Copy the installation file on your Android device or navigate through the website and download the WhatsApp Voice Changer file on your device.
Step 2: Select the download option
Step 3: Allow the process to complete
Install the file on your Android or iOS mobile. However, if an installation warning appears when you launch the file, go to Menu > Settings > Security and click on Unknown Sources to enable installation. This step is only required for the first time.
It is regarded as the best voice changer for WhatsApp iOS, offering many features, including various prerecorded calls, entertaining sound effects, and much more.
Part 2.

Best WhatsApp Voice Changer Male to Female for PC

Do you require fun and engaging experience for your WhatsApp call? Then download UnicTool MagicVox, a creative application that allows you to work out different solutions in real-time using various voice filters.

Along with it, the software offers more than 200 exciting background effects. You can use it for communication apps, such as WhatsApp, Bridgefly, etc. Also, it can be augmented with games and other software.
Features:
a. Simple user-interface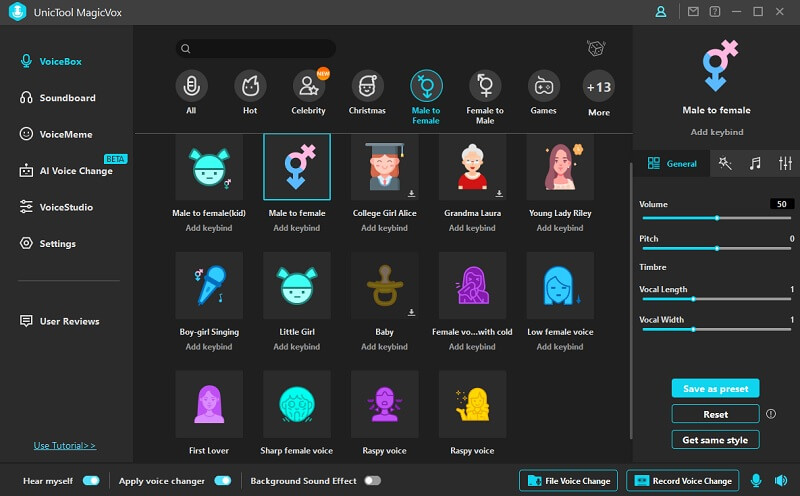 This software comes with a compact interface, including a left-hand side menu. This menu entails different functions, such as voicebox, soundboard, voice meme, and settings. You can configure your voice options from the first two buttons, i.e., voice box and soundboard.
On the right-hand side, you can adjust the volume and sound settings. It also contains playing options, such as play, stop, replay, etc.
Lastly, there are two options at the bottom of the rectangular interface.
• File Voice Change
• Record Voice Change
The File Voice Changer is a simple 3-step procedure. You will have to import the file, make the necessary changes, and export it. On the other hand, the Record Voice Change option gets your customized recording on a file that you can use to prank someone or save for later use.
b. Excellent soundboard
MagicVox offers real-time voice changeovers and great sound effects to enjoy with your friends and acquaintances with an expansive soundboard system. You can also assign voice and sound keybinds without changing the audio settings or disturbing them.
Import your MP3 or WAV audio files, use them for your calls, and create your customized soundboard.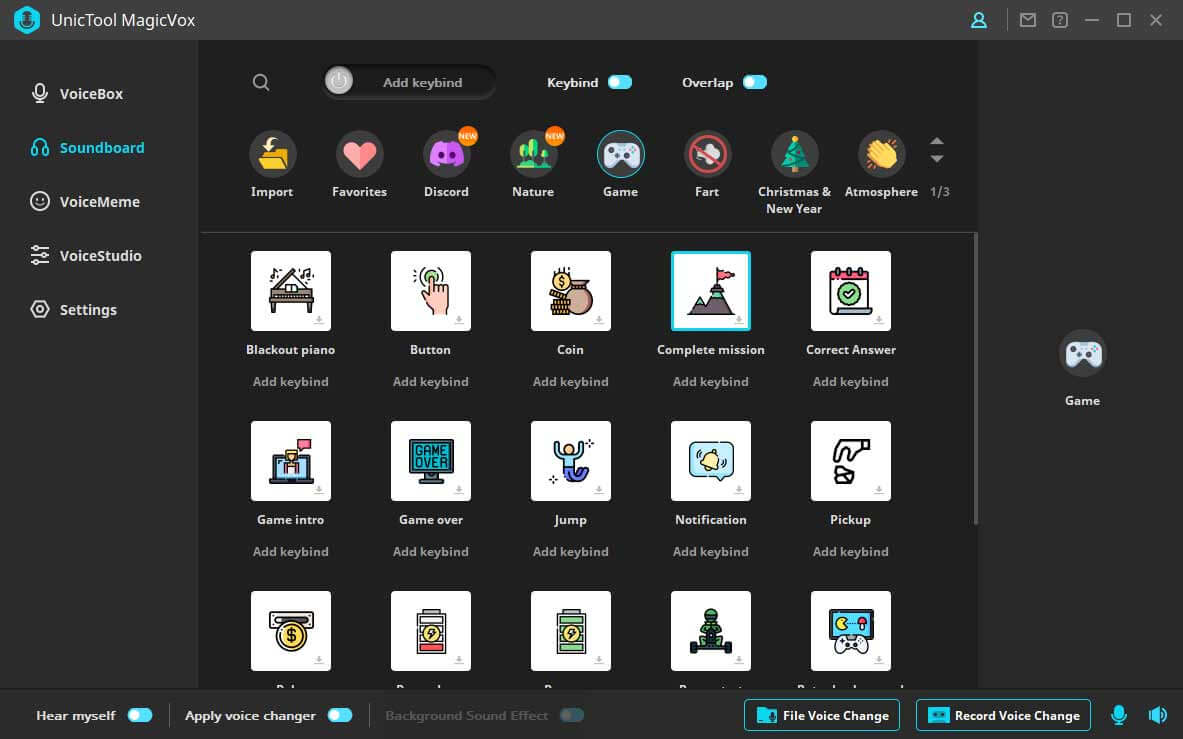 c. Supports multi-platform
Convert your voice on Fortnite, CS: GO, PUBG, Zoom, WhatsApp, etc. Enjoy a variety of sound effects that can be embedded into your voice changeovers. There are more than 500 audible effects that you can use while calling, playing games, or transferring files to your friends.
Configure Mic and Output
To configure both options, change the output and input device. Select the microphone that you can attach to your PC or smartphone as the input device and select the headphone as the output device. After this process, you can enjoy the different sound effects and voice changeovers.
User Experience
"An awesome app for changing one's tonal sounds according to different options. Also supports multi-platforms, which is a plus."
Conclusion
So, if you intend to download a voice changer for WhatsApp, then UnicTool MagicVox is one of the best options. A compact user interface with a multitude of options at your disposal. Enjoy with your friends and dear ones!
Download MagicVox for free to make your Whatsapp call more fascinating!