Ever wanted to change your voice like the killer Ghostface in Scream movie? You wouldn't need to be a ghost, and you can use a Scream voice changer.
There are lots of ghostface scream voice changer apps available online, but not all of them work great and provide appropriate results. If you are looking for a reliable app that you can use as a ghostface voice changer, here are the best top 6 apps that can do the job.
Let's get to know about them in detail.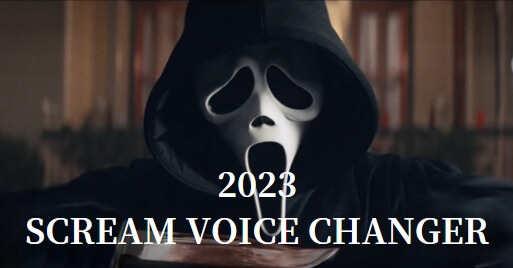 Part 1.

Is there a Scream Voice Changer App?

There are multiple scream voice changer apps, but many of them are just a waste of time. But don't worry; I have tested out some apps and made a list of the best apps that can conveniently do the job.
Here is a list of them:
1. MagicVox - Powerful Scream Voice Changer
The UnicTool MagicVox is a voice changer app that allows you to record and modify your voice in real-time. It comes with over 200 different voice effects and filters, allowing you to change your voice directly in games or other applications.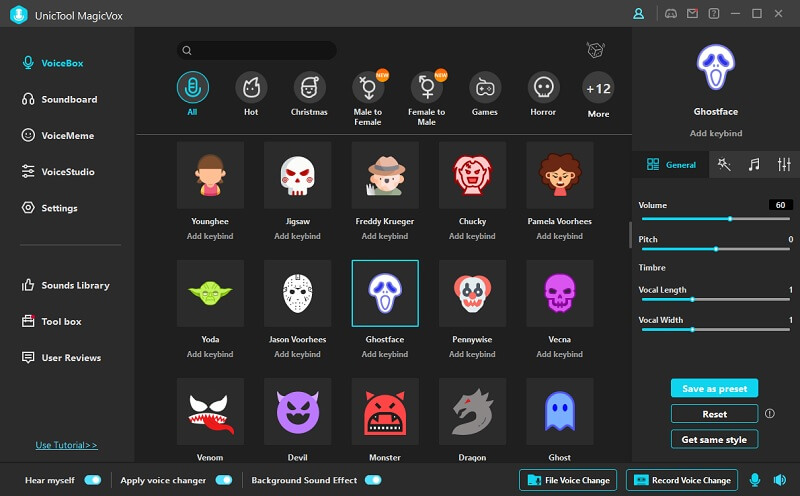 Key Features
Preset horrible voice filters to sound like Ghostface.
Horrible background voice effects.
Easily edit recordings by trimming, cutting, and splitting clips.
Save edited files in multiple formats, plus change your voice directly in streams, games, etc.
With over 400+ sound effects, 150+ voice memes, and 120+ voice filters, this app provides an extensive range of tools to prank and troll others.
The newly added AI clone function allows you to imitate the voices of many celebrities in various games or live broadcasts, such as Joe Biden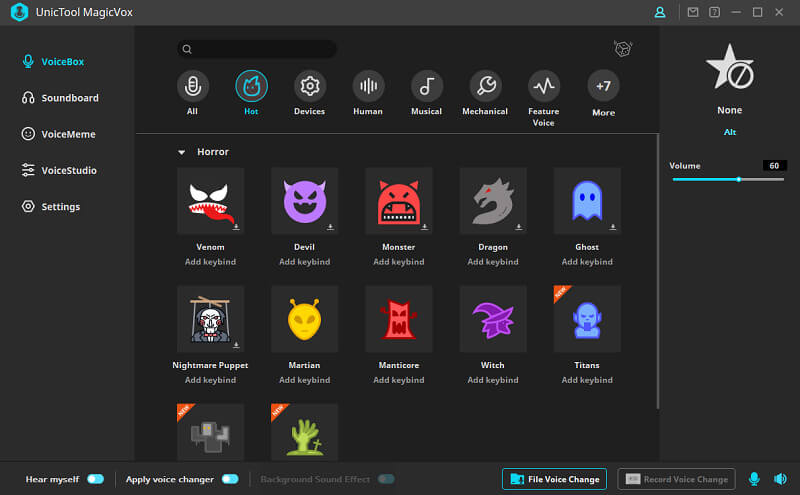 Voicemod is a free voice changer tool that lets you modulate your voice to anything. With Voicemod, you can sound like a robot, change your voice into an horrible characters like Radio Demon, Zombie or even change your voice with one of our funny celebrity voices.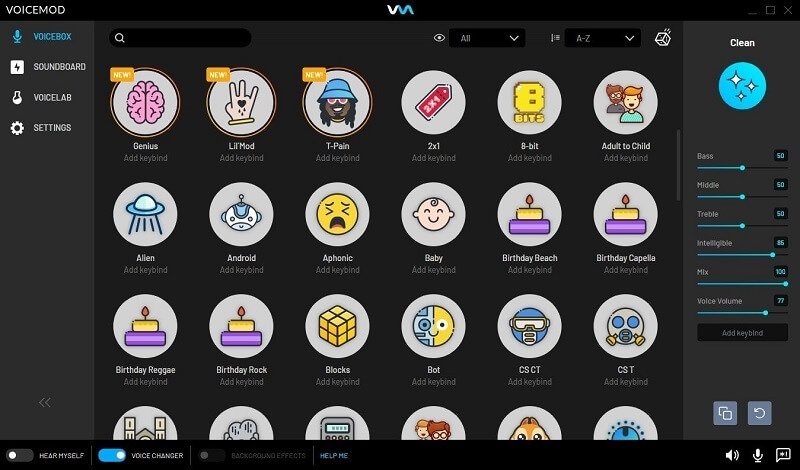 Key Features
Supports more than 100 different voice effects.
Change the pitch or speed of your voice, add echo or reverb, or even distort it to make it funny.
You can also create your own custom voice changer by mixing and matching different effects.
There are also special effects like auto-tune, which help you create music videos and other content.
The Voicemod is another great app to change your voice into the Ghostface voice, but the only problem with this tool is: that it is only available for Windows users at that moment.
MorphVOX Voice Changer is voice-changing software that lets you add effects to your voice to sound like a Hekk demon, Monster, or using the custom voice maker to get a Ghostface from Scream movie. It has multiple voice-changing effects that you can use and change your voice pitch, speed, and other things.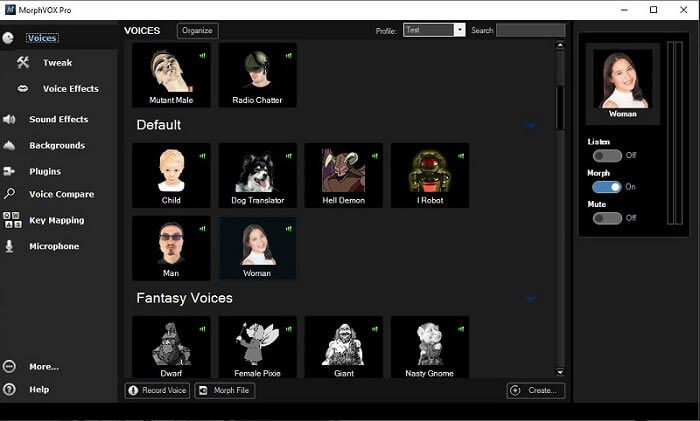 Key Features
Change your voice in real-time with voice changer effects.
Record your voice, then play it back modified by one of the many effects.
Use as an audio editing tool for podcasts or other spoken word recordings.
The tool can be installed easily and quickly onto your computer, and it works on both PCs and Macs.
MorphVOX Voice Changer doesn't change the pitch of your voice very well, so you'll need to do some tweaking before it sounds right.
Scary Voice Changer is another good voice modifier application that can change your voice in real-time. It has more than 100 different effects, including a scary clown, witch, alien, monster, etc.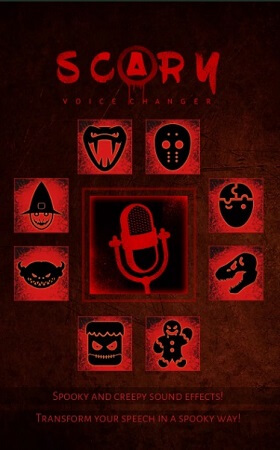 Some Key Features of this app are:
Voice Changer, voice changer & voice modulator.
Real-time voice changing.
High-quality sound effects, cool echo, and noise effects.
Adjustable pitch and playback speed in real-time, with no delay.
Record your own voice and play it back in a fun way.
It is only available for Android devices.
It is one of the best apps to change your voice or modify it via an IOS device. You can record your voice and change it to scary voices, funny voices, and even animal sounds. You can also use it as a ringtone maker.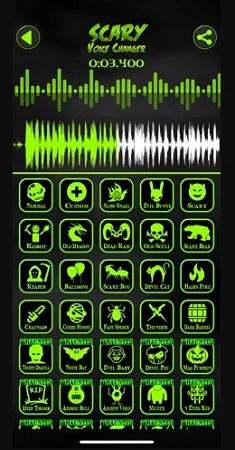 Here are some of the Key Features:
Real-time voice modification with pitch shift and echo effects.
Record your voice in high quality and then change it to anything.
Different scary effects are available, including monster voices, demon voices, zombie voices, and more.
You can also add custom voices to the collection.
Scary Voice Changer & Recorder is good for IOS but has limited features in the free version.
If you don't want to install any app or software on your device but still need to get a scary voice changer, Lingojam voice changer online is best. It is an online tool that allows you to quickly change your voice into a scary voice, you can adjust the pitch of your voice to sound like Scream Movie voices.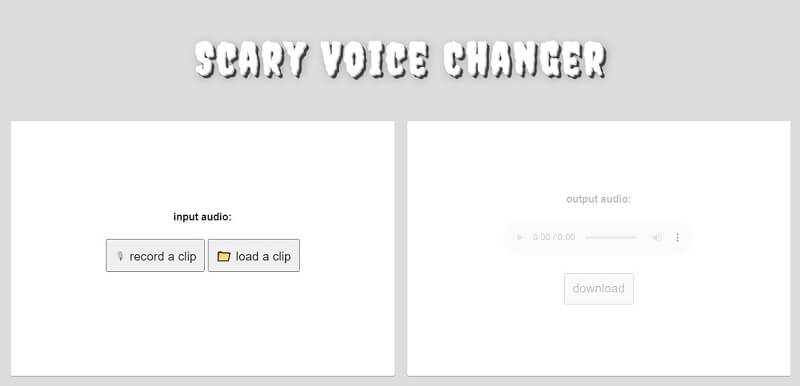 Key Features
Change your voice to scary, funny, and weird sounds.
Record your own voice and create your own scary sound effects.
Save your recordings to share them with your friends and family.
Although this is a good voice changer platform but has very limited features.
Part 2.

How to sound like Ghostface on Scream with MagicVox?
1

First of all, download and install MagicVox.

2

Click on Record Voice Change button that you will find on the bottom right side.

3

Ppop-up window will now appear; here you will have to click on the mic button and start recording your voice.

4

Once you finish recording your voice, you can click on the mic icon again to stop recording and click on the Voice Change button.

5

Under the Voice Classification section, choose Horror and then under the Voice Name section, choose Ghost and click on Export.

6

The downloaded audio will be in Ghostface's voice.
If you do not want to voice change while speaking, you can input text voice change. VoxMaker offers an all-in-one solution that combines text-to-speech, voice cloning, conversion, recording, and editing features. It's easy to use, with a friendly interface and a wide range of voices to choose from. It also supports different input and output formats, making it a top choice for all your voice-related needs.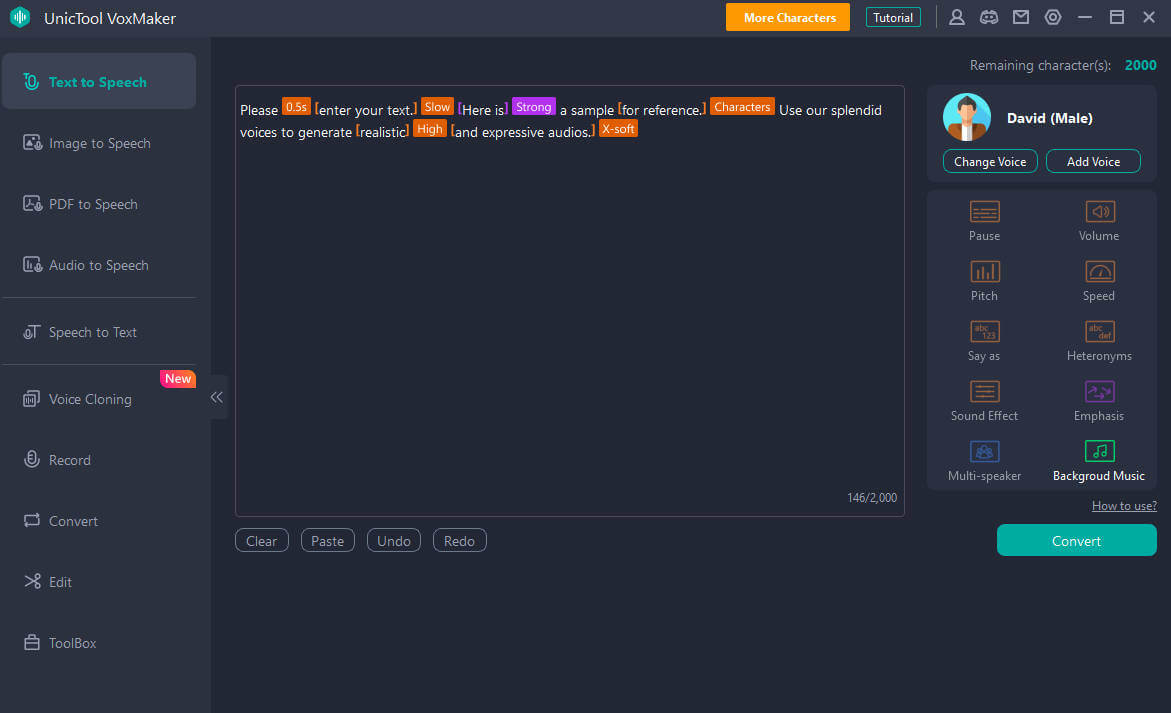 Key Features
Export songs in various formats like MP3 and WAV.
Generate realistic and expressive AI voices through text-to-speech (TTS) and voice cloning.
Access month-themed voices for engaging voiceovers following the latest trends.
Perform dubbing in over 46 languages using TTS capabilities.
Enjoy a user-friendly interface for easy navigation.
Benefit from enhanced security and faster processing times, ensuring efficient AI voice generation.
FAQs About the Scream Voice Changer
What is a Scream Voice Changer?
A Scream Voice Changer is a software or hardware device that can modify a person's voice to make it sound like a scream. It can be used for various purposes, such as for entertainment, voice acting, or pranks.
How does a Scream Voice Changer work?
A Scream Voice Changer works by modifying the pitch and tone of a person's voice to make it sound like a scream. It can be done using software that is installed on a computer or a mobile device, or by using a hardware device that is connected to a microphone.
Are there any free scream voice changer apps or software available?
Yes, there are many free Scream Voice Changer apps and software available for download on various app stores and websites. However, I recommend MagicVox Scream Voice Changer for you, because of the good quality and huge library of sound effects, click the button below to get the sound effect you want.
Conclusion
So, these are the Scream voice changer apps that you can use to convert your voice into Scream's Ghostface. All these applications are good and provide excellent results, but the best one is MagicVox. It can support real-time voice changers, especially when you are playing games. Besides that, MagicVox supports more games than other tools in this list.
So, my recommendation is to use MagicVox scream voice changer for free now!