Whether you want to change your face or voice, technology has made everything possible. Many applications have been designed to make the pranking and enjoying the female version of voice possible. These applications offer a man to change his voice into a female, alien, robot and vice versa.
If you are willing to come across the best male to female voice changer, your search ends here. In the article, we have enlisted some practical and effective applications. Some work online, while others can be downloaded to the phone or laptop.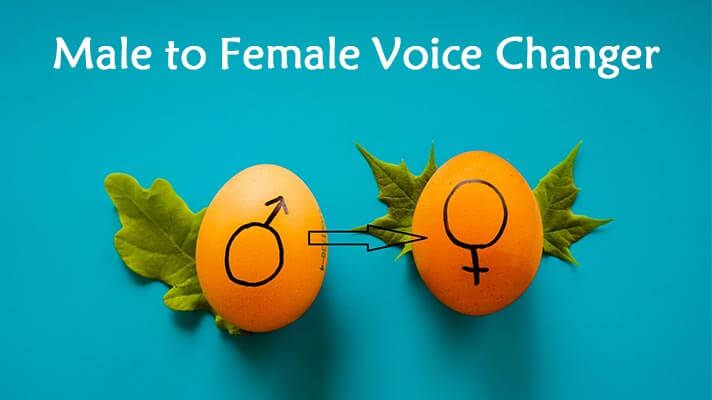 Part 1.

Best Girl Voice Changer for PC

Girl voice changers for PC is available with free and paid versions. Paid versions are premium with some extra and exciting features. Unpaid versions are also functional with some limitations. You can download the below-mentioned tools to avoid connection problems. So let's begin the list:

UnicTool MagicVox is the best male to female voice changer. If you want to prank your friend and make the game fun, this tool will make it possible with its unique features. Its multiple voice changer effects will enable you to instantly change the voice while gaming, chatting, or live stream without buffering and affecting the game. Layer the voice with a soothing background for uplifting the mode and environment and add fun to chat.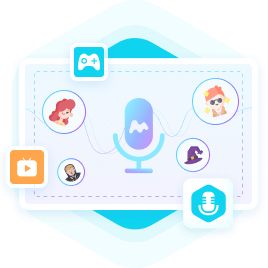 A Real-Time Voice Changer
Girl Voice Effects: more than one girl voice filters, including Male to Female, College Girl Alice, Lolita Voice Bella, etc.
Custom Voice Change: VoiceStudio can customize pitch frequency, you can customize the girl voice to match your voice perfectly here.
File Voice Change: for the audiophiles looking for a high-profile audio converter, it enables you to import files or WAV audios.
Pricing: Quarter: $12.95 Year: $19.95 Lifetime: $39.95
Rating: 4.5/5
User Experience: The plethora of voice-changing tools in the market has made choices difficult for a person. Users have found it a long-term top-tier due to the features, interface, and modest pricing.
Pros
150+ Girl Voice Meme to make the streaming and calls fun
Simple and interactive interface
High quality Real-time girl voice-changing
Cons
Limited features in the unpaid version
How to Use a Girl Voice Changer on PC
Step 1: Download UnicTool MagicVox

Download UnicTool MagicVox, after completing download, install and run application.

Step 2: Configure Mic and Headphone

Navigate to the settings menu, and select the headphone as an output device and the microphone as the input device. You can also configure the mic through Windows audio configuration from the "Control Panel."

Step 3: Select the platform

Select the platform where you want to change the voice, like the game, Skype, or live calls, by assigning the input device as Voice Changer Virtual Audio Device (WDM). You are ready to enjoy the female version of your voice.

Step 4: Select the Female Voice

Click the "VoiceBox" in the left menu and select Male to Female effect from the list.

Step 5: Integrate it with online games like fortnight, PUBG etc. to prank your friends as a Girl.
MorphVOX is a popular voice changer software for laptops and desktops. It would be best if you gave it a try for this Woman voice filter. It comes with two operating modes. The skinned mode allows selecting the filter for instant voice change. The studio mode enables you to dig a little deeper by adjusting the timbre and pitch. MorphVOX is a real-time voice changer that shields the identity with a fabricated woman voice.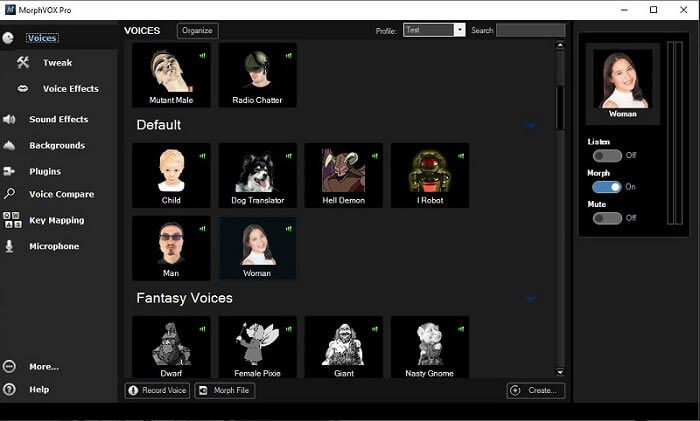 Supporting system: Windows and Mac.
Voice effects: Sweet child, Woman, Man, and even a Monster.
Custom voice change: This application features a Studio mode to alter the sound or form a new voice. You can adjust voice timbre and pitch.
File voice change: The versatile voice changer facilitates the audiophiles to alter recorded audios in WAV format.
Price: 39.99 USD
Rating: 4 out of 5
User Experience: It provides a good quality voice output for woman filter, but the price is not cheap.
Pros
Surprising results
A wide range of different voices
Pro voice changer
Easy to use
Good quality for Girl Voice
Clownfish voice changer is a strong competitor of UnicTool MagicVox. It allows changing voices across various media platforms like skype, discord, Viber, and different streaming applications. The real-time voice changer allows you to hide your identity by covering the original voice with a woman's voice in Female pitch.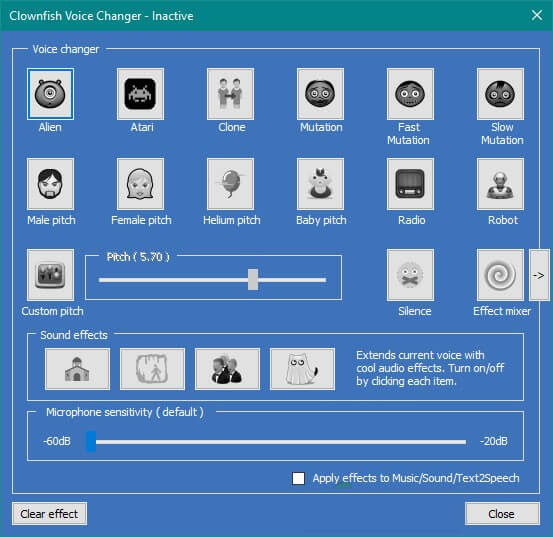 Supporting system: Windows and Chrome/ Chromebook
Voice effects: Including Male, Female, Robot, Alien, etc.
Custom voice effectsClownfish supports numerous media platforms and the VST plugin. It can convert text into audio and translation.
Pricing: Absolutely free
Rating: 4.5 out of 5.
Use experience: The best free voice changer ever.
Pros
Male and Female pitch voice filters
User-friendly interface
Allow multiple plugins
Ability to synchronize with online platforms
Cons
Limited pre-designed effects
Part 2.

Best Male to Female Voice Changer Online

These are the best male to female voice converters offering high-quality services Online.

LingoJam is a strong competitor among expensive male to female voice changers. It is a free tool that helps convert your male voice into a female voice and vice versa. Upload the audio clip, and adjust the voice setting like pitch height and frequency according to your requirement. As you get a voiced changed audio file, you can download it by clicking the download button.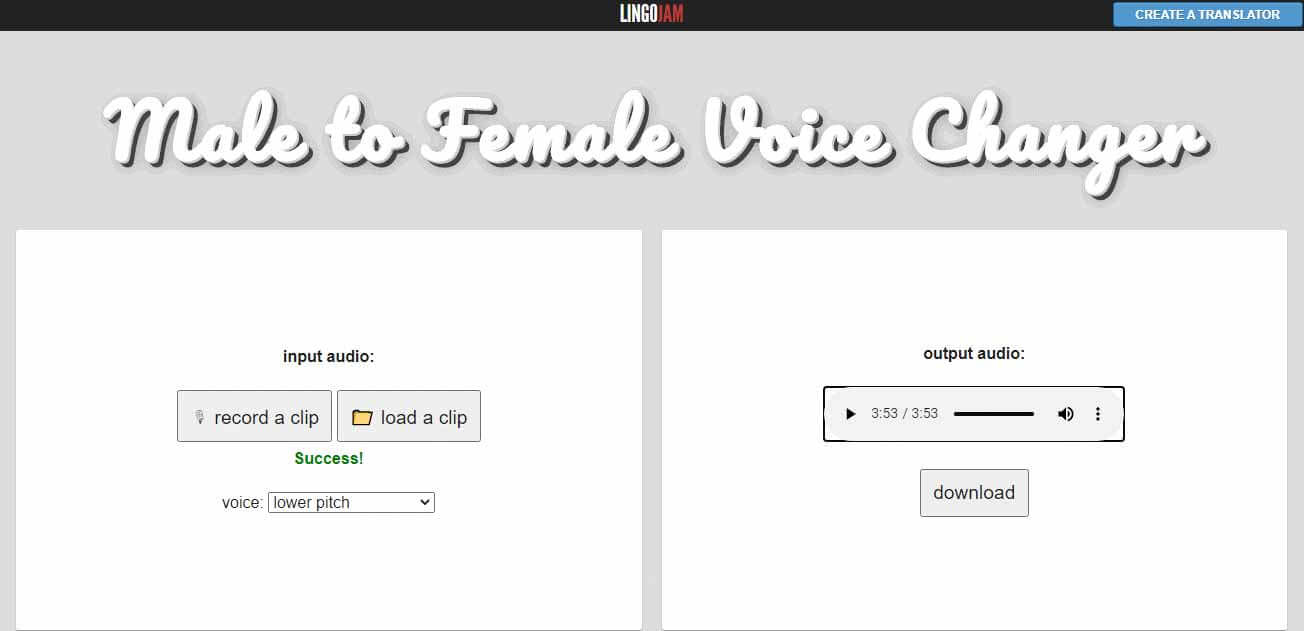 Supported system: As it is an online tool, it can be accessed by any device.
Voice Effects: Male to female, Female to male, Chipmunk, Robot and Scary voice filters, ect.
Custom voice change: You can custom your pitch on this tool, higher or lower your pitch as you want.
File voice changer: Supported
Pricing: Free Online Tool
Rating: 4.5 out of 5.
User Experience: The majority of users are satisfied as it is free to use and can be accessed by any platform and device. It is easy to use, and the efficient interface makes it a favorite for audiophiles.
Pros
Easy-to-use interface
No registration required
Support all audio files
The content industry is always full of creativity and amusement. Media.io has brought the game to the next level with unique features and effects. This is the best online voice changer tool for content creators, gamers, and YouTubers.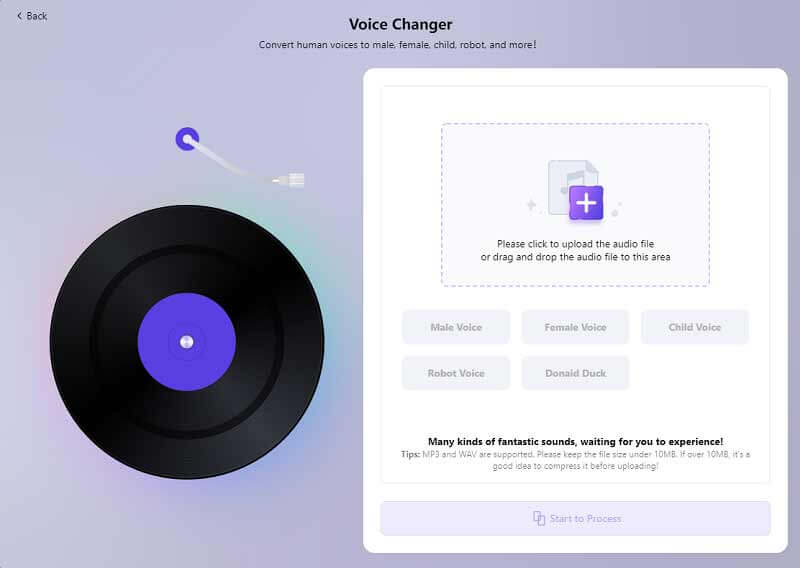 Supported system: Free Online Tool
Voice Effects: Male, Female, Robot, Kid and Donalduck, etc.
Custom voice change: Not Supported
File voice changer: Yes
Pricing: Free
Rating: 4.0 out of 5
User Experience: It is a brand new Girl voice changer compared to others, it is worth taking a try.
Pros
Easy to use
Support all audio type files
Male and Female voice effects
No sign up required
Voice Spice is a free online voice recorder that allows you to convert the voice from male to female. It is a useful tool to facilitate the user by converting the text to speech in a female or male voice.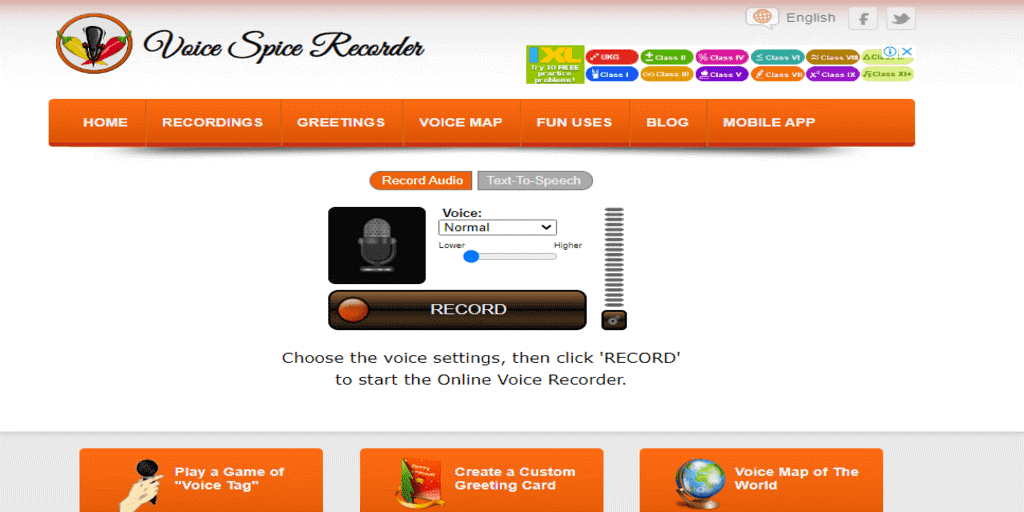 Supported system: Online Tool
Voice Effects: Man, Woman, Hell Demon, Space Squirell and Robot.
Custom voice change: Not supported
File voice changer: Not supported
Pricing: Free
Rating: 4/5
User Experience: The online tool contains several voice-changing effects and Woman Text to Speech features available for free.
Pros
Easy to use
Free tool
Convert female text to speech
Part 3.

Male to Female Voice Changer Apps

Voice-changing applications are not restricted to PCs. You can download a male to female voice changer app on your smartphone. These are some of the best applications that you must try.

It is one of the powerful voice changer tools. The free-to-install application offers a wide range of voice filters. Voice changer has made pranking fun and creativity breathtaking. This funny free voice changer application is definitely what you need.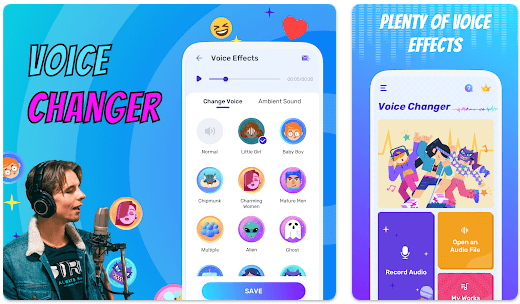 Supported System: Android
Voice effect: Female, man, baby, and many more avatars.
Custom voice changer: The applications feature a soundboard to modify voice effects and audio effects to dub the video.
File voice change: Yes
Price: Free, in app-purchases
Rating: 4.4 rating for 1.49M reviews.
User experience: Users are happy with the application's function and interface. According to users, it is a euphoric application with something to offer everyone.
Pros
Abundant features
A huge library
Free of cost
Easy to use
This is a simple application that anyone can use. Simply upload the file and transform the voice with a few clicks. Convert your male to female, squirrel, chipmunk, and many more cartoonish voices to add fun to your video or audio.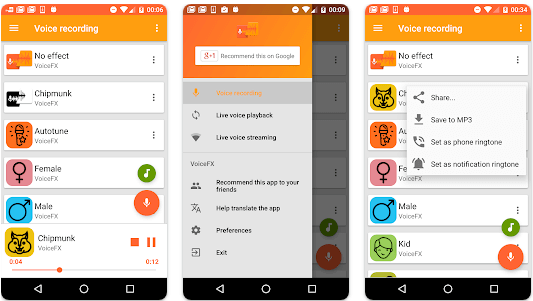 Supported system: Android 4.1 and up.
Voice effects: This voice changer app male to female offers a large number of pre-designed effects such as the devil, robot, helium, and many more.
Custom voice change: Yes
File voice change: Yes, you can change the file's voice from male to female and more.
Price: It is a free application but offers in-app purchases.
Rating: 4.1 out of 5.
User experience: Many people appreciate the euphoric effects and user-friendly interface.
Pros
Fun and easy-to-go app
Interactive interface
Great price-to-perform ratio
Cons
No audio and video recording capability
This is a female to male voice changer application for iOS. It is a multi-functional app used to change voice, auto-tune the app, and edit the voice according to preference. Voice change.r is not a real-time voice changer.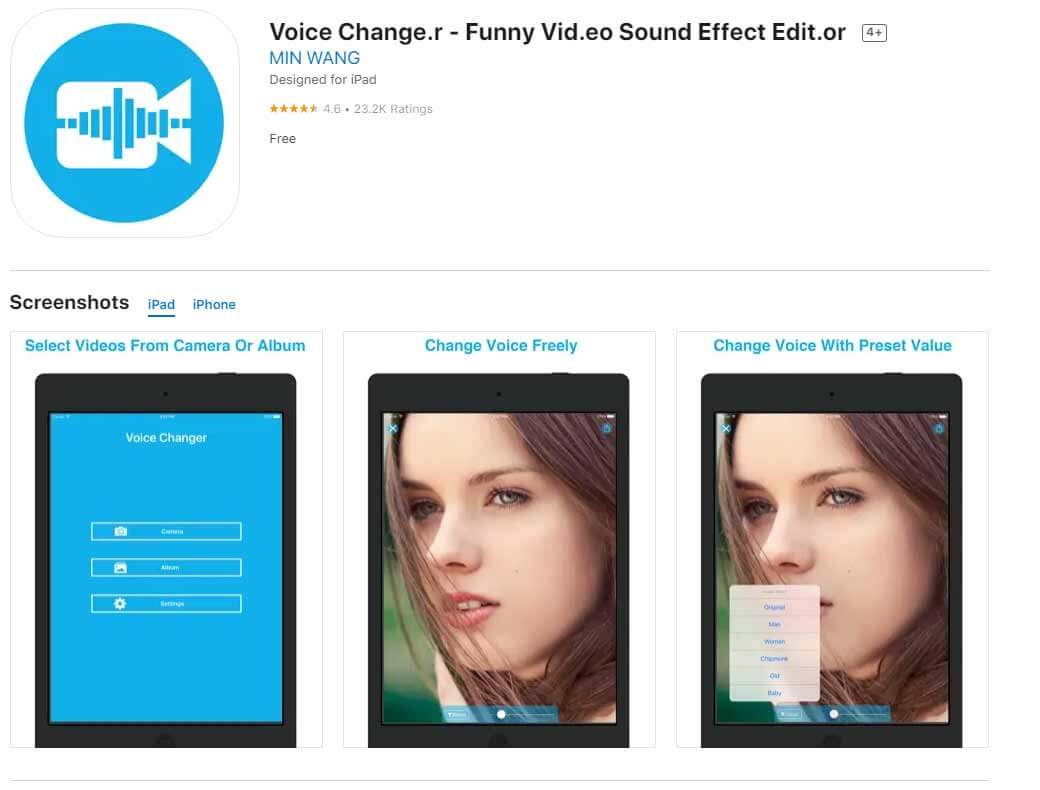 Supported system: iOS
Voice effects: From hilarious videos to zombies and horrific sounds, you get everything.
Custom voice change: Yes
File voice change: Yes
Pricing: Free offers in-app purchases.
Rating: 4.6 out of 5
User experience: This application has received appreciation due to giving access to all its features. Apart from file converting, it also edits the video.
Pros
Easy to install
Interactive interface
Excellent video voice editor
Cons
Not available for android
FAQ
How does male to female voice changers work?
Every application and tool has different methods, but they follow basic mechanisms. When men try to imitate the voice of a woman, they typically raise their voices to a higher pitch and sound more like a female.
Which is the best male to female voice changer?
Many online tools have been thriving in the market. Everyone claims to offer the best. In our opinion, the UnicTool MagicVox voice changer is the best tool. It is a versatile application featuring 150+ pre-designed voices, simple and interactive interface, and a modification facility.
Conclusion
Many people use voice changers for fun and professional purposes. Here we have enlisted the most viewed and utilized male to female voice changers till now.
All above-mentioned female to male voice chargers are excellent, but UnicTool MagicVox stands on the top due to the unique and compelling filters and features. Transform your voice in real-time and make live streaming more interesting.