Voice-changing tools take the fun and thrill of the game to the next level. You can change your voice according to characters and games. If you want to keep privacy, it will successfully hide the original voice. Xbox is a gaming console capable of connecting to a television or other display media. While offering realistic graphics, you can also integrate voice changers. If you are looking for a voice changer for Play Station, check this.
The Voice changer for Xbox allows the user to transform the voice and send it through your mic in real-time. Therefore, the friends and audience will hear it differently. These are legal software and safe to use.
This article will enlighten you about the best xbox voice changer and how to use voice changer for Xbox. So, keep reading to make the voice modulator integration process easy and worthwhile.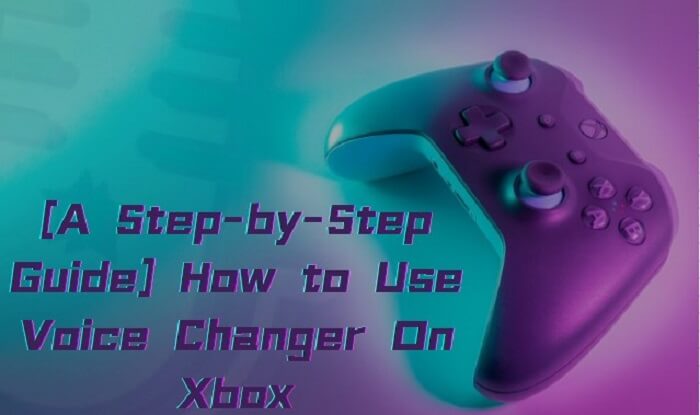 Part 1.

Best Voice Changer for Xbox

Indeed, selecting the best voice changer from a plethora of options is a daunting task. Don't be worried! We have selected some best voice changers for Xbox. They will help you add crispness to the game with funny and terrifying voice filters.
1. UnicTool MagicVox
UnicTool MagicVox is one of the best real-time voice-changers for Xbox. You get the complete package of whatever you expect from it. You can fabricate the voices to prank the friends or transform them into the robot, boy, or girl voice as required. It is an amazing tool to create their own sonic identity.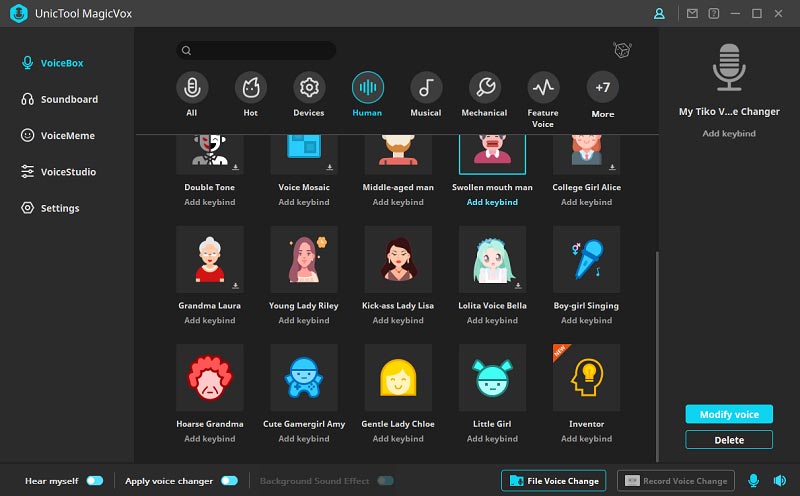 Features
Here are some key features about the MagicVox that will make you fall in love with it
High-Quality Sound Effects

MagicVox have a wide range of high-quality sound effects to choose from, including robotic voices, animal sounds, and more.

Customizable Settings

The ability to customize voice settings, such as pitch and tone, is a popular feature among Xbox gamers.

Real-Time Voice Changing

It can be able to modify a user's voice in real-time during gameplay, creating an immersive experience.

User-Friendly Interface

The interface is easy to navigate and understand, even for those who are not tech-savvy.

Compatibility with Xbox Games

The voice changer should be compatible with a wide range of Xbox games to ensure that gamers can use it with their favorite titles.

Customizable Presets

Customizable presets make it easy to switch between different voices and sound effects quickly, without having to manually adjust settings.

Multiple Voice Options

It have a range of voices to choose from, including male, female, and robotic. Even imitate the voices of celebrities such as Donald Trump and Morgan Freeman.

Realistic Sound Quality

The sound quality of MagicVox is very realistic, so that other players are convinced that the user's voice is genuine.

Online Compatibility

MagicVox can be compatible with online gaming platforms, allowing gamers to use it in online games with other players.

Easy to Install

Finally, MagicVox is easy to install and use, without requiring extensive technical knowledge or complicated setup procedures.
Pros
150+ voice templates make your gaming and live streaming fun while maintaining the privacy
Easy to use interface allows voice alteration effortlessly.
High compatibility stands for Xbox requirement to transform the voice into the desired avatar.
Cons
It is a new product in the market
2. Clownfish
Clownfish is considered one of the best voice changer for Xbox that permits you to change your voice on practically any social media or streaming application. It is free software, o you do not need to do a lot to enjoy its features. All you need to do is download it and connect it to your microphone.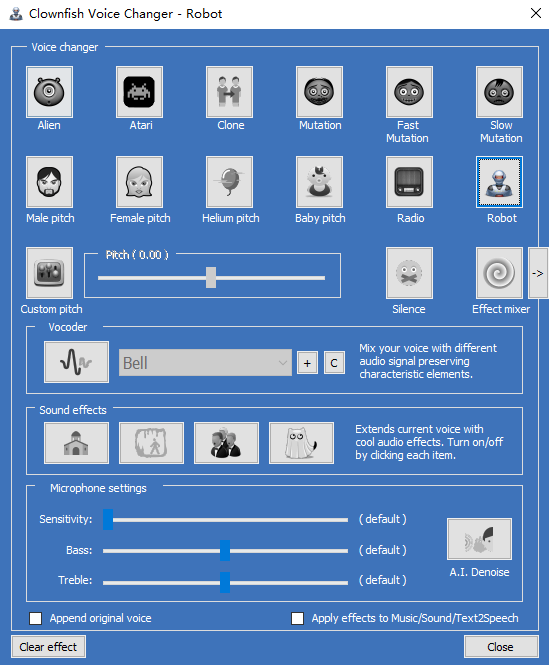 Features
Here are the top features of the ClownFish that make it worth installing.
Astounding Avatars

It is different from Magicvox. Apart from offering different voices, it allows you to choose the avatar. When you speak while recording or streaming, the audience will hear the avatar's voice. Moreover, the avatar will also appear on the screen when you speak.

Pre-designed Voice Filters

Clownfish voice changer for Xbox offers around 14 different voices. Layer them to your original voice to have fun and unusual enjoyment. Every voice has a unique and appealing sensation.

Layer Background Music

All of us have tried to alter the voice while calling a friend to prank them, but have you ever thought of background music to keep the mode uplifted? If not! You must try Clownfish. You will love the background music feature that will make your time fly quickly.

Voice Assistant

Are you an introvert or sitting in a crowded place? If you cannot speak in the hour of need, you are at the right place. Clownfish have a text-to-voice converter that transforms into voices whatever you type. You can select the voice effect of your preference.
Pros
You can layer your voice with background music when you are on the call or recording.
With multiple modification features, you can change the voice according to your need.
Clownfish allows conversation without speaking. Yes! It will convert your text into a voice-promoting user-friendly environment.
Cons
It is a little technical. Beginners might face difficulty if they do not have a tech background.
3. Voicemod
Voicemod is another famous and broadly used voice changer. The high compatibility allows integration with almost all software of windows and streaming applications like Xbox. Get the Voicemod and chat with your altered voice and make gaming a fun time.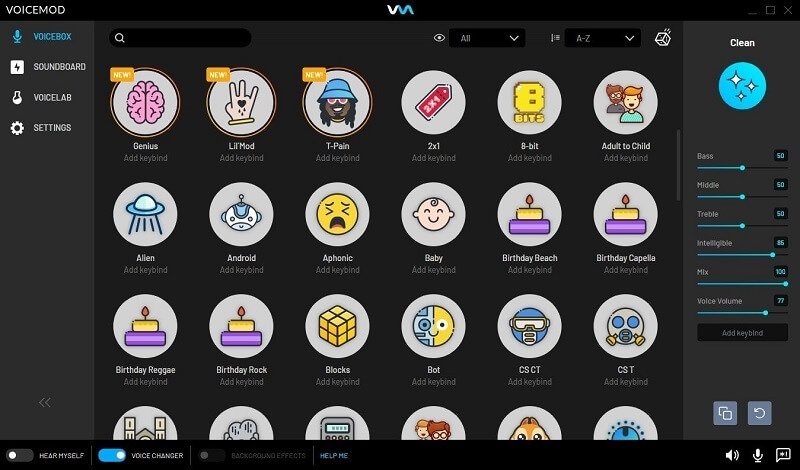 Features
Real-time Voice Changer for Xbox

Voicemod allows you to live stream with a different altered voice. No need to pre-record and add layers of voice and background music. All you need to do is select the music and voice before starting the stream.

Additional Tools

With a large number of tools, you can adjust the pitch frequency and effects to make your own desired voice. Moreover, add sound clips to make the voice more interesting.

Optimized performance

Do you often feel interrupted or lagging while using voice changers? This is not the case with Voicemod. It does not affect the character's performance in the game or application.

You can use it on Xbox

Xbox is my all-time favorite gaming device. The integration of voice changers brings the game to another level. Connect the voice changer and surprise your friends with alien audio.
Pros
90+ pre-designed voices are available that add up to your ease.
This live voice modulator does not require pre-recording and after-match settings. Select the voices and enjoy the stream
It offers a user-friendly interface making it easy to use for beginners.
Cons
Pirated versions are available on the internet that makes harm your computer.
Limited options for the mobile version
Part 2.

How to Use Voice Changer on Xbox

There is so much information regarding using voice changer for Xbox, but it is essential to follow the reliable one. Moreover, selecting the best voice changer is also important. Just follow these steps to establish it on your Xbox.
2.1: How to use Voice Changer on Xbox one
Step 1:

download the Voice changer for Xbox (UnicTool Magicvox)

Visit the official website and click "Get Magicvox." After a few requirements, the software will start downloading in ".exe'' format. Launch the software.

Step 2:

Choose the voicemod you linke

Right-Click on the Magicvox icon and click on "Set voice changer ."Many voice modes will appear on the screen. Select any one of your needs.

Step 3:

connect Xbox to your PC

Ensure that the earphone and mic of the device you connect to are perfectly functioning. Go to the Microsoft store and download the "Xbox Console Companion" for PC, then turn on your Xbox, select Xbox One and connect it to the PC.

Step 4:

stream with a different voice

Now click on the MagicVox icon again and click on the "Turn On" option to integrate the voice changer. Navigate to Xbox Console and go to settings, then select "Voice Changer Virtual Device(WDM)" as your default Input device. Now you are all set to enjoy gaming on the Xbox One with different funny voices.
2.2: How to use Voice Changer on Xbox series x or Xbox series s
The S and X series of Xbox have the same functionality with a few alternate features. It also follows almost similar steps to Xbox one, but they work better with beta streaming applications. Here is the step-by-step tutorial which will help you make your Xbox process easy.
Step 1:

download the Voice changer for Xbox (UnicTool Magicvox)

Navigate to the official website and download UnicTool Magicvox by clicking "Get Magicvox Free." Login using your Google account. Then the voice changer will start downloading.

Step 2:

Connect Xbox to PC with beta streaming app

Download the beta streaming app to stream the game from Xbox to the computer. (learn more)

Step 3:

configure Voice changer with Xbox

Once you have downloaded the application and voice changer, launch both software. Open the Xbox application and navigate to settings. Click on the "voice and video option."

Step 4:

Set Microphone

The microphone setting plays a crucial role in the seamless gaming experience. It determines the pitch. Therefore select it carefully. Modify the setting and select the input as the microphone option and output as the headset.

Step 5:

Connect the voice changer

Right-click on the Magicvox icon. Many voices will appear, select the desired one and click on the "Turn On" option. You are all set to enjoy voice changer for Xbox for different games.
Conclusion
Voice changers are the best tools to communicate with people you are not aware of. Moreover, you can play the games while keeping your identity anonymous. You can use it to make or record funny memes and more.
Xbox is a leading game console used all over the world. You also use a voice changer on this platform to make the game time thrilling and fun at the same time. For this purpose, UnicTool MagicVox Xbox Voice Changer stands on the top of the list. It supports some amazing and appealing features to make the game enjoyable. Connect this amazing voice changer for Xbox and enjoy the voice of an entirely new person.