Are you a PC gamer, or PS Station, or Xbox player? Guess who will win the game of the year 2022? GOD OF WAR RAGNARÖK or ELDEN RING? If you are a PS 4/5 player, today let's learn how to change your voice while you are enjoying the best game of the year on Play Station. If you are looking for a voice changer ps5 for Xbox, check this.
The latest versions of Play Station 4 & 5 are one of the most popular platforms for gaming. You get to unleash your virtual world and take it to a whole new level with them. They are home gaming console that also utilizes the internet. You can play games via downloaded games or CD. So, it would be perfect for impressing your friends through an altered voice.
You can use a voice changer for PS4 and PS5 to make your gaming chat fun and an incredible experience. How about changing your voice to a girl or boy and making your friends wonder where you are actually at? You can also use it to get some cool voice filters like robots, aliens, etc. You can take your gaming a step ahead with limitless fun and enjoyment with a voice changer ps5.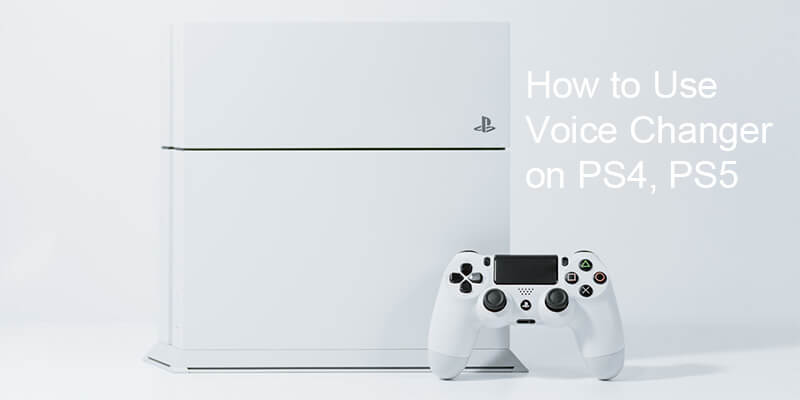 Part 1.

Best Voice Changer for PS4 and PS5

Do you want to choose a voice changer PS4 and PS5 but don't know which one is the best? Don't be anxious! We've shortlisted the top 3 voice changers for PS4 and PS5 that you can use to alter your voice through some crisp or hilarious voice filters.

It is one of the best apps for voice changing. It is a complete package of whatever you want. Whether it is altering your voice, applying hilarious voice filters to it, or even layering background music on it.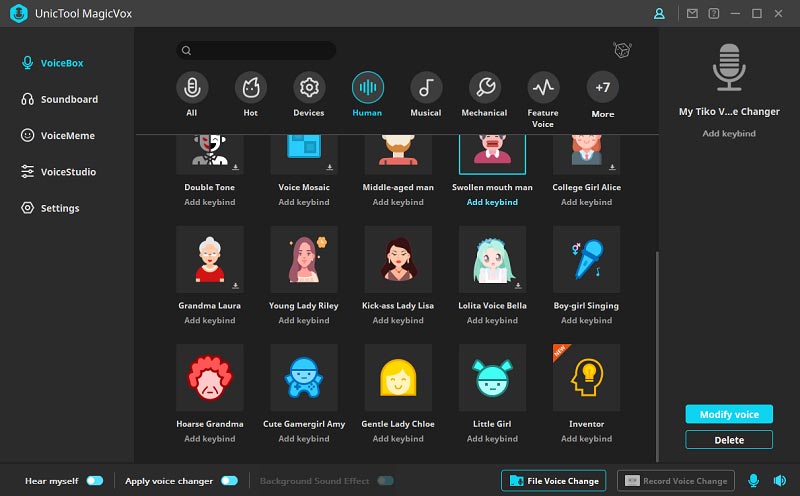 Features
Voice Filters

The UnicTool MagicVox possesses over 100 voice filters. You can pick and choose according to your preference. With a wide range of options, say hello to a funny or attractive voice. You'll find them all if you're up for a deep husky voice, humorous old hag, or various voice filters.

Compatibility

The UnicTool is compatible with your favorite streaming platforms. You can use it to stream live with a different voice that can impress everyone. Just activate the voice effect you want and Voila! You've just turned your voice into a whole new person.

Customize Your Dream Voice

We often don't prefer our voices. However, with MagicVox, you can adjust the pitch, frequency, and more to unveil your dream voice. If you want to record a song, record it in your original voice, then fine-tune it the way you want.
Pros
Now your voice is under your control. So, you can effortlessly alter it to the form you want.
Use the 150+ voice emoticons to record or stream live your hilarious voice.
It is compatible with almost every streaming channel. Whether it is Discord, Stream, or any other platform, voice changing will be an effortless play for you.
Cons
It is only compatible with Windows OS; you cannot install it on other devices except for a PC.
It doesn't give you all the features for free.
Clownfish is one of the most popular voice changers on the internet and is recommended by famous YouTubers. It contains prominent and advanced features that make it the first choice of everyone.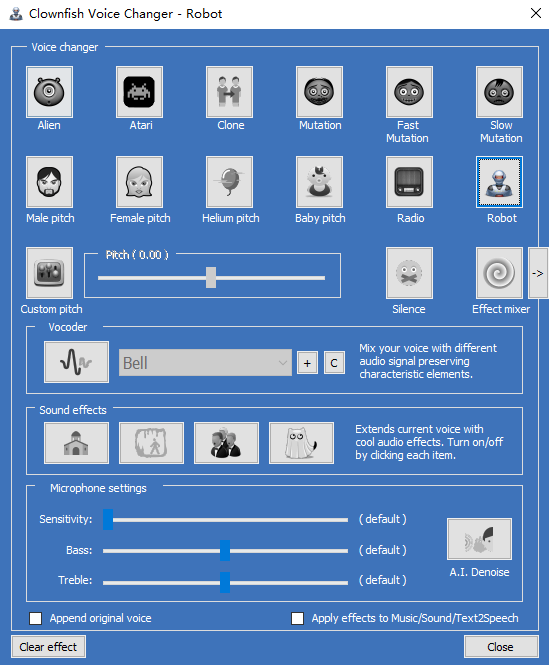 Features
The prime features of ClownFish are listed below
Voice Assistant

Do you wish to use a voice changer without recording your actual voice? You are at the right place. The ClownFish has a text-to-voice converter that features those voices whatever you type in the box. You can select the voice effect you want to hear, and you're good to go.

Memorable Calls To Friends

Have you ever tried calling your friends in a self-altered voice by changing your speaking pitch? Or have you ever wished if some background music to make the call more memorable? Therefore, you'll love this feature in ClownFish's android app that enables you to add background music to your calls.

Cool And Attractive Avatars

ClownFish lets you choose your avatar. Whenever you speak to the recorder, the avatar that you've selected will appear on the screen to show that you're talking.

Numerous Voice Filters

ClownFish has over 14 different voice effects that unleash fun and enjoyment whenever you use them. From an Alien to a custom pitch effect, every filter is unique and appealing in its own sense.
Pros
With the multiple voice-changing effects, you can alter your voice to the version you prefer.
You can layer various music you like on your voice.
It will be an easy task for ClownFish to convert incoming messages to the language you want, which promotes a user-friendly environment.
Cons
It can be challenging to understand the tech work if you aren't familiar with stuff like that.
Do you wish to install an ultimate voice application on your PC to unveil the custom and designed voice-changing effects, then Voicemod is for you? You can chat with your altered voice, stream live for thousands of viewers, and make gaming a fun and incredible memory.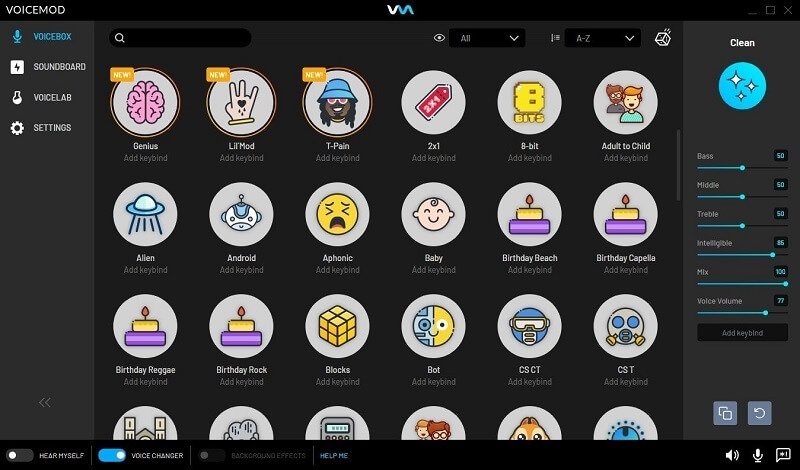 Features
Voicemod is a trendy voice-changing app with high-quality features that will make you fall in love with it.
You Can Use It On Your PS4 And PS5

You can use the Voicemod to edit and enhance your voice by connecting through the remote play. Moreover, it would be so cool to surprise your friend by joining the gaming voice chat through alien audio.

Live Voice Changing Feature

The live voice changing feature allows you to use communication apps like Skype, Twitch, Zoom, etc., to stream live in an edited and altered voice.

Highly Compatible

The app is highly compatible with chat apps like ASMR, Streamlabs, Zoom, etc. In addition to it, Voicemod directly allows you access..
Pros
It has more than 80+ pre-designed voices filters for your choices
This live-time voice modulator is very suitable for gaming and streaming
It is very easy to use for beginners.
Part 2.

How to Use Voice Changer on PS4 and PS5

It is crucial to follow a proper tutorial for installing and using voice changer for ps4 and ps5. For this, I have used MagicVox as an example. Just follow the steps, and you'll be able to establish on your pc in no time.
Step 1:

Go to the system settings of the PS4 and PS5, then click on remote play to enable it.

Step 2:

Download and set up MagicVox on your PC.

Step 3:

Choose the appropriate input and output options you want. I usually choose headphones as the output device and my separate mic as the input device.

Step 4:

Make sure to enable the "hear me" option in the app. It will allow you to listen to what you're saying at that time.

Step 5: Open the main settings of your PC, click on sound settings and enable Voicechanger virtual audio device (WDM) as your default microphone. Note it as it is the most crucial step to be followed. If you don't mind, you won't be able to record via a voice-changer.
Step 6: Go to the official website of Play Station and download the Remote Play app.
Step 7:

Sign in to your account and connect to people via it.
Conclusion
Play Station has been the leading console game platform for years now. You can alter your voice through a voice changer. That's not the only benefit you get by using a voice changer.
One of the best examples of a voice changer is MagicVox, UnicTool launched it. If you need a PS5 voice changer, then use MagicVox. It has some brand-new features that are useful in many ways. Moreover, the implementation and usage of tools are straightforward.
So, with MagicVox, say hello to an altered and perfect soundboard for ps5.