If you love being part of any online chat community or playing multi-player games like Valorant or COD. When you must communicate with your teammates but don't like to chat in your natural voice, you can customize your voice tone and change it to male using a man voice changer or a female voice pitch similarly.
This article will tell you about a few best female to male voice changer and male voice changers. So stick with the guide to find the best man voice changer.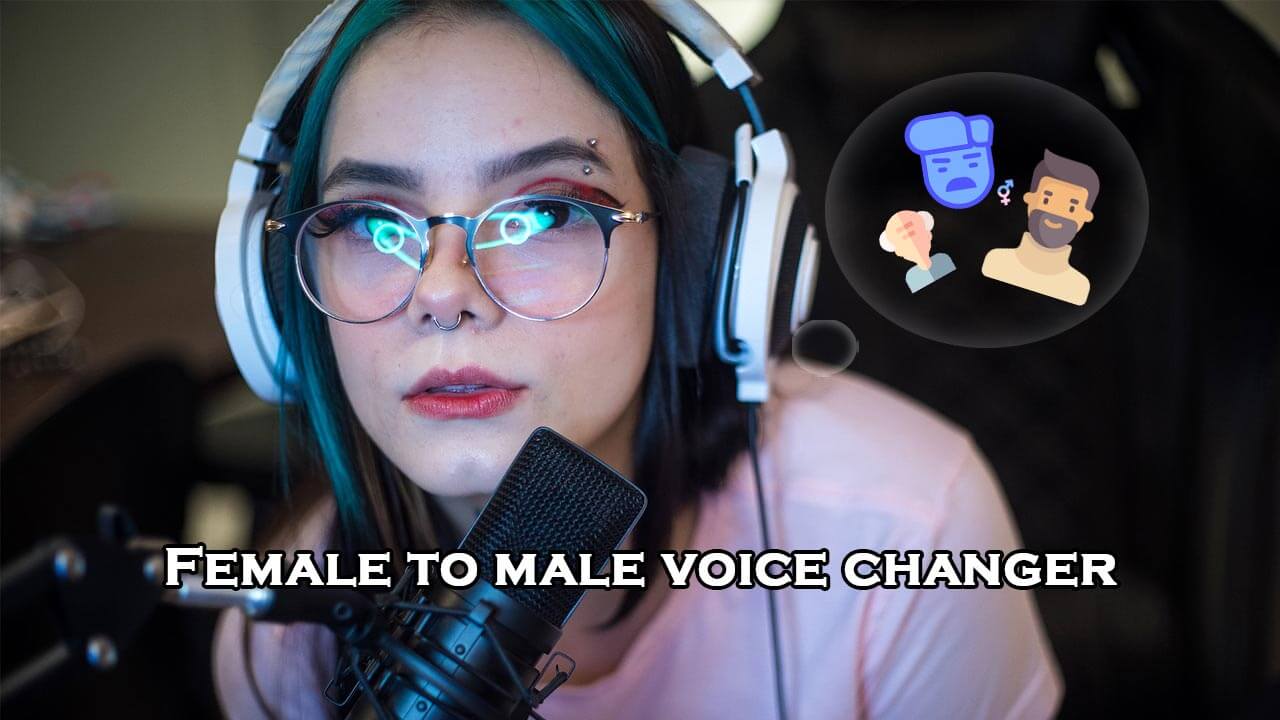 Part 1.

Best Female to Male Voice Changer

Here is a list of a few best female to male voice changer that can allow you to change your voice tone and pitch in real time without delay or glitches.

When mentioning the greatest villain and fictional character, Darth Vader comes to most people's minds. To sound like Darth Vader, unique and recognizable, you can use MagicVox as female to male voice changer with your choice of tone and pitch. MagicVox is a real-time voice changer that helps to apply sound effects to your voice into a male if Darth Vader is too much for you.

MagicVox has a pitch shifter feature that helps you create custom sounds like a deep robot. You can also convert your sound with the help of the "Reverb" feature and make it like a fun female to a male voice.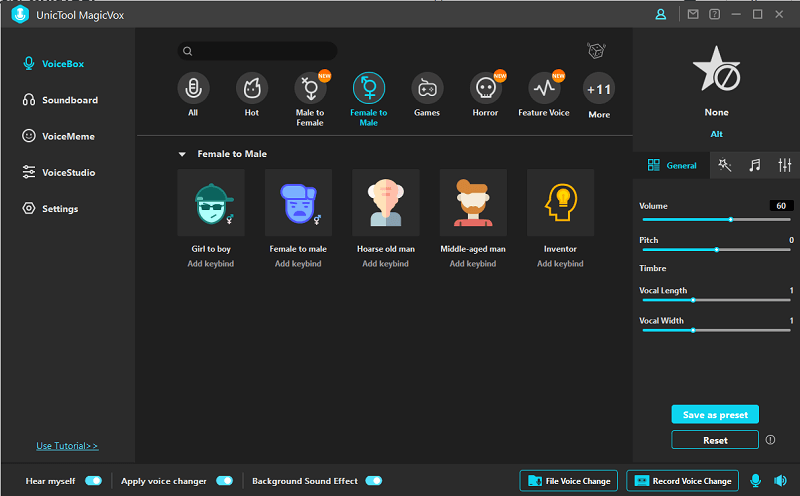 Pros
Comes with the most voice filters than other voice filters, about 125+ voices
Supported by windows and mac
Keybinds control for voice filters and sound effects
AI voice cloning for authentic voice changing
Noise reduction for high-quality voice output
Various male voice filters and man characters for female to male
Cons
It is new, not as famous as others
How to Get a Male Voice
Step 1: Download the voice changer.
Step 2: Configure input and output device. From the setting, assign a microphone as input and headphones as an output.

Step 3: Select the platform and go to the Audio Setting, set Voice Changer Virtual Audio Device (WDM) as default input device.
Step 4: Select the female to male voice effect. Or you can use the voice maker to custom a voice to fit your voice better.

Step 5: Record your audio or import the audio file to apply the voice effects and filters.
MorphVox is the most incredible option if you seek a genuine and attractive voice changer. For games and discussions, this works outstanding as a real-time voice changer. It has numerous tools that you may use to alter your voice and give it a whole different tone.
This is the best man voice changer with excellent features. There are many voice tones you can choose to enhance your voice. MorphVox creates a sound of excellent quality. It is the best option if you're seeking a female to male voice changer to chat in amusing speech tones, particularly in a male voice.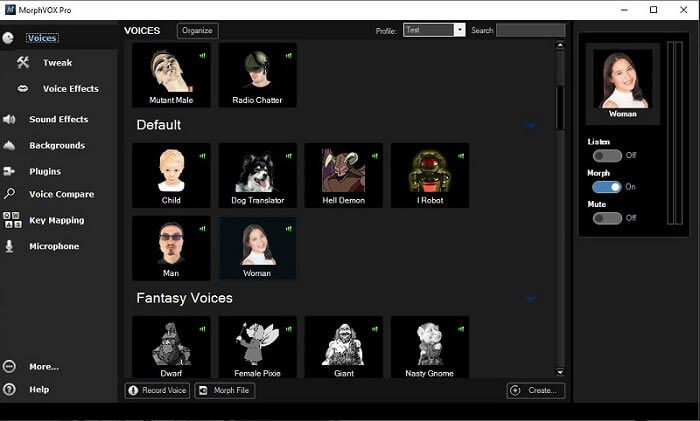 Pros
Real time voice changer with 40+ voice changing filters
Custom tone creator
Various human voices for voice changing
Effective noise reduction technology
Cons
Some voices may sound fake to you
You have to learn about the equalizer
Price is expensive as a software
One of the highest rated female to male voice changer, providing high-quality voice tones and pitches without delay or glitch. With the help of Voicemod, you can change your voice according to your desire. Speaking as a male in a live chat community for fun is impressive if you are a female or a kid with man voice changer.
Users can customize their voice with different effect tools the voice mode provides in real-time. Voicemod also provides its customers with various free tones and voice-changing tools to alter their voice. Because of this, Voicemod is very popular among online game streamers.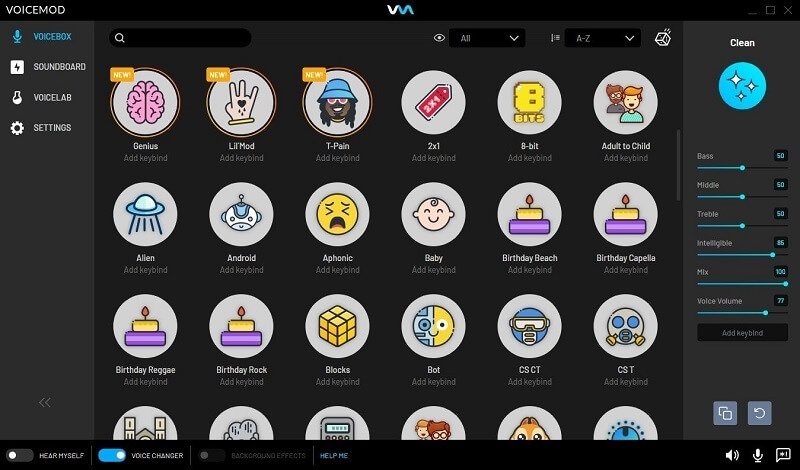 Pros
Voicemod has an auto-tuner that can enhance your original tune
The tool can provide a crystal-clear voice if you are recording your original voice or chatting
The UI of this application is very easily accessible to all users
You don't need any tutorial for using Voicemod.
Cons
Voicemod can delay, makes echo in real time
Easily not opening
Part 2.

Best Male Voice Changer Online

Here are a few great voice changers you can use to convert your voice, add effects and customize the pitch and tone.

Lingojam can create and customize your voice and pitch, which can profoundly change your voice without any doubt. Lingojam is the only voice changer on our list that allows you to change your voice pitch and is 100% free with automated tools. This is entirely web-based. You don't need any setup file to install it on your device. Change the voice in real-time without any restriction.

Pros
Lingojam is best for making deep fake sounds
You can also upload your pre-recorded audio files
Web-based, making it easy for users on the go a lot
Cons
Not suitable for live streams or real-time voice changing
Voicechnager.io is the most used and famous male voice changer for streamers and YouTubers that do it for fun. You can create a deep fake effect using voicechnager.io. If you love to change by using female to male voice changer to change to any other fictional character you wish for, you can easily convert your voice by using Voicechnager.io.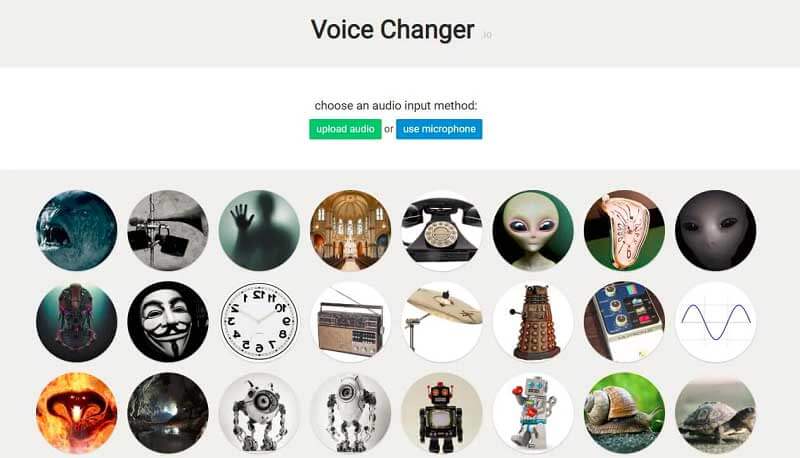 Pros
No need to install any app can be used on any browser if connected to the internet
The UI is straightforward
Cons
Sometimes output sound quality is inferior
If you want something that can change your voice in real-time without costing you a single penny, voice-changer.org is the best we recommend.
The cool thing about it is that you don't need to create an account or provide any detail. It is a web-based version with premium voice changer qualities. All you need to do is start recording your voice, customize it, and converge it into any character voice you want.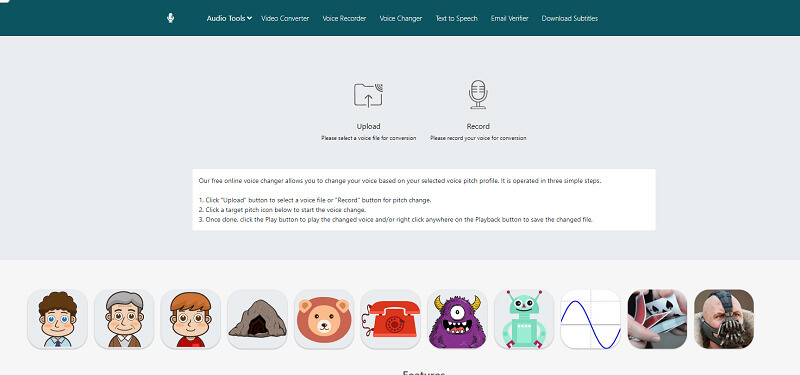 Pros
Allow you to upload or create a new voice in real-time
All you need to click once to start recording and customize your voice
Cons
Offer few voice skins and effects
Part 3.

Female to Male Voice Changer App

Below are the top-rated voice changers which allow you to change and deeply customize your voice and add different effects to make your voice look real.

Nothing compares to Magic Mic. One of the most popular voice changers with extra perks and features. Easily accessible on iOS and Android.

This great male voice changer offers a high-quality output that sounds real. You get access to more than 200 different speech effects and skins.

The fantastic part about it is that you can record and adjust your voice in real time. You may also include Magic Mic on your social media channels, which will significantly help you get more likes and follows.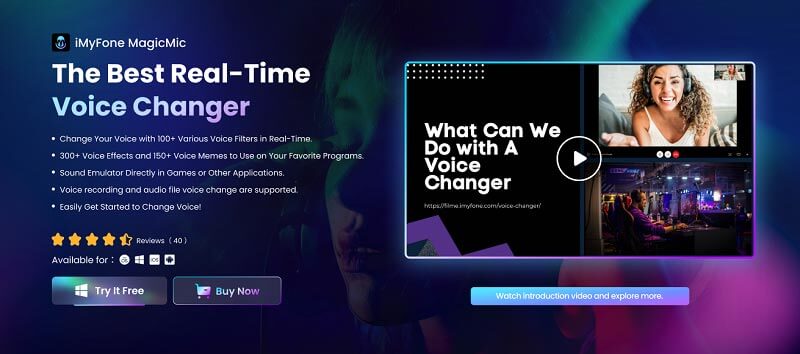 Pros
It supports high-quality audio input and output
Provide users with incredible experience during live streams
Cons
It can be a little expensive for the beginners
If you want something quick and easy to use and supported on Android, a voice changer with effects is at the top of the list. The most simple and easy-use application helps you record your voice and apply multiple effects to make it more fun for the users.
The voice changer with effects provides you with many different voices of fictional characters, which you can use to fake your voice deeply. The best thing about the voice changer with effects is that all the provided voice skins are high-quality.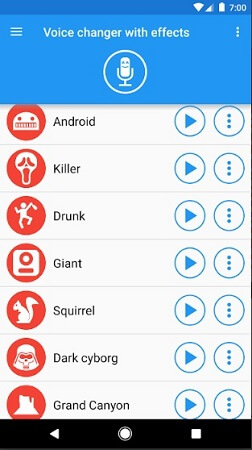 Pros
Provide high-quality sounds effects and skin
Simple recode and edit feature
Cons
Sometimes it crashes on the startup
Conclusion
This ends our discussion and searches for the best female to male voice changer, which you can use for fun during any live stream or show. We have sought the top-rated male voice changer available on different devices and platforms. We recommend you check out MagicVox AI voice changer as it is more suitable for new users and provides them with great extra features and perks.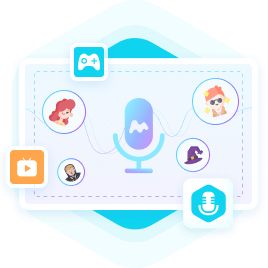 A Real-Time Voice Changer
Allow users to edit the recorded voice notes in real-time
Provide users with five male voice filters
Provide fictional villains' voice effects and skins