There is nothing more exciting for gamers and live streamers to add humor to their video than it helps grow the audience. Streamlabs OBS has increased the competition in the market with its valuable features to distribute content on different platforms. The gamers are taking the competition to another level by making the video interesting, funny, and audience grabbing with a obs voice changer.
In order to help you match the pace of competition, this article aims to analyze the best voice changer for Streamlabs that you can use to change your voice into any character.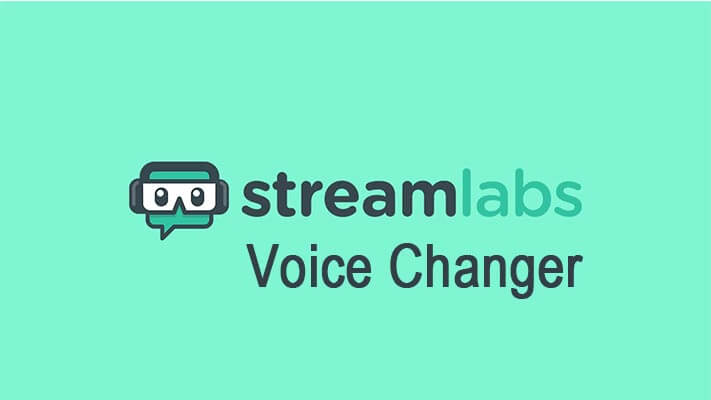 Part 1. Best Voice Changer for Streamlabs OBS
Streamlabs open-source software that shares the user's content over platforms such as YouTube live, FB live and Twitch, etc. These voice changer pugins will help you make more captivating content and gain interaction with your audiences.
It is a simple and easy-to-use obs voice changer with rich features that both amateurs and beginners absolutely like. MagicVox is powerful and dedicated voice changer for Streamlabs OBS by UnicTools, offering more than 100 preset voice filters for windows. From sweet girl to giant monster, all voices multiply the fun.
This voice changer for Streamlabs provides a real-time audio changing facility. You can enjoy a complete meme board and sound effects to have a memorable and funny time with your friends. It improves the audio to make the streaming audience grab.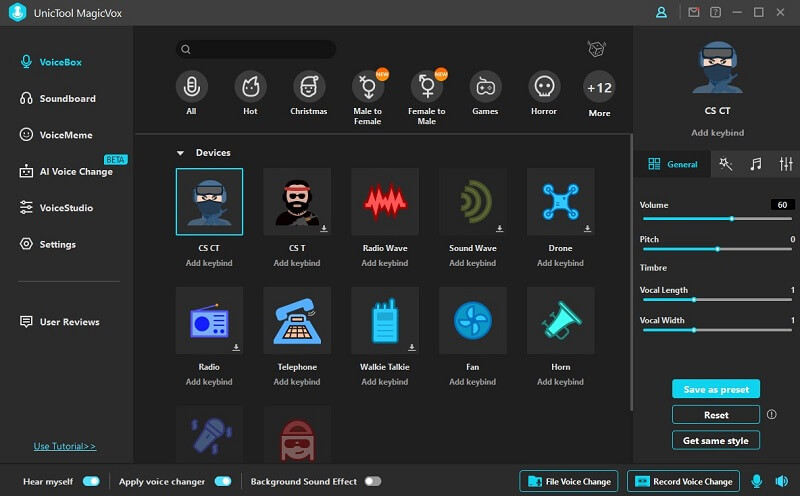 Secure Download

Secure Download
Pros
100+ Voice effects and 600+ sound effects
Customize your unique voice
Layer voice with mesmerizing background sound
Import sound effects with an ease
Noise reduction technology for higher voice output
Cons
It is new software on the market
How to Use MagicVox Voice Changer for Streamlabs OBS
Step 1: Download and install UnicTool MagicVox from the official website.
Step 2: Configure the mic and headphones for a distortion-free experience.

Step 3: Open Streamlabs and navigate to settings
Step 4: Add new audio input and select Microphone as Voice Changer Virtual Audio Device.

Step 5: The MagicVox voice changer can use the mic signal in real-time.
Step 6: Grab the audience like an expert.
Voicemod voice changer is one of the best voice changer Streamlabs OBS with an admirable list of voice filters. It features a huge library of voice effects that will help make funny and practical videos. If you want to sound like a girl or a minion, this tool will help you do that. If you want to add crisp to the sound with light editing, Voicemod allows that.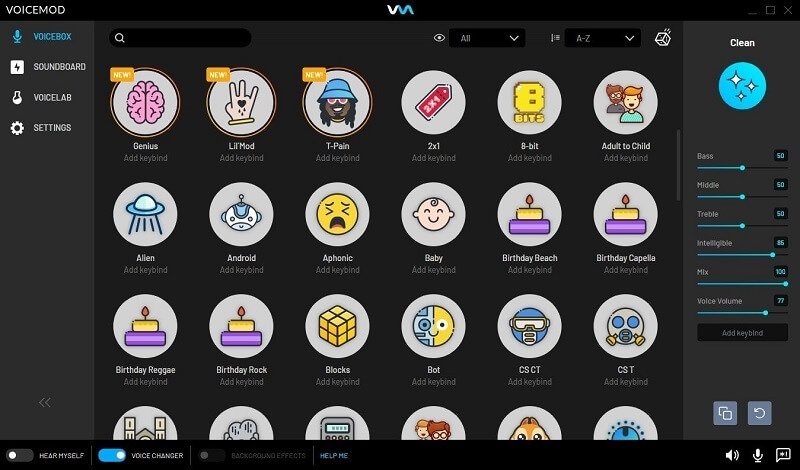 Voicemod does not confer local boundaries. It is an excellent software application in different fields such as education, business, and professional spheres. With a high rating, this tool is well-known for being easy to use, operating in real-time, and free. If you want to make the live interesting as a gamer, integrate with Streamlabs OBS to add humor.
Features
Automatically ads microphone input device setting for Streamlabs OBS upon installation.
Free for windows
It is compatible with all modern apps and games, such as YouTube, PUBG, Fortnight, League of Legends, and many more.
Make the real-time streaming euphoric and interesting.
Allows customization to add crisp to the pre-existing sound or create an entirely new one.
Its huge library consists of more than 90 different voice filters making the humor available with one click.
Pros
It is free, and the premium version is affordable.
High compatibility makes it serve almost all devices.
90+ pre-designed voice filters
Easy to install and use
Cons
The free version contains scarce features.
Step-by-Step Tutorial to Use Voicemod on OBS
Step 1: Download Voicemod from the website for free.
Step 2: Install and run the application.
Step 3: Configure the microphone as the input device and headphones as the output device.
Step 4: Open Streamlabs OBS and go to the setting.
Step 5: Prepend a new audio setup and select Voicemod virtual audio device.
Step 6: The signals of the mic will be coursed by the Voicemod Voice Changer for Streamlabs OBS in real-time.
Step 7: Self-test to ensure seamless working, and you are all set to rock
If you are looking for something extraordinary in the category of Streamlabs voice changers, we can assure you that MorphVOX is kind of Aces other market thriving tools. The major cause of its exceptional acknowledgment is the capability of producing high-quality output while not burdening the CPU simultaneously.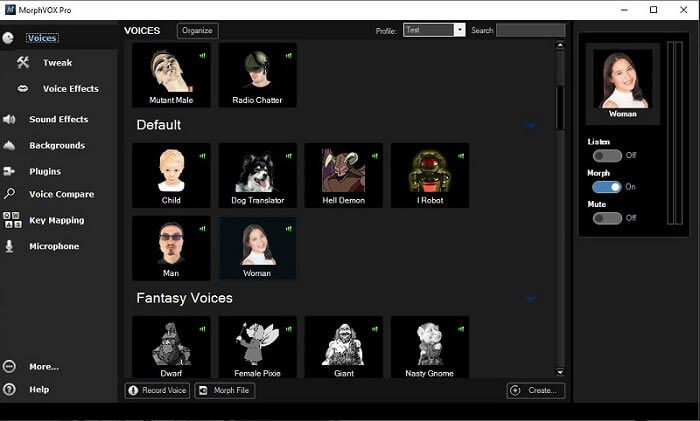 MorphVOX effectively changes your voice into whatever you want. Thanks to preset voice effects that have made the task convenient and a few clicks away. Its continuous user appreciation has made it evolve and come to the point where it offers other than usual features. It provides MP3 reading, multiple user support, plug-in support, restoration of files, and better list management. This voice changer works phenomenally with Streamlabs OBS.
Features
It allows the user to set keybinds to dispatch the sound effect instantly
A wide range of voice effects facilitate the user to transform the voice into the desired character with one click
MorphVOX can effectively remove the background voices to produce quiet and distortion-free audio
It is capable of optimizing steaming games online
It is a real-time voice changer to add crisp and humor to the game.
Pros
Permits the user to disguise their own voice to enhance fun and interest
Improves online gaming experience e with different voices
A large number of sound effects that help in fun gameplay
Cons
Its free version supports limited features. You need to pay to get the complete package.
Step-by-Step tutorial for MorphVOX OBS Voice Changer
Step 1: Install and run MorphVOX on the computer.
Step 2: Open the control panel to configure audio tools (microphone and headphones).
Step 3: Open Streamlabs and navigate to settings.
Step 4: Select new audio input as MorphVOX virtual audio studio so the real-time voice changer can process the mic signals.
Step 5: Self-test to ensure the successful working and enjoyment of the game.
Clownfish is a versatile application that is applicable to change your voice in any application on your PC that has microphone rights. This voice changer is simple, practical, and effective that works phenomenally with Hangouts, Discord, and above all, Streamlabs OBS. It also integrates well with many gaming and chats applications.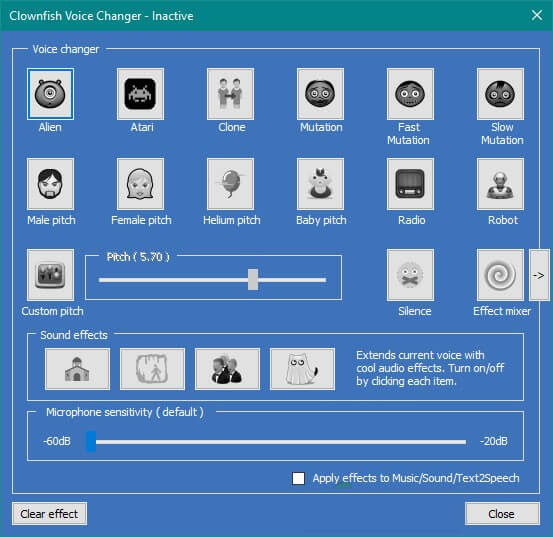 Surprisingly, the Clownfish voice changer comes with a sound player and music, which offers the liberty to enjoy music whenever you want. This is a versatile application supporting VST plugins to enable users to create their own audio effects.
Features
Features a sound player that has the capability to play and produce different sounds.
The addition of a voice assistant can convert the text into speech in your selected voice.
Features aside a range of voice filters to make voice transformation easy and a few clicks away.
You can layer background music with the voice to make the environment mesmerizing.
Pros
High compatible with multiple platforms
It is a real-time voice changer
Easy to use, simple and interactive interface
Allows customization to produce your audio
Cons
Offers limited voice filters
Step-by-Step Tutorial for Clownfish
Step 1: Download the Clownfish by navigating the website.
Step 2: Run clownfish on the computer
Step 3: Open Streamlabs software and navigate to the audio editor.
Step 4: Add Clownfish virtual audio device as a new input.
Step 5: The Clownfish real-time voice changer will use the mic's signal.
Step 6: Test and Enjoy the game like an anonymous expert.
It is one of the effective tools in the market of Best voice changer for Streamlabs OBS. Voxal Voice Changer Software is appreciated due to the ability to change and transform your voice either for chatting or online gaming platforms. It is often considered the go-to software as it integrates seamlessly with Streamlabs OBS and other online gaming platforms.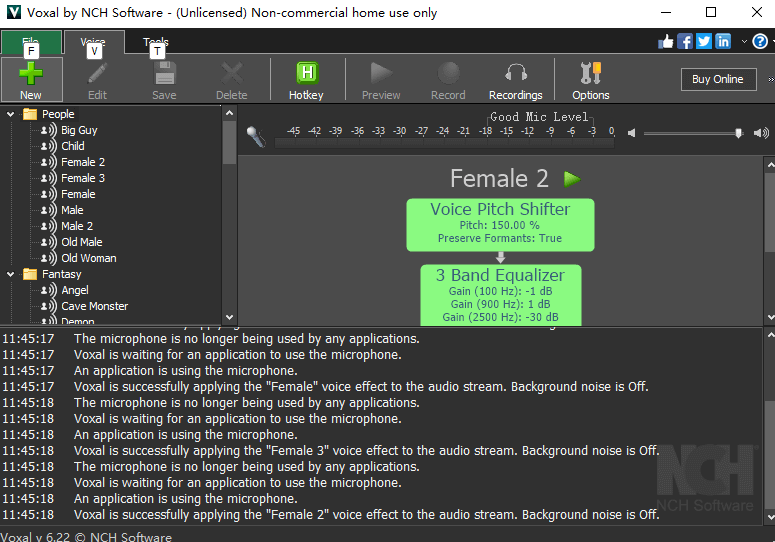 This voice changer offers a huge library of pre-designed voice filters. Apart from being an excellent voice changer, it works phenomenally when paired with video games, online avatars, and podcasts. The voice it produces is remarkably high-quality. Users can maintain anonymity while keeping the podcast and game stream.
Features
Despite being a versatile application, this voice changer does not cover a huge place on the CPU
It helps to keep the identity hidden with the real-time voice-changing feature.
It is a universal setting. You do not need to configure audio tools, as you can rely on the same settings.
A huge library makes voice changing pretty convenient. You can change your voice with a few clicks.
It allows customization. If you are unsatisfied with pre-existing filters, you can make your filter with voice studio.
Pros
You can change the voice into the desired character
Highly compatible with the games and applications
There is a library named 'vocal effect library' where co have all sorts of voice effects.
The installation process is easy and straightforward
Cons
A little tricky for beginners
Step-by-step tutorial for Voxal Voice Changer
Step 1: Install and run Voxal Voice Changer software on the computer.
Step 2: Navigate the control panel and configure the audio tools setting.
Step 3: Add Voxal Voice Changer virtual audio device as a new input.
Step 4: The mic will receive the voice and not the changed voice in real-time..
Step 5: Have fun and grab the audience like a professional.
FAQs About Voice Changer for Streamlabs OBS& OBS Studio
1. Can you change your voice on Streamlabs OBS?
Yes, Streamlabs allows voice changing on Streamlabs OBS. You need to click on the Mic setting icon from the mixer section. Then click the proper. The expanded source list of devices will appear—select voice changer virtual audio device. Click 'OK,' and you are ready to rock the stream with a funny voice.
2. Does Voice Changer Work on OBS?
OBS Studio is free software and open for everyone like Streamlabs OBS. It is generally used for voice recording and live streaming. You can integrate a voice changer into OBS to enhance the experience. To get it started, you need to download both software in windows to make funny or valuable recordings. And then navigate to the audio setting an select Voice Changer Virtual Audio Device (WDM).

3. Can I use a voice changer on Twitch?
Yes, you can use any voice changer on twitch. You can get started by following these simple steps.
1. Download the choice changer and configure the audio tools ideally on your computer, select microphone as the primary input device and headphones as the output device.
2. Ensure that the 'Voice changer' toggle is turned on
3. Select the filter from the library and assign keybind
4. Make sure to select the voice changer virtual audio device as input in the twitch.
Now you are all set to enjoy voice changer on the twitch
Many voice changers work phenomenal with Streamlabs OBS, but UnicTools MagicVox Ace all of them. It is designed to change the voice without affecting quality. High-performance and high-quality features will transform your original voice into a selected voice in no time.
Magicvox contains a meme box to instantly add funny voices that make the video fun for the audience. There is no need to look for any other voice changer when you have Magicvox, as it is a throng of effects, sounds, filters, and features.
Wrapping up
With the increasing technologies, privacy is fading day by day. No wonder why people are turning towards different voice changers. They want to at least maintain anonymity while live streaming. Whether fun or professional purpose, you need to select the best voice changer for Streamlabs integration.
We find MagicVox OBS voice changer outstanding for either purpose. Unique features and user0friednly interface is designed for beginners and easy to process. Apart from Streamlabs OBS, it easily integrates and works well with other applications like Facebook, TikTok, YouTube, and many more.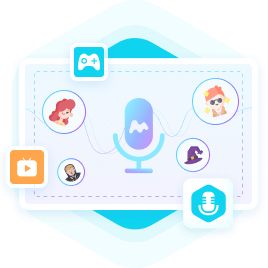 A Real-Time Voice Changer
Change your voice on Streamlabs OBS in real-time. You can also set the keypad and transform your voice with one click.
It is usable for Streamlabs OBS, PUBG, Discord, Skype, Fortnite, Second life, and more.
Features more than 100 sound effects imitating animals, people, characters, environment, and so on.
Offers a vast library of voice effects, for example, male to female, dwarf, minion, Chipmunk, and many more.
It lets you create your own voice with voice studio by adjusting voice settings.