An appropriate sound effect, whether an error or click, an interfering reaction, or something else--will add value to your multimedia presentation. Make use of radio voice changer to distinguish your brand. Use audio voice-over effects on the radio to increase silences, enhance speeches, add tension, comedy, or suspense in your work, and more.
You can easily access radio voice effects on more robust and attractive voice. Let's see which one is the most effective audio voice changer for radio.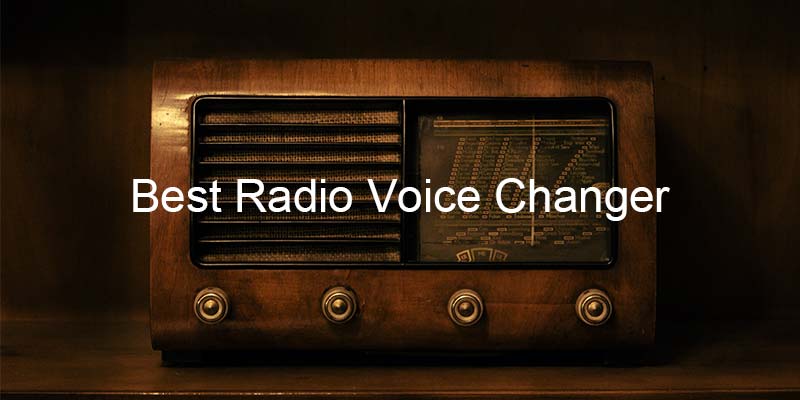 Part 1.

Top 5 Radio Voice Changer
1. UnicTool MagicVox
MagicVox is software that converts voices using hundred voice filter options. It can change voice into the radio voice, walkie talkie or military radio effect, man, or baby voice on Gaming and Live platforms. Sound effects and voices are already built-in. Users have to choose a suitable audio sample and apply it.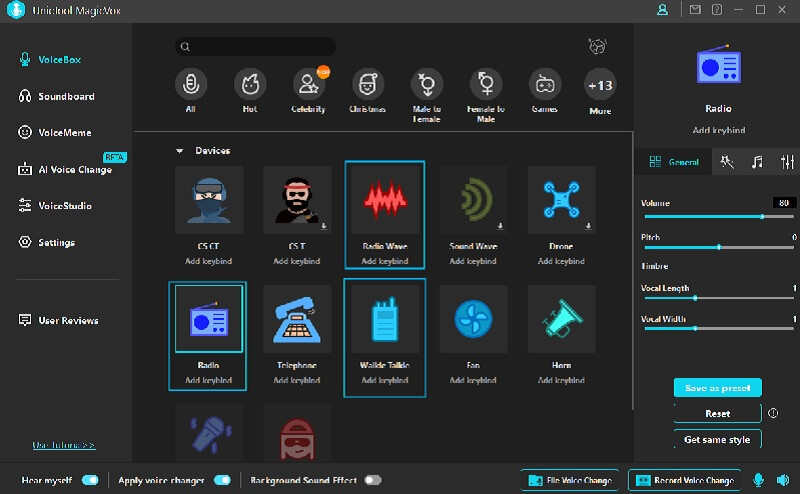 Voice filters include background music, making the to change the ambiance and make the voice effects more vibrant. MagicVox has over 100 voice changer radio effect that enhances the atmosphere. It lets you use hotkeys to control delay, playback, and replay of sound effects with no interruption while playing.
MagicVox lets you quickly upload your audio MP3 or WAV files to build your sound effect collection. It includes 150+ popular voice emoticons that can meet your diverse needs. If you're a lover of creating hilarious things, MagixVox is a must-have. It offers voice memes with Discord gaming, gaming, or live streaming that can double the enjoyment. Additionally, it lets users download your preferred voice memes in a snap.
Pros
Easy to use with 100+ pre-made voice effects
It offers you the chance to enhance your voice
You can make unique and unique voice recordings with just a few clicks
Cons
Not so famous since it is a new software
2. MorphVox
MorphVOX MorphVOX is an excellent voice changer radio effect software designed to enhance the experience you have online. It modifies the tone and pitch that your voice produces. You can now sound like a big or a grumpy dwarf. It's excellent for voice-overs in animations and designed for online games.
It includes other great features, like sound effects and a selection of skins. The MorphVOX is a clever method to remove background noises. This is particularly useful for laptops that don't have an input slot for microphones and only have a built-in microphone. MorphVox integrates well with online games and IM clients, which is why people would search for software like this.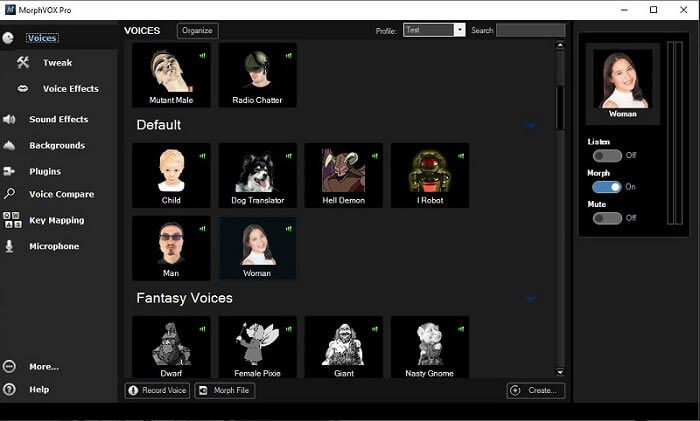 The MorphVOX is a program that uses moderate to low bandwidth and CPU. You can download more voice-changing and sound effect packs at absolutely no cost. You can also add a background voice changer radio effect to your record.
Morphvox provides many different voices for no cost. You can modify your voice at no charge. The user will have the most excellent chance to alter voice effects using optimization. Morphvox updates its features frequently; it's more efficient than a similar voice changer.
Pros
It works with Windows as well as IOS operating systems.
It is natural and like a voice.
It's small and straightforward to set up.
3. Voicemod
The Voicemod is a real-time voice changer that will help to make your voice sound exactly like what you'd like. With this fantastic program, you'll enjoy the unique ability to play fantastic voice changer radio effects on various streaming gaming, chatting, and gaming devices in real-time.
Additionally, Voicemod also acts as a voice modulator. This means that you can talk into the microphone and change your voice using minimal effort. While Voicemod may be an issue for your PC since it is a source of malware, you can test it and check out the results.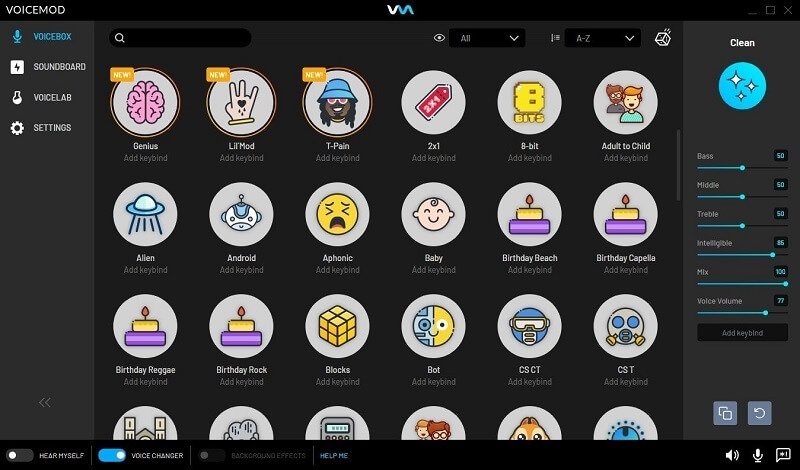 Furthermore, Voicemod also brings prolific soundboard options. You don't have to download soundboards on any website since you'll have various built-in options within Voicemod.
Voicemod is a comprehensive voice changer application available for Windows and iOS. It allows you to alter your voice online when playing games, taking part in meetings, or conference calls. It's optimized to use minor computer resources, so it doesn't load your system. It's compatible with nearly every software you have installed on your computer.
Pros
With Voicemod, you can alter the voice of your audio.
It has a top-quality microphone that produces a clear and clear voice every time you speak to it.
Cons
There are no options for advanced technology
4. Voice changer with effects (App)
Vocal changer with effects are the complete Android application that allows you to alter your recordings in any way you want to make fun of your pals. The Voice Changer application with effects is the application you must have to create special effects recordings. Its principal function is to record and record your voice or any other sound that comes from your surroundings. You can get an idea.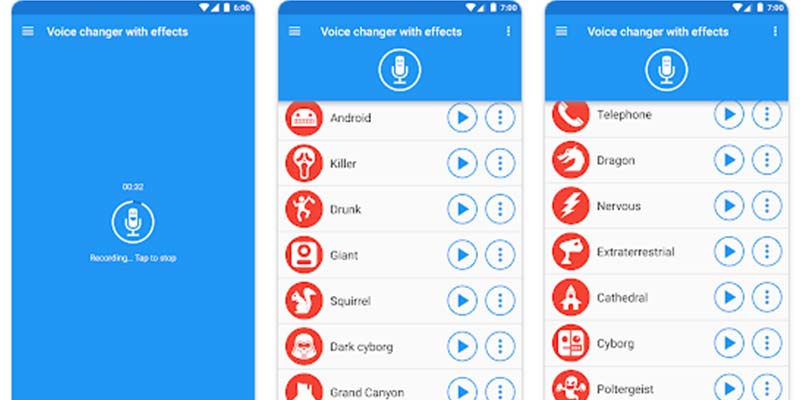 Alongside editing the sounds you've recorded to the application, voice Changer lets you add any sound effects you've saved on your tablet, phone, or cloud to create the product you desire. It also allows you to write text, and the app reads it "read" with a relatively accurate robotic voice. You can apply radio voice effect.
Voice Changer with effects is a great voice changer radio effect tool and complete with a piano that provides an innovative way to "play" with the sounds. This feature is only available to the accessible version of the application—Voice Changer stores the results to be used as tones or notifications.
Pros
Dozens of high-quality effects
You can import sounds to edit
Many options for recording and sharing
Cons
There are no options for advanced technology
5. VoiceFX - Voice Changer that includes vocal effects (App)
VoiceFX is among the most well-known voice changer radio effect apps available for Android that you can download at no cost. One of the benefits of this application is its user-friendly interface and its smooth operation. It's not just an audio changer, but it also has advanced voice recording features.
The app lets you modify your music for easy access and sharing via social media. You can also Livestream your voice on other media players and social media using an altered voice. There are several options for in-app purchases which are non-negotiable.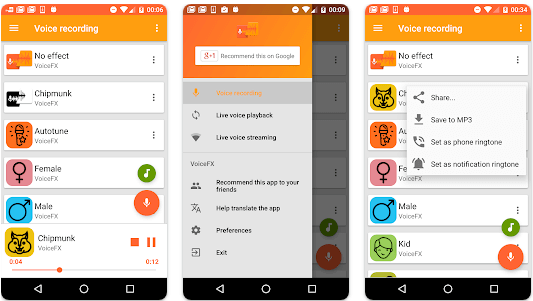 Modulating the voices of all kinds of audio files is a simple and enjoyable process that only takes a few clicks. When you record audio, you can apply voice effects to your recording sound, streaming it to a media player or web browser. Voice FX changes your voice in real-time and lets you see the results in advance before deciding whether or not to save the recordings.
Pros
The music is prevalent, with over 10 million downloads
Broadcasting and streaming of Live sessions and gaming
Files exported in MP3 format.
Cons
Users have complained that the voice changer is prone to minor bugs.
Part 2.

How to Get a Military Radio Voice with Voice Changer?

Radio sound effects can help make videos more fun, entertaining, and creative when included. If you want to have your video sound as is listening to, you can use Radio Voice Changer to alter your voice to match the person who appears in your videos. Following are the instructions to keep in mind.
Step 1:

The most effective way to begin is to go to the website for the Voice changer, the one you prefer. Once you have done that, you'll be capable of downloading the program on your laptop or desktop device and then installing it on your device.

Step 2:

There are two things that you have to complete immediately. After you've installed and opened the voice changer for real-time radio, it is also necessary to configure the output and voice input options. To configure this voice changer, you'll require sources and devices to choose from.

Step 3:

In the third place, you'll need to be sure you've added the voice changer on every platform (Take Discord for Example) where you'd like to install the program.

If you want to use the same microphone you chose on your voice-changer, ensure that you visit the platform's settings and select the identical microphone.

Step 4:

To determine whether your voice has changed, the 4th step is to look at the sound it produces. You will be able to locate solutions to any issues for the device you're planning to use every time you encounter one.

Step 5:

Following the steps above in the previous actions, if you would like your voice to sound similar to a radio announcer, you must click the "Radio Voice Effect" option within the voice changer once you've completed the previous steps.
Conclusion
While numerous radio voice changers claim to modify the voice over the internet, there's no guarantee they will function. There are a variety of voice changers, each of which differs in its performance and have various capabilities. MagicVox is a brand new voice-changing service that lets you effortlessly adjust the voice that you use for chat, gaming, or streaming. Mexico is an audio changer that lets you switch your voice effortlessly by switching between various voice filters with the press of one button. Furthermore, it includes over 100 different voice filters to achieve precisely the agent you're looking for.